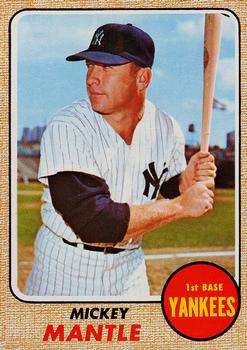 September 20, 1968: Mickey Mantle's 536th and final home run marks end of an era
---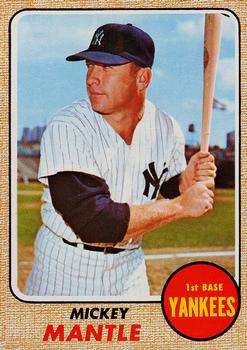 Mickey Mantle had done it 535 times before, so his solo clout against Red Sox hurler Jim Lonborg on September 20, 1968, did not appear to be highly significant. But when Mantle retired before the 1969 season, its importance resonated — number 536 was the last occasion for the Commerce Comet to circle the bases. He did it exactly one month shy of his 37th birthday with knees that a Social Security recipient wouldn't envy having, such was the toll on his body, thanks to a regimen of grueling tasks on the ball field followed by nighttime activities revolving around alcohol.
The 4-3 loss to the Red Sox began the last Yankees homestand of the 1968 season, which is a far cry from the post-World War II glory years between 1947 and 1964, when the team went to the World Series 15 times and won 10 championships. The '68 Yankees finished four games above .500 and placed fifth in the American League.
Mantle, too, was a shadow of his days of yore: Triple Crown winner; three-time American League MVP; five-time major-league leader in runs scored; and a record that will likely never be broken 18 homers in the World Series. In 1968 he batted .237 — the worst average of his 18-year career — but his power, though ebbing, produced 18 homers. "It was sad to watch Mick in what would be his final season," wrote Marty Appel, the former Yankees publicist who began his career in 1968 by answering Mantle's fan mail. "No announcement was made, but there was a feeling. It was his fourth straight bad year. What was Mickey Mantle doing hitting .238? [sic] And who were these teammates? What was he doing batting behind Andy Kosco?"1
Appel also noted that Mantle was the last player remaining from Casey Stengel's 1947-1960 managerial tenure in the Bronx.2
Lonborg pitched a complete game for Boston, struck out eight, allowed nine hits and two walks, and stopped a three-game losing streak.3 Fritz Peterson took the mound with a six-game winning streak4 and pitched eight innings for the Yankees; Joe Verbanic relieved him in the ninth. The 1967 AL champs struck first blood, when second baseman Mike Andrews walked and moved to third on '67 AL MVP and Triple Crown winner Carl Yastrzemski's single; Ken Harreslon's 4-3 groundout scored Andrews.
Yastrzemski went 3-for-4 and explained that an injury to his left wrist a couple of days before the All-Star Game sent his batting average plummeting: "When I took the bandage off, it was like spring training again. But I finally got into a good groove. My father kept telling me I still could win the batting title.
"I wasn't concerned about that. I just was trying to do my best every day. Once you put the uniform on, your personal pride drives you on. I've just been swinging, trying to hit the ball up the middle."5 His approach resulted in a .301 batting average (American League leader) and .426 on-base percentage (major-league leader) for 1968.
The Yankees gathered a threat in the bottom of the first when Mantle doubled with two outs and Lonborg walked Roy White, but Joe Pepitone struck out looking to end the inning.
Lonborg kept the Yankees scoreless in the second inning but gave up a run in the third when Mantle knocked his homer with two away; second baseman Horace Clarke and backstop Jake Gibbs had grounded out. White made the third out when he flied to Yastrzemski.
Peterson blanked the Red Sox in the second and third innings, but they scored in the fourth when Yastrzemski got his second hit of the day with a single to center field, went to second on Harrelson's 6-3 grounder, and scored on Reggie Smith's double. The rally ended with third baseman Joe Foy's fly out to Yankees right fielder Bill Robinson and catcher Russ Gibson's groundout, another 6-3 play.
The score stayed 2-1 until the top of the seventh, when two singles put Smith on second and Foy on first; they advanced when Gibson laid down a sacrifice bunt toward third. Peterson loaded the bases with an intentional walk to first baseman George Scott, which set the stage for Lonborg –the right-hander notched one of his two RBIs for the season when Smith scored on a grounder that forced Foy at third.
Yastrzemski bashed a solo shot in the top of the eighth for Boston's fourth and last run. The Yankees responded with a run in the bottom half when Pepitone walked with the bases loaded.
Verbanic quickly dispatched Foy and Gibson in the top of the ninth. But Scott banged a double and Lonborg sent him to third with a single. Any hopes of padding the two-run lead ended when Lonborg was out at second on shortstop Luis Alvarado's 4-6 grounder.
The Yankees rebounded with Robinson's solo homer to lead off the ninth. But third baseman Mike Ferraro, pinch-hitter Steve Whitaker, and Clarke struck out.
Besides the baseball drama, there was a bit of theatrics when a fan got on to the field and approached Mantle, "shaking his hand and then falling to his knees in a salaam." Yankee Stadium's cops disposed of him. A mouse also disrupted the festivities but evaded capture or harm by the players and umpire, scurrying off the field through the home team's dugout.6
The year 1968 has been chronicled as one of chaos: North Korea seizing the USS Pueblo; the Tet Offensive during the Vietnam War; antiwar protests at Columbia University and the Democratic National Convention; President Johnson announcing that he wouldn't seek re-election; the assassinations of Bobby Kennedy and Martin Luther King Jr. But on a mid-September evening at Yankee Stadium, nearly 16,000 fans7 found respite and witnessed history when one of the game's greatest marked the end of his reign as a power hitter.
Sources
The author used Baseball Reference.com and Retrosheet.org for box scores and play-by-play information.
baseball-reference.com/boxes/NYA/NYA196809200.shtml
retrosheet.org/boxesetc/1968/B09200NYA1968.htm
Notes
1 Marty Appel, Pinstripe Empire: The New York Yankees from Before the Babe to After the Boss (New York: Bloomsbury USA), 369.
2 Appel.
3 "The Mouse That Scored," New York Post, September 21, 1968: 69.
4 Red Foley, "Mick Belts No. 536 but Yanks Bow, 4-3," New York Daily News, September 21, 1968: 28.
5 Leonard Cohen, "Yaz's Bat Gives Yanks That Sinking Feeling," New York Post, September 21, 1968: 69.
6 Cohen.
7 Leonard Koppett, "Red Sox Beat Yanks, 4-3," New York Times, September 21, 1968: 38.
Additional Stats
Boston Red Sox 4
New York Yankees 3
---
Yankee Stadium
New York, NY
Box Score + PBP:
Corrections? Additions?
If you can help us improve this game story, contact us.
Tags
https://sabr.org/sites/default/files/MantleMickey-1968.jpg
600
800
admin
/wp-content/uploads/2020/02/sabr_logo.png
admin
2020-04-16 13:02:06
2022-11-06 19:54:50
September 20, 1968: Mickey Mantle's 536th and final home run marks end of an era