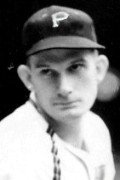 September 21, 1946: A 13-inning 'deserving reward' for Sailor Jack Hallett
---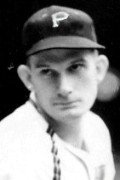 It was 1946, and "the boys were back" from World War II. Baseball had continued in the interest of public morale through four seasons of diminished quality. Now, however, as spring-training camps opened, there was "joyful relief that the war was at last over and old teammates were together again under the sun."1
Navy veteran Jack Hallett, 31, was one of the Pittsburgh Pirates enjoying the sun of 1946 spring camp in San Bernardino, California. Before he'd entered the service in the middle of the 1943 season, the former American Leaguer had impressed the Pirates' organization with four strong starts in June, highlighted by a four-hit shutout of the New York Giants on June 6. He had had the opportunity to continue pitching while based in the Pacific Theater during the war. Longtime Pittsburgh Sun-Telegraph baseball writer Charles J. "Chilly" Doyle2 appraised the big (6-foot 4, 215 pounds) right-hander in camp: "Cool and calculating, largely because he has passed the 30-milestone, Hallett has a baffling repertoire and his swooping motion is not a delightful thing for a hitter to behold."3
Rookie Ralph Kiner was another military returnee in camp. He was just 23 and picking up baseball after a partial 1943 season with Pittsburgh's International League affiliate in Toronto.
Pittsburgh manager Frankie Frisch gave Hallett two early-season starts but used him primarily in relief until late August and throughout September. On September 12 Hallett pulled his record to 4-5 with a 1-0 shutout at Boston. By Saturday, September 21, when the Cincinnati Reds arrived in Pittsburgh for the first game of a two-day, three-game series that would close out the Pirates' home schedule, Hallett stood 4-6 with a 3.43 ERA over 33 appearances including seven starts.
There was a little something on the line in the Saturday night game. Pittsburgh (59-84) was in seventh place in the National League; Cincinnati was sixth, but only a game ahead of the Pirates; a win would lift Pittsburgh into a sixth-place tie.4
The temperature had reached a high of 73 degrees and only a trace of rain had fallen on the first day of autumn, so the 13,810 assembled in Forbes Field had comfortable weather that evening as they welcomed the Pirates home from a 19-game road trip.5 Frisch gave Hallett the ball to oppose Cincinnati starter Johnny Hetki. Hetki was a 24-year-old right-hander who had debuted with the Reds as a September call-up in 1945. Going into this start, he was 5-6 with a stingy 2.68 ERA over 30 appearances in 1946. Manager Bill McKechnie had already used him seven times in September, twice as a starter.
Hallett walked Claude Corbitt, the Cincinnati leadoff hitter, but navigated the rest of the first inning without difficulty. He quickly rolled off six more hitless innings with no errors behind him and only two walks, to Corbitt and Dain Clay, leading off the Reds' sixth, separating him from perfection through seven.
Hetki stayed right with him but for a scratch run in the Pittsburgh fourth inning fueled by walks to Jim Russell and Chuck Workman and an RBI single by Frankie Gustine.
Then Hallett lost both his no-hitter and shutout in the Cincinnati eighth inning. Eddie Lukon lined his first pitch into right field for a single.6 The big righty bore down to erase Lukon on a double-play ball hit by Eddie Shokes. Hallett should have been back in the dugout but wasn't when third baseman Lee Handley booted Clay's groundball, allowing him to reach first base safely and extend the half-inning. McKechnie took advantage of the free at-bat by pinch-hitting Al Libke for Hetki. Libke earned his keep with an infield single in front of Handley, advancing Clay to second. McKechnie used the managerial skills that took him to the Hall of Fame, inserting Bob Usher to run for Libke and sending veteran left-handed-hitting Lonny Frey out to hit for his righty leadoff man, Corbitt. Frey, another war returnee and now 35 years old, pulled a single to right field, scoring Clay with an unearned run and tying the game at 1-1. Putting the kibosh on any further scoring, Hallett promptly got a groundball to second base for the third out.
Cincinnati replaced Hetki with Ed Heusser as Pittsburgh batted in the eighth. Frisch stuck with Hallett. Neither team advanced a runner as far as second base through the rest of regulation.
That lasted through the 12th inning as Hallett and Heusser continued to duel. But with his innings mounting, Hallett encountered trouble in the Cincinnati 13th. He got Clay on a fly ball to open the inning, but Heusser and Eddie Miller touched him for successive singles that sent Heusser to third base with one out. Frisch ordered an intentional pass to Benny Zientara to load the bases for Bert Haas.7
If Frisch and Hallett were looking for a double play, they got it, but it wasn't routine. Haas lifted a fly ball to center field that Russell handled for the second out. Both Heusser and Miller tagged up and were off to the races after the catch, Heusser plate-bound and Miller dubiously attempting to advance to third base. Miller's daring cost the Reds the lead, though, as Russell delivered a strong throw to Gustine, covering third, to cut down Miller for the third out. The run Heusser would have scored, absent a perfect longer throw from Russell, never materialized. The score remained 1-1.
McKechnie sent out Harry Gumbert, a grizzled 36-year-old who had been in the majors since 1935, in place of Heusser in the bottom of the 13th.8 Leading off, Handley topped the ball in front of the plate and was put out by the catcher. But Hallett, who had hit a two-out single back in the 10th, slapped another safety up the middle to give the Pirates a start. Burgess Whitehead dropped an intended sacrifice bunt and beat it out, advancing Hallett to second base. Elbie Fletcher rolled back to Gumbert, who forced Hallett at third base while Whitehead moved to second. With two outs and Whitehead ready to roll on contact, Russell, whose strong throw helped save the lead run in the top of the inning, was up. He bested Gumbert with a sharp single to center field that brought Whitehead home with the winning run — and a "deserving reward for Hallett."9
The Navy vet had faced 48 batters in his pugnacious gem, striking out nine and walking three. The sole run he yielded was unearned; his ERA dropped to 3.02. Although not in use in 1946, the Game Score evaluation, developed by Bill James in the sabermetric age, has been retroactively calculated for pre-Games Score starting pitchers. A score of 50 is considered an average outing. Hallett's effort is rated at 97.10
Although Kiner was having a decent rookie season, hitting .244 and on his way to leading the 1946 National League in home runs with 23, his bat was silent in support of Hallett. The future Hall of Famer,11 hitting seventh in Frisch's order, failed to reach base in five plate appearances. He added three strikeouts to his season total. It reached 109 by the end of the season, also pacing the National League.
The battling win did indeed move the Pirates into a tie for sixth place. But the Reds swept the doubleheader the next day, dumping Pittsburgh back into seventh place. The Pirates closed the season with an eight-game road trip to Chicago and Cincinnati, went 3-5, and finished with a record of 63-91 — in seventh place.
Sources
In addition to the Sources cited in the Notes, I used the Baseball-Reference.com and Retrosheet.org websites for player, team, and season pages and the following box scores:
baseball-reference.com/boxes/PIT/PIT194609210.shtml
retrosheet.org/boxesetc/1946/B09210PIT1946.htm
Notes
1 Frederick Turner, When the Boys Came Back: Baseball and 1946 (New York; Henry Holt & Co., 1996), 3.
2 Charles J. "Chilly" Doyle started covering the Pirates in 1915. He served a term as president of the Baseball Writers Association of America. Richard "Pete" Peterson, "The Storytellers: The Golden Era of Pittsburgh Sportswriters," in Western Pennsylvania History Magazine (Summer 2010): 32.
3 Charles J. Doyle, "Hallett Shapes Up as Mound Regular," Pittsburgh Sun-Telegraph, March 5, 1946: 18.
4 The Pirates had won in St. Louis on Opening Day, but a 9-9 record on May 5 was the last time they had been at .500. They were 31½ games behind the league-leading Cardinals when play opened on September 21.
5 Weather Underground.com, Pittsburgh weather history, September 21, 1946, accessed February 3, 2010. The road swing started on September 4 and had taken the Pirates through Cincinnati, St. Louis, New York, Boston, Philadelphia, and Brooklyn, where Pittsburgh was shut out, 7-0, on September 19. The Pirates were 9-10 on the trip.
6 Les Biederman, "Pirates Beat Reds, 2-1, in 13 Innings," Pittsburgh Press, September 22, 1946: 21.
7 The motivation for this move is lost to history, although it might have been based on the fact that Haas was caught stealing 12 times in 1946 to lead the National League and Frisch was looking for a better double-play opportunity. Otherwise, both were right-handed hitters. Zientara was batting second in the order, Haas third. Zientara had a hit earlier in the game; Haas was hitless in five trips, but had not struck out. Zientara had struck out once.
8 Gumbert pitched until he was 40. He led the 1948 National League with 61 appearances, 46 games finished, and 17 saves for Cincinnati.
9 Biederman.
10 "Game Score" definition, Baseball-Reference Bullpen, Baseball-Reference.com, accessed February 4, 2020. Hallett's score of 97 is a part of his pitching line summary in the Baseball-Reference.com box score cited in the Sources ("GSc").
11 Kiner, who played his last season in 1955 with the Cleveland Indians, was inducted into the Hall in 1975 in the Baseball Writers Association of America voting. While he did nothing offensively in this game, Kiner wasn't a defensive liability for Hallett. Considered throughout his career as a below-par outfielder, Kiner played an errorless game in left field without a defensive chance.
Additional Stats
Pittsburgh Pirates 2
Cincinnati Reds 1
13 innings
---
Forbes Field
Pittsburgh, PA
Box Score + PBP:
Corrections? Additions?
If you can help us improve this game story, contact us.
Tags
https://sabr.org/sites/default/files/HallettJack.jpg
600
800
admin
/wp-content/uploads/2020/02/sabr_logo.png
admin
2020-02-26 16:12:05
2020-04-17 10:22:17
September 21, 1946: A 13-inning 'deserving reward' for Sailor Jack Hallett