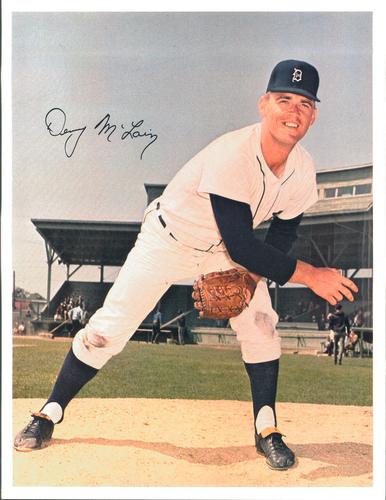 September 21, 1963: Denny McLain homers in major-league debut
---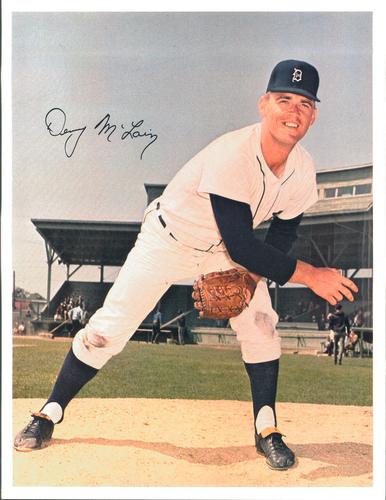 The Saturday afternoon affair at the corner of Michigan and Trumbull seemed insignificant to most baseball fans. Despite being 24 games above .500 (89-65), the second-place Chicago White Sox had been mathematically eliminated and were 11½ games behind the runaway American League-leading New York Yankees. The homestanding Detroit Tigers were 75-79 and clinging to fifth place, 25½ games off the lead.
Temperatures struggled to reach the mid-60s under mostly cloudy skies and only 4,291 fans turned out to watch a pitching matchup that featured a pair of right-handers making their major-league debuts. Twenty-six-year-old Fritz Ackley, who had toiled in the White Sox minor-league system for nine seasons, started for Chicago. Ackley was coming off a strong season with the Indianapolis Indians of the Triple-A International League. In 31 games, 27 as a starter, he won a league-leading 18 games against 5 defeats, with a 2.76 ERA, 10 complete games and 3 shutouts.
He was opposed by 19-year-old Denny McLain. The suburban Chicago native had soared through the minor leagues after being drafted by the Tigers from the White Sox farm system. At the time, players with one year of service in the minor leagues who were on their parent club's 40-man roster were subject to a draft if not promoted to the major leagues.1 As a result, the White Sox were faced with the dilemma of being able to protect only two of their three prized pitching prospects, McLain, Detroit-area legend Dave DeBusschere, and Bruce Howard.2 The White Sox had given DeBusschere a $75,000 bonus, so the choice was really between Howard and McLain.3 They decided to protect Howard, leaving McLain exposed.
McLain earned his September call-up by going a combined 18-6 in the minors. He was 13-2 with a 2.55 ERA with the Duluth-Superior Dukes of the Class-A Northern League and 5-4 with a 3.51 ERA with the Knoxville Smokies of the Double-A Sally League. Despite his success in the minors, Detroit fans knew relatively little about the bespectacled young hurler.
McLain walked White Sox leadoff hitter Mike Hershberger on four pitches to start the game. McLain described what happened next in his 2007 autobiography, I Told You I Wasn't Perfect:
"Hershberger took a big lead and I whipped the ball to Norm Cash and picked him off. It was the first batter I'd picked off in any league ever. I looked into the dugout and heard Charlie] Dressen screaming, 'For crissakes, all you old sumbitches can't pick anyone off, and this kid gets the first who ever got on against him. Pay attention. Goddamit!'"4
McLain followed his first pickoff of a baserunner with his first strikeout, victimizing rookie Don Buford, who had made his major-league debut just one week earlier. Gene Stephens also struck out and McLain's first major-league inning was in the books.
Ackley and McLain navigated their respective ways in and out of trouble as the game remained scoreless through four innings. Remarkably, McLain picked off his second baserunner of the game when he nailed Buford off first to end the third inning.
The White Sox scored first in the top of the fifth inning. Catcher J.C. Martin led off with a single and went to second when Ackley helped his own cause with a single. Martin moved to third when Hershberger hit a comebacker to McLain, who started a 1-4-3 double play. Buford exacted a bit of revenge for his pickoff when he tripled to drive in Martin with the game's first run.
The Tigers answered in their half of the fifth with one-out, back-to-back home runs by McLain and Bill Bruton. McLain's home run, the first and only homer of his major-league career, landed in the left-field grandstand. Bruton's home run was his eighth of the season. At the end of five innings, the Tigers led 2-1.
After McLain pitched a 1-2-3 sixth, the Tigers extended their lead in the bottom of the inning. Rocky Colavito led off with a single. Willie Horton reached on an error by shortstop Ron Hansen, but was caught in a rundown as he tried to advance to second. Colavito moved to third on the play. Bubba Phillips drove Colavito home with a sacrifice fly to left to put the Tigers up 3-1.
The White Sox failed to score in the top of the seventh. Right-hander Jim Brosnan, who had been traded to Chicago by the Cincinnati Reds on May 5, took over for Ackley, who had been lifted for a pinch-hitter in the top of the seventh. Brosnan was 3-8 with 15 saves and a 3.09 ERA.
After Brosnan retired the Tigers in order in the bottom of the seventh, the White Sox mounted a rally, aided by some shoddy defensive work by McLain. Hershberger walked and moved to second when Buford singled, his third hit of the day. Stephens grounded back to McLain. What appeared to be a potential double-play ball turned out to be a costly error when McLain threw wildly to third, allowing Hershberger to score. The score was now 3-2 and the White Sox had runners on first and second with no outs. Left fielder Floyd Robinson followed with a grounder to shortstop Dick McAuliffe, who threw to second to get Stephens as Buford took third. Tommy McCraw sent a sacrifice fly to center that allowed Buford to scamper home. The two unearned runs tied the game, 3-3.
The game didn't remain tied for very long. After McAuliffe grounded out to second to lead off the bottom of the eighth, first baseman Cash deposited a home run into the upper deck in right field to regain the lead. It was Cash's 25th home run of the year.
Hoping the White Sox could tie the game with one swing of the bat, manager Al Lopez sent three pinch-hitters to the plate in the top of the ninth. Deacon Jones flied out to left. Rookie Pete Ward, who finished second in the AL Rookie of the Year voting to a teammate, left-handed pitcher Gary Peters, struck out looking. Lastly, McLain struck out former Tiger Charlie Maxwell to end the game.
McLain gave up seven hits, walked four and struck out eight to earn his first major-league victory. Brosnan, pitching the final game of his nine-year career, took the loss, his ninth of the season in 12 decisions. The time of the game was 2 hours and 10 minutes.
In a postgame interview, McLain revealed a keen sense of humor. A reporter said, "Denny, I notice you've got glasses. How often do you wear them?" McLain replied, "Only when I want to see."5
Another reporter asked whether that was the first home run he ever hit. McLain answered, "It was the first extra-base hit I ever got." The reporter responded, "You're not much of a hitter, then," to which McLain quipped, "I'm better than Hank Aguirre."6 It was a reference to Aguirre's notoriously poor hitting.7
The two starters making their major-league debuts went on to have very different careers. Ackley made his second start on September 26 at Comiskey Park and earned his only major-league victory in a 7-1 win against the Washington Senators. He appeared in only three more games with the White Sox in April and May of 1964; that was the end of his major-league career.
McLain, on the other hand, rose to the heights of super-stardom in 1968, when he became baseball's last (as of 2019) 30-game winner. A 20-game winner in 1966 and 1969, McLain won 31 games in the 1968 season and captured both the Cy Young and MVP Awards.8 But within two years his career and life began to unravel, eventually leading to stints in prison for drug trafficking, embezzlement, and racketeering.
Few players have soared to the heights that McLain enjoyed. Even fewer have subsequently fallen as fast and hard as he did.
Sources
In addition to the sources cited in the Notes, the author also consulted Baseball-Reference.com and Retrosheet.org for player pages, season logs, and the following box scores.
https://baseball-reference.com/boxes/DET/DET196309210.shtml
https://retrosheet.org/boxesetc/1963/B09210DET1963.htm
Notes
1 Mark Amour, "Denny McLain," SABR BioProject, https://sabr.org/bioproj/person/6bddedd4.
2 A two-sport standout at the University of Detroit, DeBusschere was a three-time All-American forward for the Titans basketball team. While he had a brief major-league career with the White Sox (3-4, 2.90 ERA), he went on to a Hall of Fame basketball career with the Detroit Pistons and New York Knicks. Howard went 25-25 in five seasons with the White Sox.
3 Joe Falls, "McLain a Whiz in Tiger Debut," Detroit Free Press, September 22, 1963: 48.
4 Denny McLain, I Told You I Wasn't Perfect (Chicago: Triumph Books, 2007), 39.
5 Falls.
6 Ibid. McLain wasn't exaggerating. In two seasons of minor-league play prior to his promotion to Detroit, he had 16 hits, all singles, in 130 at-bats.
7 Hank Aguirre batted.085 and never hit a home run in his 16-year major-league career. McLain was marginally better, batting .133 in his 10 major-league seasons.
8 McLain also won the AL Cy Young Award in 1969 with a 24-9 record in 41 starts.
Additional Stats
Detroit Tigers 4
Chicago White Sox 3
---
Tiger Stadium
Detroit, MI
Box Score + PBP:
Corrections? Additions?
If you can help us improve this game story, contact us.
Tags
https://sabr.org/sites/default/files/McLain-Denny.jpg
600
800
admin
/wp-content/uploads/2020/02/sabr_logo.png
admin
2020-03-24 12:38:28
2020-05-28 15:46:55
September 21, 1963: Denny McLain homers in major-league debut