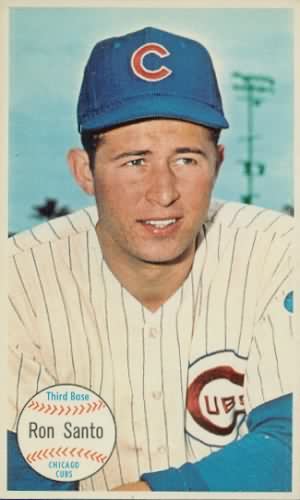 September 21, 1965: Cubs' Ron Santo is one-man show with two-homer game
---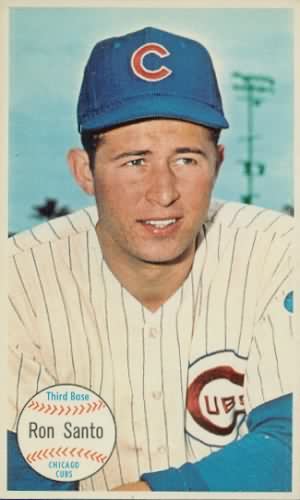 "Sure, there are days you don't feel like coming to the park," said Chicago Cubs All-Star Ron Santo. "But you're getting paid. You can't turn in your uniform."1 Known for his competitive spirit, Santo was frustrated with losing. Heading into the first game of a three-game set with the Philadelphia Phillies, manager Lou Klein's squad had lost 12 of its last 17 games to fall to 68-83, assuring the team of a losing season for the 18th time in 19 seasons. In eighth place, 22½ games behind the first-place San Francisco Giants, the Cubs were also headed for a second-division finish for the 19th consecutive season. The Phillies (77-72), piloted by Gene Mauch, were in sixth place, 12½ games off the pace.
On an unseasonably warm and humid Tuesday afternoon with temperatures in the high 70s, only 892 spectators showed up at the "Friendly Confines" in the Windy City. No doubt the overcast skies and predictions of thundershowers deterred some fans, as did the Cubs' dismal record.2 "Today was bad," said Santo, "a dreary day, the stands empty. It was like an intrasquad game."3 Commented sportswriter Stan Hochman of the Philadelphia Daily News, "When the stands are empty you can always hear that loud-mouthed punk who sits behind first base and gets personal with everybody."4
On the mound for the Cubs was southpaw Dick Ellsworth, an All-Star the previous season, who sported a 76-87 record in parts of eight seasons, including 14-14 as the '65 campaign drew to a close. The visiting Phillies lined up behind Grant Jackson (0-1), making his first big-league start.
After Ellsworth worked around a leadoff double by the Phillies' Tony Taylor, the Cubs took their whacks at Jackson, a hard thrower who had averaged more than a strikeout an inning in parts of four seasons in the minors. After one-out singles by Glenn Beckert and Billy Williams, Santo took Jackson deep to left-center for his 30th home run of the year. "You look at the flags," said Santo, "and feel how hard the wind is blowing. … You know all you've got to do is get the ball in the air."5 The next batter, nine-time All-Star and two-time MVP Ernie Banks, launched his 26th home run, giving the Cubs a 4-0 lead. It was also Mr. Cub's 100th RBI of the season, a mark he reached for the seventh time in his illustrious career. "I told him to throw his best stuff," said Mauch about his advice to his rookie hurler. "I told him not to worry about the wind or the kind of ballpark it was."6 Jackson had no excuses for his forgettable maiden start. "[I] was missing low," he said. "I didn't want to get in trouble that way, so I came up."7
Alex Johnson and Adolfo Phillips led off the top of the second inning with singles and both advanced on Bobby Wine's groundout. Pat Corrales hit a ball right back to Ellsworth in what looked like an ordinary play at first, but it turned into chaos when Ellsworth whipped the ball to Santo at third base, trapping Johnson between third and home. According to the Chicago Tribune, Phillips advanced to third while catcher Chris Krug and Santo had Johnson in a rundown.8 When Johnson slid back to third base, he was stunned to see Phillips already standing on the bag. Krug tagged Johnson, who thought he was out; however, he followed Mauch's directions and touched home plate as he headed to the dugout. Third-base umpire Phil Williams ruled that Krug had tagged the "wrong runner" (Johnson, not Phillips). Thus, both Phillies were safe, the run counted, and Corrales was on second. An enraged Klein argued the call and filed a formal protest. Cookie Rojas, pinch-hitting for Jackson, drove in Phillips on a groundout to pull the Phillies to within two runs, 4-2.
The Cubs tacked on a run in the bottom of the third when Beckert led off with a double off crafty, 38-year-old Lew Burdette, who had replaced Jackson to start the second. Coincidentally, Burdette had begun the season with the Cubs. Santo's single to center gave the Cubs a 5-2 lead.
The former 20-game winner Ellsworth ran into trouble in the fifth when he walked two of the first three batters (Billy Sorrell and Johnny Callison), then Dick Allen singled to right-center to load the bases. Hard-hitting Dick Stuart lofted a sacrifice fly driving in Sorrell and cutting Chicago's lead to 5-3.
After working around two one-out singles in the sixth, Ellsworth was knocked from the box in the seventh when Allen doubled to the left-center-field gap with one out and scored on Stuart's single to pull the Quakers, as Philadelphia papers still liked to call the club, to within one, 5-4. Like Bob Kennedy, the manager he replaced after 58 games, Klein called on rubber-armed right-hander Ted Abernathy when in a jam. Abernathy, making his 78th appearance en route to a major-league record 84 (surpassing Kansas City's John Wyatt's 81 set the previous year) put out the fire. But in the eighth, Abernathy yielded the game-tying run on leadoff singles by Wine and pinch-hitter John Herrnstein, then Clay Dalrymple's 4-6-3 double-play grounder.
With the score tied, 5-5, in the bottom of the eighth, the Cubs faced rookie right-hander Fergie Jenkins, replacing Gary Wagner, coming off two 1-2-3 innings. Jenkins, who would be traded to the Cubs the next season and go on to record six consecutive seasons with 20 or more victories in his Hall of Fame career, was making just his fifth career appearance, all in relief, and had not given up a run in 7⅓ innings. After walking Williams with one out, Santo blasted a round-tripper into the left-field bleachers to put the Cubs back into the lead, 7-5. It was his 31st home run of the season, a record for Cubs third basemen9. "He's so big," said Santo of the imposing 6-foot-5, 205-pound Jenkins. "I figured him out to be a hard thrower like [the Pittsburgh Pirates'] Bob Veale. I haven't had too many wind-blown homers."10 Jenkins didn't seem too impressed with Santo's home run. "I thought it was a popup," he said. "Then I saw Tony Gonzalez turn his back. I didn't think he hit it that good. But you've got the element of the wind."11
Abernathy closed out the game with a one-two-three ninth to give the Cubs the victory in 2 hours and 32 minutes. Jenkins was charged with his first career loss (He'd ultimately rack up 226 losses in his 19-year career, but also win 284). "Maybe I'm getting a little tired," quipped Abernathy, who evened his record at 4-4, "but I don't hurt. I started out thinking I'd be in 70 games, now I'd like to set the record."12
The story of the day was Santo, the popular and emotional leader of the North Siders. It was the third time in 1965 and the 10 time in his career thus far that he hit two home runs in a game. By the time he retired after the 1974 campaign with 337 round-trippers in 15 seasons, he had accomplished the feat 26 times, but never hit three in a game. Santo walloped a career-best 33 home runs in 1965, the second of four straight seasons he hit 30 or more.
This game summary was the product of Prof. Wolf's seminar "Lying, Cheating and Stealing: America through the Lens of Baseball," taught during the spring term 2017 at North Central College, Naperville, Illinois.
Sources
In addition to the sources cited in the Notes, the authors also accessed Retrosheet.org, Baseball-Reference.com, and SABR.org.
https://www.baseball-reference.com/boxes/CHN/CHN196509210.shtml
http://www.retrosheet.org/boxesetc/1965/B09210CHN1965.htm
Notes
Additional Stats
Chicago Cubs 7
Philadelphia Phillies 5
---
Wrigley Field
Chicago, IL
Box Score + PBP:
Corrections? Additions?
If you can help us improve this game story, contact us.
Tags
http://bioproj.sabr.org/bp_ftp/images4/SantoRon.jpg
600
800
admin
/wp-content/uploads/2020/02/sabr_logo.png
admin
2017-08-04 14:43:14
2020-04-17 10:25:46
September 21, 1965: Cubs' Ron Santo is one-man show with two-homer game