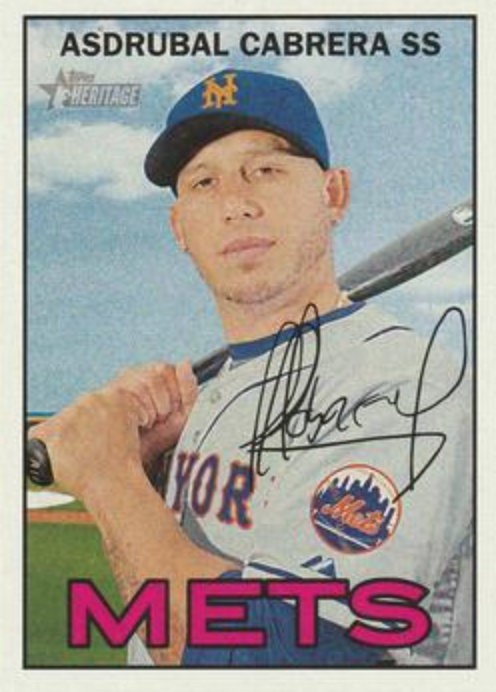 September 22, 2016: Asdrubal Cabera's extra-inning walk-off lifts Mets to comeback win
---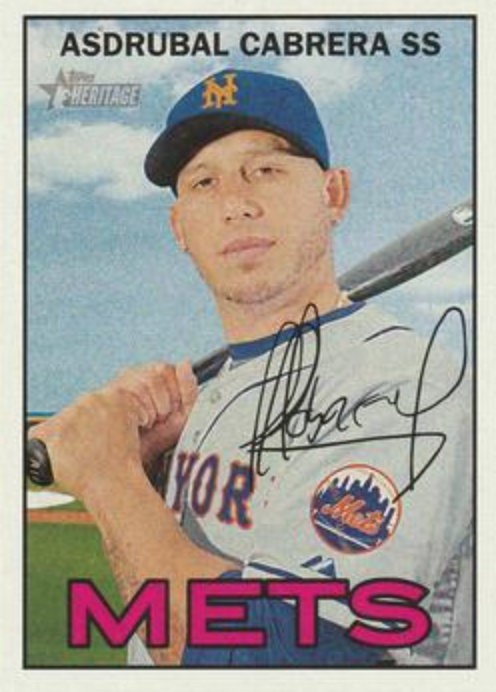 You know the old cliché: Some fans claim they've seen it all. Yet only a crowd of 35,759 at Citi Field can state that they have witnessed in person perhaps one of the greatest comebacks in the history of New York Mets baseball. In a "win that defied all logic,"1 Asdrubal Cabrera led the New Yorkers with a walk-off, game-winning, three-run home run in the bottom of the 11th.
With only 10 games left in the 2016 regular season, New York was nine games out of first place in the National League's East Division. The Mets had just been swept by the Atlanta Braves in a three-game series. It was crucial that they win this four-game series against the Phillies. Their manager, Terry Collins, said, "We talked before the game and said, 'It's a 10-game season.' Best team gets in."2 Philadelphia, on the other hand, was 20 games behind the division-leading Washington Nationals, even after winning four of five coming to New York.
Rookie righty Seth Lugo (4-2, 2.35 ERA) took to the mound for the Mets, opposed by Phillies left-hander Adam Morgan (2-10, 5.57 ERA). It was Lugo's first appearance against the Phillies. Morgan had pitched against Philly on August 26, earning a loss after yielding six runs in five innings. In this game, both pitchers were sharp in the first inning, retiring batters in order. Lugo struck out two Phillies, while Morgan struck out the side. After the Phillies went again with three-up, three-down, thanks to a double play, New York's T.J. Rivera singled to start the bottom of the second. Curtis Granderson was in the hole with an 0-and-2 count when he launched a ball deep down the right-field line for a two-run homer. Morgan retired the next three Mets batters, but New York had an early lead.
In the top of the fourth, the Phillies batters were seeing Lugo for the second time. Cesar Hernandez tripled to right to start a Philadelphia rally. Roman Quinn drove him in with a groundout to second, but Lugo quickly got Odubel Herrera and Maikel Franco to fly out. In the fourth, Lugo was not so lucky. Ryan Howard and Cameron Rupp hit back-to-back home runs, on the first pitches thrown by Lugo to each, and Philadelphia had taken the lead. Lugo seemed a bit rattled. He survived the inning, but he walked Aaron Altherr and Hernandez before getting the third out.
In the bottom of the fifth, the Mets hitters were getting their third time through the order. After Alejandro De Aza struck out, Ty Kelly pinch-hit for Lugo and drew a walk. Reyes flied out to deep center, and Cabrera reached on an infield single. With Yoenis Cespedes batting, Morgan uncorked a wild pitch and Kelly scampered to third. Cespedes then singled into right field, and the score was tied, 3-3. Two innings later, Reyes walked with two outs. Cabrera singled, and Cespedes doubled to left with Reyes scoring. Comeback number one.
Each starter pitched five innings. Luis Garcia replaced Morgan to open the bottom of the sixth. Then the managers inserted pitchers in a matchup mode. Collins wore out a path from the dugout to the mound, and none of his nine relievers pitched more than one inning. For the Phils, eight calls were made to the bullpen. Jeurys Familia pitched 1⅔ innings to lead the workload.
With New York ahead 4-3 entering the eighth inning, Philadelphia managed a rally. Hernandez singled to lead off. Quinn sacrificed Hernandez to second. Herrera hit a tough grounder to second and made a head-first dive into first base, and umpire Kerwin Danley called him safe on the bang-bang play. The Mets challenged the decision, but after replay review, the call was confirmed: safe. Herrera had held up at third. Franco then crushed a fastball by Addison Reed (the fourth Mets reliever) into the Phillies bullpen, and suddenly, the Mets were down by two tallies. Franco's dramatic three-run homer had "stabbed the Mets."3 It was Franco's first round-tripper since mid-August.
True fans stayed at Citi Field to watch their Mets come to the plate in the bottom of the ninth. Pinch-hitter Brandon Nimmo stroked a line-drive single to right. Jay Bruce struck out swinging, and then Reyes "destroyed a hanging change-up over the 370-foot mark in right field"4 for comeback number two. In an instant, the ballgame was tied. To extra innings they went.
Both teams were three-up and three-down in the 10th, but in the 11th, Phillies shortstop Freddy Galvis drove a liner to deep left-center for a leadoff double. Familia, who had come on to pitch the 10th, struck out Altherr. Tommy Joseph followed with a groundout to second, but Galvis moved to third on the out. Collins ordered Familia to intentionally walk Hernandez. With a 1-and-1 count, A.J. Ellis singled into short right field, and Galvis scored the go-ahead run with Hernandez going to third. Jerry Blevins came on to relieve Familia, but he hit Herrera with a 3-and-2 pitch, loading the bases. Jim Henderson was summoned from the bullpen, and after he threw nine pitches to Franco, who kept fouling them off, Franco took ball four, and Hernandez scored the Phillies' eighth run. Peter Bourjos grounded out to third baseman Reyes, who stepped on the bag for the third and final out.
Down by two runs but not out, New York did not give up. Edubray Ramos came in to pitch for Philadelphia in place of Severino Gonzalez. Nimmo grounded out to short. Then Michael Conforto pinch-hit for pitcher Henderson and drew a four-pitch walk. Reyes singled to left, and the fans were on their feet. Ramos's first offering to Cabrera was a ball, but the next pitch was a "slider up and out over the plate, and Cabrera hit it far enough that no Phillies outfielder had any chance to catch it,"5 for comeback number three. Cabrera's smash, his 22nd of the 2016 campaign, meant a 9-8 win for the home team, and he boasted, "As soon as I hit it, I knew it would be out."6 Not even out of the batter's box, he tossed his bat into the air and threw his arms skyward to punctuate the victory.
The top of the Mets order provided the bulk of the damage against the Phillies. Reyes was 2-for-5 with a walk, a homer, three runs scored, and two RBIs. Cabrera was 3-for-6 with the three-run blast. Cespedes went 3-for-4 with a walk and two RBIs. Granderson, batting fifth, added a home run and drove in the other two New York runs.
The two teams combined to get 49 players (19 pitchers) into the game. Phillies skipper Pete Mackanin labeled this "probably the toughest loss of the season."7 He added, "The offense did a heck of a good job coming back twice, going ahead, and we just let them right back in."8 Gomez, who picked up his sixth blown save of the season, told the sportswriters, "Today was another bad day, probably one of the worst days I've had."9 In the New York clubhouse, Reyes said, "We had to win this game, to set the tone after the series we had with the Braves."10 Collins added, "Tonight's game personifies exactly what the season is like. Up and down, up and down. You've just got to keep playing."11
The Mets' comeback victory allowed them to hold onto one of the National League's wild-card spots. They took three of four in this series from the Phillies, and the Mets won seven of their last 10 to clinch the wild-card berth and a second straight trip into the postseason.12
This article was published in "Met-rospectives: A Collection of the Greatest Games in New York Mets History" (SABR, 2018), edited by Brian Wright and Bill Nowlin. To read more articles from this book at the SABR Games Project, click here.

Sources
In addition to the sources mentioned in the Notes, the author consulted Baseball-Reference.com, mlb.com, and Retrosheet.org.
A recap of the leap-frogging comebacks from mlb.tv can be seen at https://youtube.com/watch?v=omeXDvZq8sA.
https://www.baseball-reference.com/boxes/NYN/NYN201609220.shtml
http://www.retrosheet.org/boxesetc/2016/B09220NYN2016.htm
Notes
1 Matt Gelb, "Gomez Blows Save, Phils Lose Heartbreaker," Philadelphia Inquirer, September 23, 2016: C01.
2 Danny Knobler and Todd Zolecki, "Mets Win Thriller on Cabrera's Walk-Off homer," m/mlb.com/news/article/202801934/mets-win-on-asdrubel-cabreras-walk-off-homer/?game_pk=449153, posted September 23, 2016.
3 Gelb.
4 Ibid.
5 Knobler and Zolecki.
6 Ibid.
7 Gelb.
8 Knobler and Zolecki.
9 Gelb.
10 Knobler and Zolecki.
11 Maria Guardado, "Resilient Mets rally twice to beat Phillies in wildest win of the season," nj.com/mets/index.ssf/2016/09/mets_win_emotional_tug_of_war_vs_phillies.html, posted September 23, 2016.
12 The Mets hosted the San Francisco Giants in a one-game wild-card game but lost, 3-0. However, for the second time in franchise history, the Mets had made the postseason in consecutive years (previously in 1999-2000).
Additional Stats
New York Mets 9
Philadelphia Phillies 8
11 innings
---
Citi Field
New York, NY
Box Score + PBP:
Corrections? Additions?
If you can help us improve this game story, contact us.
Tags
https://sabr.org/sites/default/files/Asdrubal%20Cabrera.png
600
800
admin
/wp-content/uploads/2020/02/sabr_logo.png
admin
2019-10-17 14:50:53
2020-04-17 10:22:26
September 22, 2016: Asdrubal Cabera's extra-inning walk-off lifts Mets to comeback win