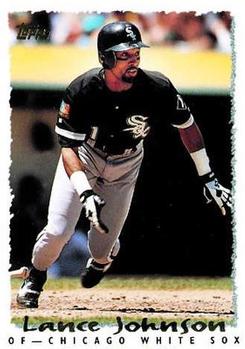 September 23, 1995: Lance Johnson triples three times as White Sox thrash Twins
---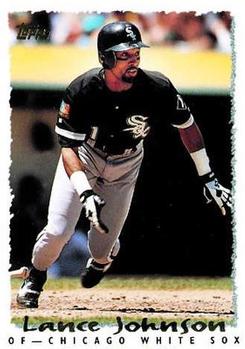 The race to lead the league in triples is not one that gets a lot of attention from the media. For Lance Johnson, who had led the American League in triples for four straight years (1991-1994), the desire to win the title again was real. In the strike-shortened season of 1995, however, Johnson found himself trailing Kenny Lofton of the Cleveland Indians by four triples (12-8) with just nine games left in the season.
For Johnson (given the nickname One Dog by White Sox announcer Ken Harrelson1) to get back into the race, something special would need to happen, and maybe a little luck too. "Everybody needs a little luck in this game," Johnson would comment later.2
It was Fan Appreciation Night at the Metrodome for the Twins (52-83, good for last in the AL Central, 41 1/2 games back of Cleveland) game against the White Sox (63-72, third in the AL Central, 30 1/2 games back).3 Twins manager Tom Kelly and players greeted fans as they entered the ballpark, but the 21,007 in attendance could have been forgiven for thinking that the Twins were not as appreciative as they might have hoped.
Johnson was quite appreciative of the playing surface at the Metrodome, as his short fly to left center was misplayed by Marty Cordova, bouncing over his head and to the wall for a leadoff triple (Lofton 12, Johnson 9). Johnson scored three batters later on Frank Thomas's single. Robin Ventura's single and an error by Pedro Muñoz gave the White Sox a two-run lead after the first half-inning. The lead would grow to five in the White Sox' next inning, as Doug Brady's first major-league hit plated Chris Snopek, Johnson's second triple in as many innings (Lofton 12, Johnson 10) scored Brady, and Tim Raines' sacrifice fly brought Johnson home.
Staked to three more runs than in his last three starts combined, White Sox pitcher Wilson Alvarez (7-10, 4.39 ERA) went about his business of getting through the game. Doubles by Jeff Reboulet and Chuck Knoblauch gave the Twins their first run in the third, but Pat Meares' deep fly was caught to end the inning and the threat. Knoblauch had entered the game leading the American League with 172 hits, two more than Johnson. With Johnson's single in the top of the fourth, that lead was gone; both now had 173.
The score remained 5-1 in the White Sox' favor until the sixth, when Twins starter Jose Parra (1-4, 7.04 ERA) was finally finished off. With one out, Brady and Johnson singled (Johnson now led the AL in hits, but still trailed Lofton in triples), and a walk to Raines loaded the bases. Dave Martinez's sacrifice fly scored Brady and singles by Thomas and Ventura scored Johnson and Raines respectively. The White Sox got two more in the seventh, with some history added in. Snopek and Ron Karkovice singled to lead off the inning. Brady's grounder forced Karkovice, bringing up Johnson, whose triple to deep left-center plated Snopek and Brady, and gave him five hits (Johnson 175, Knobloch 173) for the day. The triple brought his deficit down to one (Lofton 12, Johnson 11), and he became the first White Sox player to get three triples in a game.
"There are guys like Frank (Thomas) and Albert Belle who you know are capable of hitting a home run every time to the plate," said White Sox manager Terry Bevington. "With Lance, it seems he's capable of hitting a triple at any time."4
It was the first time a player had three triples in an American League game since 1980, and through 2018 had happened only once more.5
The White Sox were not done yet. Ventura led off the eighth with a double, and Snopek's double scored Ventura and Lyle Mouton, who had walked. Two batters later, Johnson made a little more history. His single scored Snopek with the White Sox' 14th run of the day and gave him his sixth hit in as many at-bats. With the single, Johnson became the fourth White Sox batter with six hits in a game6 (Johnson 176, Knoblauch 173).
Álvarez, who had faced the minimum from the fifth inning through the seventh, was finally roughed up in the eighth. A single, walk, and error loaded the bases with no one out. Groundouts by Brian Raabe and Meares each drove in a run, but the rally died on a foul popup by Alex Cole. The White Sox tried to put together another rally in the ninth, but Mouton was thrown out at second after Ventura doubled, effectively ending the threat. Johnson was two batters away from a potential seventh at-bat and hit. In one last act of defiance, the Twins had consecutive doubles with two out in the ninth to cut the lead to 14-4, but Scott Leius's line drive to Snopek ended the festivities.
Asked about Johnson's night, Kelly responded, "Lance? I kept seeing Ventura running around the bases."7 Somewhat lost in Johnson's 6-for-6 night was Ventura's 5-for-6 night, including three doubles. Johnson and Ventura became the fourth set of White Sox teammates since 1908 to have at least five hits in the same game, matching Mike Kreevich, Zeke Bonura and Luke Appling (all three with five) on September 11, 1936 against the Philadelphia Athletics, Chico Carrasquel and Sherm Lollar (five each) on April 23, 1955 against the Kansas City A's, and Luis Aparicio and Walt Williams (five each) on May 31, 1970 against the Boston Red Sox.
Johnson tripled in his first at-bat the next day against the Twins, giving him nine consecutive hits (he had hits in his final two at-bats on September 22) and tying him for the league lead in triples with Lofton. He failed to triple in the remaining seven games of the White Sox' season. Lofton, who had not tripled since August 16, tripled in his last at-bat in the regular season to win the American League title with 13. Johnson did lead the American League with hits in 1995 with 186, beating Edgar Martinez, who finished with 182 and Knoblauch with 179.
Johnson became a free agent in the offseason and signed with the New York Mets. He led the National League in triples with 21 in 1996 and became the only player to lead each league in at-bats, hits, and triples after leading the National League in all three categories in 1996.
Sources
In addition to the sources listed in the Notes, the author accessed mlb.com, Retrosheet.org, Baseball-Reference.com, and the Chicago Tribune via newspapers.com.
Retrosheet: retrosheet.org/boxesetc/1995/B09230MIN1995.htm.
Baseball Reference: baseball-reference.com/boxes/MIN/MIN199509230.shtml.
Notes
1 bleacherreport.com/articles/757777-chicago-white-sox-top-five-hawk-harrelson-nicknames-of-all-time#slide1.
2 Kerby Meyers, "Johnson's Six Hits Help Sox Batter Twins," Chicago Sun-Times, September 24, 1995: 16.
3 Both teams finished their seasons in that position in the division.
4 Meyers.
5 Ken Landreaux had three triples for the Twins against the Texas Rangers on July 3, 1980, and Denard Span of the Twins had three against the Detroit Tigers on June 29, 2010. Based on this timing, a Twin might be involved in a three-triple game again in 2025.
6 The others are Rip Radcliff on July 18, 1936, against the Philadelphia Athletics, Hank Steinbacher against the Washington Senators on June 22, 1938, and Floyd Robinson against the Boston Red Sox on July 22, 1962. As of 2019 it has been done once since – Alexis Rios accomplished it on July 9, 2013, against the Tigers.
7 Jim Souhan, "Spotlight on Sideshows," Minneapolis Star-Tribune, September 24, 1995: 42.
Additional Stats
Chicago White Sox 14
Minnesota Twins 4
---
Metrodome
Minneapolis, MN
Box Score + PBP:
Corrections? Additions?
If you can help us improve this game story, contact us.
Tags
https://sabr.org/sites/default/files/JohnsonLance.jpg
600
800
admin
/wp-content/uploads/2020/02/sabr_logo.png
admin
2019-07-05 11:40:29
2020-04-17 10:22:36
September 23, 1995: Lance Johnson triples three times as White Sox thrash Twins