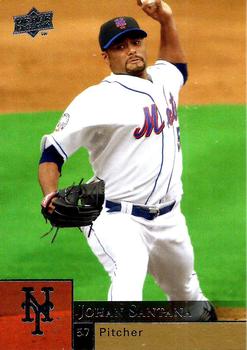 September 27, 2008: Johan Santana's complete game keeps Mets alive for one more day
---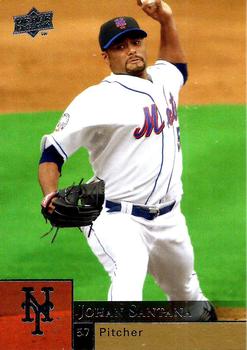 The New York Mets were running out of time. It was the last Saturday of the season and they faced elimination from the postseason for the second straight year. The Philadelphia Phillies clinched at least a tie with the Mets by defeating Washington, 8-4, the night before, while the Mets' 6-1 loss to the Marlins left them one game behind the Brewers for the lone NL wild-card spot.
"We didn't blink and all of a sudden we're a game back in the wild card. We've done this to ourselves. We've dug ourselves a hole. Now it's up to us to dig ourselves out of this hole," said David Wright when asked about the Mets' fading chances.1
The Mets had been planning their farewell to Shea Stadium for Saturday and suddenly it seemed as if that celebration was going to happen under a cloud with the Mets facing elimination. "Obviously, I would have to say I'm concerned. There's no doubt about that," Mets manager Jerry Manuel said before the game.2
The Mets had a difficult decision to make: whom to pitch in the crucial game. Manuel had two choices and neither one was easy. He could send Jon Niese to the mound. Niese had just three major-league starts under his belt. He had been shelled in his last start, giving up seven hits and six runs in just three innings.
Manuel's second choice was the ace of the Mets staff, Johan Santana. Santana had been unstoppable in the second half of the season. After he got victory number 15 in his last start, on September 23, his ERA stood at 2.64. Although Santana had thrown a season-high 125 pitches in that outing, he told his manager that he was ready. "[Do] whatever you have to do," he said. "I'm all about winning and we're trying to win every game, and if that's the case and [you] want me to do it, I don't have a problem with that."3
The 54,920 fans who showed up for the afternoon game knew that the Mets' season was on the line. They were ready to pin their hopes on Santana, who had been signed before the season to help the team avoid a repeat of the previous season's collapse. Many had read Santana's quotes in the morning newspapers: "There's no tomorrow. I've got to do it today. That's the way you take care of business." The Mets faithful were ready to give him all the vocal support he would need to keep their hopes alive.4
After getting leadoff batter Hanley Ramirez to fly out to right field, Santana struck out John Baker. Jorge Cantu singled but Santana got Josh Willingham to ground out to end the inning. It took Santana 20 pitches to get the first three outs and many in the crowd were likely wondering how long he might last if this continued.
Ricky Nolasco, the Marlins' winningest pitcher in 2008, started for Miami. He had garnered just one win in five appearances against New York that season. The Mets wasted no time in giving Santana a lead to work with. Jose Reyes singled and stole second. He moved to third on Carlos Beltran's single and came home when Carlos Delgado hit a sacrifice fly to center field. It would turn out to be the only run Santana would need.
Nolasco matched Santana, keeping the Mets in check as he struck out four of the next six batters he faced in the next two innings. In the fourth, he picked up his fifth strikeout when Wright was caught looking. But then Nolasco hit Daniel Murphy on a 1-and-2 pitch. When Ramon Martinez blasted a double to deep center field, Murphy came home. The Mets were now ahead 2-0.
Meanwhile Santana took control of the game and didn't allow another hit by the Marlins until Cody Ross singled in the fifth. When Santana gave up his second walk of the game, to Jeremy Hermida, Nolasco dropped a sacrifice bunt in front of home plate that pushed Ross to third. But he stayed there when Santana got Baker to fly out to right field for the third out. It was the closest any Marlins runner would come to scoring all afternoon as Santana got the Marlins out in order until the ninth.
As the Mets batted in the bottom of the eighth, the crowd saw that no one was warming up in the bullpen. By this time Manuel had stopped looking at the pitch count and allowed Santana to finish the game. When Santana ran onto the field for the ninth inning, Shea Stadium erupted in cheers and fans began shouting his name.
With one out, Willingham hit Santana's first pitch to left field for a double. There was a collective groan from every part of the ballpark. But Santana didn't lose his focus with the game in reach. He struck out Dan Uggla on three pitches and got Cody Ross to fly out to Endy Chavez on the warning track to end the game. "I'm sure it looked like from the stands and the dugout it might go out but I knew as soon as I hit it it wouldn't," Ross said later.5
Santana had gone the distance, throwing 117 pitches. Asked when he knew he could finish, he replied: "[When] I saw those guys swinging and swinging and putting the ball in play, so I had a pretty good chance. It's tough to say at what point I knew but I felt from the very beginning that I would have a very good chance to go the whole game."6
Marlins catcher Baker saluted Santana as the Mets "Shea-vior" and he was right. Santana's pitching gem had kept the Mets playoff hopes alive for another day. Ross perhaps summed it up best: "It was one of those games where they needed him and he came through big-time for them. He mowed through us. He pitched a gem. He got into a rhythm and we couldn't really break it."7
Santana was, in the words of Scott Schoeneweis, "incredible, superhuman. A machine, a relentless machine." After the game, Wright asked Omar Minaya, the Mets general manager, "Can he pitch every day?" perhaps realizing that the Mets chances were hanging on a thread.8 When the Marlins beat the Mets the next day, it was the second consecutive year that Florida extinguished the Mets playoff hopes.
The Mets also learned a week later that Santana had pitched with a torn meniscus in his left knee, making his accomplishment even more remarkable. Santana had refused medical treatment for the injury because he feared he might not be allowed to pitch.9 It may be why he didn't mention the knee injury when he told reporters before the game, "You don't think about that. This is not the beginning of the season. We're talking about the end of the season, where we have a pretty good chance to make it special and go to the next round, and that's what we're here for."10
Sources
In addition to the sources cited in the Notes, the author used Baseball-Reference.com and Retrosheet.org for box-score, player, team, and season information as well as pitching and batting game logs, and other pertinent material.
baseball-reference.com/boxes/NYN/NYN200809270.shtml
retrosheet.org/boxesetc/2008/B09270NYN2008.htm
Notes
1 Ben Shpigel, "After Odds Grow Longer, Mets Turn to Short Rest," New York Times, September 26, 2008.
2 Ibid.
3 Ibid.
4 Ben Shpigel, "With Santana in Role of Ace, Mets Draw Even for Wild Card," New York Times, September 27, 2008.
5 Clark Spencer, "Mets Preserve Playoff Hopes With 2-0 Win Over Marlins," Miami Herald, September 28, 2008.
6 Ibid.
7 Spencer.
8 Shpigel, "With Santana."
9 Ben Shpigel, "Santana Pitched With Injury to Knee," New York Times, October 1, 2008.
10 Shpigel, "After Odds Grow Longer."
Additional Stats
New York Mets 2
Florida Marlins 0
---
Shea Stadium
New York, NY
Box Score + PBP:
Corrections? Additions?
If you can help us improve this game story, contact us.
Tags
https://sabr.org/sites/default/files/SantanaJohan-2008.jpg
600
800
admin
/wp-content/uploads/2020/02/sabr_logo.png
admin
2018-10-31 12:49:30
2020-04-17 10:23:49
September 27, 2008: Johan Santana's complete game keeps Mets alive for one more day