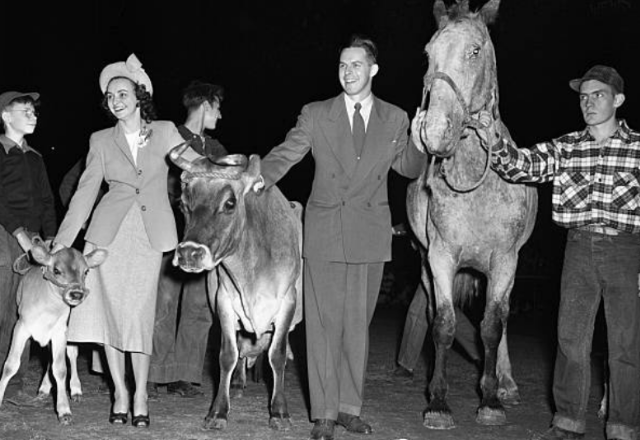 September 28, 1948: Cleveland celebrates Good Old Joe Earley Night
---
" 'Now they want a Bill Veeck Night! It's a good idea, but here's another suggestion. Let's have a 'Joe Earley Night.'
"I pay my rent and my landlord spends it on things that keep business stimulated. I keep the gas station attendant in business by buying gas regularly. I keep the milkman in clover by buying milk. He uses trucks and tires and as a result his industry is kept going. The paper boy delivers the paper, wears out a pair of shoes occasionally and the shoemaker wins. My wife keeps a grocer and a butcher (don't we all) in business and the department stores as well.
"A lot of people depend on me (and you) so let us all get together, and send in your contributions for that new car for 'Good Old Joe Earley Night.'" — Joe Earley 1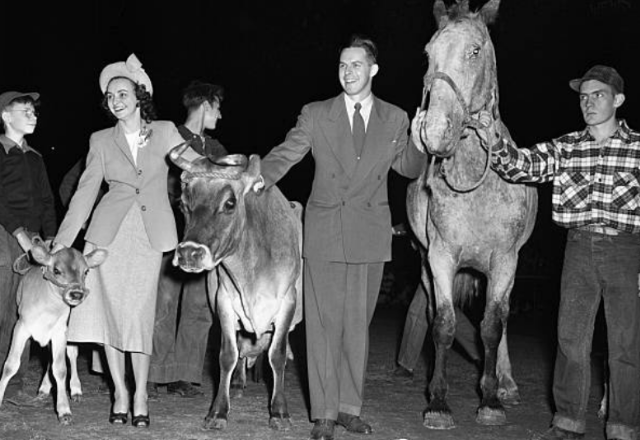 Joe Earley of Lakewood, Ohio, wrote the above letter to the editorial board at the Cleveland Press. He may have meant it to be a tongue-in-cheek comment, but Indians owner Bill Veeck took notice of the letter, and decided that Earley had a valid point. And Veeck, who was never one to pass up an ingenious promotional idea, planned to honor Earley on September 28 before a home game against Chicago.
On the day Earley's letter was published, Cleveland occupied third place in the American League standings, 4½ games behind front-running Boston. New York was in second place, 3½ games back.
Cleveland got on a hot streak and went 13-3-1 over the next two weeks. Meanwhile the Red Sox slumped to an 8-9 record, while the Yankees posted an 11-5 mark. Now, with five games left on the schedule, Cleveland leapfrogged over both Boston and New York and led both perennial powers by a single game.
In spite of their tenuous lead, the major-league office had given the Indians the go-ahead to start accepting ticket applications for the World Series. With all the hoopla of that announcement, one might think the Indians had more than enough on their plate than to worry about a promotional event. But preparations had been made and there was no turning back.
Farm Night was being held in conjunction with Good Old Joe Earley Night at Cleveland Stadium on the evening of September 28. Veeck was the master of ceremonies for Earley and his wife, June. Veeck, ever the prankster, first gave Earley a bevy of livestock, including chickens, roosters, pigs, and a cow. These turned out to be gag gifts, and the true presents were forthcoming. Presented to Earley, who worked as a night guard at a Chevrolet plant, was a list of gifts that would make Santa envious. First and foremost was a 1949 Ford convertible. The automobile was followed by a radio, a dishwasher, a washing machine, a television set, an array of clothes and books, and a lifetime pass to every park in the American League.
Earley, a World War II veteran, was overcome with joy and bewilderment. "And to think, a letter to the Press brought all this, just a letter I wrote in five minutes and mailed before I gave it a second thought," he said. And when I met the mayor, know what he said? 'Hi, Joe, I'm Tom Burke.' Imagine that? And here, look at this lifetime pass to any American League park. My gosh, how can I thank Bill Veeck and this outfit, and the newspaper and the radio people?"2
About a hundred other fans were selected at random and won prizes ranging from rabbits to stepladders. After the livestock was cleared from the field, the ballgame began. The pitching matchup featured left-handers Bill Wight (8-19, 4.63 ERA) for the White Sox and Gene Bearden (17-7, 2.75) for Cleveland. Wight, a southpaw, was in his first full big-league season after two short stints with the Yankees. He was getting socked around by opposing teams, and was one of the league leaders in walks. Bearden was in his rookie season, and the knuckleball pitcher was hurling beyond anyone's expectations. He was riding a four-game win streak.
Cleveland jumped all over Wight in the bottom of the first inning, much to the delight of the 60,405 in attendance. Dale Mitchell led off with a home run to right field, his fourth home run of the season. After Allie Clark lined out to left field, consecutive singles by Lou Boudreau, Joe Gordon, Ken Keltner, and Larry Doby produced another run. A grounder by Eddie Robinson scored Gordon with the third run.
The Indians kept coming, scoring single runs in the second and fourth innings. Clark was the batting hero of the day, going 4-for-5 with three runs scored and three RBIs. One of those hits was his ninth home run of the year, in the fourth inning.
Meanwhile, Bearden was holding the White Sox in check. A leadoff single by Cass Michaels in the first did no damage: He was picked off by Bearden. The rookie retired the White Sox in order in the second and third innings, and was the beneficiary of two double plays to escape potential trouble in the fourth and fifth.
The roof caved in on Chicago in the bottom of the sixth when Cleveland added six runs to take an 11-0 lead. With the bases loaded, Wight was true to form, walking Bearden to force in a run. Clark knocked in two runs and Boudreau, Keltner, and Mitchell also collected RBIs as Cleveland sent 11 men to the plate.
That was the end of the scoring. Bearden (18-7) struck out five, walked two, and scattered four hits. It was his fifth shutout of the season. Wight was tagged with his 20th loss of the year (8-20).
"Guess I was just swinging in the groove tonight," said Clark.3 Bearden gave all the credit for his performance to his catcher, Jim Hegan. "He's the best I've ever thrown to, and in my opinion the best in the business," said Bearden. "Jim knows what to pitch to call and if you can give him that one, you don't have any trouble. My control was on tonight and I could put it where he wanted it."4
There was some good news for the Indians on the scoreboard as well. Washington defeated Boston, 4-2, and Philadelphia got past New York, 5-2. The Indians now had a two-game lead with four games to play. "Any team that can come back like the Indians is a good club and deserves to win the pennant," said Chicago manager Ted Lyons. "Cleveland has the best pitching in the league and I don't see how they can be caught with a two-game lead and only four left to play. Especially with the Boston Red Sox and the New York Yankees closing their season by meeting in a two-game series."5
Perhaps Lyons could not see the Indians squandering their lead, but that is exactly what happened. Cleveland went 2-2 in its last four games while Boston ended its season with a four-game winning streak.
Both teams were forced to play a one-game playoff at Fenway Park on October 4. It was the first such game ever in the American League. Cleveland, behind Bearden's 20th win and two home runs by Boudreau and one by Keltner, defeated the Red Sox, 8-3.
The Indians went on to win their second (and as of 2018 their last) World Series, defeating the Boston Braves in six games.
Sources
The author accessed Baseball-Reference.com (baseball-reference.com/boxes/CLE/CLE194809280.shtml) for box scores and other data, as well as retrosheet.org (retrosheet.org/boxesetc/1948/B09280CLE1948.htm).
Photo caption
Joe and June Earley pose for a picture with some of the prizes given to them by the Cleveland Indians, whose owner Bill Veeck staged a promotional "Good Old Joe Earley Night" on September 28, 1948, at Cleveland Stadium. (NATIONAL BASEBALL HALL OF FAME LIBRARY)
Notes
1 Letters to the Editor, Cleveland Press, September 9, 1948: 18.
2 Joe Collier, " 'Good Old Joe' Even Beats Schmoos; Gifts Range From Cars to Chickens," Cleveland Press, September 29, 1948: 18.
3 Charles Heaton, "Bearden Calls Hegan Best in Game After Chisox Draw Blanks," Cleveland Plain Dealer," September 29, 1948: 26.
4 Ibid.
5 Mike Lapine, "Tribe's Comeback Draws the Praise of Teddy Lyons," Cleveland Press, September 29, 1948: 27.
Additional Stats
Cleveland Indians 11
Chicago White Sox 0
---
Cleveland Stadium
Cleveland, OH
Box Score + PBP:
Corrections? Additions?
If you can help us improve this game story, contact us.
Tags
https://sabr.org/sites/default/files/joe-earley-night-cleveland-bill-veeck-1948.png
600
800
admin
/wp-content/uploads/2020/02/sabr_logo.png
admin
2019-03-04 12:49:03
2020-04-17 10:23:38
September 28, 1948: Cleveland celebrates Good Old Joe Earley Night