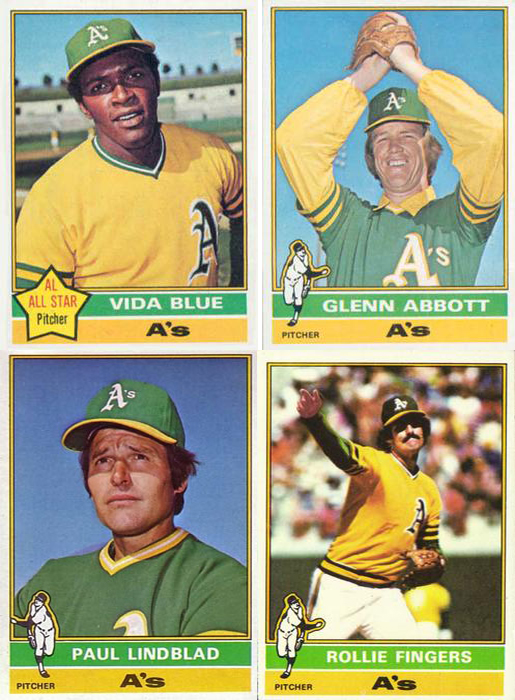 September 28, 1975: Oakland A's use four pitchers to no-hit Angels on final day of season
---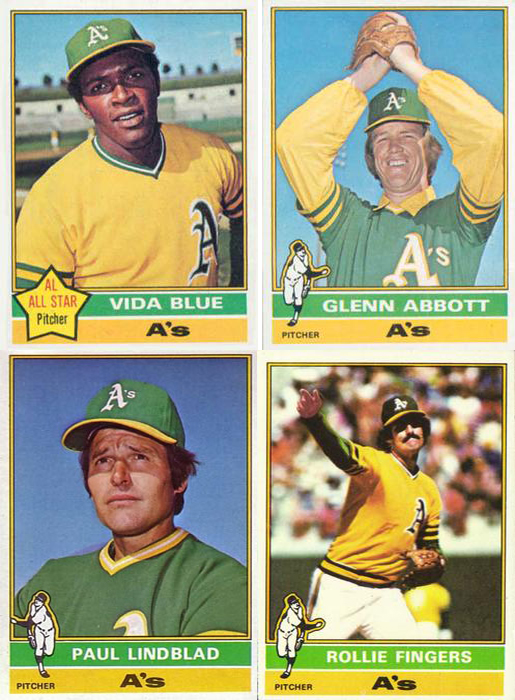 On the very last day of the 1975 season, the Oakland Athletics employed four pitchers to no-hit the California Angels. Before a home crowd of 22,131, Oakland's manager Alvin Dark had a plan to have Vida Blue, his ace starter, go only five innings and then rest him for the playoffs. Relievers Glenn Abbott, Paul Lindblad, and Rollie Fingers knew beforehand when they were expected to enter the game; they combined for four perfect innings. Oakland had already clinched the Western Division title, and the League Championship Series was almost a week away. California finished the season in last place, 22½ games behind the A's. Reggie Jackson slugged his 35th and 36th home runs, pacing the A's to a 5-0 victory over the Angels.
The Oakland pitching staff overmatched the Angels batters. No California hitter had better than a .288 average entering the game. Further, this was the first major-league start of the season for the Angels' starter, Gary Ross.1Blue walked Dave Chalk with one out in the top of the first inning, but Chalk was erased when Leroy Stanton grounded into a double play. In the bottom of the first, Claudell Washington singled off Ross with one out and moved to second on a walk to Gene Tenace. Reggie Jackson moved both runners up a base with a fly ball to deep center field. Sal Bando followed with a single, driving in the two runners, and Oakland had a 2-0 lead.
Blue retired the Angels in order in the second and third innings. After Tenace flied out to start the A's half of the third, Jackson homered to make it 3-0. After Blue retired the first two batters in the top of the fourth, Stanton reached on an error by shortstop Bert Campaneris and stole second base, but John Balaz popped out to first. Blue walked designated hitter Paul Dade in the fifth, but again California could not muster a hit or run. Blue left the game after the fifth having allowed just the two walks. After the game he said, "I knew I was coming out. It didn't matter to me at all. All I care about is my earned-run average. I'll take my record of 22-11 and run."2 He added, "I knew I was only going five and then somebody else was coming in – Mean Joe Greene, the Count of Monte Cristo, or somebody."3
Abbott entered the game to start the sixth inning for Oakland and retired Ike Hampton, Jerry Remy, and Chalk in order. Abbott said, "I thought maybe with a no-hitter going they'd let Vida stay in for one more inning. I never gave much thought to a no-hitter at that stage of the game, but I didn't want to give up a hit and be a goat."4
In the top of the seventh, Athletics manager Dark moved Tenace to first base and sent Ray Fosse behind the plate. Ted Martinez took over at second base and Dal Maxvill at short, and Lindblad came in to pitch. Lindblad struck out Balaz in between groundouts by Stanton and Bruce Bochte. Three up and three down. Veteran southpaw Lindblad commented, "I was in the right spot at the right time. Funny thing is, I really didn't realize we had a no-hitter going. All I knew is we had three runs and if they scored four off me I'd get the loss."5 He also told reporters, "I was just concerned about pitching my inning and getting out of there. In 1966, I pitched seven innings of no-hit ball against Houston in spring training and John Wyatt didn't give up any hits in the last two."6
A's slugger Jackson smashed a second round-tripper in the Oakland seventh with Washington aboard, raising the lead to 5-0, and that was all the scoring in the game. Oakland rookie pitcher Mike Norris had been told by Dark to be ready to pitch in the eighth inning. The plan was for him to get one out, because Fingers needed 1⅔ innings of scoreless ball to lower his earned run average below 3.00. However, with the no-hitter looming, Dark instead brought in Fingers to start the eighth. California skipper Dick Williams sent up four left-handed pinch-hitters against Fingers, who retired them all. Then he got Mickey Rivers to ground out to shortstop Maxvill with two outs in the ninth, and the no-hitter was preserved. This was the 36-year-old infielder's last major-league game; he was released in the offseason.
Fingers, Oakland's famously moustachioed closer, said after the game, "I was a little nervous although the pressure was less than it is in a playoff or World Series game. The guys in the dugout were razzing me so much that I knew if I gave up a hit I'd hear about it all winter long."7 But home-plate umpire Bill Kunkel, interviewed after the game, said, "The way Rollie was pitching, he must have thought it was the World Series."8 It was Kunkel's first major-league no-hit game as an umpire, and it came without any controversial calls.
Oakland had five runs on nine hits and three walks. Bando and Jackson were each 2-for-4, and the pair knocked in all five runs. Each also struck out once.
This was the first major-league no-hitter in which more than two hurlers, and the third combined no-hitter ever.9 Through the end of the 2015 season, there have been 11 combined no-hit games. Three times a team has used four pitchers and twice a team has used six pitchers.10 Both of the six-man combinations were interleague contests.11
Vida Blue had been named to the American League All-Star squad that July and finished sixth in the voting for the 1975 Cy Young Award. In his previous outing, on September 24, Blue pitched six innings and gave up 10 hits in earning a 13-2 victory over the Chicago White Sox. He finished the month of September with a 5-1 record and two complete games, allowing 15 earned runs in 49⅓ innings (2.74 ERA).
This was the second no-hitter for Blue. He defeated the Minnesota Twins, 6-0, on September 21, 1970, yielding only one walk to prevent a perfect game.12 It was only his second season in the big leagues. That was the last no-hitter for the Athletics until this combined effort, which was the third no-hit game of the 1975 season. California's Nolan Ryan pitched his fourth career no-hitter (1-0) against the Baltimore Orioles on June 1, and San Francisco's Ed Halicki no-hit the New York Mets, 6-0, on August 24.13
The Athletics beat the Milwaukee Brewers on June 4 and moved into first place in the AL West, then spent the rest of the season atop the division. Dark's decision to rest his ace in the final game was second-guessed. Blue started Game Two of the American League Championship Series against the Boston Red Sox. He pitched three innings and allowed three earned runs but did not figure in the decision (Oakland lost to Boston, 6-3).
This article was published in SABR's "No-Hitters" (2017), edited by Bill Nowlin. To read more Games Project stories from this book, click here.
Sources
In addition to the sources mentioned in the notes, the author consulted baseball-reference.com, mlb.com, and retrosheet.org.
https://www.baseball-reference.com/boxes/OAK/OAK197509280.shtml
http://www.retrosheet.org/boxesetc/1975/B09280OAK1975.htm

Notes
1 Ross had been traded to the Angels by the San Diego Padres on September 17 for Bobby Valentine and a player to be named later (Rudy Meoli). He spent the bulk of the season pitching for the Hawaii Islanders of the Pacific Coast League.
2 "4 A's Combine for Historic No-Hitter," Chicago Tribune, September 29, 1975.
3 The Sporting News, October 11, 1975: 34.
4 Chicago Tribune.
5 Ibid.
6 Ron Bergman, "A's Add Bizarre Note to Finale: Four Pitchers Share a No-Hitter," The Sporting News, October 11, 1975.
7 Chicago Tribune.
8 Bergman.
9 The first combined no-hitter was played on June 23, 1917. Boston's Babe Ruth was ejected for arguing with the umpire after walking Washington's leadoff batter. Ernie Shore entered, the leadoff man was caught stealing, and Shore retired the next 26 hitters in a row.
10 The six-pitcher combos occurred on June 11, 2003 (Houston Astros beating the New York Yankees), and June 8, 2012 (Seattle Mariners beating the Los Angeles Dodgers).
11 For further details, see https://sportingcharts.com/articles/mlb/history-of-combined-no-hitters.aspx.
12 In the 1970 no-hitter, before an Oakland crowd of just 4,284, Blue outdueled Jim Perry, who won the American League Cy Young Award that season. Perry allowed two earned runs, and his 1970 record dropped to 23-12 with the loss.
13 "4 A's Pitchers Combine for No-Hitter," New York Times, September 29, 1975.
Additional Stats
Oakland Athletics 5
California Angels 0
---
Oakland-Alameda County Stadium
Oakland, CA
Box Score + PBP:
Corrections? Additions?
If you can help us improve this game story, contact us.
Tags
https://sabr.org/sites/default/files/1975-Oakland-As-no-hitter.jpg
600
800
admin
/wp-content/uploads/2020/02/sabr_logo.png
admin
2018-10-24 13:41:52
2020-04-17 10:23:50
September 28, 1975: Oakland A's use four pitchers to no-hit Angels on final day of season