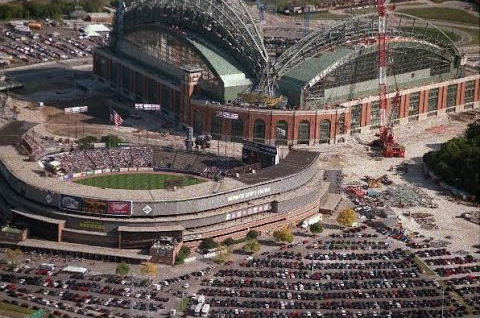 September 28, 2000: Milwaukee County Stadium hosts its final game
---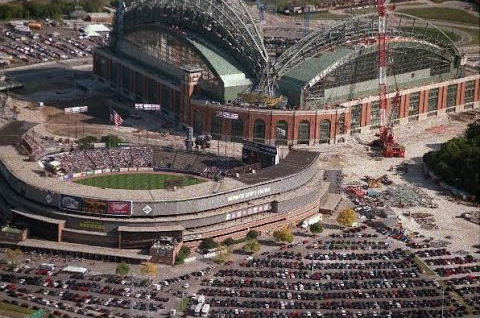 The Milwaukee Brewers' last home game in 2000 was played on Thursday, September 28, against the Cincinnati Reds. A day contest, it featured two teams well out of any postseason consideration. Despite the seeming lack of attraction, 56,324 people attended. It was the largest regular-season crowd in County Stadium's history. Fans were there not just to watch a ballgame but because it was the final game to be played before the stadium was to be demolished, replaced by Miller Park, adjoining County Stadium and the soon to be completed.
Over the years, County Stadium had hosted World Series, All-Star Games, and a host of other sports and entertainment events. Perhaps the most significant game in its 43-year history was the first, on April 14, 1953 when the Milwaukee Braves hosted the St. Louis Cardinals. On that day, the ability of major-league baseball to move franchises from demographically challenged cities to more promising locations became a reality. The Braves' move from Boston to Milwaukee would be followed by five more franchise shifts within the next decade — this following half a century of geographic stability. It was a development that foreshadowed drastic changes in major-league baseball.
The site of baseball's greatest tailgate parties, Billy Joel and Elton John performances, Harvey's Wall Bangers and the movie Major League had outlived its usefulness. Obsolete although it was just 47 years old, County Stadium was scheduled to be replaced by Miller Park in 2001. For one day, however, the old ballpark attracted fans as it had when the National League came to Milwaukee in 1953. And County Stadium would go out with a bang, not a whimper.
Probably few in attendance would have known there was a bit of on-field drama to be played out. Pitching for the Brewers was 24-year-old right-hander Jeff D'Amico. He came into the game with a 12-6 record and an impressive 2.42 ERA, a close second behind Randy Johnson's National League-leading 2.38 mark. A solid performance and D'Amico could be the first Brewer to win an ERA championship. Facing him was the Reds' Elmer Dessens (10-5).
Not all who attended were there for the first pitch as traffic backed up on I-94 and folks who shuttled from parking lots at State Fair Park arrived some 30 minutes after the game began.1 Several who arrived before the first pitch were able to share memories of having watched the Braves or Brewers over the years with former players who had been invited to attend the last game and participate in closing ceremonies. David Menor recalled at age 12 watching the Brewers play during their first year. Jim Rechtin, then 54, reminisced that at age 7 he watched Warren Spahn pitch. And at this game he was able to greet Spahn: "I'm glad you're here." To which Spahn, then 79, replied, "So am I. So am I."2 Spahn mused, "This has been part of my life. I came here as a young man and I am leaving as an old man." Whether he was thinking of his 10-inning complete game in 1953 at the ballpark's opening or pitching against the Yankees in the World Series, only he could tell.3
Spahn was one of 40 people associated with the Braves, Brewers, or Green Bay Packers invited to the game. Former Braves Hank Aaron (also a Brewer), Bob Buhl, and Frank Torre came as did Brewers Rollie Fingers, Paul Molitor, and Robin Yount. Fuzzy Thurston and Willie Wood were on hand to remind all that the Green Bay Packers also played at County Stadium. So was the widow of Harvey Kuenn, who had managed the Brewers "Harvey's Wallbangers" to the American League pennant in 1982. The gathering of legendary names affected those who were still playing. Incumbent Brewers shortstop Mark Loretta said of the atmosphere, "It gives you chills."4
And Bud Selig was there. Selig, in the words of columnist Michael Bauman, "was treated, on County Stadium's final day, like a star athlete or a rock star." In Milwaukee's eyes he was not the commissioner of baseball as much as he was Bud who not only brought a major-league team back to Milwaukee in 1970 but engineered construction of the new Miller Park, ensuring a continued presence in the city.5
In an atmosphere of nostalgia and not a little wistfulness, the game began. It would have been nice to close out the old park with a Brewers victory, but alas, it was not to be. D'Amico, who had injured his leg while exercising the day before and aggravated the injury before the game, was off form. Cincinnati scored single runs off him in each of the first three innings. Then in the fifth the Reds' Sean Casey hit a three-run home run to put the game (and D'Amico's chance for the ERA title) out of reach. D'Amico's line showed 10 hits, two walks, and six earned runs in the six innings he pitched, ballooning his ERA to 2.66 for the year. After the game, he was taken to a hospital for an MRI on a possible torn tendon. With three games left to play, D'Amico's season was over. Given his pregame injury, he probably should not have pitched, but he was in a Catch-22 situation, needing 5⅔ innings to qualify for the ERA title.6 He ended up third behind Johnson and the eventual ERA champion, Kevin Brown.
While athletes from the past were honored, so was a player of the future. Ben Sheets, fresh from pitching the US Olympic team to a Gold Medal victory over Cuba the day before, was flown back from Australia to be present at the game. Walking onto the field in the bottom of the fifth to the chant "U-S-A, U-S-A," the Brewers' minor-league player of the year received a warm welcome from the fans and his future teammates.7
The game ended 8-1, on a two-hit effort from Dessens, his only complete game of the year and one of only two in his career. Toward the end, it became a series of "lasts." Raul Casanova got the last Brewers hit at the ballpark, a triple to right (actually Casanova recorded the last two Brewers hits); Luis Lopez knocked in the last Brewers run, grounding out in the sixth to drive in Casanova, who of course became the last Brewer to score a run. Of such things are trivia questions born. And Loretta made the last out in County Stadium, a groundball to Juan Castro at short, who threw it to first baseman David Cromer, ending the contest at 5:41 p.m. Time of game: 2 hours 35 minutes. Although the game was over, few left. It was time to officially say goodbye.
There was only one person appropriate to handle that task. Bob Uecker had been born in Milwaukee, grown up a minor-league Milwaukee Brewers fan, and then later, a Braves fan. He was the first native Milwaukeean signed by the Braves and after he worked his way through their minor-league system became a Braves player in 1962. In 1971 he became the radio play-by-play broadcaster for the Brewers.
The closing ceremony began as 40 people came out on the field one last time. Braves, Brewers, and Packers were greeted with continued applause. Robin Yount arrived on the field on a Harley-Davidson, re-creating his ride around the ballpark after the 1982 World Series. Then the team flag was lowered from Bernie's Chalet in left-center field and passed among those on the field to Yount near home plate. He handed it to Loretta, the senior member of the active Brewers, with the charge, "Don't ever forget where it all started."8 Loretta was gracious in response: "It is truly a privilege to stand on this field with these legendary players, and to share this moment with you, the great fans of Milwaukee."9 Those on the field threw balls into the stands, and then Uecker offered a requiem for County Stadium.
"One thing remains. A bond between heroes and fans, an ambition to succeed. It was here that boys became men, and men became champions and champions became legends. I have been here as a fan and a player, and in the last 30 years as a broadcaster. But tonight is the final curtain; it's time to say goodbye. We will never forget you, for what was will always be. So long, old friend, and goodnight everybody."10
The light banks surrounding the stadium were turned out one at a time. Concurrently fireworks were set off at the adjacent Miller Park.11
That evening home plate was removed from the ground and transported to Miller Park by several female baseball players. In February of 2001 County Stadium was demolished. On April 6 Miller Park opened to play. The Reds were in town again. This time the Brewers won, 5-4.
This article appears in "From the Braves to the Brewers: Great Games and Exciting History at Milwaukee's County Stadium" (SABR, 2016), edited by Gregory H. Wolf. To read more stories from this book at the SABR Games Project, click here.
Sources
In addition to the sources mentioned in the endnotes, the author consulted BaseballReference.com, Retrosheet.org, and SABR.org.
Notes
1 Larry Sandler, "Traffic jams keep many from making game's start," Milwaukee Journal Sentinel, September 29, 2000: 7A.
2 Jim Stingl, "County Stadium passes from this life with an amazing grace," Milwaukee Journal Sentinel, September 29, 2000: 1.
3 Crocker Stephenson, "Sports legends help fans honor past before lights go out on era," Milwaukee Journal Sentinel, September 29, 2000.
4 Stingl.
5 Michael Bauman, "This show of appreciation was especially for you, Bud," Milwaukee Journal Sentinel, September 29, 2000.
6 As it turned out, Casey's three-run home run proved the fatal blow to D'Amico's quest for the ERA title. Just two fewer runs off D'Amico that night would have given him a 2.55 ERA versus Johnson's eventual league-leading 2.58. D'Amico never did regain his form as injuries dogged the rest of his career. He was out of the majors by 2004.
7 Vic Feuerherd and Tom Oates, "Burnitz ready to re-sign?"Wisconsin State Journal (Madison), September 29, 2000: 2C. Sheets joined the Brewers in 2001, beginning a major-league career that lasted until 2012.
8 Stingl.
9 Sandler.
10 Ibid.
11 Stingl.
Additional Stats
Cincinnati Reds 8
Milwaukee Brewers 1
---
County Stadium
Milwaukee, WI
Box Score + PBP:
Corrections? Additions?
If you can help us improve this game story, contact us.
Tags
https://sabr.org/sites/default/files/County-Stadium-2000_0.jpg
600
800
admin
/wp-content/uploads/2020/02/sabr_logo.png
admin
2018-04-19 14:44:02
2020-04-17 10:24:48
September 28, 2000: Milwaukee County Stadium hosts its final game