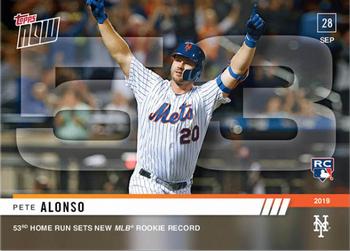 September 28, 2019: Mets' Pete Alonso sets rookie mark with 53rd home run
---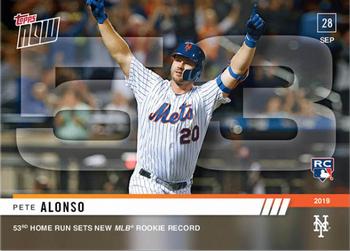 Pete Alonso did not have a guaranteed spot on the Mets roster in 2019 spring training. There were questions about his ability to play defense. At the time, he said, "The only thing I can control is with my own two hands: hit the ball, playing good defense. That's all I can do. Whatever happens, happens."1
The Mets had the option to hold Alonso back for contract reasons. Doing so would have kept him under contract for an extra year. But when he hit .352 with 4 home runs and 11 RBIs in spring-training games, the Mets announced that he would make the roster. When he was given the news, he said, "This is my livelihood, my life's work, and to get the thumbs-up, you're a big leaguer, that's surreal."2
Alonso did not disappoint the Mets or the fans. He smashed nine home runs in the first month of play, hit another 10 in May, nine in June, six in July, and eight more in August. He showed that he belonged in the major leagues when he won the Home Run Derby in July. On August 27 Alonso became the Mets' single-season home run leader when he hit his 42nd against the Cubs, surpassing Carlos Beltran and Todd Hundley.
With the baseball world watching, Alonso on September 27 homered against Atlanta, tying Aaron Judge's record for most home runs by a rookie. He hit Dallas Keuchel's fastball over the left-field fence, bringing the crowd of 26,264 to their feet. After the game, Alonso said, "I think of old-timey guys like Lou Gehrig, Babe Ruth, and Barry Bonds. To think as a rookie I hit more homers than everyone except for one guy, it's nuts. It's crazy."3
The Mets faced the Braves again on the 28th. Steve Matz took the mound for the Mets. Matz entered the game with a 10-10 record and a 4.37 ERA. He had lost his previous two games and was looking to finish his season on a positive note.
After a 1-2-3 first, Matz struggled in the second. With one out, he walked Nick Markakis and then moved him to second on a wild pitch. After striking out Adam Duvall, he walked Brian McCann. Another wild pitch moved both baserunners into scoring position. An intentional walk to Billy Hamilton loaded the bases, and Matz got out of the jam by striking out pitcher Mike Foltynewicz.
Foltynewicz had won his last four starts to raise his record to 8-5 after spending the month of July in the minors. He returned in August and pitched well enough to lower his ERA from 6.37 to 4.46.
Foltynewicz made it through the first two innings without allowing a hit. The only baserunner was J.D. Davis. who walked in the second.
The Mets batters caught up with Foltynewicz in the third. Todd Frazier led off with a single and moved to second on a wild pitch. With two strikes against him, Rene Rivera hit a fastball over the left-field wall to give the Mets a 2-0 lead.
Foltynewicz retired Matz on a lineout to right field and struck out Brandon Nimmo. Now he faced Alonso. He had struck him out in the first inning. This time Alonso "rerouted a two-seam fastball into the center-field bleachers"4 to give the Mets a three-run lead.
As the ball sailed toward the fence, Alonso dropped his bat and admired it. He walked for a few steps as he waited to see where it would land. Atlanta center fielder Hamilton leapt at the wall but he had no chance. "After I hit it, I just wanted to see it, enjoy the moment a little bit," Alonso said.5 The theme from The Natural played as he rounded the bases.
Alonso had mashed his first career homer on April 1 against Miami. His teammates covered him in raw eggs, flour, soap, mouthwash, and whatever else they could find on that day. "Fifty-two later, it's crazy," he said. "That seems like forever ago."6
When Alonso crossed home plate, Robinson Canó greeted him with a big hug as the rest of the Mets poured out of the dugout. Alonso faced the crowd and then raised his hands to the sky. Citi Field roared. "It's like he never lets you down," said Mets manager Mickey Calloway.7
When Alonso took his position at first for the top of the fourth, he had tears in his eyes. He swallowed the lump in his throat, took a big breath and pounded his glove with his bare hand. "I didn't know I was going to be overcome with all that emotion," he said. "At that point, might as well let it out. It was crazy."8
Matz continued to struggle but managed to keep the Braves from scoring over the next four innings. In the fourth, Duvall led off with a triple but three infield outs left him stranded. The Braves got two other runners on base, on a walk in each of the following two innings, before Matz was removed.
Foltynewicz retired the side in order in the third but Braves manager Brian Snitker removed him for Max Fried in the fourth. Snitker decided that he wanted Foltynewicz ready for the playoffs. Fried provided solid relief, allowing just one hit while striking out five before leaving with two outs in the ninth.
The Mets bullpen shut down the Braves in the final three innings to preserve Matz's victory. Jeurys Familia allowed a single but struck out two batters to keep the Braves from adding a run in the seventh. Brad Brach took over in the eighth. He surrendered a two-out single to Duvall before getting Francisco Cervelli to ground out for the third out.
Callaway called on Edwin Diaz to close things out. Diaz had struggled all year after coming to the Mets from the Mariners, where he led the American League with 57 saves in 2018. Diaz entered the game with just 25 saves in 2019, the last one six weeks before, on August 15. Two days earlier he had surrendered a home run to the Marlins' Austin Dean in the ninth inning.
Diaz got Matthew Joyce to pop up behind home plate, then struck out the next two Braves to earn his 26th save of the season. The Mets victory capped an exciting night at Citi Field as Alonso led the way into the history books.
Alonso's home run gave him the major-league home-run lead. Eugenio Suarez trailed him by four home runs before the game. Unless something dramatic happened on the final day of the season, Alonso would become the first rookie since 1900 to lead the league in home runs.
Alonso's home run also gave him 120 RBIs for the season. It moved him into second place among National League rookies behind Albert Pujols, who had 130 in 2001.
After the game Alonso received the ball, perhaps his most meaningful keepsake of the year. He met with the family that caught it and took them onto the field, thanked them, and posed for pictures. With the ball still in his back pocket, he said, "To have this type of stuff, it's really special. To have little mementos and little trophies, I guess you could call them, to me, it's the result of hard work."9
Michelle Alonso, his mother, said the family had a motto: If something is worth doing, you do it well, and added, "For him to feel that reward and to be moved to tears, that warms my heart."10 Callaway shared his admiration for Alonso, saying: "This kid has done amazing things this year. The fans came here to see something historic, and they got what they wanted to see. It's like he never lets you down."11
Sources
In addition to the sources cited in the Notes, I used the Baseball-Reference.com and Retrosheet.org websites for box-score, player, team, and season pages, pitching and batting game logs, and other pertinent material.
baseball-reference.com/boxes/NYN/NYN201909280.shtml
retrosheet.org/boxesetc/2019/B09280NYN2019.htm
Notes
1 Kevin Armstrong, "Pete Alonso Needs More Than Power to Claim His Spot with the Mets," New York Times, February 26, 2019: B8.
2 Mike Puma, "Pete Alonso Is Ready for the Good Kind Of Crying," New York Post, March 25, 2019.
3 Armstrong.
4 Justin Toscano, "NY Mets' Pete Alonso Hits No. 53 to Set MLB Rookie Home Run Record," North NJ.com, September 29, 2019.
5 Toscano.
6 Toscano.
7 Puma.
8 Tim Healey, "Mets' Pete Alonso Hits 53rd Home Run of Season to Set Rookie Record," Newsday, September 29, 2019.
9 Healey.
10 Toscano.
11 Healey.
Additional Stats
New York Mets 3
Atlanta Braves 0
---
Citi Field
New York, NY
Box Score + PBP:
Corrections? Additions?
If you can help us improve this game story, contact us.
Tags
https://sabr.org/sites/default/files/Alonso-Pete-2019.jpg
600
800
admin
/wp-content/uploads/2020/02/sabr_logo.png
admin
2020-02-18 15:29:07
2020-04-17 10:22:18
September 28, 2019: Mets' Pete Alonso sets rookie mark with 53rd home run