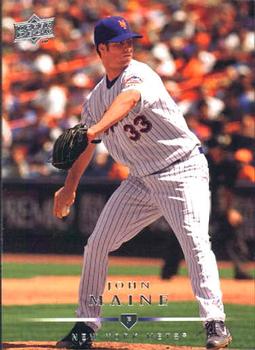 September 29, 2007: Maine, Mets beat Marlins 13-0 to stay tied for division lead
---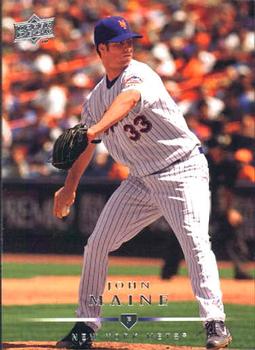 The New York Mets' playoff hopes hung on by a thread. They led their division by seven games on September 12. Then they lost five games in a row and their lead dropped to just 1½ games. After winning three in a row to widen their lead, they lost five and dropped to second place, one game behind the Philadelphia Phillies.
With just two games left in the season, 54,675 fans showed up wondering if they would see "the completion of the collapse by a Mets team that hadn't been out of first place in 137 days."1
John Maine took the mound for the Mets. Maine entered the game with a 14-10 record but he had struggled since the All-Star break. The right-hander failed to get a win in his four previous starts in September and his ERA was a dreadful 8.24.
But Maine looked strong from the first pitch. After walking Dan Uggla with one out, he struck out Jeremy Hermida and then benefited from a "nerve calming caught stealing" of Uggla. Maine said later that the first time he started thinking about throwing a no-hitter came as he walked to the dugout after that play. But "[i]t's almost impossible, so you don't worry about it," he said. 2
Maine continued to show that he meant to finish the year on a positive note as he pitched to the minimum 18 batters through six innings. At one point, Maine struck out seven straight batters, the team's longest run of strikeouts since Al Leiter did it in 1998.
Maine kept the Marlins in check as he "threw mostly fastballs, and his fastballs give the impression that they accelerate as they near the catcher's mitt." Mets catcher Ramón Castro said after the game that he rarely had to give Maine any signs.3
The Mets gave Maine offensive help in the first when they scored two runs off Marlins starter Chris Seddon. After José Reyes flied out to right field, Luis Castillo doubled and David Wright singled to put runners at each corner. With two outs, singles by Moises Alou and Carlos Delgado brought them home.
Seddon, who was making his fourth major-league start, struggled again in the second. Lastings Milledge led off with a single and reached third on two groundouts. Castillo's single brought him home. Then Seddon walked Wright and Carlos Beltran singled to send Castillo across the plate and push Wright to third. Marlins manager Fredi Gonzalez brought in pitcher Ross Wolf. Wolf surrendered a single to Alou that scored Wright before getting Delgado to fly out and end the inning.
When Wolf returned to the mound in the third, the Mets wasted no time in jumping on him. Castro led off with a single, then Milledge blasted a two-strike pitch over Shea Stadium's deep left-field wall. Wolf then walked Maine, who moved to second on Reyes' grounder and scored the Mets' eighth run on Castillo's ground-rule double down the left-field line. Gonzalez replaced Wolf with Harvey Garcia, who got the final two outs.
Garcia got the Mets out in order in the fourth but Milledge led off the fifth with his second home run of the game. At this point, every Mets fan in attendance was "cheering on every pitch for the Mets to avoid one of the worst late-season collapses in history."4
Reyes doubled with one out. Garcia then threw behind Castillo and his wild pitch allowed Reyes to reach third. Reyes later speculated that it was in retaliation for Milledge admiring his homer. Both benches and bullpens cleared but there was no violence. "Players could be seen joking with each other as the umpires restored order," noted a sportswriter.5
Reyes continued to banter with Marlins catcher Miguel Olivo. After Castillo walked, Gonzalez made another pitching change. As Mauro Zarate trotted in from the bullpen, Olivo charged off the mound directly for Reyes. Sandy Alomar Jr., the Mets third-base coach, and Marlins third baseman Miguel Cabrera separated the two players.
Reyes, who was friends with Olivo, said that he thought the catcher was kidding. "He's kinda crazy sometimes. I said 'Let's go. Let's go fight. I'm not scared. We're both men.'" Olivo, for his part, said, "I'm waiting on the mound and he's talking smack over there. He told me, 'Let's you and me fight.' I don't know what happened with him. Today he might have gotten too excited."6 Olivo was ejected and later expressed frustration that Reyes was not also tossed from the game.
Once the players got back to business, Zarate got the next two Mets out. But the Mets had extended their lead to 10 runs, and they added one more in the sixth on Castro's solo home run.
Maine continued to dominate the Marlins. He had a close call in the seventh. Robert Andino led off by ripping a grounder that ricocheted off Wright's leg directly to shortstop Reyes, whose throw to first kept Maine's no-hitter intact. Maine then walked Uggla for the second time but a strikeout and an infield pop fly snuffed out a possible Marlins scoring opportunity.
The Mets continued to pound the Marlins for runs. Wright singled in the bottom of the seventh and reached second when Marcos Carvajal, the fifth Marlins pitcher, couldn't handle Carlos Gomez's weak groundball down the first-base line. Wright scored on Delgado's two-strike single, stretching the Mets' lead to 12 runs.
When Maine took the mound in the eighth, he needed just six more outs to complete the first no-hitter in the Mets' 45-year history. The inning started well as Maine struck out Mike Jacobs for the third time, then got Jason Wood to fly out to left field.
Paul Hoover, who had replaced Olivo after the dustup in the fifth, stepped into the batter's box. Hoover was a journeyman catcher with only 34 major-league at-bats. With the count 1-and-2, Hoover hit a dribbler up the third-base line. Wright charged the ball but he had no throw. "I don't think that he could've rolled it any better," Wright said after the game.7
Hoover said he saw Maine shake off Castro's signs. "I don't know if he was shaking to try to mess with me or not, but he threw a fastball away. [It turned out to be t]he least farthest of any of the balls I've hit but it prevented the no-hitter." Mets first baseman Shawn Green teased Hoover, saying, "What are you doing?" before going over to congratulate Maine.8
Maine had thrown 115 pitches and manager Willie Randolph decided that this was the right time to remove him. Shea Stadium fans gave Maine a standing ovation as he walked to the dugout. Wright and Reyes clapped along with rest of the team who were on the top step of the dugout waiting for him.
"We needed a stopper, and he was our guy," Wright said.9 Willie Collazo came out of the Mets bullpen to get the final out. Maine said of his performance, "The timing was pretty good. We needed a win today."10
The Mets added one more unneeded run in the eighth. Carvajal walked pinch-hitter Marlon Anderson and then surrendered two singles. When the frame ended the Mets had stretched their lead to 13 runs. Carlos Muniz shut down the Marlins in order in the ninth, striking out Reggie Abercrombie for the final out.
The Mets were still in the pennant race and many of the players were watching the Phillies game in the clubhouse after the game. "We've sat in the electric chair for the last three weeks, and unfortunately the governor called at five to 12," said pitching coach Rick Peterson. "Hopefully, he'll keep calling."11 Randolph perhaps summed up the game best when he said, "It's bizarre, really. The whole month has been bizarre."12
After the game, "someone placed a framed photograph of several players celebrating atop a ledge by the stairs leading to the dugout from the clubhouse. On the bottom was written, 'We Worked To [sic] Hard, Let's Finish This.'"13 When the day ended, the Mets were tied with the Phillies. Maine's pitching gave them hope that they might win their final game on Sunday and return to the playoffs for a second consecutive year.
The Mets hopes were dashed the next day when Tom Glavine "put them in a seven-run hole before their hitters even had a chance to swing" in an 8-1 loss. New York had come within a game of reaching the World Series in 2006 and would go home this year after blowing a seven-game lead in the division with 17 games left. "We did it to ourselves. We gradually let this thing slip away," said Wright after the game. "Shooting yourselves in the foot, over and over again down the stretch, in all honesty we didn't deserve it."14
Sources
In addition to the sources cited in the Notes, the author used the Baseball-Reference.com and Retrosheet.org, for box-score, player, team, and season information as well as pitching and batting game logs, and other pertinent material.
baseball-reference.com/boxes/NYN/NYN200709290.shtml
retrosheet.org/boxesetc/2007/B09290NYN2007.htm
Notes
1 Adam Rubin, "A Life Saver," New York Daily News, September 30, 2007: 59.
2 Ben Shpigel, "Fighting to the Finish: Maine Loses No-Hit Bid, but Mets Enter Final Day Tied for First," New York Times, September 30, 2007.
3 Shpigel.
4 Joe Capozzi, "New York Not Going Without a Fight," Palm Beach Post, September 30, 2007: B5.
5 Capozzi.
6 Rubin.
7 Shpigel.
8 Capozzi.
9 Shpigel.
10 Rubin.
11 Shpigel.
12 Shpigel.
13 Shpigel.
14 Rubin, "Mets Motto: Let's Go Home," New York Daily News, October 1, 2007: 54.
Additional Stats
New York Mets 13
Florida Marlins 0
---
Shea Stadium
New York, NY
Box Score + PBP:
Corrections? Additions?
If you can help us improve this game story, contact us.
Tags
https://sabr.org/sites/default/files/MaineJohn-2007.jpg
600
800
sabr
/wp-content/uploads/2020/02/sabr_logo.png
sabr
2020-05-01 18:23:54
2020-05-28 15:35:06
September 29, 2007: Maine, Mets beat Marlins 13-0 to stay tied for division lead