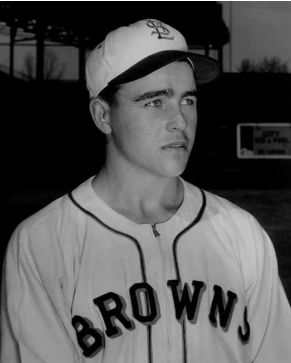 September 30, 1951: Ned Garver wins 20th for sad-sack St. Louis Browns
---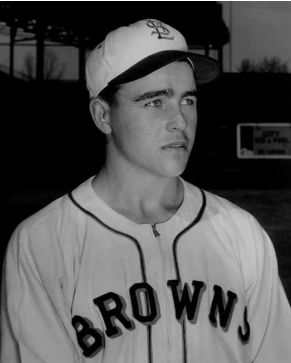 The NL dominated the headlines on the last day of the 1951 regular season. With identical 95-58 records, the Brooklyn Dodgers and the New York Giants squared off against their respective opponents, Philadelphia and Boston, on the road with the chance to claim the pennant or end the season in a tie, thus necessitating a best-of three tie-breaker series beginning the next day. In the AL, where the New York Yankees had already captured the flag, there was a refreshing diversion from the Gotham-focused attention of the baseball world. Tension mounted in St. Louis, where hurler Ned Garver of the 102-loss, last-place Browns took aim at an improbable accomplishment — a 20-win season — against the fourth-place Chicago White Sox (81-72).
The Browns had floundered since capturing their first and only AL pennant, in 1944, followed by a second straight winning season for just the second time in the franchise's 51-year history. They averaged a dismal 56-98 record under skipper Zack Taylor (1948-1951), yet there was some glimmer of hope in July 1951 when former Cleveland Indians owner Bill Veeck Jr. purchased the moribund team. "Our club will be fifth — at the worst — in 1952," he said confidently as the season wrapped up.1
A major reason for Veeck's optimism was Garver, one of the best, most underrated and most forgotten pitchers of the era.2 Since debuting with the Browns in 1948, Garver had posted a misleading 51-58 record, including 19-12 thus far in '51, despite playing for baseball's worst team. Not known as a hard thrower, Garver took a cerebral approach to pitching. "I was a sinker-slider ball pitcher," he told the author.3 "I accidentally developed the slider playing catch in St. Louis. I had good control and could throw from different spots — side-arm or overhand. I already had a curveball and a sinker. All of a sudden I threw a slider. I could feel it when it left my hand. I threw the ball again with the same pressure from my finger and that son-of-a-biscuit moved. Ted Williams always said that he could not pick up the spin from my slider. That pitch made the difference in my major-league career."
Garver had two different sliders with different breaks. "One I threw like a football pass to left-hand hitters, but I tried to throw it only belt-high," he said. "It would break back in and hit you on the fist of the bat. I had another slider I'd throw three-quarters. I could make the ball drop out and down and I threw it a lot to right-hand hitters." Blessed with superior command of his breaking balls, Garver threw few pitches in the strike zone and rarely gave batters a "good" pitch to hit.
Determined to give fans something to remember during the long offseason, the showman Veeck organized a day of festivities for this warm Sunday afternoon, September 30, with all of the proceeds going to the Community Chest of Greater St. Louis.4 Shrouded in a carnival-like atmosphere, Sportsman's Park was filled with 14,771 spectators, the third largest crowd of the season and almost four times the season average. At 1:30 the Harlem Globetrotters basketball team faced a ragtag squad of former college stars and Browns players, including Sherm Lollar, Al Widmar, and Jim Delsing, on a court set up in the infield between second and third base. (The Globetrotters won, 29-17.)
Afterward, one of the basketball players, Tony Lavelli, also a renowned accordion player, engaged the crowd with a virtuoso performance before the Browns took the field. For his last gag of a season filled with them, including the appearance of 3-foot-7 pinch-hitter Eddie Gaedel and Grandstand Managers Day, Veeck delighted fans by rearranging the outfield flags depicting the position of all eight AL teams, so that the Browns sat on top, in first place. He also promised to keep the crowd regularly informed about the Giants and Dodgers games.
The Browns tallied the game's first run, in the second inning, when Hank Arft sprinted home from second on Fred Marsh's one-out single off Chicago starter Joe Dobson. (Marsh was thrown out trying for two.) Two batters later, Garver lined a single that center fielder Ray Coleman misplayed, enabling Bill Jennings, who had also singled, to score.
Coleman atoned for his miscue an inning later when he belted a two-out bases-loaded single, driving in Nellie Fox and Al Zarilla, both of whom had also singled, to tie the game. Garver had beaten the Pale Hose in their three previous meetings, allowing only three runs in 27 innings, but he was making his third consecutive start on three days' rest and looked fatigued.
Dobson, an 11-year veteran with a 118-88 career record, including 7-6 as a part-time starter thus far in '51, appeared equally ineffective. He squandered the lead by yielding three consecutive hits to start the third, including Earl Rapp's two-run single plating Cliff Mapes and Bob Nieman for a 4-2 Browns lead.
"[Garver] looks, acts, and pitches like the college hero on the cover of a boy's novel," opined the St. Louis Post-Dispatch, and it was the good-looking pitcher's game to win or lose even after a two-run homer by light-hitting rookie shortstop Joe DeMaestri, the first of his career, tied the game in the fourth.5 Not a stir was seen in the Browns' bullpen. After yielding almost as many hits (6) and walks (2) as he had registered outs (9), Garver repaid Taylor's trust by retiring the next three hitters and tossing solid ball the rest of the game. Manager Taylor's biggest concern was whether the AL's lowest-scoring team could provide Garver enough support to eke out a win.
Garver didn't wait for his teammates' help. With one out in the fourth, he picked an opportune occasion for his first homer of the season and third in his career, a solo shot off right-handed reliever Randy Gumpert. Adept at the plate, Garver batted .305 (29-for-95) with nine RBIs in '51.
Garver was far from assured of his 20th victory with five innings to go. The Browns had little margin for error; they had a deplorable relief corps, boasted the highest team ERA in the majors (5.18), and also led the league in errors (172). In the bottom of the fifth Marsh gave St. Louis some breathing room by belting a two-out, two-run homer for a 7-4 lead. The Browns tacked on more insurance in the seventh on an RBI double by Arft, who subsequently scored on Lollar's groundout.
Garver had a hiccup in the eighth when Bud Stewart led off with a single, moved to second on the hurler's fielding error on Red Wilson's chopper back to the mound, and then scored on DeMaestri's grounder. But Taylor had no intention of pulling the AL's most durable pitcher in the ninth. Garver had led the circuit by going the distance 22 times (in 31 starts) in 1950 and was shooting for his league-best 24th complete game in 1951. As he had all game, Garver fed the White Sox a steady diet of breaking balls which they pounded into the dirt. He gave up a one-out single to Jim Busby, but recorded all three outs on infield grounders, finishing a 9-5 victory in 1 hour and 45 minutes.
Overcoming a rocky start, Garver yielded 11 hits and five runs (four earned) to became the first Browns hurler to win 20 games since Bobo Newsom in 1938. The loss went to Gumpert (9-8). Baseball has always had a peculiar fascination with successful pitchers on terrible teams. Garver (20-12, 246 innings, 3.73 ERA) became the first hurler to reach the 20-win plateau for a last-place team since Hollis "Sloppy" Thurston of the Chicago White Sox in 1924. Howard Ehmke, who won 20 for the Boston Red Sox in 1923, was the only other hurler in the live-ball era to hold that dubious distinction. Two Hall of Famers joined the club in the 1970s: Steve Carlton picked up the Cy Young Award in 1972 for winning 27 games for the Philadelphia Phillies; two years later Nolan Ryan recorded 22 victories for the California Angels. Garver remains the only live-ball hurler to win 20 games on a club that lost 100 or more. He also finished a close second in the MVP voting in '51, behind the Yankees' Yogi Berra.
Garver's success made him one of the most coveted pitchers in baseball. The New York Yankees had been attempting to acquire him since at least 1950. One day after Garver's milestone victory, Veeck added fuel to the speculation by boldly claiming, "[I] will trade anyone, I mean anyone."6 The St. Louis Post-Dispatch reported that the White Sox GM, Frank "Trader" Lane, had offered a package worth at least $250,000 for Garver.7
Ignoring trade rumors the best he could, Garver went on a barnstorming tour in October with Browns venerable reliever Satchel Paige, whom Veeck signed soon after acquiring the club. Garver was ultimately traded, but not until August 14, 1952, in an eight-player deal with the Detroit Tigers.
This article appears in "Sportsman's Park in St. Louis: Home of the Browns and Cardinals at Grand and Dodier" (SABR, 2017), edited by Gregory H. Wolf. Click here to read more articles from this book online.
Sources
In addition to the sources cited in the Notes, the author also accessed Retrosheet.org, Baseball-Reference.com, the SABR Minor Leagues Database, accessed online at Baseball-Reference.com, SABR.org, and The Sporting News archive via Paper of Record.
Notes
1 Neal Russo, " 'Will Trade Anyone,' Says Veeck, About to Tie Into Rebuilding Job; Garver Shaky, but Lands No. 20," St. Louis Post-Dispatch, October 1, 1951: 2E.
2 By one advanced metric, Garver was the most valuable pitcher in the AL in both 1950 and 1951 when he led all pitchers in WAR (Wins Above Replacement), which attempts to measure a player's contribution. WAR calculates the number of wins a player provides his team compared with a replacement-level player. Garver's 8.2 WAR in 1950 led all major leaguers, regardless of position. His 6.8 WAR in 1951 was the highest among pitchers in the AL, and second only to Ted Williams in the league.
3 Author's interview with Ned Garver on April 27, 2012. All quotations from Garver are from this interview. See also, Gregory H. Wolf, "Ned Garver," SABR Biography Project, SABR.org. https://sabr.org/bioproj/person/78230a19.
4 "Garver Could Expand Chest Today Along With the Community Chest," St. Louis Post-Dispatch, September 30, 1951: 1E.
5 "Excitement in the Cellar," St. Louis Post-Dispatch, September 27, 1951: 2B.
6 Russo.
7 International News Service, "White Sox Want 'In' if There Is Open Bidding for Ned Garver," St. Louis Post-Dispatch, October 3, 1951: 1B.
Additional Stats
St. Louis Browns 9
Chicago White Sox 5
---
Sportsman's Park
St. Louis, MO
Box Score + PBP:
Corrections? Additions?
If you can help us improve this game story, contact us.
Tags
https://sabr.org/sites/default/files/GarverNed.PNG
600
800
admin
/wp-content/uploads/2020/02/sabr_logo.png
admin
2018-11-21 15:45:39
2020-04-17 10:23:45
September 30, 1951: Ned Garver wins 20th for sad-sack St. Louis Browns