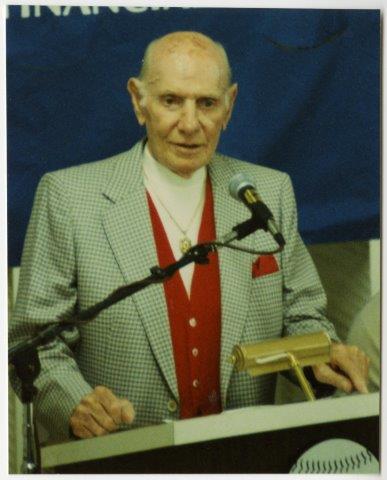 September 30, 1973: A goodbye for Leo Durocher; a long wait for Hank Aaron
---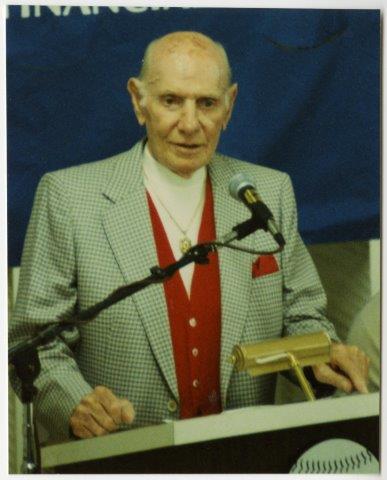 It took a lot to pry the attention of the baseball world away from New York teams on September 30, 1973. The Yankees played their final game at the original Yankee Stadium, losing to Detroit. And the Mets split a doubleheader with the Cubs to cling to a one-game lead in the National League East.
But 40,517 fans and numerous sportswriters were in Atlanta Stadium that Sunday evening, watching a game of significance to two future Hall of Famers.
In the Houston Astros' dugout, 67-year-old Leo Durocher was taking part in the final game of a big-league career spanning six decades. His Astros had underperformed in 1973, closing in fourth place, and The Lip had made (though not yet announced) the decision to retire at season's end.
In the Braves' dugout, Hank Aaron went into the season's final game with a chance to hit home run number 714, tying Babe Ruth. He'd hit his 713th off Houston's Jerry Reuss the night before. Could he take some pressure off himself by tying — or breaking — the record before season's end? Or would he have to wait through the long offseason before getting another chance?
"I feel like tomorrow is probably going to be the test I've been waiting for all these years," Aaron said after hitting number 713 the night before. "If I get a pitch to hit, then the world will know if I'm a good hitter. I wouldn't want to swing at any bad pitches."1
Durocher's style — blunt, loud-mouthed, scrappy — seems in the twenty-first century like a relic from an earlier, less sensitive age. His managerial tactic of hectoring players to get them to perform seems like an idea whose time has passed. (This approach had already worn thin by the early 1970s, when Durocher's needling of his Chicago Cubs players sparked clubhouse fights.)2
In his time, though, Durocher was enough of a personality — and a success — to play on two World Series championship teams, manage a third and coach a fourth. When he finally bowed out, news reports noted that he had been involved in baseball for nearly half the sport's history.3
Durocher's career was widely believed to be over after his departure from the Cubs in July 1972. But when the Astros dismissed manager Harry Walker the following month, general manager Spec Richardson tapped Durocher, saying: "He's an outstanding man, he has fire, and he might be just what we need to win the pennant."4 (The Astros were willing to forgive Durocher's 1966 tirades against the introduction of AstroTurf and the irreverent messaging of the Astrodome scoreboard.5)
At that time, Houston was seen as an up-and-coming team, with an excellent infield plus outfield stars Jim Wynn and Cesar Cedeño.6 Durocher told reporters he hoped to make one more trip to the World Series.7
It was not to be. While the Astros' clubhouse did not openly revolt as the Cubs' had, Durocher again failed to connect with younger players, and the Astros struggled to finish above .500. In a spring-training incident, Durocher interrupted a players meeting with union leader Marvin Miller, claiming it was cutting into practice time. The event cost him a $250 fine and made him few friends. Adding injury to insult, Durocher was twice hospitalized with diverticulitis, and under the temporary leadership of coach Preston Gomez, the Astros won 16 games while losing only five.8
In early September, the Boston Globe's Peter Gammons reported that "even people within the Houston organization say Leo Durocher is gone as manager."9 But as of September 30, Durocher's departure was only a rumor, and he once more donned Houston's gray and orange road uniform and prepared for a potential date with history, courtesy of Hank Aaron.
Durocher's defense of African-American players in the late 1940s and early '50s seems, in retrospect, like a highlight of his career.10 It seems appropriate that in his last game, Durocher would be overshadowed by an outstanding member of that first generation of black major leaguers whose arrival he had supported.
(Durocher is not quoted in several national news stories leading up to that last game. One might think reporters would have asked him whether he would order his pitchers to pitch to Aaron or to work around him. Maybe, with the peace of retirement looming, Durocher made the uncharacteristic decision to stay out of a hot topic for once.)
Astros starting pitcher Dave Roberts made it clear to reporters that he had two priorities — to become the first Houston left-hander to win 17 games in a season, and to stay out of the record books.
"I don't want to be the man to give up either the 714th or the 715th," said Roberts, who had surrendered Aaron's 712th home run on September 22. "If he comes up at any time with the chance to beat me with a home run, I'm going to pitch around him."11
"If he's got his breaking ball working, if he's getting his slow curve over, he can be one of the toughest left-handed pitchers in the league," Aaron said of Roberts. "He's the type of pitcher who can send me home for the season with an 0-for-4."12
The pitching matchup pitted Roberts against Wenty Ford, a soft-throwing Bahamian making his fourth and final major-league appearance. The Astros quickly took a 1-0 lead when Cedeño, the game's third batter, touched Ford for a home run.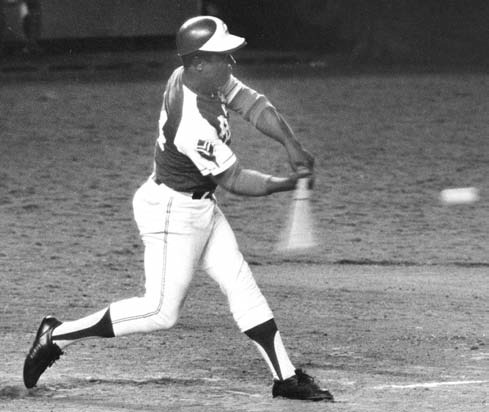 In the bottom of the first, Aaron came up with a chance to tie either Ruth or the game. Braves right fielder Mike Lum was on third base with two out, having doubled and advanced on a grounder. Aaron beat out a chopper to third for a hit, scoring Lum. The score remained 1-1 at inning's end.
The Braves' mound staff was struggling. In the top of the second, the Astros added two runs on singles by Doug Rader and Lee May, a run-scoring groundout by Tommy Helms, and a single by Roberts. Ford was pulled with two outs in the second. Reliever Gary Neibauer, in his final big-league appearance, got Roger Metzger to fly out to keep the deficit at 3-1. The Astros made it 4-1 in the third off Alan Closter, the third straight Braves pitcher appearing in his last big-league game.
Aaron stung the Astros again in the bottom of the fourth, leading off with a bloop single to center. He took second on a walk to Dick Dietz and scored on a single by Freddie Velazquez, making the score 4-2. Dietz and Velazquez were also playing their final big-league games. Despite Aaron's efforts, the Astros got the run back in the top of the fifth.
Two at-bats left for Aaron, then, barring a Braves rally. He led off the bottom of the sixth against Roberts, still effectively mixing up offspeed pitches. The best Aaron could manage was a ground single into center field. He was erased on a double-play ball by the next batter, Dusty Baker.
One at-bat left, this one against Don Wilson. With Roberts' milestone win seemingly in the bag, Durocher pulled him after six innings. Soft rain began to fall in the seventh, accompanied by thunder that Dave Anderson of the New York Times said sounded "as if the Babe had belched after six hot dogs in the sky."13
The hard-throwing Wilson always gave Aaron trouble: In 36 career at-bats against him, Aaron hit .139 with one homer and 13 strikeouts.14 With two down in the eighth, Aaron popped out on Wilson's first pitch, breaking his bat. (The Retrosheet play-by-play lists Aaron as making an out to second, while Anderson's game story says he popped to shortstop.)
The crowd rewarded Aaron with a standing ovation after he jogged out to left field for the ninth inning. After the game, he took solace in the fact that his 3-for-4 day lifted his season average above .300. But the biggest prize, Ruth's record, would have to wait until 1974.
"I only got one good pitch all day," Aaron told reporters afterward. "The first pitch the first time up, he threw a fastball right down the middle. I took it. And it was the last one I saw down the middle."15
The game ended 5-3, with the Braves adding a meaningless run in the ninth. The next day, back in Houston, Leo Durocher's long, colorful big-league career ended as well. He told the media he'd been thinking about retirement for a long time, and had firmly made up his mind a few days before.
"Baseball has been 45 years of a wonderful life, but I have got a lot of things to do now," he said. "I'm going out to Palm Springs and I'm going to tee it up and play a lot of golf."16
Sources
retrosheet.org/boxesetc/1973/B09300ATL1973.htm
baseball-reference.com/boxes/ATL/ATL197309300.shtml
Notes
1 Dave Anderson, "Aaron Is One Away with One Game Left Today," New York Times, September 30, 1973: Section 5, 1.
2 "Leo Durocher," SABR Baseball Biography Project. sabr.org/bioproj/person/35d925c7.
3 United Press International, "Leo Durocher Bows Out of Baseball After 45 Campaigns," as reprinted in the Williamson (West Virginia) Daily News, October 2, 1973: 5.
4 Associated Press, "Astros Replace Walker with Durocher," as reprinted in the Boston Sunday Globe, August 27, 1972: 68.
5 Durocher's criticisms of the Astrodome were widely quoted; one such news story is United Press International, "Nice Guys Don't Run Scoreboard, Hey Leo," as reprinted in the Boston Globe, August 29, 1966: 21.
6 Peter Gammons, "Astros Could Well Win — If Lip's Ego Doesn't Get in Way," Boston Globe, April 8, 1973: 94.
7 Michael A. Lutz (Associated Press), "Astros' Durocher Resigns," Nashua (New Hampshire) Telegraph, October 2, 1973: 14.
8 Jimmy Keenan, "From the Gashouse to the Glasshouse: Leo Durocher and the 1972-73 Houston Astros," The National Pastime: Baseball in the Space Age (Phoenix: SABR, 2014). sabr.org/research/gashouse-glasshouse-leo-durocher-and-1972-73-houston-astros.
9 Peter Gammons, "Johnson Ready for the Big Time," Boston Globe, September 9, 1973: 94.
10 "Leo Durocher," SABR Biography Project.
11 Anderson, "Aaron Is One Away with One Game Left Today."
12 Anderson, "Aaron Is One Away with One Game Left Today."
13 Dave Anderson, "Only One Good Pitch All Day," New York Times, October 1, 1973: 47.
14 Retrosheet: Batter-pitcher matchup information for Hank Aaron. retrosheet.org/boxesetc/A/MU0_aaroh101.htm.
15 Anderson, "Only One Good Pitch All Day."
16 United Press International, "Leo Durocher Bows Out of Baseball After 45 Campaigns."
Additional Stats
Houston Astros 5
Atlanta Braves 3
---
Atlanta Stadium
Atlanta, GA
Box Score + PBP:
Corrections? Additions?
If you can help us improve this game story, contact us.
Tags
https://sabr.org/sites/default/files/images/Durocher%20Leo_McWilliams%20action%20160%20NBL.jpg
600
800
admin
/wp-content/uploads/2020/02/sabr_logo.png
admin
2019-12-19 16:01:07
2020-04-17 10:22:21
September 30, 1973: A goodbye for Leo Durocher; a long wait for Hank Aaron