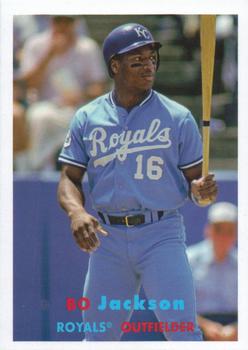 September 5, 1990: Bo knows 'sombreros'
---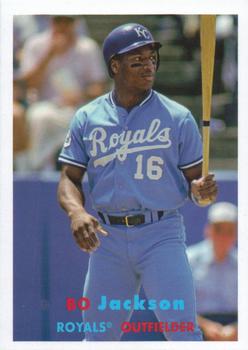 It goes by many names: the whiff, the punchout, or simply a K. If you don't offer at it, you are frozen, caught looking, or in times gone by, window shopping. If you don't catch up to it, you are fanned or blown away. According to Crash Davis, they're boring, and besides that, they're fascist.1 If you do it four times in a game, you get the Golden Sombrero.2 And from the years 1986 to 1994, no one wore more Sombreros than Vincent "Bo" Jackson.3
In September of 1990, Comiskey Park in Chicago was in its death throes; its final games approaching. The White Sox faced the Kansas City Royals on Wednesday night, September 5 — only 10 home games remained for the former "Baseball Palace of the World." The White Sox entered the game 6½ games behind the Oakland A's, and still held out hope that they could make up the gap — maybe. "I think what the guys are really thinking about is not so much catching them but hoping we can finish off strong," said Greg Hibbard, who would start for the White Sox.4 Making his first major-league start for the visiting Royals was Mel Stottlemyre Jr., son and namesake of the New York Yankees stalwart from the 1960s. A crowd of 19,526 turned out on a pleasant night to see if the White Sox could sweep the three-game series and cut into the A's lead.
Hibbard entered the game with an 11-8 record, having already eclipsed his win total from his first season in 1989. Stottlemyre, pitching for the first time in 11 days, was thrown into action because scheduled Royals starter Storm Davis was a late scratch. "I was shocked (to get the start), as a matter of fact," Stottlemyre said.5 Both pitchers allowed a single runner in the first with no damage, bringing up Jackson to start the second for the Royals. Jackson had not struck out in 33 plate appearances heading into the at-bat, but Hibbard got him swinging on a 1-and-2 count to open the frame. Dan Pasqua opened the second for the White Sox with a single to center, and that was the only hit Stottlemyre allowed during his tenure. Because of Stottlemyre's health issues, the Royals had placed a 70-pitch limit on him. (Stottlemyre had five surgeries, the most recent on his right rotator cuff in 1988, before making his major league debut on July 17, 1990.) Frank Funk, the Royals pitching coach, said, "You hate to take him out, but you don't want to take a chance on hurting his arm at this stage."6 Stottlemyre left the game after seven innings and 77 pitches without allowing a run.
Jackson came up for a second time with two outs in the fourth, and just like the in the second, he was dispatched swinging. Hibbard was nearly as efficient as Stottlemyre, having allowed only two hits before the Royals came up in the seventh. This changed in the top of the seventh, when Danny Tartabull hit a line-drive double to right-center, bringing up Jackson with a chance to open the scoring. Didn't happen. "I just didn't feel comfortable at the plate," Jackson said. He throws across his body instead of straight at you and it's hard to pick that ball up out of the white jersey."7 With Jackson dispatched, however, Hibbard lost his control for a moment, hitting Willie Wilson on his first pitch after striking out Jackson, then walked Bill Pecota on five pitches, setting up the most controversial moment of the game. Frank White hit a line drive right at center fielder Lance Johnson. Johnson caught the drive and threw a one-hop strike to catcher Carlton Fisk, who tagged out the oncoming Tartabull. "When I saw the ball hit, I thought it was deep enough. That was a perfect throw,' said Hibbard.8 "I took my time, and it gave me a better chance. I've been throwing good this year to every base but home," Johnson said.9 Tartabull had a different opinion. "Everybody saw the replay — safe," he squawked. "I touched the plate. You can feel it sliding in for so many years."10 Royals manager John Wathan came out to argue, but umpire Derryl Cousins ruled that Tartabull had missed the plate, and the inning was over.
After Stottlemyre got the White Sox 1-2-3 to finish his evening, the Royals tried to take advantage of more wildness from Hibbard in the eighth. Kevin Seitzer hit a one-out bloop double, and then after a groundout Hibbard intentionally walked George Brett and unintentionally walked Tartabull, bringing up the thrice-K'd Jackson. Hibbard threw a fastball on the inside corner for strike one, then threw two curveballs away to get Jackson swinging to earn his fourth sombrero of the season.11
"I think Ozzie Guillen put a hex on me today. He got my batting-practice bat and towed it around for 10 minutes and put a hex on it," Jackson said.
Hibbard commented, "He's such a strong hitter, he's just trying to drive the ball a long way. I was just trying to keep him off balance — in and out, in and out. I just happened to outguess him — I guess."12
Finally rid of Stottlemyre, the White Sox were ready to hit his replacement, Steve Farr. Frank Thomas didn't have to hit; Farr walked him to begin the bottom of the eighth. Rodney McCray ran for Thomas and made second on Sammy Sosa's sacrifice bunt. Farr stuck out Scott Fletcher, then intentionally walked Guillen to set up a force. Johnson walked to load the bases, bringing up Robin Ventura, who was in a 3-for-22 slump. Farr got Ventura to hit the ball on the ground, but it was a hard-hit grounder to left field that scored McCray and Guillen. Johnson made it to third, and then scored when Ivan Calderon smashed a single to right, giving the White Sox a 3-0 lead.
Normally, White Sox manager Jeff Torborg would have called on his closer, Bobby Thigpen, (well on his way to setting the single-season saves record with 5713) to finish up, but he was unavailable, having saved five games over the last six days. "If I had Bobby available, I would have gone to him in the ninth — definitely," Torborg said.14 Hibbard made Torborg's decision to not go to his bullpen look good by getting Wilson to fly out to right, Pecota to ground out to short, and White on a pop fly to end the game.
In their 22nd season of existence, the Royals had never been swept in a season at Comiskey Park until this season in their last opportunity to do so. "They ought to burn the place down tonight," Jackson said.15 In due time Bo — in due time.
Sources
In addition to the sources listed in the Notes, the author accessed Retrosheet.org, Baseball-Reference.com, SABR's BioProject via SABR.org, The Sporting News archive via Paper of Record, the Chicago Tribune via newspapers.com, and the Kansas City Star.
Baseball Reference: baseball-reference.com/boxes/CHA/CHA199009050.shtml.
Retrosheet: retrosheet.org/boxesetc/1990/B09050CHA1990.htm.
Notes
1 imdb.com/title/tt0094812/quotes.
2 baseball-reference.com/bullpen/Golden_Sombrero.
3 According to Baseball-Reference, Jackson struck out four or more times in a game 19 times between 1986 and 1994. Trailing Jackson were Rob Deer (16), Cory Snyder (13), and Pete Incaviglia (11).
4 Andrew Bagnato, "Sox Sweep but Still Can't Gain," Chicago Tribune, September 6, 1990: 53.
5 Dick Kaegel, "White Sox Tap Royals with Three in Eighth," Kansas City Star, September 6, 1990: D-7.
6 Ibid.
7 Ibid.
8 "Sox Sweep."
9 Joel Bierig, "Hibbard the Hero — Handcuffs KC for First Shutout," Chicago Sun-Times, September 6, 1990: 104.
10 "White Sox Tap Royals."
11 Jackson had previously struck out four times in 1990 on May 19 against the New York Yankees, June 6 against the California Angels, and June 10 against the Oakland A's.
12 "Hibbard the Hero."
13 Thigpen held the single-season saves record until 2008, when Francisco Rodriguez saved 62 games for the Los Angeles Angels.
14 "Sox Sweep."
15 "White Sox Tap Royals."
Additional Stats
Chicago White Sox 3
Kansas City Royals 0
---
Comiskey Park
Chicago, IL
Box Score + PBP:
Corrections? Additions?
If you can help us improve this game story, contact us.
Tags
https://sabr.org/sites/default/files/JacksonBo-KCR.jpg
600
800
admin
/wp-content/uploads/2020/02/sabr_logo.png
admin
2018-08-15 14:48:01
2020-04-17 10:24:44
September 5, 1990: Bo knows 'sombreros'