1964 Phillies: What to do with two Gold Glove shortstops?
This article was written by Rory Costello
This article was published in 1964 Philadelphia Phillies essays
---
During the four seasons that Bobby Wine and Ruben Amaro were teammates, from 1962 through 1965, they split the shortstop duties for the Philadelphia Phillies — and each won a Gold Glove.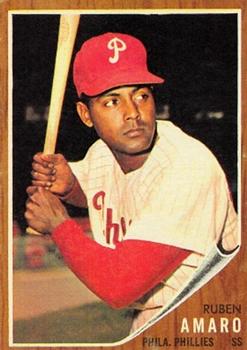 In May 1962, Rubén Amaro (who had previously been in the Mexican Army) was recalled to service in the US Army. The Phillies called up Bobby Wine, who had played four games for them in 1960, and made him the interim starter. Wine continued to play a lot after Amaro returned in late July. He performed well enough for the Phillies to consider trading Amaro during the offseason.1 Instead, manager Gene Mauch juggled them for three years more.
After playing winter ball in Mexico during the 1962-63 offseason, Amaro got off to a cold start with the bat with the Phillies in 1963. Also his fielding was still not quite up to his brilliant standard of 1961. Therefore, Mauch gave Wine another shot.2 Wine hit well for a few weeks, and though he tailed off severely at the plate after that, he continued to get more shortstop duty than Amaro overall. During the four seasons that Wine and Amaro were teammates, from 1962 through 1965, they split the shortstop duties as follows.
Rubén Amaro and Bobby Wine: Selected Averages, 1962-65
|   | Amaro | Wine |
| --- | --- | --- |
| Total games played | 110 | 130 |
| Games played at SS | 70 | 116 |
| Starts at SS | 56 | 101 |
| Innings played at SS | 500 | 884 |
| Plate appearances | 263 | 380 |
| OPS | .608 | .573 |
Source: Baseball-Reference.com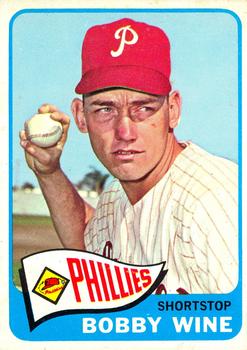 It was an interesting pattern – not a true platoon in that both men were right-handed batters who didn't contribute much with the stick. Both were excellent defenders who positioned themselves well, though Wine was known more for his stronger arm and Amaro for his greater range and quick release. Jim Bunning said, "Wine was a completely different shortstop than Amaro, but they both got the job done."3
In those days the players cast the ballots for the Gold Glove awards, and both Amaro and Wine were recognized by their National League peers. In 1962 Amaro lost a close race with Maury Wills of the Los Angeles Dodgers.4 Wine emerged as the winner in 1963, beating Dick Groat of the St. Louis Cardinals. Runners-up were Roy McMillan of Milwaukee, Leo Cárdenas of Cincinnati, and Amaro.5
Going into spring training in February 1964, Mauch called Wine the first-stringer and Amaro the backup.6 The following month, though, he was more ambivalent. He said, "They can both play in the field and, although they are different types, they are both among the best there is with the glove. We can't lose anything there whichever one is the regular." The skipper thought, however, that Wine had more upside with the bat.7
As it developed, Wine played 52% of the innings at short for Philly in 1964, Amaro 42%, and the scraps went to Cookie Rojas. In 1989, as part of his retrospective series on the '64 Phillies, Stan Hochman of the Philadelphia Daily News offered a witty view of how the shortstop tandem was used that year. "When it was over, manager Gene Mauch had wrung eight homers and 68 RBI out of his shortstop(s), shuffling Amaro and Wine in and out of the lineup based on biorhythms only he detected, based on the opposing pitcher, the day of the week, the phases of the moon."8
Mauch often switched his shortstops in the middle of games. In 1989 Al Widmar (the '64 Phillies pitching coach) commented on those maneuvers. "I've never seen anything like it. Gene would start Amaro at short and then, for no apparent reason, bring in Wine in the fifth or sixth inning. And it seemed like, every time he did that, the other team would proceed to hit three shots that Wine would handle with ease."9
There was more to it than hunches, though. In late May Mauch cited the need to give both Wine and Tony Taylor some rest. He said, "There's more mental pressure on the second baseman and shortstop than on any other regular except the catcher. Taylor and Wine have played almost every inning since spring training." Philly beat writer Allen Lewis added, "Ruben Amaro, who can play any infield position expertly, has done everything Mauch asked of him and done it well."10 For example, Amaro played a significant amount at first base, including seven starts during the 1964 season – six between the departure of Roy Sievers and the arrival of Frank Thomas. Wine was also capable of filling in at other spots, but primarily third base (he wasn't quite as versatile).
Wine started 70 of the first 97 games at short, but then fell below the Mendoza Line (sub-.200) and Mauch turned more to Amaro as the summer wore on. Late in the season, Lewis wrote that Amaro was back in his top form of 1961 in the field and was hitting respectably too. Rubén himself credited being in a good rhythm with regular play. Oddly enough, he said that a spring wrist injury helped his swing.11 In January 1965 Wine said, "There is nothing you can do about it. You get that tap on the shoulder from Gene Mauch. He says: 'I'm going to give you a little rest.' You know what happens? You have one devil of a time getting back in there. Somebody else gets hot and you become a bench squatter."12
After the sad ending to the season, Amaro received some consolation in the form of the NL Gold Glove. He edged Cárdenas, teammate Wine, and McMillan (then with the New York Mets). The Sporting News said, "The award was long overdue for Amaro."13
There was renewed talk after the 1964 season that the Phillies might look to deal either Wine or Amaro to another team.14 That did not come to pass for another year, though. On November 29, 1965 – not long after obtaining the veteran Dick Groat – Philadelphia traded Amaro to the New York Yankees for utility infielder Phil Linz. The Yankees thought Linz would not develop into a regular shortstop; the Phillies viewed him as a bench reinforcement who might become something more. Yankees manager Ralph Houk said, "We know Amaro isn't much of a bet to win the batting title, but we know he is truly a first-class infielder."15
Wine stayed with the Phillies through 1968, though he was the starter only in 1967. (Philadelphia went with Groat in 1966 and Roberto Peña in 1968.) He then rejoined Mauch with the Montreal Expos, where he was the starter for three years (1969-71). Amaro had just one season left as a frontline shortstop in the majors (1967, with the Yankees). The pair was almost reunited in Montreal in 1970, but Amaro had a sore shoulder, which kept him from making the Expos roster.
As Stan Hochman wrote, "Their numbers were similar, their skills the same, their personalities low-key. Cerebral players with soft hands and soft voices."16 Phillies historian David Jordan observed, "Shortstop was a pleasant puzzle for Mauch."17 Indeed, a team under Gene Mauch was like a twirling kaleidoscope. One may imagine that because he came up as a shortstop himself, his keen eye focused on this spot in particular.
RORY COSTELLO never had a chance to go to Connie Mack Stadium but has enjoyed other visits to Philadelphia over the years. The thought of a Tommy DiNic's roast pork sandwich makes him want to go back. Rory lives in Brooklyn, New York, with his wife Noriko and son Kai.
Notes
https://sabr.org/wp-content/uploads/2020/03/research-collection4_350x300.jpg
300
350
admin
/wp-content/uploads/2020/02/sabr_logo.png
admin
2017-01-05 21:04:29
2021-05-17 04:05:55
1964 Phillies: What to do with two Gold Glove shortstops?