1967 Red Sox: Providence and the Pennant
This article was written by Fr. Gerald Beirne
This article was published in 1967 Boston Red Sox essays
---
A SABR member and priest remembers what it felt like to live the Impossible Dream in 1967.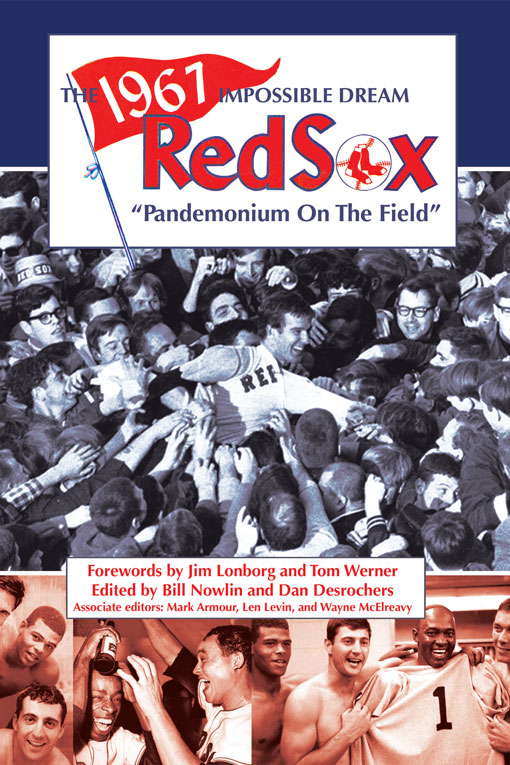 Two or three weeks into September 1967, with all of New England absolutely agog over the rekindled, born-again Boston Red Sox, a parishioner gave me a single ticket to the final game of the season on October 1, with the caution "They may be in first place or completely out of it by then. This ticket may be worth 50 cents or 50 dollars." I graciously accepted his kind ducat with an "I'll go either way" attitude.
On September 23, a week before that last date, Detroit, Chicago, Minnesota, and the Sox were all within one slim game of each other. Who would win the pennant? Who would fall short?
It seemed to be not a miracle, but an omen when Jim Kaat had to leave early during the game on Saturday the 30th and then for Yaz to blast a glorious three-run wallop into the bullpen in the bottom of the seventh, to keep the race alive. When that fateful Sunday came around, October 1, the Beirnemobile hiked up to the Hub, parked near downtown, and took the "T" to Kenmore Square. Being alone, my trusty Sunday crossword puzzle was under the arm for "something to do with no one to talk to." Of course, the crowd was in a total frenzy. But I was quite determined to NOT get carried away in an emotional condition. Call it protection against the depression of possible defeat. After all, wasn't this Impossible Dream just too good to be true?
Hence, between pitches, I was filling in Across and Down with my usual ineptitude. The seat I'd been provided was a wonderful one just under the first base side of the screen behind home plate, about halfway up the grandstand. Dean Chance was immense on the mound for Minnesota. He would show his back to the batter in the windup and then zing the pellet untouched across the plate. The Twins scored single runs in the first and third; the Red Sox had none. But I was insulated from grief by the puzzle. Then it happened!
The Boston fifth opened with Lonborg beating out a bunt. Jerry Adair bled one up the middle that was fractions of an inch from the gloves of both Versalles and Carew. James Dalton Jones feigned a bunt and then slapped one past Tovar at third to "soak the sacks" for Captain Carl. By now, ALL of us were standing. It was a euphoric uproar. The silly crossword was under the seat, forgotten. And when Number Eight responded with a solid smash up the middle off the once-invincible Chance, even a man from Mars would have been caught up in the din.
Still nobody out. Versalles threw Harrelson's grounder home, too late, 3-2; Worthington came in and two wild pitches later, the tally stood at 4-2, Boston. Scott fanned but Reggie followed Rico's walk with a smash. Killebrew, playing first, showed why he would have been a wonderful DH. Harrelson's run made it 5-2.
Now to hang on for "only" four more innings, just one dozen Twins outs.
The rest was a blur until Rich Rollins popped up to Rico for the 27th putout of the game. The Little Team That Could — but which nobody ever expected would — had done it: won the American League pennant. There was a wait, but the word came in from Detroit that the Tigers had also lost, when Dick McAuliffe hit into just his second double play of the season. Strangers were hugging and kissing fellow fans. There were Red Sox fans all over the field. Terribly noticeable were three well-dressed men several rows in front who looked more than gloomy. Must have been Minnesota fans. Too bad! This was our year, finally. But how to celebrate? I knew no one. And was not comfortable going into a bar, even in mufti. I wouldn't have fit in; it would have felt forced.
So I decided to walk back downtown to my 1962 Valiant and see what else might come to pass. A priest in vestments stood in front of a church on Newbury Street. So why not go in? Another adventure and nothing phony about it. Might be the perfect way to conclude the Fenway festivities. My attitude as I entered was remarkably similar as to the ballgame. I sat by myself in a back pew, NOT becoming involved, watching with a jaundiced eye these well-dressed (jacket and tie, or dress) young people smiling while warming up their guitars. Great Scott! A Folk Mass! I had heard of them but had never yet seen one. The Mass was undergoing change from Latin to English, a bit at a time, in these days, but Folk Mass was a new and radical concept at the time.
At one point I heard myself say, "Why, they're smiling and enjoying themselves," then quickly realized, "Well, isn't that a good way to be in church?" Just as at the Cathedral called Fenway Park, the Liturgy in this chapel caught me up. Enchanted and ensnared, my better feelings were brought out again. Euphoria. Peace. Contentment. Happiness. The homily was thoughtful and well delivered. The harmony of the entire day was irresistible. This Folk Mass was for me the perfect complement to a Red Sox pennant victory. What a wonderful twin bill! I wanted to be able to "bottle just a bit of those beautiful feelings" from that day, and take a dose or nip at future times as needed. But of course, memories have to do that. I had clearly chosen the better part in how to celebrate an Impossible Dream pennant victory. I sang all the way home in the car.
FR. GERRY BEIRNE shares birthdays with Pie Traynor, Rabbit Maranville, and Jose Offerman (you can look it up.) His earliest recollection of following the Red Sox goes back to attending games in 1946 with his Pawtucket fireman godfather who later lent him his "portable radio" to listen to the World Series (sigh.) His most brilliant moment in Red Sox history is contained in this book. He is the author of "The New England Sports Trivia Quiz Book" and the pastor of St. Philip's Church in Greenville, Rhode Island, where the Southern New England SABR chapter meetings are held every November. He looks forward to retirement and another World Series victory, please!

https://sabr.org/wp-content/uploads/2020/03/research-collection4_350x300.jpg
300
350
admin
/wp-content/uploads/2020/02/sabr_logo.png
admin
2017-09-07 14:44:01
2017-09-07 14:44:01
1967 Red Sox: Providence and the Pennant