Bill Starr: The San Diego Padre Who Batted for Ted Williams and Integrated the PCL
This article was written by Gary Sarnoff
This article was published in The National Pastime: Pacific Ghosts (San Diego, 2019)
---
In December 1936, the San Diego Padres of the Pacific Coast League purchased a catcher from the Albany Senators. Bill Starr would leave his mark on San Diego baseball history: As a player, he had the honor of pinch-hitting for Ted Williams. As an owner, he signed the player who broke the Pacific Coast League color-barrier.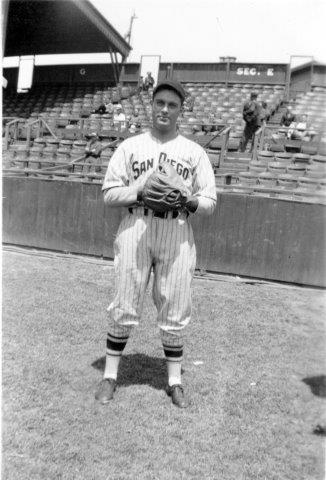 He was born February 16, 1911, to Russian-Jewish immigrant parents.1 His given name was Isadore, which he was called until he changed it to William as an adult.2 His baseball playing records note him as Chick Starr; the sportswriters always referred to him as Bill Starr.
The baseball bug entered Starr's bloodstream while he was growing up on Chicago's West Side. He played the game day and night and became an ardent White Sox fan. One September day in 1920, he was devastated when he heard "Extra! Extra! Read all about it! White Sox players indicted!" He didn't believe it, but soon the truth was revealed that eight members of the White Sox conspired to lose the 1919 World Series, and his reaction was "stunned disbelief."3
In 1931, Starr signed a contract with Terre Haute of the Three-I League. He reported as a third baseman but was switched to catcher.4 He spent four and a half years climbing the minor-league ladder before being called up by the Washington Nationalss. He played 12 games for the 1935 Nats, and although he was on the Washington roster for less than two months during the first half of the 1936 season, he played in only one game, as a late-inning substitute. He was sent back to Albany for the season's second half, but Albany sent him to Trenton. Starr refused to report and sat out the rest of the season. Thereupon he was sold to San Diego, putting him on a course for destiny.
Starr played three seasons for the Padres, from 1937 to 1939. In a game during the 1937 season, the Padres were batting in the bottom of the ninth inning of a tie game. There was a runner on first, nobody out, and the batter, Ted Williams, had a 0–1 count. Padres manager Frank Shellenback decided this was a bunting situation and Starr was a better candidate for the job. Williams was called to the bench; Starr went to the plate and bunted a foul ball for strike two. Given the swing sign with an 0–2 count, he swung and lifted a fly ball to the outfield for an easy out. Starr failed in his assignment but always enjoyed talking about the moment when he hit for Ted Williams.5
That year, a San Diego businessman asked Starr what he was going to do after the season. "I'm going to go home to get married and find a job," Starr said. "Get married, come to San Diego and work for me—I'll make a salesman out of you," replied the businessman. "I was given a job in the credit department," said Starr. "Did that for three years, retired from baseball and started my own collection business."6
Starr did very well in that business. "He went door-to-door to collect," said his son, Norman, "and he was very persuasive."7 Starr's timing was perfect. The Great Depression was over and he benefitted from California's fast-growing economy. Starr, excused from World War II by the draft board due to an injury sustained during the 1938 season, took full advantage of the opportunity and saved enough to bid for ownership of the Padres. He formed a group of investors, but he needed additional financial backing. "I went to the San Diego Trust and Savings Bank and asked for the bank president, but he didn't know me. I told him I wanted to borrow money to buy a ballclub. He looked at me and said, 'I can't loan you money to buy a baseball club, but go down the street to this other bank and ask for Mr. Smith.'"
Starr went down the street, asked for Mr. Smith, and was directed to his office. He sat down, introduced himself and asked for a loan. Without hesitation, C. Arnholt Smith, who would own the Padres one day, beckoned a cashier to his office. "This young man wants to buy a ballclub and needs $150,000," Smith told the cashier, "give him a cashier's check."8 Starr and his group paid $210,000 for the Padres.9
One year later, Starr took notice when Branch Rickey signed Jackie Robinson to the Brooklyn Dodgers. "What would happen if I searched out and found some capable black players?" Starr wondered. "The coast was very lily-white and some of the old-timers were very critical of Rickey," Starr would later say. "I thought it was kind of stupid."10
The Padres' owner had the perfect player in mind: Johnny Ritchey, a clean-cut catcher and San Diego native who starred at San Diego high school and San Diego State. "He has fair speed, can hit, has a good arm and he hustles," one sportswriter offered.11 He was also said to be talented, enthusiastic, and always smiling. In 1947, Ritchey was leading the Negro American League in batting average. Starr sent scouts to look him over, and after the reports came back, he signed Ritchey for the 1948 season. "We believe we signed one of the finest prospects in the country," said Starr. "His record at San Diego High School, San Diego State and the Chicago Negro League team has been particularly outstanding."
Starr made it clear that he was not doing this to be a crusader: "We are not sponsoring any causes. Our interest in Ritchey is primarily that he can swing that bat."12 Starr was happy to learn that all six hotels the Padres occupied on the road would welcome Ritchey. "If he's good enough to play for your team, he is more than welcome at our hotel," said a San Francisco hotel manager.
Things went well for the rookie catcher during spring training. "He is definitely one of the gang," said Padres manager, Ripper Collins. "Everyone has been swell to me," said Ritchey. "I can't ask for better treatment. In exhibition games, most of the customers were on my side, and the umpires offered me all kinds of encouragement. All the players have cooperated with me. I did expect a little friction, but I haven't encountered it yet."13 The sportswriters were also for him. "It's one of the many signs that America is coming of age, and the promise that other and even more formidable walls will come tumbling down," wrote Nat Low of the Daily Worker. Asked if Ritchey would be the Padres' starting catcher, Collins wouldn't comment. "Johnny can hit, anyone can see that, and he's strong," said Collins. "But he's young and I haven't seen him in a game yet."14 Ritchey wasn't the team's number one catcher, even after he started the season by going 5-for-8. "If he keeps up this good hitting, he'll be the team's number one catcher," the San Diego Evening Tribune noted.15
The good treatment of spring training disappeared when the season began. Ritchey was spiked and constantly harassed. Pitchers threw at him. He was standing on second after hitting a double when an opposing pitcher walked over and unloaded with bad language. The biggest culprit was Los Angeles shortstop Bill Schuster, "a terrible person," according to Ritchey.16 Most bothersome to Ritchey was the lack of support from his teammates, who never said a thing or retaliated on his behalf. It also troubled him that he roomed alone and his teammates hardly spoke to him. In addition, he was unhappy being an every-other-day player. "I sensed a coolness, a distancing that was apparent to him," a teammate said. "He smiled less and didn't seem to have much fun."17 On the bright side, he was popular with the fans, especially with children, who often mobbed him for an autograph.18
Before the 1949 season, Starr wanted his club to become affiliated with a major-league team. He considered the Cleveland Indians a perfect fit. The Padres were the first team to break the PCL color-barrier; the Indians the first to do so in the American League. Cleveland, with 14 black players under contract, was hunting for a new triple-A affiliate, one that Indians brass knew would take care of their prospects.19 Starr knew Indians owner Bill Veeck from the days when Veeck owned the minor-league Milwaukee Brewers. He was also friendly with Indians general manager Hank Greenberg, but there was an obstacle: Greenberg was a close friend of Hollywood Stars owner Bob Cobb, who also pitched the Indians for affiliation. Using his negotiating and sales experience, Starr managed to seal the deal. "We selected San Diego because we felt that Bill Starr would be most interested in seeing that our players would be properly developed and it seems to have the most to offer," said Greenberg.20 He added: "Bill Starr was extremely anxious to have the Padres join the Cleveland organization."21 To put the final touch on the deal, Bucky Harris, who had won the 1924 World Series as a player-manager with the Nationals and the 1947 Series as the manager of the New York Yankees, agreed to manage the Padres. "We feel San Diego has the best set-up in minor-league baseball," said Starr. "First arranging a working agreement with the world champion Cleveland Indians and getting a world champion manager in Bucky Harris."22
The Padres had 34 players on their roster, and now the Indians would assign players to San Diego, meaning there would not be spots for everyone. Ritchey, however, was projected as a mainstay.23 He was the only Padre to receive a pay raise in 1949.24 When spring training began, the catcher made a huge impression. "Ritchey is better than any catcher we had on the Yankees last season," Harris said.25 He also predicted that Ritchey would be the Indians' starting catcher by 1951.26
In addition to Ritchey, the 1949 Padres had three other black ballplayers. The Indians sent first baseman Luke Easter, smooth-fielding shortstop Artie Wilson, and outfielder Minnie Minoso. Easter was 6-foot-4, 240 pounds, and could hit the ball a country mile. Before the season, Starr warned Easter about harassment he might endure over the color of his skin. "Mr. Starr," said Easter, "everyone likes me when I hit the ball."27 Easter was right. His power made him a huge drawing card around the circuit. In Los Angeles, a record crowd of 23,083 clicked the turnstiles to see him hit.28 "We opened the ballpark early so people could watch Easter hit" during batting practice, said Starr. To add to the show, Starr came up with the idea of having Easter hit special baseballs, called Goldsmith balls. "It was a much livelier ball, almost like a golf ball," Starr said. "When it was Easter's turn to hit, our coach, Red Corriden, would give the pitcher the Goldsmith balls. Luke would drive that ball out of sight and the people in the stands would go oooh and ahhhh! But we had to stop that because pretty soon the other hitters started saying that they wanted the Goldsmith balls."29 Easter played only 80 games before the Indians called him up.
Minoso was sent down for seasoning after starting the season in Cleveland.30 "I appreciated San Diego because it opened a new door for me," he said. "People in San Diego were so nice. Bill Starr was a good man."
Starr was concerned that the 23-year-old Minoso would be influenced by the fast-living Easter, who was well into his 30s. "You're a nice fellow," Starr told Minoso shortly after he arrived. "I don't want you hanging around Easter. I don't want you getting his bad habits." Minoso ignored the advice and stayed out with Easter one night. The next day he went 1-for-5; Easter went 4-for-5. Realizing that Starr was right, he stayed away from Easter and his nightlife. Johnny Ritchey, on the other hand, was a guy he liked to be around. "He was a nice guy," Minoso said. "He had blue eyes [actually, green]. He was quiet and was a good left-handed hitting catcher." He also liked his manager. "Harris was a clean and decent guy who looked like he came from Hollywood," Minoso said. One day in Oakland, with two on and a 3–0 count, Minoso was given the take sign but swung away and made a hit that scored both runners. "Nice going," Harris told Minoso, "but in the big leagues you'll be fined $500."31
In 1949, Ritchey was once again a part-time player. The following season he was sent to Portland, where again he spent the season as a part-timer. He found happiness in 1951 when he was sent to Vancouver of the Western International League. Although it was a lower-tier minor league, it gave Ritchey the chance to play every day. A strange circumstance developed when Bill Schuster, the former Angels shortstop who'd been Ritchey's biggest PCL antagonist, was hired to manage the team. By that time, Schuster had learned the error of his ways, and the two men got along, "But my dad never forgot the way Schuster treated him" in the Pacific Coast League, said Johanaa Ritchey Battle.32
Following the 1951 season, the Indians elected to relocate their triple-A affiliation to Indianapolis. They thanked San Diego for its support and said they enjoyed working with Bill Starr, but claimed the traveling distance was too great a burden. The Padres were once again an independent PCL team.33
The Padres continued to employ black baseball players. "Regardless of race or color, I'll give any promising player a chance to make the grade," Starr said.34 In 1952, he paid $100 to a lower-tier minor-league team for first baseman Tom Alston. Two years later, Alston became the first African American to play for the Cardinals when he was traded to St. Louis fortwo other players and $100,000, plus two players on optional assignment. At the time, it was the biggest deal ever made for a minor-league player.35
In 1954, Luke Easter returned to San Diego. "I am very happy to be coming back," he said. And he started where he had left off. After stepping off a train at 7:05 a.m., he played in the game that afternoon and hit a 490-foot home run.36 He continued to thrill the fans with his moon shots, including the longest home run hit at San Diego's Lane Field. "He hit it out of the park," said Phil Starr, one of Bill's three sons, who watched it from the press box. "It cleared a highway, a set of tracks and hit a freight shed. It was the furthest home run I ever saw."37
In the mid-1950s, Starr began to lobby for a new ballpark. He claimed Lane Field was outdated and infested with termites. His vision was a new facility in Balboa Park. He was turned down twice by the city but did not give up. "If I fail to get a new ballpark, I'll sell," he said. When he was turned down a third time, he told a friend, "I'm beginning to lose interest." He appeared less often at Lane Field and did not attend the 1955 PCL midseason meeting. In August 1955, Starr sold the Padres to Westgate California Tuna Packing Company for $250,000. The press noted that it was not a desperation sale. The Padres had money in the bank and would show a profit in 1955. Starr was rumored to be the next PCL president, but he said he wanted no part of it. "I don't know what I will do," he told sportswriters. "Know where I can get a job starting September 12th?" he said with a smile.38
After baseball, Starr became one of the first condominium builders in the country. He also built shopping centers and became a wealthy man. He was active in the Jewish community and was one of the founders and president of the San Diego Jewish Community Center. He was a board member of both the San Diego Chamber of Commerce and the Convention and Business Bureau. Bill Starr died in 1991 at the age of 80.
GARY SARNOFF is an active SABR member who has attended 14 of the last 15 SABR conventions. He serves as chairman of SABR's Ron Gabriel Award Committee, which annually awards the author(s) of the best research, published or unpublished, about the subject of the Brooklyn Dodgers. He has contributed to SABR's Baseball Biography Project and the Jerry Malloy Conference. He has authored two books: "The Wrecking Crew of '33: The Washington Senators' Last Pennant" and "The First Yankees Dynasty: Babe Ruth, Miller Huggins and the Bronx Bombers of the 1920s." He resides in Alexandria, Virginia.
Notes
1 Erwin Lynn, Jewish Baseball Hall of Fame (New York: Shapolsky Publishers, 1987), 66.
2 Medill High School Yearbook, Medillite (Chicago, 1928).
3 Bill Starr, Clearing the Bases (New York: Michael Kesend Publishing, 1989), 1.
4 San Diego Evening Tribune, September 26, 1944.
5 Starr, 8.
6 Jim Smith and Bill Ohler, "Bill Starr" (1990 interview), San Diego History Center, 1995. http://www.sandiegohistory.org/journal/1995/january/starr-2/
7 Norman Starr, telephone interview with the author, April 27, 2009.
8 Ray Brandes and Bill Swank, The Pacific Coast League San Diego Padres Volume I (San Diego: San Diego Historical Society, 1996), 30.
9 "Control of Padres Sold to Tuna Cannier; O'Doul May Take Charge," Los Angeles Times, August 25, 1955.
10 Bill Swank, Echoes From Lane Field, (Paducah, Kentucky: Turner, 1999).
11 Nat Low, "The Low Down," Daily Worker, March 9, 1947.
12 Leon Washington Jr., "Johnny Ritchey interviewed by Sentinel editor," Los Angeles Sentinel, date unknown, Giamatti Research Center, Cooperstown, New York.
13 Charley Gregg, Straight From the Shoulder, date and publication unknown, Giamatti Research Center.
14 Low, "The Low Down."
15 San Diego Evening Tribune, April 3, 1948.
16 Swank, Echoes From Lane Field.
17 Ray Brandes and Bill Swank, The Pacific Coast League San Diego Padres Volume II (San Diego: San Diego Historical Society, 1997), 39.
18 Gregg, Straight From the Shoulder.
19 Rick Swaine, The Integration of Major League Baseball (Jefferson, North Carolina: McFarland, 2009).
20 San Diego Union, November 17, 1948.
21 "Padres Ballclub Arrange Pact With Indians," Los Angeles Times, November 17, 1948.
22 Al Wolf, "Bucky Harris is greeted by bushels of praise," Los Angeles Times, February 8, 1949.
23 San Diego Union, November 17, 1948.
24 Brandes and Swank, Volume II, 82
25 Brandes and Swank, Volume II, 90.
26 Hits hard in clutch during first stretch, publication and date unknown, Giamatti Research Center.
27 Dominic Cotton, "So, maybe there really is such thing as 'the Natural'?" Smithsonian, July 2011.
28 Brandes and Swank, Volume II, 91.
29 Brandes and Swank, Volume II, 85.
30 Mark Stewart, "Minnie Minoso," SABR BioProject, https://sabr.org/bioproj/person/796bd066
31 Brandes and Swank, Volume II, 109–111.
32 Johannaa Ritchey Battle, interview with the author, San Diego, May 17, 2017.
33 Brandes and Swank, Volume II, 170.
34 Earl Keller, "Ritchey Became the First Negro to Sign Coast League Pact," San Diego Evening Tribune, date unknown.
35 Brandes and Swank, Volume II, 264.
36 Brandes and Swank, Volume II, 283.
37 Phil Starr, telephone interview with the author, May 13, 2009.
38 San Diego Evening Tribune, August 25, 1955.
https://sabr.org/wp-content/uploads/2020/03/research-collection4_350x300.jpg
300
350
admin
/wp-content/uploads/2020/02/sabr_logo.png
admin
2019-08-07 11:32:36
2021-04-09 20:03:33
Bill Starr: The San Diego Padre Who Batted for Ted Williams and Integrated the PCL