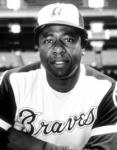 This article was written by Wynn Montgomery
This article was published in The National Pastime: Baseball in the Peach State (Atlanta, 2010)
---
A is for AARON—"Hammerin' Hank" and Tommie, too—
and young Steve AVERY and Felipe ALOU.
B is for BEDROSIAN, BLAUSER, and BREAM—
a reliever, a shortstop, and a slider supreme.
C is for COX, a manager for the ages,
and just as well known for his on-the-field rages.
D is for Dale—MURPHY, I mean,
a gentleman, a scholar, a hitting machine.
E is for EVANS, who guarded the hot corner,
and hit lots of homers—as did Bob HORNER.
F is for FRANCOEUR, FRANCO, FURCAL—
different in age, but good hitters all.
G is for GARBER and GRISSOM and GILES
and GALARRAGA, who could hit 'em for miles.
H is for HUBBARD, a scrapper and a gem,
and also for HUDSON, that pitcher named Tim.
I is for Inferno, 'cause our stadium was aflame
on the night that McGRIFF brought us his game.
J is for the JONES boys—Chipper and 'Druw—
and for David JUSTICE, a fine hitter, too.
K is for KLESKO, who swung for the fence,
and was known for his bat, not his defense.
L is for LOPEZ, LEMKE, and LUM,
and for LEMASTER, who made the ball hum. 
M is for MATHEWS and MAHLER and McCANN,
and let's never forget little Felix MILLAN. 
N is for NIEKRO—"Knucksie" to all—
and for Otis NIXON, who oft climbed the wall.
O is for two catchers, OLSON and O'BRIEN,
and Ken OBERKFELL, who never quit tryin'.
P is for Terry PENDLETON, once MVP,
and Biff POCOROBA and Gerald PERRY.
Q is for QUINONEZ. While others played better,
none gave us this needed letter.
R is for two noted ROCKERs—a hurler named John
and Leo MAZZONE, who swayed on and on.
S is for John SCHUERHOLZ, a stellar G.M.,
and "Neon Deion" SANDERS; we all remember him! 
T is for TURNER—the Field bears his name.
He was a sailor, a mogul, and he managed one game. 
U is for Cecil UPSHAW and Bob UECKER, too,
and the bevy of umpires whom we love to boo.
V is for Vinnie with "CASTILLA" on his back;
hitting home runs was his special knack.
W is for WILHELM, WALK, and WOHLERS, as well,
and for a WASHINGTON whose name was Claudell.
X is for the many "times" the CARAYs (father and son)
made the game come alive—run after run.
Y is for Yunel—ESCOBAR, that is,
a Cuban refugee and a shortstopping whiz.
Z is for the Zeroes that seemed to abound
with GLAVINE, MADDUX, or SMOLTZ on the mound.
WYNN MONTGOMERY, author of the biography of Willard Nixon for SABR's BioProject, has seen ballgames in every major-league city except Arlington, Texas, and in almost fifty minor-league parks. His article "Georgia's 1948 Phenoms and the Bonus Rule" appears in the Summer 2010 issue of the Baseball Research Journal.
https://sabr.org/wp-content/uploads/2011/02/np-2010-062.large-thumbnail.jpg
150
117
admin
/wp-content/uploads/2020/02/sabr_logo.png
admin
2011-02-03 11:16:33
2021-08-31 15:34:16
Braves Alphabet