Graham McNamee: Broadcast Pioneer
This article was written by Cort Vitty
This article was published in The National Pastime: Baseball in the Big Apple (New York, 2017)
---
The excitement was electric, as crowds filled Yankee Stadium to capacity on October 10, 1923. For the third consecutive year, the Fall Classic was an all-New York affair, pitting the dominant National League Giants against the upstart Yankees, representing the American League. The latter fittingly christened their magnificent new ballyard in the Bronx by going on to win their first World Series title.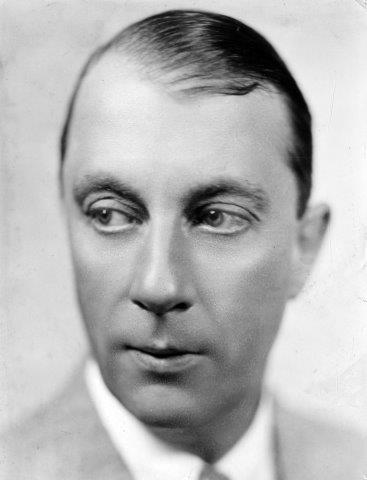 1923 also marked the third Fall Classic broadcast over the new phenomenon called radio. Broadcast licenses were rapidly being granted to stations all over the country; airtime was difficult to fill, prompting the coverage of unsponsored sporting events (like the World Series) as a public service. An early radio experiment had involved broadcasting the first game (only) of the 1921 series. The methodology used involved Newark Call reporter Sandy Hunt, phoning the action from the Polo Grounds to colleague Tom Cane broadcasting from the WJZ studio.
Commissioner Landis assigned broadcast duties for the 1922 series to prominent sports-writer Grantland Rice. Seated in the upper deck of the Polo Grounds, the respected scribe spoke into a microphone crudely perched atop a wooden plank, wired directly to station WEAF in New York. A man of few words, Rice spoke in a slow monotone, devoid of any excitement or enthusiasm. His habit of taking frequent breaks—to allegedly rest his voice—produced extended periods of dead-air silence.
When WEAF management learned Rice was returning to cover the 1923 Fall Classic, staff-announcer Graham McNamee was assigned to help fill airtime. In the fourth inning of game three, "Rice decided he'd had enough of the microphone, and McNamee was handed the entire broadcast."1 Taking a deep breath, Mac confidently spoke into the microphone with a line that became his standard opening: "How do you do, ladies and gentleman of the radio audience? Graham McNamee speaking."2
Red Barber described the circumstances suddenly thrust upon McNamee: "There was no lamp of experience for the pioneer broadcasters. They had no past by which to judge the future. This is what made McNamee and the others so great. Nobody had ever been called upon before to do such work. They had to go out and do it from scratch. If ever a man did pure, original work, it was Graham McNamee."3
Five months earlier, McNamee was an unemployed opera singer, in receipt of a notice to serve jury duty. Fulfilling his civic obligation on a beautiful spring day in May 1923, McNamee decided on a long exhilarating walk during his lunch break. Selecting a route bypassing his usual diner, he chose instead to lunch at a pricey upscale establishment near the AT&T building, at 195 Broadway; the decision cost him an additional $0.50.
McNamee paused upon noticing a mesmerized crowd listening to a radio broadcast emanating from station WEAF in the AT&T building. Reacting on impulse, he ventured in and upstairs to the WEAF studios. Fortuitously catching the attention of station manager Sam Ross, he boldly inquired about a position as a singer.
Ross indicated no such opening existed, prompting McNamee to mention a window sign he spotted for a staff announcer. Ross liked the appealing tone of McNamee's voice and definitely needed help in that department. Mac was hired on the spot at a starting salary of $3 a day. His job description was to "fill in between appearances of important people."4
Early radio announcers worked gruelingly long hours, performing a laundry list of duties around the station. Jobs included general maintenance, answering phones, chauffeuring celebrities, and improvising to fill airtime. As described by author Gerald Nachman, McNamee's "magnetic voice and dramatic flare were tempered with an easygoing personality that set him apart from the mellifluous voices that dominated the microphones of the 1920s."5
The newest hire at station WEAF New York was the son of John and Anne McNamee, both of Irish ancestry and Ohio residents when they married in 1885. The couple moved to Washington, DC, after John accepted a position as a legal assistant to the Interior Secretary during the Cleveland administration. Thomas Graham McNamee, their only child, was born in DC on July 10, 1888.
The family relocated to St. Paul, Minnesota when Graham was two years old, after his dad accepted a position as a railroad attorney. A trained musician in her own right, Anne McNamee taught her son to sing by age four and play piano at age seven. Attending high school in St. Paul, Graham did well academically in languages and music, while excelling at football, baseball, and wrestling.
After graduation, John McNamee arranged for his son's first job as a freight clerk with the Great Northern Railroad. Graham was next employed as a deliveryman (by horse and buggy) for the Chicago-based Armour Meat Packing Company. After wrecking eleven buggies in twelve-months of employment, he was terminated.
Graham's ambitious mother was convinced an opera career awaited their son; his dad leaned heavily toward law as a profession. Family upheaval due to John McNamee's work-related travel ultimately lead to a divorce. After the split, Graham accompanied his mother to New York, where she assumed her son would receive superior vocal training. The 1920 census lists Anne as the owner of a rooming house on West 57th St.; Graham resided on the premises.
McNamee joined an opera company, there meeting aspiring singer Josephine Garrett from nearby Bronxville. The couple sang in the Dutch Reformed Church choir as their relationship blossomed. When they married on May 3, 1921, Josephine's classically trained voice made her the more likely spouse to potentially have a singing career. Opportunities existed for Graham too; in 1922 he received an invitation to perform at New York's prestigious Aeolin Hall, a legitimate stepping stone for aspiring opera singers. His new job at WEAF meant placing operatic aspirations on hold.
McNamee cut his teeth as a sports broadcaster on August 31, 1923, when assigned to announce the Harry Greb-Johnny Wilson championship fight. His next foray was at the Polo Grounds on September 14, where a crowd exceeding 60,000 fight patrons gathered for the Jack Dempsey- Luis Firpo bout. Thousands more heard Major Andrew White (assisted by McNamee) describe the action on radio. This important live broadcast of a championship fight was a significant radio milestone, greatly increasing the popularity of the fledgling medium. Dempsey retained his heavyweight championship despite being knocked through the ropes (and landing on McNamee) in the second round.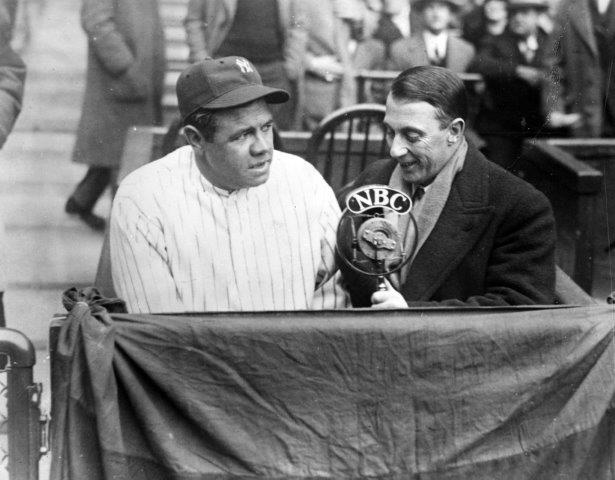 A deluge of positive fan mail followed, attesting to McNamee's style; "the few detractors generally commented about his slight exaggeration, but the listening audience loved the hype and couldn't get enough of the announcer with the baritone voice. McNamee freely admitted to being an entertainer first and a broadcaster second."6 His approach to radio was simple: "You make each of your listeners, though miles away from the spot, feel that he (or she) too is there with you in the press-stand, watching the pop bottle thrown in the air, Gloria Swanson arriving in her new ermine coat; McGraw in his dugout, apparently motionless, but giving signals all the time."7
Miscues were common (and even expected) during a McNamee broadcast. Realizing nothing could be done to correct a mistake, the broadcaster thought it best to simply admit regret and go on to the next factoid. "Once at a baseball game, he confused the players and plays to such an extent, sportswriter Ring Lardner was prompted to observe that there had been a doubleheader yesterday–the game that was played and the one that McNamee observed."8 Quick with a pun, Mac observed a fight in the stands resulting in a pop bottle being hurled at an umpire. McNamee called it: "a ball… and a strike."9
McNamee's broadcast of the 1926 Rose Bowl included extensive details regarding the changeable California weather, accompanied by overly thorough descriptions of attendees' attire; game details were occasionally mentioned. Humorist Will Rogers later publicly scorned McNamee for his insignificant tangents, unrelated to sports, but the listening audience couldn't get enough of the announcer with the baritone voice.
Stations WEAF and WJZ merged to become the National Broadcasting Company, forming a cross-country network, connected by 3,600 miles of phone lines. The official kick-off ceremony took place on November 15, 1926, with a celebratory broadcast from the grand ballroom of the Waldorf-Astoria. An estimated 10 million listeners heard Graham McNamee open the festivities by officially greeting the vast NBC audience. This milestone broadcast marked the start of what would become radio's Golden Age. "When asked to name radio's greatest asset, NBC president Merlin Hall Aylesworth replied—Graham McNamee."10
McNamee's voice became synonymous with fall and the World Series. His broadcast of the Yankees-Pirates 1927 Fall Classic marked the first year a nationwide audience enjoyed the play-by-play over network radio. Mac's immense popularity warranted assignments to cover prominent newsmakers such as Charles Lindbergh, Admiral Byrd, Neville Chamberlain, and Amelia Earhart. The Lindbergh coverage at the Washington Navy Yard resulted in an unruly crowd crashing through a Marine guard, trampling the press area. In the commotion, McNamee was knocked to the ground; miraculously unhurt, he continued broadcasting from a prone position on the pavement.
McNamee pursued assignments with dogged determination, often driving poorly lit back-roads, in the dark of night, to arrive for an early morning interview. If time was of the essence, Mac wouldn't think twice about hitching a ride aboard a rickety crop-duster and landing on a corn-field to conduct an interview. He once covered a college regatta while hovering above the race in a chartered plane.
The broadcaster graced the cover of Time magazine when the October 3, 1927, edition hit the newsstands. The announcer's fame segued into his personal syndicated newspaper column, appropriately titled Graham McNamee Speaking. Under his byline, the announcer waxed poetic regarding news events, while providing insightful anecdotes to accompany celebrity interviews. His commentary included analysis of current events while responding to reader inquiries, often of a personal nature.
No slouch on the lecture circuit, McNamee was scheduled to conduct a 1927 speaking engagement in New Castle, Pennsylvania. The well-publicized event was sold out at curtain time, as a filled-to-capacity audience sat in anticipation of his arrival—but he never showed. Mac personally kept his own schedule and apparently jotted down the wrong date. The New Castle News published an unflattering editorial, blasting the announcer's blatant snub of the event.
Learning of his error, McNamee took full-responsibility, contacted organizers and insisted all attendees be invited back the next evening, to enjoy the lecture at no charge. "The next day's news took back its raspberry-laced criticism and praised the great man to high heaven."11 Remarkably, McNamee, "never prepares his program in advance but depends on his extraordinary extemporaneous speaking ability to entertain his audience."12
At the close of the 1920s, McNamee's style placed him at the top echelon of all radio announcers. His annual income was estimated to be in the $50,000 range, a remarkable sum at the time. The salary allowed the former out-of-work juror to comfortably reside in a vine-clad cottage atop a swanky New York penthouse.
In 1930, close pal Babe Ruth opened a haberdashery shop in New York for men and boys. Serving as master-of-ceremonies, McNamee: "cheerfully addressed the crowd through a loudspeaker; the ever-confident salesman casually covered the lines of apparel stocked in Babe's new retail shop."13 Other celebrities accompanying Babe to the grand opening included Knute Rockne of Notre Dame, Yankees manager Bob Shawkey, and teammate Lou Gehrig.
McNamee's crowded workload increased further when assigned to narrate Universal Newsreels in 1930. Josephine began referring to herself as "the original microphone widow."14 Tabloid publications didn't help solidify the couple's relationship, alluding to rumors of an ongoing affair, apparently discovered by Josephine. The couple divorced in 1931.
McNamee re-married on January 21, 1934, tying the knot with Ann Lee Sims, a Louisiana native and aspiring New York actress. The Washington Post reported the ceremony as taking place in Elkton, Maryland, "where the couple hurriedly motored into the little town, secured a license and were married by one of the town's marrying parsons."15 The bride was over twenty years younger than her new husband.
McNamee's favorite radio gig was his stint as the announcer on the Texaco Fire Chief, a highly rated NBC radio program, starring veteran comic Ed Wynn. The energetic comedian essentially performed variations of his old vaudeville routines before a live, in-studio audience. In addition to handling the announcing chores, Mac also dutifully performed as a stooge to Wynn's madcap brand of comedy.
Author Elizabeth McLeod noted: "Wynn apparently was a very insecure man. It was McNamee who calmed him down each week, McNamee who gave him the courage he needed to face that forbidding black enamel box. The two men became close friends—and McNamee's regular-guy enthusiasm acted on the air as the perfect complement to Wynn's manic comedy."16
While broadcasting the National Soap Box Derby from Akron, Ohio, McNamee was behind the mike on August 12, 1935, when a young participant accidently crashed into the judge's stand. McNamee sustained a serious head injury after being struck by the youngster's two-hundred-pound racer. Recuperation and ultimate recovery required a two-week hospital stay; lingering effects of the head injury would remain with the announcer for the rest of his life.
A new generation of sportscaster began arriving on the scene, loosely following McNamee's style, but more analytical and thorough in broadcast preparation. By 1935, Red Barber became the heir apparent to announce the World Series. Ironically, McNamee attended, solely as a spectator, seated silently next to Red during the broadcast. Barber poignantly noted in his book: "The parade had passed the pioneer that rapidly, that harshly, that remorsefully, in only a dozen years."17
McNamee's distinctive voice and proven ability to sell advertisers' products made his work on network radio-programs more valuable than sports reporting. In addition to being on the Wynn program, his regularly scheduled announcer slots included: Major Bowes Original Amateur Hour, Ripley's Believe It Or Not, Treasury Hour, Millions for Defense, and The Rudy Vallee Program. Periodically Vallee gave McNamee the opportunity of stepping away from his announcer's duties to perform as a featured singer.
The December 7, 1941, Pearl Harbor attack thrust the country into war. Among the high-profile stories making headlines in the aftermath was the conversion of luxury liner Normandie into the battleship Lafayette. On February 9, 1942, in New York harbor, a blaze of unknown origin consumed the entire ship. Reporters converged on the dock area as sabotage was initially suspected. The fire was ultimately determined to be accidental, caused when welding equipment ignited a spark. Broadcasting from the cold, rainy dock area, McNamee came-down with a sore throat.
Continuing to work his grueling schedule, the throat ailment developed into strep, and the announcer's health progressively deteriorated. Admitted to St. Luke's Hospital in April, a new series of tests revealed evidence of a serious heart ailment. The golden baritone voice was permanently silenced on May 9, 1942, with the official cause of death listed as a brain embolism. Services were held at the Frank E. Campbell funeral church in New York.
Shortly before his passing, a broadcast colleague asked McNamee to identify the greatest sports moment he'd ever witnessed during his extensive career. Without hesitation McNamee responded: "Babe Ruth and the 'called-shot' in the 1932 World Series."18
At the time of his passing, the New York Times estimated "the late broadcaster uttered ten times the number of words in an unabridged dictionary during his radio career."19 McNamee was just shy of 53 years old, however, as Red Barber remarked: "He'd lived a thousand years."20 The broadcaster was buried in Akron, near the location of his father's interment.
Broadcast partner and fellow WEAF announcer Phil Carlson commented: "His voice was the most trusted and vibrant in radio, for nearly 20 years it thrilled the people who heard it. There was never such a voice of excitement heard in this land, as that of Graham McNamee."21
McNamee was inducted into The American Sportscasters Association Hall of Fame in 1984. The National Baseball Hall of Fame and Museum presented the Ford C. Frick Award to McNamee in 2016, commemorating his significant contribution to the origin of baseball broadcasting.
CORT VITTY resides in Maryland with his wife Mary Anne and their pet golden-doodle Sparkle. A New Jersey native, Vitty graduated from Seton Hall University and continues to root for the New York Yankees. He's been a SABR member (Bob Davids Chapter) since 1999 and his articles have been featured in both the "Baseball Research Journal" and "The National Pastime." He has contributed to several SABR book projects and his work is also posted at Seamheads.com and PhiladelphiaAthletics.org.
Notes
https://sabr.org/wp-content/uploads/2020/03/research-collection4_350x300.jpg
300
350
admin
/wp-content/uploads/2020/02/sabr_logo.png
admin
2017-07-20 18:00:58
2021-12-09 00:56:05
Graham McNamee: Broadcast Pioneer