Henry Chadwick Award: Larry Lester
This article was written by Rob Neyer
This article was published in Spring 2016 Baseball Research Journal
---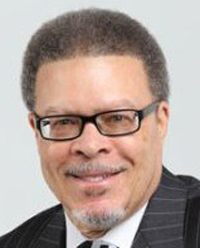 LARRY LESTER comes by his life-long interest in Negro Leagues baseball as naturally as anyone, maybe ever: He was born in 1949 and raised in Kansas City, Missouri, and numbered among his childhood friends Robert Paige, elder son of legendary Satchel.
In 1965, Lester was 16 years old when Satchel Paige made his last appearance in the major leagues, a three-inning stint with the Kansas City Athletics. The A's played in Municipal Stadium, just five blocks away from Lester's home. And of course Lester made sure to be there. He was one of the wise and lucky few; Paige was hired as a promotional stunt, but somehow fewer than 10,000 paying customers showed up.
For ol' Satch, his three shutout innings were one last brilliant fight against Father Time. But young Larry was in a fight against time of his own, as he wrote some decades later:
… and Cinderella's clock was ticking for me, too. I had left my two younger sisters, Cookie and Brenda, at home by themselves. They had promised not to tattle on me, but only if I could get back before daddy. As I ran through the front door I could hear my father come in through the back. We met half way into the house. Of course, I was loaded down with a game program, ball cap, and other diamond goodies. I smelt like hotdogs, burnt popcorn and cracker jacks. I was flat busted. Boy, was I in a heap of trouble!

My father went baritone and demanded, "Did you leave your sisters at home by themselves?" I froze like a batter looking at a third strike. For a moment I thought, "Should I even bother to answer?" I was speechless and just waited for the guillotine to drop!

Suddenly, a voice emerged from the bedroom. I looked up and it was my grandmother from Fort Smith, Arkansas. Grandma Geraldine Williams had come to help celebrate my mother's 36th birthday. Knowing her grandson's love for the game, she put her hands on her hips and she proudly lied and said, 'George, I've been with the girls all evening.'"
Twenty-five years after that memorable night at Municipal Stadium, Lester co-founded Kansas City's Negro Leagues Baseball Museum, where he served as Research Director and Treasurer from 1991 through 1995. According to Lester's website, "The Museum's current static exhibition and informational kiosks were developed from Lester's personal collection of historic photographs, accompanied with his captions written from archival news clippings."
In 1995, Lester left the NLBM and founded NoirTech Research, Inc., "combining his expertise in research and technology to strategically track the African American experience in sports and entertainment."
From 2001 through 2004, Lester co-chaired the National Baseball Hall of Fame and Museum's groundbreaking Negro Leagues Researchers & Authors Group (NLRAG), which unearthed huge amounts of new data about Negro Leagues baseball for the "Out of the Shadows" research project. In 2006, Lester served on the Hall of Fame's Special Negro Leagues Committee, which—relying largely on information compiled by NLRAG—elected 17 new members with ties to black baseball as players, managers, and executives.
The longtime chairman or co-chairman of SABR's Negro Leagues Committee, Lester organizes the annual Jerry Malloy Conference. He's also written or co-written many of the seminal works about the Negro Leagues, including books about the East-West All-Star Game; Rube Foster; black baseball in Detroit, Kansas City, Chicago, and Pittsburgh; and black baseball's first World Series. Simply put, it's difficult to imagine the state of Negro Leagues research today without Larry Lester.
Today, Lester lives in Raytown, Missouri, just outside Kansas City, with his wife Valcinia. The Lesters have three grown daughters: Tiffany, Marisa, and Erica Joi. Among his current projects, Lester is working on a comprehensive Negro Leagues encyclopedia, filled with the information he has spent much of his life discovering.
To learn more about the Henry Chadwick Award, click here.
https://sabr.org/wp-content/uploads/2020/03/research-collection4_350x300.jpg
300
350
admin
/wp-content/uploads/2020/02/sabr_logo.png
admin
2016-03-31 19:05:18
2021-03-02 11:04:26
Henry Chadwick Award: Larry Lester