Henry Chadwick Award: Tom Tango
This article was written by Dave Studenmund
This article was published in Spring 2020 Baseball Research Journal
---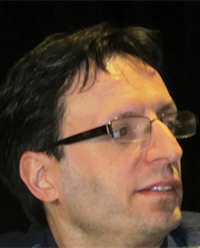 Tom Tango (1968–) was born in the suburbs of Montreal, where he found that baseball spoke to him even more than the Canadian national sport of hockey. He particularly enjoyed watching Red Sox games on TV and was entranced by Fenway Park. He eventually became an Expos fan as well, but it was a love of the game itself that stayed with him.
In school, Tom's favorite subject was math, so he was naturally drawn to sports statistics. His mathematical imagination was first captured by the Plus/Minus stats in the Hockey News. He subsequently stumbled upon Pete Palmer's Linear Weights in the Baseball Digest and started reading sabermetric classics such as the Hidden Game of Baseball and Bill James' Baseball Abstracts.
Tom majored in computer science in college and, upon graduation, found jobs as a programmer, analyst, and database developer. Tom never lost his enthusiasm for baseball statistics, however. In the late 1990s he became a regular participant on the Baseball Boards (aka Fanhome), where he met many other passionate baseball statistics fans, including Mitchel Lichtman. Thus began Tom's formidable presence online, where he mastered the skills of presenting insightful analyses, explaining difficult topics, encouraging discussion, and building consensus.
Tom co-authored (along with Lichtman and Andy Dolphin) The Book: Playing the Percentages in Baseball. This 2007 book, which introduced wOBA and included detailed analytic chapters on platoons, sacrifice bunts, and many other strategic topics, remains one of the most influential baseball analytic books of all time. Its sales are still strong nearly 15 years later.
On the Internet, Tango investigated, discussed, and published new frontiers in baseball statistics such as Fielding Independent Pitching (FIP, building on the work of Voros McCracken), Wins Above Replacement (WAR), Marcel the Monkey forecasting system, WOWY (With and With Out You) analysis, and dollars per WAR free agent contracts—among many other topics.
During this time, Tango was also hired as a consultant by several baseball teams, including a four-year stint with the Chicago Cubs. In 2016, he was hired by MLBAM on a full-time basis to develop systems and statistics driven by new on-field radar and camera technology. In his short time there, he has introduced new stats—including Barrels, Batted Ball Exit Velocity, and Outs Above Average—that have quickly become part of the national baseball conversation.
Tom has been one of the most influential voices in baseball analysis and sabermetics for more than 20 years. His impact can be seen on the field, in the broadcast booth and in many teams' analytic departments. Tom has not just created new statistics; he has introduced new ways of understanding the game. By interacting with readers on the Internet in a fully open, transparent manner, he has deepened the baseball community's understanding of baseball statistics, analytics and strategy.
https://sabr.org/wp-content/uploads/2020/03/research-collection4_350x300.jpg
300
350
sabr
/wp-content/uploads/2020/02/sabr_logo.png
sabr
2020-06-03 23:26:32
2020-06-15 16:37:31
Henry Chadwick Award: Tom Tango