Joe Castiglione: Remembering the 1967 Red Sox broadcast team
This article was written by No items found
This article was published in 1967 Boston Red Sox essays
---
Boston Red Sox announcer Joe Castiglione remembers listening to Ned Martin and Ken Coleman call games during the pennant-winning season in 1967. Later, as a colleague, he enjoyed hearing them reminisce many times about the Impossible Dream season.
---
In 1967, the voices of the Boston Red Sox were Ned Martin and Ken Coleman. Martin started broadcasting Red Sox baseball in 1961, working with Curt Gowdy and Art Gleason both on radio and TV — WHDH radio (850 on the AM dial) and WHDH-TV (Channel 5). Gleason's final year was 1964; Mel Parnell joined in as television analyst beginning in 1965. Gowdy and Martin handled radio duties by themselves that year, but it would be Curt's last year broadcasting for the Red Sox. In 1966, Ken Coleman came over from Cleveland to take Gowdy's place and broadcast through the 1989 season, except for the years 1975-1978.
The television crew from the year before (1966) included former Red Sox pitcher Mel Parnell, who worked from 1965-1969, when he was replaced by Johnny Pesky.
As a listener, Joe Castiglione remembers hearing both Coleman and Martin in 1967, and as a colleague enjoyed hearing them reminisce many times about the 1967 Red Sox. His remembrances below come from an interview done by Bill Nowlin on December 23, 2005.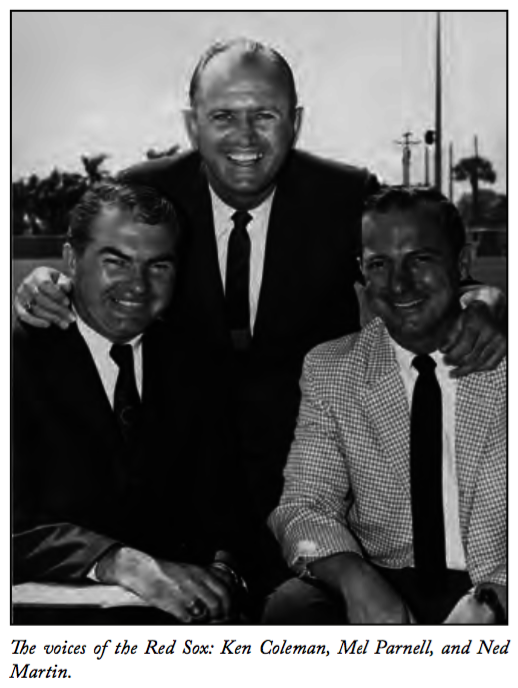 Ken and 1967: That was his favorite season by far … I think it was his favorite season in sports, despite all the great teams he had with the Cleveland Browns. He worked every game Jim Brown ever played in the NFL. But '67 was always his favorite year. '66 was his first year, and even though the Red Sox finished ninth just ahead of the Yankees, he sensed that in the second half of '66, there was development. Some of these guys started to blossom.
1967 was such a significant year, because the Red Sox took off. They had been so bad! As a kid growing up in Connecticut, I didn't even know any Red Sox fans. There were Yankee fans or Dodger fans or New York Giants fans. Or, later, Mets. The Red Sox were simply not a factor, because they had just been so bad.
Ned was also very, very fond of the 1967 team. He and Yaz were rookies the same year, 1961. He used to talk a lot about the way Yaz was in '67. He liked working with Ken; they were a great team and they were good friends. They both loved Sinatra; they were passionate about Sinatra. I used to get on them because I thought their musical taste — their musical knowledge — stopped about 1952.
1967 was The Year of the Yaz. They both had so many great calls there … the Tartabull play with Ken Berry was a favorite. I heard that myself. It was after my junior year at Colgate, and I was working at WDEW radio in Westfield, Massachusetts in the day, and in the evening in New Haven at WELI radio. I went back and forth. Our station in Westfield carried the Yankees; I don't know why. I was listening to Ken and Ned when Tartabull threw Berry out at the plate in the first game of a doubleheader [for the final out of the game, giving the Red Sox a crucial 4-3 victory over the White Sox at Comiskey Park on August 27]. I still don't see why Tartabull gets so much credit; Elston Howard made the play! I mean, he leaped and made a one-hand backhand stab with the catcher's mitt and came down and tagged him out. Elston Howard should have got the kudos.
Ken loved the Billy Rohr game, with the near no-hitter. And he loved to tell a story about Russ Gibson, who caught the Billy Rohr game. [Rohr's major league debut on April 14 in Yankee Stadium. Rohr beat the Yankees on one hit, 3-0, and became part of Red Sox folklore]. Gibson spent 10 years in the minors. Finally, he gets to the big leagues — and the first thing they do is take a bus trip to New York instead of flying. Another bus trip!
I know another one of Ken's favorites was when they were down 8-0 to the Angels. They rallied to tie it and then Jerry Adair won it with a home run. That was one of his favorite games. [August 20, 1967, game two of a Sox doubleheader sweep — two days after the Conigliaro beaning]
People would tell Ken how they'd walk down Nantasket Beach and you could walk the whole beach and not miss a pitch, with all the people listening to radios all along the beach. That was a highlight.
I remember Ken telling me that in '67, some advertising guy, some agency guy, told me, "You sound so much better this year than you did last year." Ridiculous. He sounded better to the guy because they were winning. That's the way it works.
Working 1967 together, Ken and Ned had that bond that they shared constantly, with the '67 team. They were, all of them, so close. Bobby Doerr was a close friend of Ken's. Eddie Popowski. The bonds just continued, when you think of the players. He later worked with Rico Petrocelli in radio in 1979. He always said George Scott was the best-fielding right-hand throwing first baseman that he'd ever seen.
They had so many reunions even after I joined them. One of the more memorable was my first year in '83, when they had that Coup LeRoux thing with the '67 team up in the old dining room. They were there at Fenway to raise money for Tony Conigliaro, and Buddy LeRoux tried to take over the club. They stayed so close — all of them — the team and Ken and Ned.
There was the Jimmy Fund connection, too. Ken became the chairman, and then Ken helped bring Mike Andrews into the Jimmy Fund. Mike eventually succeeded Ken as chairman. They had those bonds that were so strong.
He and Ned were both quite fond of Dick Williams, even though he could be difficult at times — he wasn't with them; he was great with them, but … I remember them telling some wild stories about being in a hotel room with some of the writers and Dick Williams, when the liquid started to flow.
Ken had a funny line. In '67, Ken was the highest-paid guy on the flight, on the team plane. In '86, I think — other than me — Ken was the lowest. Well, maybe the trainer, I don't know. That's how things have changed.
One of the true highlights for Ken, though, was when the Red Sox team voted a share to the Jimmy Fund that year. He didn't get any credit for it, but I'm sure he was influential.
Ken was especially close with Jim Lonborg. In fact, in later years, Jim hosted Ken on Thanksgiving and Christmas and holidays, after Ken's retirement. They were very, very close. Of course, that probably started in '66. He really had great relationships. He really loved to talk about Norm Siebern's triple into the triangle, as did Ned. [August 16, Siebern pinch-hit for Wyatt and hit a bases-loaded triple in the bottom of the seventh inning, giving the Red Sox a 10-6 lead at the time, in a game that Boston won, 12-11.]
I didn't know Mel Parnell as well. I remember him doing analysis, but I listened to more radio than I watched TV in those days. I was in western Mass and Connecticut, so we didn't see a whole lot of TV. I actually saw my first game in Fenway that season, though. I stood in the centerfield bleachers; they were just benches in those years. It was a late August game against Washington. I later looked up the box score on Retrosheet, and I do remember that Hank Allen won it with a double. It was late August, I think it was 3-2. That was my first game ever at Fenway. [August 23. Batting for Mike Epstein, Allen pinch-hit a double leading off the top of the ninth, and came around to score the tie-breaking run in a 3-2 Washington win.] I watched the World Series at Colgate. I was a senior at Colgate at that time.
I've gotten to know some of these guys at Fantasy Camp. Of course, I've gotten to know Mike because he's my boss at the Jimmy Fund. I know Lonnie well. He's such a class guy, and he's in the next town. My first year was Yaz's last year. Jose Santiago, he's one of the funniest guys at Fantasy Camp. Gary Bell, he's another great character. He and Radatz were the Kangaroo Court leaders at the Fantasy Camp, although Radatz was not on that team unfortunately. Bell was a factor. They just loved this club. It's unbelievable. They are such great guys, and they share a bond that exists forever.
I spent a lot of time off the air with Ned. The three of us would go out after every game for dinner on the road, so I was very close to Ned. In fact, Ned worked three years after Ken retired, so I was still with him. He was a great broadcaster, certainly a man of letters. He had great command of the language. He and Ken were very similar in many ways, in terms of their style. Ned was very unassuming, and I don't think realized for a very long time how important he was to the fandom of New England. He didn't really have an ego.
We used to talk about a lot of things, mostly baseball, but we used to argue about things. I used to get on him about being a Republican. He'd tell me about World War II. He was a Marine. Iwo Jima. He was 18 when he joined. And he was very loyal to Duke, his alma mater where I think he went his freshman year, joined the Marines, and then I think he went back to Duke. He was bummed out about their football. He was much more a football fan than a basketball fan. Actually, he went to live right near Duke. He went to Clarksville, Virginia, which is about 45 minutes from Duke. We had a lot of good times with Ned on the road, a lot of fun discussion about different subjects. Baseball was always at the core. Many times it would revert to '67, because it was just a constant theme with Ken and Ned. They were such a part of it.
Ned was a really fun guy. We had a lot of good times. He more or less under-stated things, which was very effective, the way he did it. Hated TV. Much preferred radio, although he did the last 13 or 14 years on TV alone. No radio. But radio was his first love. I think he did much of the radio in '67, because they had the crossover. I don't know how many games were on TV that year. I would guess about 40 to start, and they might have added up to 50 or 60. There were still a lot of games that weren't televised. I'm sure they added as the season went on.
We used to go to the beach, the three of us, all the time in Anaheim — a beach that Dick Williams showed us, in fact — Laguna Beach. Otherwise known as the Hardbelly Beach. Beautiful scenery, both of the human and natural side. It was a beach Dick Williams told Ken and Ned about in '67. They went there right up until their retirement.
And I still go. Crescent Beach is the name of it. The restaurants and the beach. They wouldn't go to the Rock and Roll Hall of Fame, but we really had a lot of fun traveling in those days. We would be together almost every night to dissect the games on the road. In those days on the road, we had group dinners, usually with the broadcasters and Jack Rogers to take us all out on the road. Those things don't happen any more. Jack took us all out, always the best places in town, and of course picked up the tab. "Did you hear anything about tonight yet? Don't make any plans! What did Jack say?" He'd always come through.
We had great fun in those days, always great baseball discussions. I had a lot of fun with both Ken and Ned. I still keep in touch with their sons.
Ned and Ken set standards I emulated. They were never bigger than the game or the players … never tried to manage or general manage the club … and realized they were the eyes of the listener first and foremost. …
When the Red Sox finally won it all in 2004, I wanted to pay tribute to Ned and Ken. While I did not pre-script my last out call, I did plan and did follow up by saying, "and to quote the late, great Ned Martin, 'there is pandemonium on the field.'" I also ended the broadcast that night, as I do now at the end of every season by following a tradition started by Ken in quoting from Bart Giamatti's Green Fields of the Mind …"it breaks your heart, it is designed to break your heart …"
JOE CASTIGLIONE first began work on Red Sox radio in 1983, and worked many years with both Ken and Ned. He broadcast with Ken through 1989, and with Ned through 1992, though Joe was on radio and Ned on NESN for most of those years. Joe has taught broadcasting for more than two decades at Northeastern University and also at Franklin Pierce College.
https://sabr.org/wp-content/uploads/2020/03/research-collection4_350x300.jpg
300
350
admin
/wp-content/uploads/2020/02/sabr_logo.png
admin
2017-09-07 13:45:25
2017-09-07 13:45:25
Joe Castiglione: Remembering the 1967 Red Sox broadcast team