Raw Materials: The Padres' Expansion 30
This article was written by Mark Camps
This article was published in The National Pastime: Pacific Ghosts (San Diego, 2019)
---
On October 14, 1968, just four days after the final out of the World Series, the National League held an expansion draft, allowing the two new teams who were to join the Senior Circuit the next season to bulk up their rosters with 30 "unprotected" players from the other 10 NL teams.
At the Windsor Hotel in Montreal, executives for the San Diego Padres and the Montreal Expos gathered to make their selections. The Padres said they drafted for speed, pitching, and fielding.[fn]John Bauer, "It's a Major League City or It Isn't: San Diego's Padres Step Up to the Big Leagues," in Time for Expansion Baseball, ed. Maxwell Kates and Bill Nowlin (Phoenix, SABR, 2018), 195–203.[/fn] What they got was a collection of players with little or no big-league experience. The few veterans they did draft were mostly traded away for more youth.
It was an eclectic bunch. There was an American League MVP, a former member of Panama's national soccer team, and another who appeared as a guest star on Gilligan's Island and Batman. Eight were born in Latin America or the Caribbean, including three who were from Cuba—as was Padres manager Preston Gomez.
Of the 30 players taken that day, 26 played at least a few games for the 1969 club.[fn]Joe Lanek, "Ollie Brown headlined the Padres' expansion draft selections this day in 1968," Gaslamp Ball, October 14, 2014. https://www.gaslampball.com/2014/10/14/6972151/padres-expansion-draft-1968-ollie-brown-cito-gaston.[/fn] The other four were either traded before the season started or never made it to the big leagues. The oldest was 32 when he was drafted and the youngest was 19. Four became All-Stars. Another nine would go on to play on division or pennant winners—with other teams, of course.
Seventeen were still alive as of April 2019. Of the 13 that are no longer with us, three died in their 40s.[fn]The 13 who have died are Ollie Brown, Dick Selma, Jose Arcia, Clay Kirby, Zoilo Versalles, Dick Kelley, Dave Roberts, Ivan Murrell, Billy McCool, Roberto Pena, Rafael Robles, Ron Slocum, and Steve Arlin. Kirby, Pena, and Slocum died in their 40s.[/fn]
Here's a thumbnail sketch of the 30 original Padres: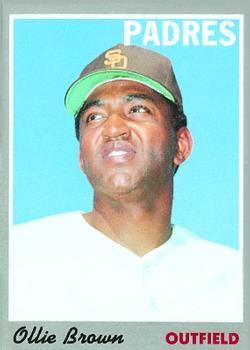 Ollie Brown: He was the first player selected in the expansion draft after the Giants, with too many outfielders, left him unprotected. Known for a cannon arm and powerful bat (he hit 40 homers for Class A Fresno in 1964), Downtown Brown hit 20 homers in 1969 and 23 in 1970. Oddly, he may not have been the best athlete in his family. One brother, Oscar, played with the Atlanta Braves and the other, Willie, was an NFL running back.[fn]Gary Klein, "Ollie 'Downtown' Brown, baseball's 'Original Padre,' dies at 71," Los Angeles Times, May 15, 2015.[/fn] In a 13-year career, he reached the postseason twice, with the Philadelphia Phillies in 1976–77, going 0-for-4 with a walk.
Dave Giusti: He was one of the most accomplished players the Padres drafted, having pitched four straight solid seasons for Houston, winning 15 games in 1966. Traded by the Astros to St. Louis shortly before the expansion draft, he was left unprotected by the Cardinals, and when the Padres took him, Giusti was openly unenthusiastic about joining them.[fn]Bauer, "It's a Major League City or It Isn't."[/fn] The Padres obliged seven weeks later, sending him back to the Cardinals for four players, including Ed Spiezio. A key infielder for the young club, Spiezio is etched in Padres lore for collecting the first hit and home run in Padres history.
Dick Selma: Selma's stay in San Diego was brief, but not without fanfare. After he showed flashes of brilliance with the New York Mets in 1965–68, the Padres took him and made him their Opening Day starter in 1969. He delivered the Padres' first-ever win, a 2–1, complete-game, 12-strikeout decision over the Astros. Oddly, he would make just three more appearances before he was dealt to the Chicago Cubs for three players, including Joe Niekro.
Al Santorini: One of the youngest players drafted by the Padres, Santorini showed the poise of a veteran in 1969, giving the fledgling club what it needed—innings and an occasional win. At age 20, he made his first start for the Padres on April 18. Although he didn't get the win, the Padres ended their six-game losing streak that day, beating the San Francisco Giants 3–1 at Candlestick Park.[fn]Except as noted, the source for all statistics, results, and transactions is Baseball-Reference.com.[/fn] Santorini would make a career-high 30 starts in 1969. His eight victories were tied for most on the club.
Jose Arcia: A career .215 batter in almost 300 games and not much of a base stealer (caught 13 times in 30 tries), Arcia was nonetheless a valuable utility player for the 1969–70 Padres, playing all four infield positions as well as left field. In 1968, as a member of the Cubs, he delivered his only big-league homer in grand style, beating the Pittsburgh Pirates and veteran Bob Veale with a ninth-inning walk-off at Wrigley Field.
Clay Kirby: He's known best for the no-hitters that didn't quite happen. The most infamous was when Gomez removed him, trailing 1–0, for a pinch-hitter after eight no-hit innings against the Mets on July 21, 1970.[fn]Dirk Lammers, "Padres Near No-Hitters," Nonohitters.com. https://www.nonohitters.com/padres-near-no-hitters/.[/fn] Kirby, who won 10 or more games six times, also took no-nos into the eighth inning twice in 1971. Like Santorini, Kirby was 20 when he became a full-time starter in 1969. That year he would lead the team in strikeouts and innings pitched and tie for the league lead with 20 losses.
Fred Kendall: The last of the expansion Padres to depart the club, the talented catcher played on the first eight editions (1969–76). After playing sparingly the first four seasons and compiling a .196 batting average, Kendall finally got his chance to start full-time in 1973, and he put it all together: 10 homers, 59 RBIs, .282 batting average in 145 games. He remained the starter for the next three seasons but was dealt to the Cleveland Indians following the 1976 season. He returned to the Padres for his swan song, batting .190 in parts of 1979 and '80.
Jerry Morales: The youngest player drafted by the Padres, Morales was 19 when he was taken from the Mets system. After three mostly minor-league seasons, he had two solid seasons at the big-league level in 1972–73 as part an outfield platoon. His career blossomed after he was traded to the Cubs following the 1973 season. Second in the NL in batting average (.331) at the break in 1977, Morales made his only All-Star Game, scoring a run in the eighth inning.[fn]Bauer, "It's a Major League City or It Isn't."[/fn]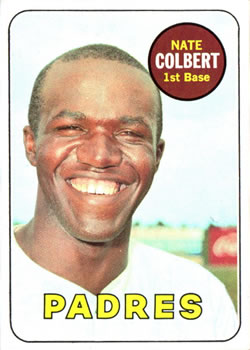 Nate Colbert: He played in the Padres' first six seasons and he's still the team's career home run leader (163) nearly 45 years after his last at-bat. From 1968 to '76, Colbert played on nine consecutive last-place teams—one with the Astros and two with the Expos, sandwiched around six with the Padres. In August 1972, he became the second player to hit five homers in a doubleheader. As an 8-year-old growing up in St. Louis, he was in the ballpark in 1954 when Stan Musial was the first to do it.[fn]Ibid.[/fn]
Zoilo Versalles: The 1965 AL MVP and World Series hero never played for San Diego as he was traded to Cleveland just seven weeks after the expansion draft. The Padres received 6-foot-7 Bill Davis, who was their starting first baseman in their first game, going 0-for-3. However, Davis amassed just 57 at-bats with San Diego before being dealt to the Cardinals in late May. He never played in the majors again.
Frank Reberger: He appeared in a team-high 67 games for the Padres in 1969, good for fifth in the league, and a team record that stood for five years. Despite his durability, he was sent to the Giants following the '69 season for three players: Bob Barton, Bobby Etheridge, and Ron Herbel. Splitting his time as a starter and a reliever with the Giants in 1970, Reberger tossed a 10-inning complete game in San Diego, beating his former mates 3–2.
Jerry DaVanon: A local boy (born in Oceanside), DaVanon made 12 starts at shortstop and second base for the 1969 Padres before he was benched and eventually traded to the Cardinals in late May. In 1971, DaVanon was a backup infielder on the pennant-winning Baltimore Orioles but did not appear in a postseason game. His son, Jeff, played eight years in the majors, mostly with the Anaheim and Los Angeles Angels.
Larry Stahl: In a rather unremarkable career, Stahl had one of the most infamous bases on balls in history.[fn]George Castle, "Possible balky CF camera gives no peace to Pappas for blown '72 perfect game," (Northwest Indiana) Times, September 4, 2012. https://www.nwitimes.com/sports/baseball/professional/mlb/cubs/possible-balky-cf-camera-gives-no-peace-to-pappas-for/article_3194b96e-01d6-5d71-82cb-e6a28e4bcb01.html.[/fn] A fixture on the Padres' early rosters (1969–72), Stahl was the 27th batter in what might have been a perfect game for Milt Pappas of the Cubs. Stahl fell behind 1–2 and then took three straight close pitches that the home-plate umpire called balls. Pappas secured his no-hitter by retiring the next batter, Garry Jestadt.
Dick Kelley: Arguably the top performer in the '69 Padres' starting rotation, the left-handed Kelley led the staff with a 3.57 ERA, fewest hits per nine innings, and most strikeouts per nine, despite winning just four times in 23 starts. He spun the best game of his career on July 6, one-hitting the Astros, the lone hit coming on an infield single. Limited by arm and shoulder injuries, he compiled an 18–30 career record.
Al Ferrara: Left unprotected by the Dodgers, Ferrara delivered as the Padres' left fielder, hitting 27 homers over the first two seasons while batting .268. Somewhat of a bon vivant during his time with the Dodgers (1963, 1965–68), he had guest appearances on TV shows such as Gilligan's Island and Batman.[fn]Paul Hirsch, "Al Ferrara," SABR BioProject. https://sabr.org/bioproj/person/2de64825.[/fn] With the Dodgers, he was a member of three World Series rosters (1963, '65, '66) but didn't get into a game until the final inning of the 1966 Series against the Orioles. In the ninth inning of Game 4, Ferrara collected a pinch-single, one of just 17 hits the Dodgers would get in the entire Series.
Mike Corkins: Spent his entire six-year big league career (1969–74) with the Padres, winning 18 games. Corkins did a little bit of everything, from being a member of the starting rotation in 1970 to the team leader in saves, with six, in 1972. He achieved some notoriety both for hitting and yielding home runs. His first of five career homers was a grand slam off 20-game winner Jim Merritt of the Cincinnati Reds in 1970. On the flipside, Willie Mays tagged him for No. 600 in 1969.[fn]"Mays Blasts 600th!" Sarasota Herald Tribune, September 24, 1969.[/fn]
Tom Dukes: After the 1970 season, in which he led the club in saves (10) and was second in appearances (53), Dukes was part of a trade that turned out to be one-sided, and not in the Padres' favor. He and Pat Dobson, a 14-game winner in 1970, were sent to the Orioles for four players. Dobson won 20 games the next season for the AL pennant-winners and Dukes responded with his finest statistical season. In the Orioles' seven-game Series loss to the Pirates, Dukes pitched four scoreless innings of relief.
Rick James: Perhaps the best athlete ever to come out of Coffee High School in Florence, Alabama, James had a cup of coffee in the bigs, and that was it. The first-ever first-round pick by the Cubs (No. 6 overall in the inaugural amateur draft in 1965), James was 19 years old when he got into his only three major-league games, tossing 4⅔ innings, all in 1967. He was selected by the Padres but remained in the minors in 1969 and '70. He was out of baseball after that, before turning 23.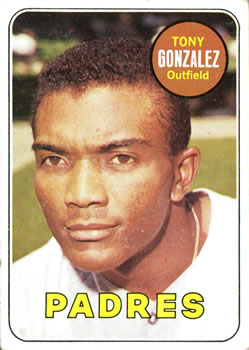 Tony Gonzalez: One of the few proven hitters drafted by the Padres and the oldest (32), Gonzalez received MVP votes three times in the 1960s and was second in the NL in batting average (.339) in 1967. With the 1969 Padres, he batted just .225 in 53 games. He was traded to the Braves in June 1969 for three players (including future hitting guru Walt Hriniak), but the Braves got the better of the deal. Gonzalez hit 10 homers down the stretch as Atlanta won the NL West. Gonzalez stood out in the League Championship Series, batting .357 in 14 at-bats against the Mets, including a homer and double off Tom Seaver in Game One. It would be his only postseason appearance.
Dave Roberts: Between 1962 and 2008, four men named Dave Roberts played in the majors, but this Dave Roberts was the best—and only—pitcher. Drafted from the Pirates, Roberts made 60 starts for the Padres in 1969–71, and in 1971 his 2.10 ERA was second in the NL. Dealt to the Astros after the '71 season, Roberts cemented his reputation as one of the era's sturdiest hurlers by compiling 52 complete games and 15 shutouts in 1972–76. In 1979, Roberts (who played for eight teams during his career) rejoined the Pirates and won a World Series ring, pitching out of the bullpen.
Ivan Murrell: A multisport star (boxing, soccer, baseball) in his native Panama, Murrell played 10 years with the Colt .45s/Astros, Padres and Braves.[fn]"In Memory of Ivan Murrell," The Treasure Coast Palm, October 11, 2016. http://www.astrosdaily.com/players/obits/Murrell_Ivan.html; Sandy Burgin, "Where Have You Gone, Ivan Murrell?" MLB.com, date unknown. Both via Astros Daily. http://www.astrosdaily.com/players/obits/Murrell_Ivan.html.[/fn] He was a mainstay in the Padres' outfield in 1970, collecting career bests in home runs (12), RBIs (35), hits (85), and games played (125). Placed on waivers after the 1973 season, Murrell was picked up by the Braves and had the good fortune of watching first-hand as Henry Aaron broke Babe Ruth's home-run record.
Jim Williams: Drafted by the Cubs out of Ells High School in Richmond, California—the same school that produced Gene Clines and Willie McGee, Williams was traded to the Dodgers in 1967 before being selected by the Padres. In 1969, Williams showed great speed in the minors, stealing 26 bags in 31 tries before his September call-up. In the majors, he batted .280 in 13 games but didn't attempt a steal. After a September call-up the next year, Williams played three more seasons in the minors but never played in the bigs again.
Billy McCool: Blessed with a live left arm, McCool was a can't-miss who didn't live up to the hype, largely because of injuries. He was 19 when he made his debut for the Reds in 1964, and he was an All-Star in 1966. After two subpar years in 1967 and '68, he was left unprotected by the Reds and the Padres took him. Shoulder and foot injuries derailed most of his 1969 season with San Diego, although he did make 54 appearances, all in relief. The McCool experiment ended for the Padres when they dealt him to St. Louis shortly before the 1970 season.
Roberto Pena: After spending most of the 1960s trying to hook on with the Pirates, Cubs, and Phillies organizations, Pena looked like he'd found a home in San Diego after he batted .250 in more than 500 plate appearances in 1969 while playing all four infield positions. But before the 1970 season began, Pena was traded again, this time to the Oakland A's for backup outfielder Ramon Webster. Less than two months later, Pena was dealt once more, this time to the Milwaukee Brewers. After the 1971 season, at age 34, he played three years in the Mexican League before hanging up his spikes for good.
Al McBean: Left unprotected by the Pirates after eight solid seasons split between starting and relieving, the 30-year-old McBean was taken by the Padres and made just one appearance, a seven-inning start against the Giants in the fifth game of the 1969 season.[fn]Geoff Young, Duck Snorts 2009 Baseball Annual (Lulu.com, 2009), 172.[/fn] A week later, he was dealt to the Dodgers for backup infielder Tommy Dean and a little-used reliever named Leon Everitt. McBean would return to the Pirates in 1970 before retiring. He pitched on several playoff-contending teams during his 10-year career but never appeared in the postseason, having the misfortune of playing for the Pirates the year after they won the World Series (1961) and the year before (1970).
Rafael Robles: Robles was the first player to come to bat for the Padres. On April 8, 1969, he led off the bottom of the first inning against the Astros' Don Wilson. Robles reached on an error by Hall of Fame second baseman Joe Morgan, then stole second base, but did not score. He started the first six games of the season, went 2-for-20 at the plate and was banished to the minors for the rest of the season. His soft hitting would continue throughout his career, as he had just one extra-base hit in 133 at-bats. Robles would remain in the Padres organization until June 1972, when he was traded to St. Louis.
Fred Katawczik: Taken from the Reds organization, Katawczik was the only one of the 30 players the Padres took in the expansion draft who never played in the majors. The 6-foot-4 left-hander reached Triple-A for both the Reds in 1968 and the Padres in 1970 but couldn't crack the big clubs. He gave up a baseball after the 1970 season at age 21.[fn]Ibid.[/fn]
Ron Slocum: After taking Slocum from the Pirates, the Padres had designs of turning the hometown boy into their every-day catcher, but his difficulties hitting at the big-league level (career .150 batting average in 80 games) derailed those plans.[fn]Bauer, "It's a Major League City or It Isn't."[/fn] In three seasons in a utility role, he nonetheless had several memorable moments, including a three-run homer off former Cy Young award winner Mike McCormick of the Giants in a wild 17–16, 15-inning win in 1970.
Steve Arlin: A workhorse for the Padres, he went 19–40 in 1971–72 and is still the only pitcher in the past 50 seasons to lose at least 40 games over a two-season span. He's come the closest of any Padres pitcher to throwing a no-hitter, losing one to the Phillies with two outs in the ninth inning on June 18, 1972. Before the Phillies took him with their first pick in the 1966 draft, 13th overall, Arlin was one of the finest college pitchers ever, going 24–3 over two years at Ohio State. Arlin's College World Series résumé included a 20-strikeout, 15-inning win in 1965 and a Most Outstanding Player trophy in 1966. His grandfather, Harold, is credited as the first broadcaster ever to call a game on the radio, in 1921.[fn]Jeff Sanders, "Former Padres RHP Steve Arlin dies at 70," San Diego Union-Tribune, August 22, 2016. https://www.sandiegouniontribune.com/sdut-padres-pitcher-steve-arlin-dies-2016aug22-story.html; "Buckeyes Nip Cougars Nine, Battle Arizona St. in Finals," Spokane Daily Chronicle, June 11, 1965; "Most Outstanding Player Award in College World Series," Baseball Almanac. http://www.baseball-almanac.com/awards/most_outstanding_player_award.shtml.[/fn]
Cito Gaston: Before he was renowned for winning back-to-back World Series in 1992 and '93 as the manager of the Toronto Blue Jays, this little-known Braves farmhand was the Padres' final pick of the expansion draft. A one-time roommate of Aaron, Gaston was a fixture in the Padres' outfield in 1969–74.[fn]Alfonso L Tusa C, "Cito Gaston," SABR BioProject. https://sabr.org/bioproj/person/946b8db1[/fn] His 11-year big-league career peaked in 1970 when he made his only All-Star team en route to a .318/29/93 season. His managerial career easily surpassed his accomplishments as a player: He won 894 games in two stints as Toronto's skipper. Gaston was enshrined in the Canadian Baseball Hall of Fame in 2002.[fn]Walter Leavy, "Cito Gaston: on top of the baseball world," Ebony, May 1994. https://books.google.com/books?id=1HhtOI8Lw7EC&pg=PA144&source=gbs_toc_r&cad=2#v=onepage&q&f=false.[/fn]
MARK CAMPS is a former Giants beat writer and columnist for the San Francisco Chronicle. He is an honorary lifetime member of BBWAA. After nearly 30 years as a sportswriter, he is now a senior communications consultant for a large health care organization.
https://sabr.org/wp-content/uploads/2020/03/research-collection4_350x300.jpg
300
350
admin
/wp-content/uploads/2020/02/sabr_logo.png
admin
2019-08-01 23:57:53
2021-04-09 20:07:58
Raw Materials: The Padres' Expansion 30