Roberto Clemente and The Odd Couple: Two Different Stories
This article was written by Rob Edelman
This article was published in The National Pastime: Steel City Stories (Pittsburgh, 2018)
---
Unlike major leaguers from the Bambino to Turkey Mike, Roberto Clemente never forged a career on the silver screen. But his one celluloid connection is worth probing because of his legend—and because it is a textbook example of the manner in which simple anecdotes and truths of any kind may be twisted beyond recognition.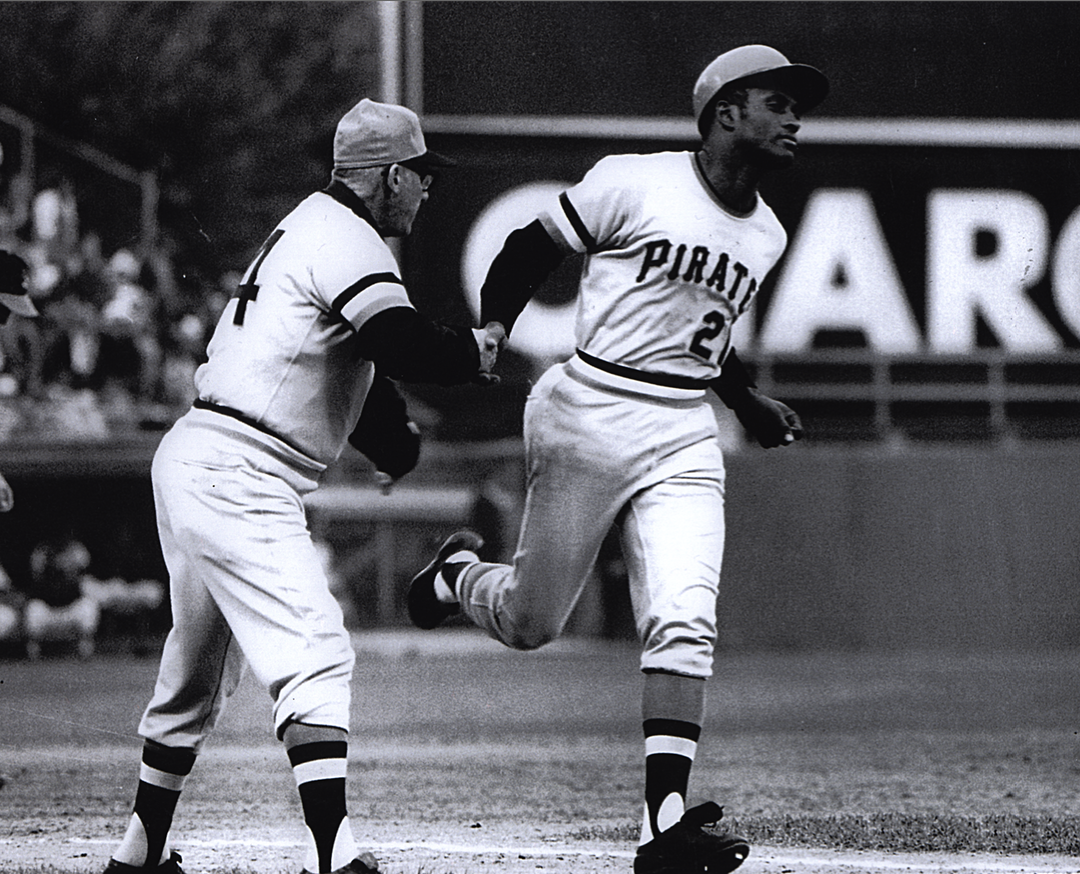 The film in question is The Odd Couple, the screen version of Neil Simon's hit Broadway play. While not a standard "baseball story," the film features the sport in a sequence that is linked both to Clemente and his Pittsburgh Pirates.
One half of the title "odd couple" is Oscar Madison, New York sportswriter and slob-extraordinaire, a character created by Walter Matthau onstage in 1965. Matthau replayed Madison on-screen and, at one point, he is covering a Pirates-New York Mets contest at Shea Stadium. The sequence was filmed at the ballyard on June 27, 1967, prior to a real Mets-Pirates fray. In the fictional game, the Mets are up by a run in the ninth inning. Pittsburgh loads the bases and one of their top hitters comes to the plate. "Well, that's the ballgame," predicts Heywood Hale Broun, cast in a cameo as a fellow scribe. "It's not over yet" is Oscar's rejoinder. "What's a matta, you never hoid of a triple play?" Oscar then takes an "emergency" phone call from his roommate, fussy Felix Ungar (Jack Lemmon), who implores him not to consume any frankfurters because of the franks-and-beans dinner he is preparing. Meanwhile, the Pirate at bat smacks into a triple play, ending the game. "Greatest fielding play I ever saw," Broun tells Madison, "and you missed it."
The on-screen Pirates batter is Bill Mazeroski. Originally, it was supposed to be Clemente, but he is not to be found here. Two diametrically opposite stories exist regarding his involvement with The Odd Couple. The first is an affirmation of Clemente's solemnity and athleticism: He never would agree to hit into a triple play, even in an all-in-good-fun entertainment. After all, according to biographer David Maraniss, Clemente "ran everything out, first of all, full speed, head down, every feeble tap back to the pitcher, and he worked so hard at running. . . . When Clemente was on the go, it seemed not so much that he was trying to get to a base as to escape from some unspeakable phantasmal terror."1
This resolve also is emphasized in Jon Volkmer's Clemente history. Volkmer noted that a "man showed up and asked Roberto to take a small part in a movie," adding: "They told him it was a benefit for children, and that's why they could pay him only a token $100 for his appearance. Roberto was always ready to help children. He said 'Yes, sure.'" It wasn't until he arrived at Shea that he realized this was no kiddie film. Additionally, upon learning that he was to hit into a triple play, he "walked off the field, mad as a hornet." He was "still mad when the game began" but came to appreciate the irony of the situation later on when he reported that, during the game, he "took a pitch, and . . . hit it 440 feet over the fence. I knew where that movie producer was sitting. As I went by I yelled to him, 'Take a picture of that for your stinking movie.'"2
Volkmer's anecdote is embellished by Bruce Markusen, another Clemente profiler. According to Markusen, the ballplayer reported the $100 fee to teammate Matty Alou. "He says I am foolish," Clemente told Jerry Lisker in the New York Daily News, declaring that his payment should be nothing less than $1,000. "They insult me," he added. "One hundred dollars, that's what they want to pay me. Who they think they try and fool? They think Roberto Clemente was born last week?" He continued, "What would fans in Latin America say if they see me hit into triple play? They would not understand." Markusen added that Clemente's 440-foot drive occurred not in-game but during batting practice: "As the ball soared toward the outer limits of Shea Stadium, Roberto yelled in the direction of a cameraman. 'Hey movie man,' Roberto exclaimed, 'take a picture of that home run and put it in your stinking picture. You can have it for nothing.'"3
Lisker's July 30, 1967, Daily News piece (published over a month after the filming) also included this anecdote: "A director with a megaphone and a baseball cap on his head strutted up to Clemente. He put his arm around Roberto's shoulder and gave him a typical Hollywood greeting: 'Hiya, Roberto, how's my old buddy?' Roberto looked the guy square in the eye. 'I am not old,' Clemente said coldly, 'and I ain't gonna be in your stinkin' movie. How you like that, old buddy?'"4 (In a conflicting observation, writer John McCollister claimed that Clemente was in fact offered $1,000 but "politely thanked the filmmakers" before turning it down.5 Additionally, Tom Smith reported in a piece on the Roberto Clemente Museum in Lawrenceville, Pennsylvania, that the ballplayer's refusal was for The Odd Couple television series!)6
Barney Kremenko, writing in The Sporting News that July, reported that "Mazeroski was pinch-hitting for Roberto Clemente, who pulled out of the movie the night before." No explanation is given.7 It was noted in Sports Illustrated that Clemente "huffed out, offended at the mere $100 Paramount would pay" to participate in the "Boyer-to-Buchek-to-Kranepool job."8 The New York Times also covered the filming; here, the story was penned by Vincent Canby, the paper's film critic. Canby described Mazeroski as "a pinch hitter for Roberto Clemente," adding that the outfielder "bowed out when he learned the film sequence was for a big budget Hollywood picture, rather than for a promotional film. He felt the $100 fee, the Screen Actors Guild minimum for acting ball players, was an insult."9 Still another angle was reported in the Pittsburgh Press. Here, Clemente declared, "I will do it either for nothing or for much more than $100. . . . They will use my name in the movie and exploit me for $100. Not for me."10 (New York Post sportswriter Maury Allen once claimed that, for $100, Clemente not only wouldn't agree to hit into a triple play but rejected switching the scene to a double play.11 One only can speculate on the veracity of Allen's tale. However, one blatant—not to mention sloppy—error is found in the American Film Institute's AFI Catalog of Feature Films: "Pittsburgh player Maury Wills and Mets player Roberto Clemente declined to appear for the $100 Screen Actors Guild [SAG] fee offered them.")12
In the stands on the day of the shoot was 15-year-old Steve Kallas, who attended with his father. "We got there early, as we always did, for batting practice. We had no idea that they'd be shooting a movie," Kallas recalled. "Well, they had to do four or five takes for this scene. I remember there was booing between takes, a real New York kind of boo because the scene was so contrived. The batter had to run slower and slower every take." That batter was not Roberto Clemente. "The movie's great, but that scene's awful," Kallas said. "Clemente would've made the scene that much more ridiculous. Even in the context of a fantasy, Clemente made the right call."13
* * *
The second scenario differs markedly from the first. Here, Clemente actually filmed the scene. The Turner Classic Movies cast list cites various real-life Odd Couple ballplayers, including Alou, Wills, Vernon Law, Ken Boyer, Bud Harrelson, Jerry Buchek, Ed Kranepool—and Roberto Clemente!14 According to the Internet Movie Database "Trivia" link for The Odd Couple: "The fleet-footed Pirate kept beating the throw to first base. After several takes, Clemente slowed so much he appeared to be walking. Bill Mazeroski, a more lead-footed athlete, was offered the part instead."15
A fan who refers to himself as Joey D. offered a similar memory on MetsMerizedOnline.com: "The fleet-footed Clemente did about six takes but despite trying to run slower, he kept beating the throw to first base, so they went with the much slower Maz," he wrote, adding: "I was there sitting in the upper deck behind home plate when they filmed it, getting in free with a dozen box tops from Borden milk products!"16
Bill De Cicco, a Shea Stadium batboy, also was present that day and reported versions of both stories in his memoir. In the first, Clemente agreed to appear but was "too fast running to first base. . . . After three or four takes, (he) slowed down his running to make it happen, but it looked unnatural so they couldn't use it." In the second, Clemente refused to participate "because it made him look bad. When Mazeroski heard this and that he would get a hundred dollars to hit a ground ball, he jumped at the chance. It took three or so takes to get it right."17
Further insight into Clemente and The Odd Couple is offered by Mike Frassinelli, writing in the Allentown, Pennsylvania, Morning Call on the 30th anniversary of the ballplayer's death. "Not only would it be nearly impossible for the speedy outfielder to hit into a triple play, he didn't want to fuel the stereotype of the lazy Puerto Rican," Frassinelli wrote. "Even when it came to a seemingly harmless comedy movie, Clemente wanted to be seen as more than a punchline. He wanted to be seen as a dignified credit to his race—the human race."18
ROB EDELMAN offers film commentary on WAMC Northeast Public Radio, and his byline has appeared in "Base Ball: A Journal of the Early Game" and dozens of other publications. He is a longtime Contributing Editor of "Leonard Maltin's Movie Guide"; his books include "Great Baseball Films," "Baseball on the Web," "From Spring Training to Screen Test: Baseball Players Turned Actors" (co-edited with Bill Nowlin) and (with Audrey Kupferberg) "Matthau: A Life" and "Meet the Mertzes," a double biography of I Love Lucy's William Frawley and Vivian Vance. He teaches film history courses at the University at Albany.
Notes
1 David Maraniss, Clemente: The Passion and Grace of Baseball's Last Hero (New York: Simon & Schuster, 2006), 189-190.
2 Jon Volkmer, Roberto Clemente: The Story of a Champion (West Berlin, NJ: Townsend Press, 2008).
3 Bruce Markusen, Roberto Clemente: The Great One (New York: Sports Publishing, 2001).
4 "What They Were Saying," New York Daily News, September 18, 2005. http://www.nydailynews.com/archives/nydn-features/-article-1.629880.
5 John McCollister, Tales From the Pittsburgh Pirates Dugout: A Collection of the Greatest Pirates Stories Ever Told (New York: Sports Publishing, 2003).
6 Tom Smith, "Roberto Clemente Museum: The Great One Would Be Proud," Rum Bunter, November 16, 2009. https://rumbunter.com/2009/11/16/roberto-clemente-museum-the-great-one-would-be-proud/.
7 Barney Kremenko, "Maz Raps Into Triple Play, But It's Only for Hollywood," The Sporting News, July 15, 1967.
8  "People," Sports Illustrated, July 19, 1967. https://www.si.com/vault/1967/07/17/610100/people.
9 Vincent Canby, "Mazeroski Hits Into Triple Play In 'Odd Couple' Filming at Shea," New York Times, June 28, 1967.
10 "The Scoreboard: Mets' Shaw Irritating," Pittsburgh Press, June 28, 1967.
11  Greg Gutes, "Oddly enough, game-ending triple play involving Mets has been turned before," Newsday, August 23, 2009.  https://www.newsday.com/sports/baseball/mets/oddly-enough-game-ending-triple-play-involving-mets-has-been-turned-before-1.1389302.
12 "The Odd Couple," AFI Catalog of Feature Films: The First 100 Years 1893–1993, https://catalog.afi.com/Catalog/moviedetails/23870.
13  Phil Mushnick, "Clemente Still Sets Example: Pirates Great Always Played Game Right Way," New York Post, December 15, 2002. https://nypost.com/2002/12/15/clemente-still-sets-example-pirates-great-always-played-game-right-way/.
14 "The Odd Couple (1968)," Turner Classic Movies. http://www.tcm.com/tcmdb/title/4740/The-Odd-Couple/.
15  "The Odd Couple (1968): Trivia," IMDB. http://www.imdb.com/title/tt0063374/trivia.
16 Joey D., "50 Years Ago Today: Classic Shea Stadium Scene In Odd Couple," June 27, 2017. https://metsmerizedonline.com/2017/06/50-years-ago-today-classic-shea-stadium-scene-in-odd-couple.html/.
17 Bill De Cicco, My Amazing Journey: Shea Believer (Bloomington, IN: WestBow Press, 2015).
18 Mike Frassinelli, "Roberto Clemente still a legend 30 years after death," Morning Call (Allentown, PA), December 30, 2002. http://articles.mcall.com/2002-12-30/news/3426164_1_roberto-clemente-plane-crash-puerto-rican
https://sabr.org/wp-content/uploads/2020/03/research-collection4_350x300.jpg
300
350
admin
/wp-content/uploads/2020/02/sabr_logo.png
admin
2018-06-28 11:30:19
2023-07-31 16:02:58
Roberto Clemente and The Odd Couple: Two Different Stories