2013 Jerry Malloy Negro League Art Contest winners announced
The fourth annual Jerry Malloy Negro League Conference Art Contest attracted artwork from all over the nation in three categories: professional, amateur and youth. Art from the winners and runners-up will be on display at the Yogi Berra Museum this summer and in a special area at the conference, scheduled for June 13-15, 2013, at the Renaissance Hotel in Newark, New Jersey.
The winning entry in the amateur and professional category will receive a $400 prize and a certificate from the conference and the youth winner will receive $200 and a certificate from the conference.
Photos of the art will also be included in an upcoming issue of Black Ball: A Negro Leagues Journal, published by McFarland & Co.
Click on each image to see this year's winning entries below:
Youth Category: Amy Steverson, "Josh Gibson, Doubleheader"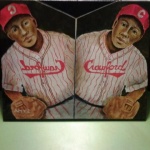 Amy Steverson, age 15, lives in Maryville, Tennessee and is a rising sophomore at Maryville High School. She loves painting and baseball. She is active in her church youth group and is a good student.
Her painting was inspired by her grandfather Bryan Steverson's love for the Pittsburgh Crawfords.
Judges' comments:
Artist has synthesized mirror images of Josh to great decorative effect.
I like the reflective nature of this painting and the fact that the background and foreground has been given careful consideration. This has philosophical as well as technical merit as a painting. I like how the player on the right is looking directly at the viewer and the player on the left is looking at the player on the right – great technique to keep the viewer's eyes roving within the frame of the painting. Very well done – keep up the good work!
A mirror image is difficult to render, but this artist has done it very well. Good technical skill. Gibson's jersey reads "Crawfords," referencing a Negro League team.
Really nice and creative. Definitely a show piece!
Wow. The composition of this portrait really jumps out at you. The main character is well presented; however, the use of levels of secondary and tertiary subjects is well conceived.
Amateur Category: John Everett, "The Chicago American Giants"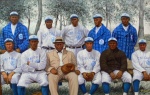 John Everett was born and raised in Toms River, New Jersey. He is a 1973 graduate of the United States Military Academy at West Point where he received a B.S. in Engineering. He has an M.S. degree in Telecommunications from the University of Southern Mississippi and an M.C. degree in Systems Engineering from the George Washington University.
Everett spent 24 years in the U.S. Army as a Green Beret in Army Special Forces, serving in 27 different countries and commanding Special Forces organizations through Special Forces Battalion. He currently serves as the Senior Executive responsible for the Information Technology Infrastructure for the FBI in Washington, D.C.
He began painting as a hobby in the early 1970s. Career and family duties kept him from pursuing his hobby until 1999 when his wife encouraged him to, once again, take up his brush and pallet and continue his artistic work. Everett is self-taught and has worked consistently to improve his skill and ability in both oil and acrylic mediums over the past 14 years. Most of his work is inspired from photographs he has taken from around the world.
He lives in Haymarket, Virginia, and is married to the former Mary Ellen Fuller of Toms River, whom he has known since the fourth grade. They have five grown children and six grandchildren.
Judges' comments:
Absolutely gorgeous blue color-harmony enriched by interruption of pattern by two neutrally -colored figures and warm toned details. There is also an almost oriental delicacy of execution, especially in the textures. This is the product of an extremely sensitive sensibility. Beautiful-I'm speechless!
The artist did an excellent job of using background renderings to situate this painting in a particular place. Wonderful blue uniforms pop out of the painting and draws your eye along the row of players. Very well done rendering of all players. My only suggestion would have been to include the feet of the players – however, I like the technique the artist has used as it places the viewer closer to the players; as if the viewer was a part of the team and not just observing. Fantastic job!
This shows a great Negro League team posing for a photograph. The artist has captured the postures and expressions very well. This wasn't a colorized photo, I assume, so the selection of color was made by the artist. This has been done very well – the beige suit of the owner contrasted with the whites and blues of the team.
Impeccable work!!! The artist really makes you feel the picture is nearly viewing a real picture!!! GREAT JOB!!
This portrait is breath taking. It captures the pride of the athletes. The composition, though simple, is right on point.
Professional Category: Kat Flyn, "Time to Turn the Page"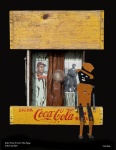 Artist's description:
The carved wood hand is brown and the baseball is old. The stadium is second-rate, framed by old Coke signs, like many stadiums played in by Negro League teams. This was the "color line" in organized baseball's history from its beginning in 1867 until the late 1940s. In 1948, Leroy "Satchel" Paige was the oldest rookie to ever play in the majors because of racial segregation during most of his career. In his original 1953 baseball card pictured here, when he played briefly for the St. Louis Browns, he was approximately 47. Even when there was talk of inducting him into the Baseball Hall of Fame in the late 1960s, the then-commissioner suggested a separate "Negro" wing. Because of men like Satchel Paige, the young boy (in this original 1950s photo) questioned a "separate but equal" world, symbolized by the Jim Crow character blocking his way.
Artist's bio:
Kat Flyn is an assemblage artist. Instead of "found" objects, she uses "saved" objects in her work. These artifacts, often saved by someone their entire life, are visual signs of America's social, political and cultural history — a history that many do not know or have forgotten. Often this shared history includes poverty, racism and inferior roles for women. All these artifacts that she uses in her art — an old "toy", a vintage baseball card, or a worn baseball, draw the viewer in to witness our contemporary culture's subconscious prejudices.
Flyn's art has been in galleries in New York City and San Francisco. She has shown her work in museums in La Jolla and Marin, California. Her work has received Juror's Choice Awards on many occasions. An art piece on prison reform, Hard Time, was on exhibit at the 9th Circuit of Appeals in San Francisco. Many pieces are in private collections. Recent 2012 group exhibits have been at the George Krevsky Gallery, ARC Gallery and SF Fine Art Fair in San Francisco.
Flyn grew up in Washington, D.C. She worked as a costume designer in Southern California for 30 years and now works in her studio in San Francisco.
Judges' comments:
This is visual poetry of the highest order and a poem that could only be composed about a time in America
The artist did a fantastic job of carving the extraordinary large hand and depicting the left hand, displaying a throwing ability of both left and right-handed that Paige was known for. I like the addition of the Paige image when he was young. The "dance" man doll on front is a little distracting and, to me, competes with the celebration of the piece. I like the box application as it denotes preciousness and archiving of things we value. Very well done – good job!
Wow! This is an outstanding piece – an unconventional memorial to Satchel Paige that contains surprises the artist was brave enough to risk. This isn't beautiful by any means, except in the sense that endurance has a certain beauty. The frame work consists of bits of old Coca Cola crate, badly faded and battered, and a tobacco box from an era long past. The figure sitting on the frame looks to be a blackface performer from the racist vaudeville acts during the time that Paige was pitching. The opener tied to the side of the piece is a subtle, yet meaningful addition.
Super creative!! Great choice of items used to build this display! Great job!!
This is a very powerful piece of work. The composition and use of artifacts really captures much of what was happening at the time. Very strong.
A special thanks to our panel who served as judges for this year's art contest, including committee chair and renowned artist Benjamin Blackburn. Our judges are respected artists and experts in their fields and we thank each of them for their time:
John Wolfe
Byron Motley
David Baldwin
Jennifer Ettinger
James Sheeley
Danielle Dronet
The annual Jerry Malloy Negro League Conference is hosted by SABR's Negro Leagues Research Committee, which encourages the study and research of African-American baseball and its influence on society and sport history. The conference promotes activities to enhance scholarly, educational, and literary objectives.
For the past 15 years, the conference has been the only symposium dedicated exclusively to the examination and promotion of black baseball history. The conference is open to baseball and history fans of all ages, not just SABR members.
To register for the 2013 Jerry Malloy Negro League Conference, visit SABR.org/Malloy.
---
Originally published: June 6, 2013. Last Updated: April 22, 2020.
https://sabr.org/wp-content/uploads/2020/03/research-collection4_350x300.jpg
300
350
jpomrenke
/wp-content/uploads/2020/02/sabr_logo.png
jpomrenke
2013-06-06 18:05:36
2020-04-22 13:43:30
2013 Jerry Malloy Negro League Art Contest winners announced