2014 Jerry Malloy Negro League Art Contest winners announced
The fifth annual Jerry Malloy Negro League Conference Art Contest attracted artwork from all over the nation in three categories: professional, amateur and youth. Art from the winners and runners-up were on display at the 17th annual Jerry Malloy Conference, which was held August 14-16, 2014, in Detroit, Michigan.
The winning entry in the amateur and professional category will receive a $300 prize and a certificate from the conference and the youth winner will receive $150 and a certificate from the conference.
Photos of the art will also be included in an upcoming issue of Black Ball: A Negro Leagues Journal, published by McFarland & Co.
Click on each image to see this year's winning entries below:
Professional Category: Phillip Dewey, "Turkey Stearnes"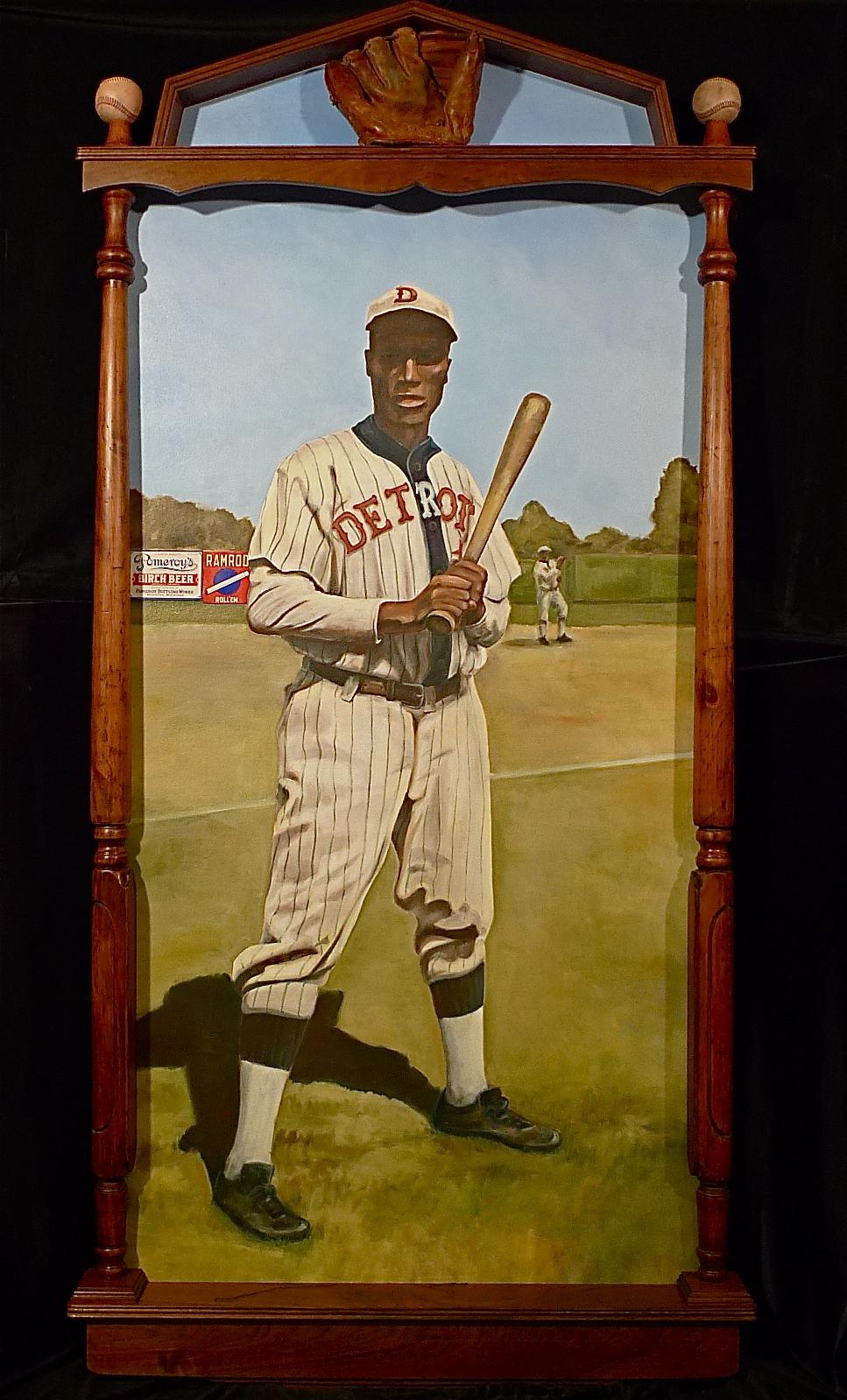 Artist's description:
While I rarely involved sport as a subject early on in my work, it came full circle a decade ago when I found myself engrossed by Ken Burns' landmark documentary Baseball. Also, since the early 1990s, I had been working in the New York City Public School system as an art teacher and experiencing firsthand the inequities for students along class and race lines. I think it was the combination of these two things that led me to create a series of artworks on the Negro Leagues. Since that time this series has developed to include a variety of mediums and techniques. It has been and continues to be the primary focus of my artistic energy.
Artist's bio:
Dewey's career as an artist has been one that has always shared time with his participation in a variety of sports and other pursuits. This duality stayed with him all the way through undergraduate school where at Wabash College in Indiana he earned a B.A. in art while wrestling on the varsity squad for four years. At Brooklyn College, where he earned his MFA in painting, he was fortunate to be able to study with notable artists Lois Dodd, Lee Bontecou, William T. Williams, and the late Alan D'Arcangelo.
Judges' comments:
"I think the balance of composition, colour and frame works extremely well in this art piece. The player's stance is assertive and confident – the framing gives us a window into that intimate scene from the game. I like the use of background advertisements that places the game in a time period. Good strong shadow and grass articulation to place the player firmly in that spot. A home run – an excellent art piece!"
"This is just dazzling at so many levels. The intent of the artist is to create a mirror effect and it works beautifully here. I can't say enough about this art. It is well conceived, well executed and a joy to see."
Amateur Category: Milbert O. Brown Jr., "Rainout"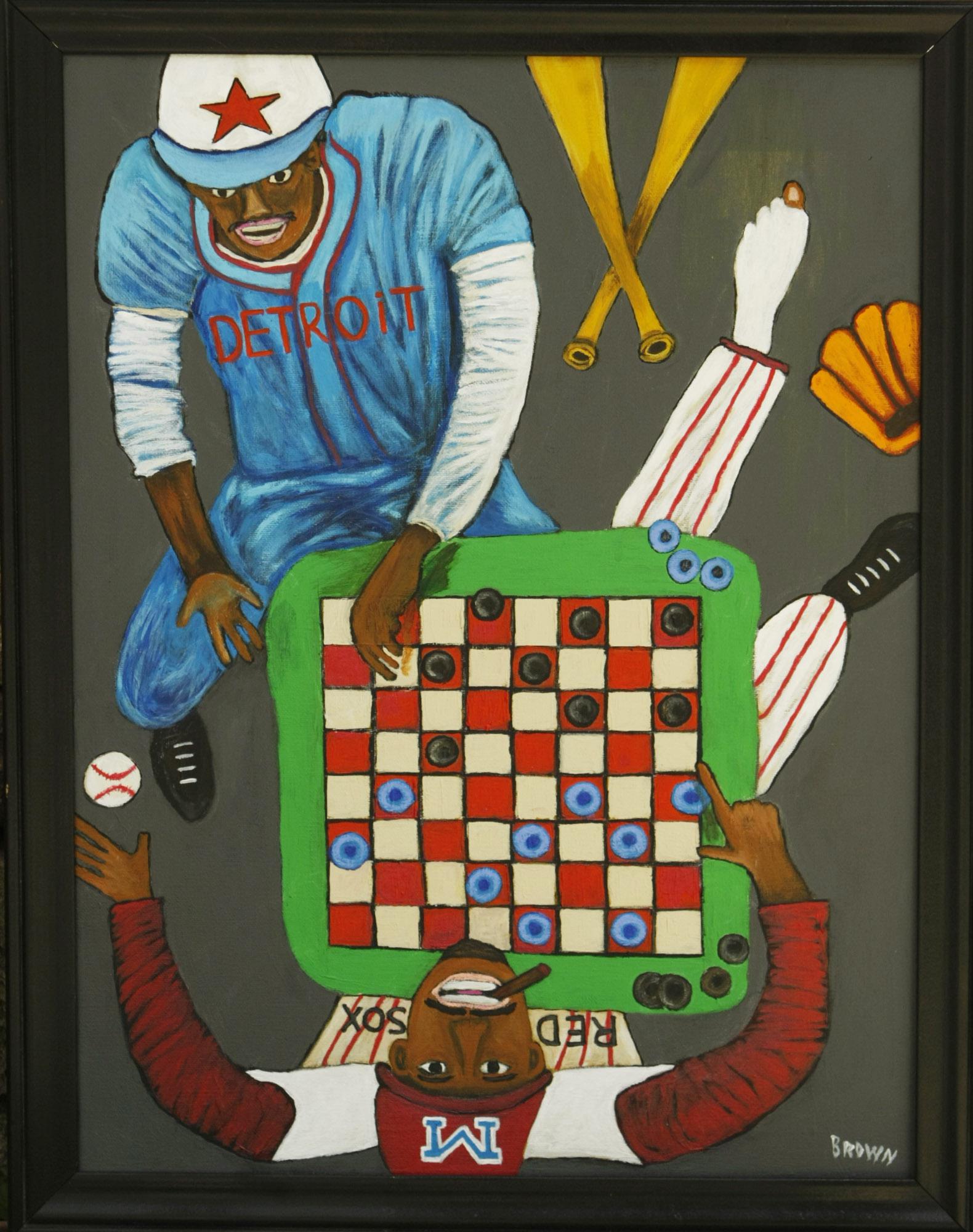 Milbert O. Brown Jr. has loved baseball all of his life. As a fifth-grader, he and his class met future Hall of Famer Lou Brock in the Chicago Cubs dugout on a sunny afternoon at Wrigley Field. When Brock was traded to St. Louis, a young Brown listened to Cardinals games on the radio as he sat with his grandfather on the porch.
Brown, a native of Gary, Indiana, grew up near Chicago, but most of his family settled in St. Louis. So he is both a Cubs and Cardinals fan, because of his childhood meeting with Brock and his grandfather's love for the Cardinals.
Even though Brown uses the camera and writing as an extension of his creative expression, painting has always remained his hobby. The inspiration for his painting "Rainout" came years after listening to stories by Negro League players as a former newspaper journalist. He interviewed, photographed, and wrote stories about several Negro players, including his favorite, the late Ted "Double Duty" Radcliffe, a Chicago American Giant.
Brown graduated from Ball State University with a B.S. in journalism, and he also holds a Master of Arts from Ohio University's prestigious School of Visual Communication. Currently, Brown is a college communication instructor in the Washington, D.C. area. He is also an ABD doctoral candidate in Higher Education Leadership at Morgan State University. Brown still watches the Cubs and paints when he is inspired.
Judges' comments:
"I like everything about this painting. I like that it shows a side of baseball that happens, the game being rained out, and it shows a side that we the fans are not often witness to, a relaxed game of checkers between players. The composition is organic and fluid and the bright colours make the painting appear to breathe. The "triangle" vehicle is used in an amazing way and draws the viewer's eye into the art piece with the baseball, moves the viewer's eye slowly around the art piece with the position of the hands and then keeps the viewer's gaze inside the painting's frame by the fantastic use of the toe poking out of the sock. This is wonderfully rendered, an awesome painting and, in my opinion, a grand slam!"
"The coloring of this piece is terrific and it is suitably strange enough to impress me with its out of the box feel."
Youth Category: Tucker Richardson, "Jackie Robinson"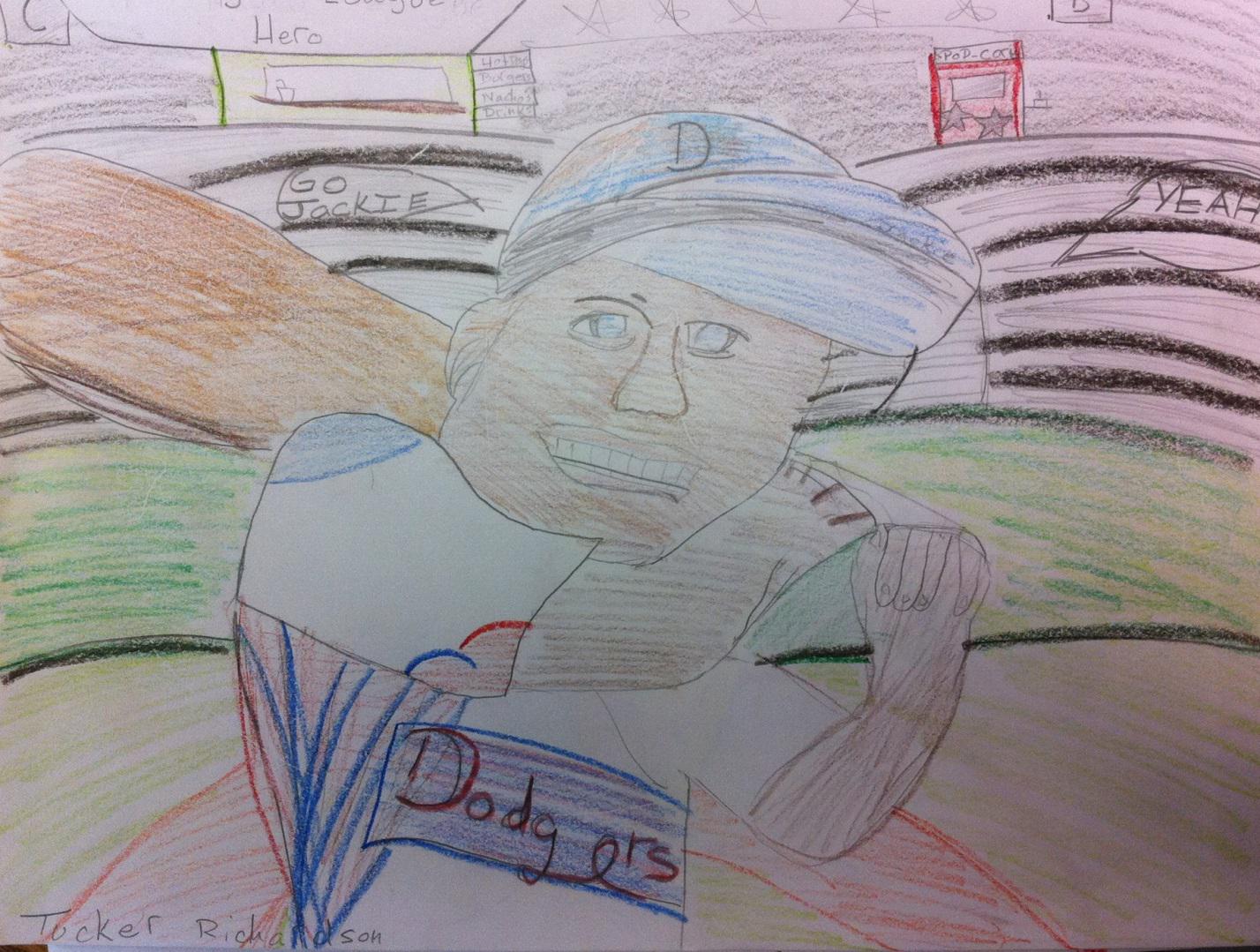 Tucker Richardson is a fifth-grader from Conway, South Carolina. He enjoys playing baseball and soccer for the local recreation league, and spends much of his summer swimming and going to the water park. When he isn't outside, Tucker loves playing video games like Pokemon and Minecraft, painting, and drawing. He hopes to one day combine his skills and be a video game designer or have some other career that will support his creativity.
Judges' comments:
"Now here's an artist who isn't afraid to show us his work! Love the bold idea of showing us Jackie up close, swinging the bat. That he gets to say "yeah!" as well is a bonus. Nice coloring choices! Well done!"
"This is a wonderful rendering of Robinson with full attention to background and foreground detail. I like how large the bat is and Jackie's big smile. I like the crowds cheering and the inclusion of food and drink available in the stands. And a very good rendering of Jackie's hands on the bat. A fantastic job – keep up the great work!"
A special thanks to our panel who served as judges for this year's art contest, including committee chair and renowned artist Benjamin Blackburn. Our judges are respected artists and experts in their fields and we thank each of them for their time:
Elise Dodeles
Jennifer Ettinger
Byron Motley
Kadir Nelson
Garth Potts
The annual Jerry Malloy Negro League Conference is hosted by SABR's Negro Leagues Research Committee, which encourages the study and research of African-American baseball and its influence on society and sport history. The conference promotes activities to enhance scholarly, educational, and literary objectives.
For the past 16 years, the conference has been the only symposium dedicated exclusively to the examination and promotion of black baseball history. The conference is open to baseball and history fans of all ages, not just SABR members.
For more information on upcoming Jerry Malloy Negro League Conferences, visit SABR.org/Malloy.
---
Originally published: September 15, 2014. Last Updated: April 22, 2020.
https://h2j7w4j4.stackpathcdn.com/wp-content/uploads/2020/03/research-collection4_350x300.jpg
300
350
jpomrenke
/wp-content/uploads/2020/02/sabr_logo.png
jpomrenke
2014-09-15 18:23:46
2020-04-22 13:31:14
2014 Jerry Malloy Negro League Art Contest winners announced