'Overlooked Legend' Deacon White highlights 2013 Baseball Hall of Fame ceremony
Each year, SABR's Nineteenth Century Research Committee conducts a survey to select an Overlooked Base Ball Legend from that era — a 19th-century player, manager, executive or other baseball personality not yet inducted into the National Baseball Hall of Fame in Cooperstown, New York.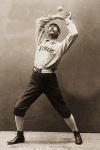 This week, for the first time, one of SABR's Overlooked 19th Century Legends will earn his rightful place in the Hall of Fame.
Deacon White, who hit .312 in a 20-year major league career between 1871 and 1890, was elected by the Pre-Integration Era Committee in December 2012 and will be honored at the Hall of Fame's Induction Weekend ceremonies on Sunday, July 28. Former New York Yankees owner Jacob Ruppert and National League umpire Hank O'Day will also be inducted.
SABR members Pat Gillick, Roland Hemond, Steve Hirdt, Peter Morris and Tom Simon were among the 16 members of the Pre-Integration Era Committee.
Back in 2010, White was selected as SABR's Overlooked 19th Century Legend, in the second year of the award. As SABR member Joe Williams, who heads up the Overlooked Legends project, wrote in his profile of White that year:
Considered to be one of the first catchers to move up under the batter, White was the premier catcher of the 1870s.

Playing without a glove, he caught more games (409) than anyone else during the decade while being one of the game's most feared hitters. The tall, slender ballplayer had a long reach, soft hands and was often called catlike and energetic behind the plate. As a batter, White won two batting titles (.367 in 1875 and .387 in 1877) and three RBI crowns (1873, 1876 and 1877).

In 1873, White became a member of the Boston Red Stockings that went on to win the championship in 1873, 1874 and 1875. Boston's famed "Big Four" of Ross Barnes, Cal McVey, Al Spalding and White moved onto the Chicago White Stockings in 1876 and won the first NL pennant. Spalding and "The Cat" were the top battery in the game in those early years of professional baseball, second to none.
"Deacon White was a great all-around player," Williams told The Sporting News recently. "His defensive skills set the standard in his day. He was called cat-like for his quickness. He had a powerful throwing arm and was among the early backstops to play closer to the batter despite fast pitching. Yes, he would have won several Gold Gloves as a catcher.
"As a batter, he was simply the best hitting catcher of his day. He racked up over 2,000 hits, which would have translated into well over 3,000 hits if more games were played each season during his era."
White is the first player who played primarily in the 19th century to be elected to the Hall of Fame since pre-Negro Leagues star Frank Grant in 2006.
Hank O'Day, a National League umpire from 1895 to 1927, is most famous for his decision to end the famous "Merkle Game" in a tie on September 23, 1908. He called 10 World Series and is just the 10th umpire to be elected to the Hall of Fame. Read his SABR biography here, written by David Anderson.
Jacob Ruppert became co-owner of the Yankees in 1915 and quickly helped changed the team's fortunes by purchasing Babe Ruth from the Red Sox and building Yankee Stadium. While Ruppert owned the Yankees, New York won 10 American League pennants and seven World Series titles. Read his SABR biography here, written by Daniel R. Levitt.
More information on the 2013 Hall of Fame Induction Weekend can be found at BaseballHall.org.
SABR's Cliff Kachline Chapter will be holding its traditional Induction Day chapter meeting at 5:00 p.m. at Tillabaugh's, 28 Pioneer Street in Cooperstown. All baseball fans are welcome to attend. Speakers are expected to include: Tom Simon, Peter Morris, Gabriel Schechter, Alan Cohen, Mike Hauser and Dave Karpinski. Please contact chapter president Jeff Katz — the mayor of Cooperstown — for more information.
To learn more about the SABR Overlooked 19th Century Legends project, click here. The 2013 winner will be announced at the Nineteenth Century Committee's annual meeting at SABR 43 on Thursday, August 1.
---
Originally published: July 24, 2013. Last Updated: July 24, 2013.
https://sabr.org/wp-content/uploads/2020/03/research-collection4_350x300.jpg
300
350
jpomrenke
/wp-content/uploads/2020/02/sabr_logo.png
jpomrenke
2013-07-24 16:13:17
2013-07-24 16:13:17
'Overlooked Legend' Deacon White highlights 2013 Baseball Hall of Fame ceremony