SABR 42: Jan Finkel selected as 2012 Bob Davids Award winner
Jan Finkel, who serves as Chief Editor for SABR's wildly successful Baseball Biography Project, was announced as the winner of the 2012 Bob Davids Award during the SABR 42 Awards Luncheon on Friday in Minneapolis, Minnesota.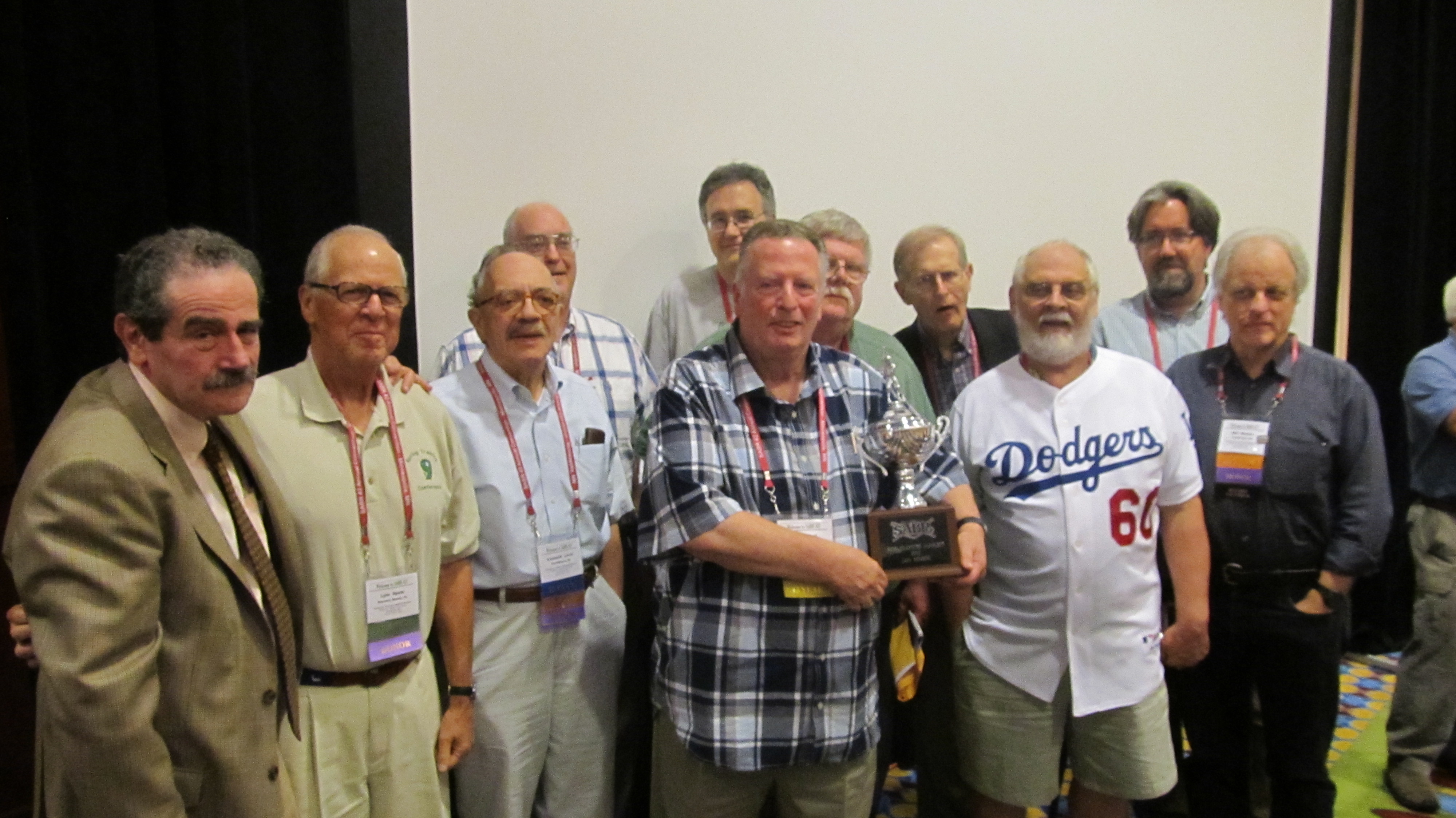 The award — which is the Society's highest honor — honors SABR members whose contributions to SABR and baseball reflect the ingenuity, integrity, and self-sacrifice of the founder and past president of SABR, L. Robert "Bob" Davids.
"I come to the convention every year, hear the name of the winner and think, 'Of course! Who else could it have been?' But this year … I can think of so many people in this room who are deserving. I am stunned. Thank you so much," Finkel said Friday.
---
Related link: Click here for complete coverage of SABR 42
---
An English professor in real life, Finkel spent most of his career at Union College in Barbourville, Kentucky, right in the heart of Appalachia. He lives with his wife, Judy, on Deep Creek Lake in the mountains of western Maryland, where he outwits an occasional largemouth.
Mark Armour, director of the BioProject, introduced Finkel during the Awards Luncheon. His introduction appears below:
Jan joined SABR in 1994, and in the ensuing years he, usually accompanied by his wonderful wife Judy, has become a fixture at meetings of the Forbes Field and Bob Davids chapters, and this year marks his 18th consecutive annual convention. He is an active member of several committees, including Deadball, Nineteenth Century, and Negro Leagues, and has been a contributing editor to many SABR publications and efforts.

Jan is also a wonderful writer, whose work has appeared in several SABR publications as well as in NINE. He has served on several awards committees, and will soon be serving on this one.

The first Chief Editor of SABR's Biography Project was Fred Ivor-Campbell, who realized within a few months that his preferred editing style, with pen and paper, would not lend itself to the volume of material the project was producing. He recommended Jan, who in ensuing years has managed a revolving team of 15 or so editors, worked with over 300 writers, and reviewed most of the project's 2,000 submissions. While editors are often unpopular with writers, Jan's touch is so thoughtful and non-judgmental that he has won over even the most ornery of our contributors.

A few years ago Jan and Judy embarked on an around-the-world cruise, which required that he take a leave of absence for several months. His stand-in was very capable and talented. Nonetheless, the Finkels had barely reached international waters before I was getting notes asking when Jan would be returning. By all accounts, the trip was spectacular, and fortunately Jan soon got back to work.

Jan has spent his life rooting for the Pittsburgh Pirates, which has afforded him much joy but some disappointment of late. But he also has long admired the career and life of Stan Musial, who he profiled superbly for the BioProject several years ago. Of Musial, Jan writes, "he left the game with more friends than anyone before him." Within SABR, I think of Jan as our Stan Musial. A man of many talents, but even more, a man of many friends.
Previous Bob Davids Award winners in attendance Friday at the SABR 42 Awards Luncheon were: Bob Tiemann (1992), Len Levin (1997), Lyle Spatz (2000), David W. Smith (2005), John Thorn (2006), Andy McCue (2007), Mark Armour (2008), Tom Ruane (2009) and Bill Nowlin (2011).
The Bob Davids Award was established by the Board of Directors in 1985, and is awarded each year at the annual convention.
The Bob Davids Award Selection Committee consisted of Ruane, McCue and Mark Rucker (2010 winner).
---
Originally published: June 29, 2012. Last Updated: July 27, 2020.
https://sabr.org/wp-content/uploads/2012/06/IMG_3814-scaled.jpg
1439
2560
jpomrenke
/wp-content/uploads/2020/02/sabr_logo.png
jpomrenke
2012-06-29 13:00:00
2020-07-27 16:53:07
SABR 42: Jan Finkel selected as 2012 Bob Davids Award winner