SABR 42: Mike Caragliano wins historic Trivia Contest double
In the first year that SABR members could participate in both the individual and team competitions of the annual convention Trivia Contest, Mike Caragliano, a radio engineer from Flushing, New York, pulled off a historic double victory on Saturday night at SABR 42 in Minneapolis, Minnesota.
And it took what some longtime members in attendance believed to be the biggest late-and-close upset in SABR Trivia Contest history for him to do it.
---
Test your knowledge! Click here to download the SABR 42 Trivia Contest individual and team preliminary tests; you can find the answer keys for individual and team here
---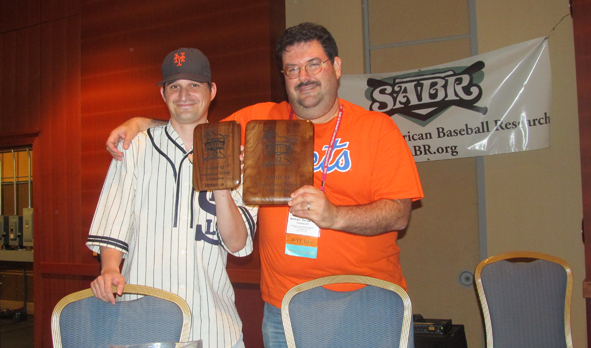 In the individual final, Caragliano, a SABR member since 1998, narrowly held off Cary Smith of Spring Park, Minnesota, to win 41-40 in the second overtime round. Both were surprisingly stumped on the first tiebreak question ("list as many currently active Jewish major leaguers as you can"), but Caragliano prevailed on the next tiebreaker, listing every pitcher with more than 3 Cy Young Awards in under 10 seconds (Clemens, R. Johnson, Maddux, Carlton).
This gave Caragliano his third individual Trivia Contest championship, along with 2002 and 2009, tying him with Bill Carle and David Fleitz for most all-time in SABR convention history. Carle was the two-time defending individual champion, but elected to participate only in the team contest at SABR 42 this year.
Smith had audaciously rallied from a 21-point deficit by cashing in on a Jeopardy!-style "daily double" question in which he risked all of his points on a question about Hall of Fame Negro Leagues owner J.L. Wilkinson.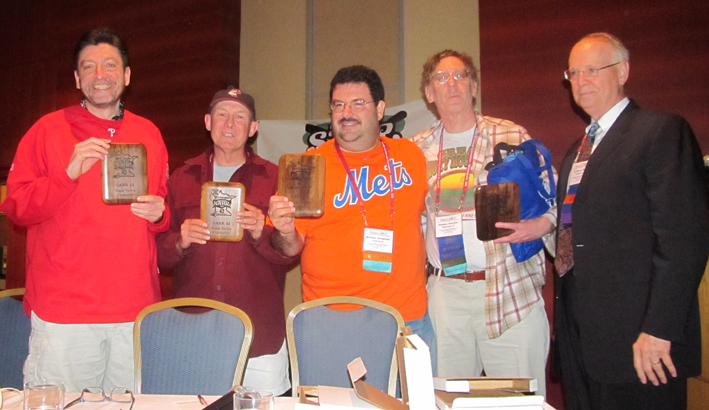 In the team final, it was Caragliano's turn — along with teammates Mark Kanter, Steve Krevisky and Ty Waterman — to stage a dramatic comeback.
Their "Shea Is Our Dump" team fell far behind, 27-0, in the first half against the "Forking Nuts" team of Carle (a 7-time trivia champion), Rich Klein (3-time champion), John Gregory and Stew Thornley.
In the second half, the Shea team slowly gained ground and were behind with just three questions left when they, too, risked it all on a "daily double" — and instantly turned an 11-point deficit into a 12-point lead when they correctly guessed that one-handed pitcher Jim Abbott had once said, "I wanted to be like Nolan Ryan; I didn't want to be like Pete Gray." They held off the Nuts to emerge victorious, 46-38.
Caragliano was part of a winning team for the fifth time (2001, '03-04, '11-12) in the most demanding baseball trivia contest in the world. His eight total Trivia Contest victories also ties him for the most all-time with Al Blumkin and his teammate, Mark Kanter of Portsmouth, Rhode Island. All eight of Kanter's wins have come in the team competition (1997-98, 2000-03, '07 and '12.)
Steve Krevisky, of Middletown, Connecticut, won his sixth team championship (1999, 2002, '05, '09, '11-12.) Ty Waterman, of Attleboro, Massachusetts — who took his seat on the SABR Board of Directors on Thursday at SABR 42 — won his third team championship (2005, '11-12.)
Krevisky, Waterman and Caragliano were all part of the 2011 winning team champs at SABR 41 in Long Beach, California, with Kanter replacing Joe Stanton this year.
The SABR Trivia Contest was moderated by D. Bruce Brown, co-chair of Horsehide Trivia with T. Scott Brandon and president of the Bob Davids Chapter in Washington/Baltimore. The questions were written and edited by Brown and Brandon, and the contest was proctored by Diane Firstman and Barb Mantegani. Brandon also assembled the game boards, illustration and animation of the semifinal and final rounds.
"It takes a lot of work to put together an event that flows smoothly," Brown said, "and we could not have done it without the help of a great team."
In previous years, members were asked to choose to participate in either the individual or team competition, a tradition that went back to the days when SABR's founder, Bob Davids, emceed the contest beginning in 1982. The rule was relaxed this year, setting up Caragliano for his historic double victory.
Semifinalists in the individual contest included David Fleitz and Rich Klein, both former champions. Semifinalists in the team contest included Bill Lewers, Matt Trueblood, Bryan Busse and Darren Rasmussen; and Patrick Mader, Dave Oar, Al Davis and Greg Funk.
To view a list of previous SABR Trivia Contest winners, click here.
For more coverage of SABR 42, visit SABR.org/convention.
---
Originally published: June 30, 2012. Last Updated: July 27, 2020.
https://sabr.org/wp-content/uploads/2012/06/2012-SABR-Trivia-winners-individual-Smith-Caragliano.jpg
348
591
jpomrenke
/wp-content/uploads/2020/02/sabr_logo.png
jpomrenke
2012-06-30 23:10:05
2020-07-27 16:53:07
SABR 42: Mike Caragliano wins historic Trivia Contest double