SABR 43: Ross Barnes selected as Overlooked 19th Century Baseball Legend for 2013
Ross Barnes has been selected as SABR's Overlooked 19th Century Baseball Legend for 2013. The announcement was made Thursday, August 1 at the Nineteenth Century Committee's annual business meeting held at SABR 43 in Philadelphia.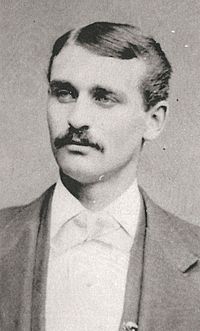 In June, 279 members of the Society for American Baseball Research submitted their votes for the 2013 Overlooked 19th Century Base Ball Legend — a 19th-century player, manager, executive or other baseball personality not yet inducted into the National Baseball Hall of Fame in Cooperstown, New York.
Previous Overlooked Legends were Pete Browning in 2009, Deacon White in 2010, Harry Stovey in 2011, and Bill Dahlen last year. White was recently inducted into the Hall of Fame on July 28.
Charles Roscoe Barnes was born to Joseph and Mary (Weller) Barnes on May 8, 1850 in Mount Morris, New York. His family eventually moved to Rockford, Illinois where Barnes became a ballplayer. He joined the Forest City Club of Rockford in 1866, the beginning of a historic career on the field for possibly the most exciting all-around player of the 1860s and 1870s. The 5'8″ Barnes played primarily at shortstop for the Forest Citys through the 1870 season. During those years he played the field behind pitching sensation Albert Spalding, including in the game on July 25, 1867 when Spalding led the team to an upset of the touring Washington Nationals.
In 1871, Barnes and Spalding left Rockford to join the Boston Red Stockings of the National Association, the new professional league, as the team's second baseman. Barnes quickly established himself as one of the league's shining stars. Over the next five seasons, Barnes would lead the league in at least eighteen offensive categories while becoming the National Association's career leader in runs (459), hits (531), doubles (101), base on balls (57), stolen bases (103), total bases (704), batting average (.391) and on-base percentage (.415). Barnes, the premier fair-foul hitter, won batting titles in 1872 (.430) and 1873 (.431). Adding a Sabermetric slant on his performance, Barnes also led the circuit in Wins Above Replacement (WAR) with 18.9. In the batting component, he was worth 159 runs above average while the next best hitter (Cal McVey) was worth 101 runs above average. Also a defensive standout and an outstanding baserunner, Barnes was one of Boston's "Big Four" that led the Red Stockings to the league championship each year from 1872 to 1875.
When the National League was formed in 1876, he became a member of the Chicago White Stockings and led them to the league's best record. He also led the league in almost every offensive category, including batting average (.429, his third batting title), on-base percentage (.462), slugging percentage (.590), runs (126), hits (138), doubles (21), triples (14) and total bases (190). After the 1876 season, he was never the same player.
Both an illness and the banning of the fair-foul hit may have been contributing factors in his demise, although modern historians lean towards illness being the key factor. Historian Robert H. Schaefer has researched the decline of Barnes and has located many articles during Barnes' playing days that provide sufficient evidence that illness was the real reason. According to Schaefer in issue number 20 of SABR's The National Pastime, "Barnes played in only twenty-two games in 1877 due to "the ague," a malaria-like affliction characterized by alternating high fever and chills, along with a marked loss of strength, stamina, and vitality." Although it appears Barnes made every effort to regain his form, he never completely recovered from his illness.
He finished his career by playing in the International Association in 1878, followed by two seasons in the National League as a shortstop for Cincinnati in 1879 and Boston in 1881. In 1890, he returned to baseball to umpire 56 games in the Players' League.
After his baseball career was done, Barnes held many white-collar jobs. Barnes passed away on February 5, 1915 in Chicago, Illinois due to dilation of the aorta. He is buried in a family plot at the Greenwood Cemetery in Rockford.
Here are the 2013 Overlooked Legend candidates and their point totals:
Ross Barnes, 646 points
Tony Mullane, 583
Doc Adams, 458
Bob Caruthers, 454
Jack Glasscock, 435
Jim Creighton, 403
Dummy Hoy, 372
Paul Hines, 298
Bobby Mathews, 291
Al Reach, 245
You can view Ross Barnes' career statistics at Baseball-Reference.com. Read his SABR biography here, written by Gregory H. Wolf.
For more information on the Overlooked 19th Century Baseball Legends Project, click here or contact Project Chairman Joe Williams.
For more coverage of SABR 43, visit SABR.org/convention.
---
Originally published: August 1, 2013. Last Updated: July 27, 2020.
https://sabr.org/wp-content/uploads/2013/08/Barnes-Ross.jpg
331
200
jpomrenke
/wp-content/uploads/2020/02/sabr_logo.png
jpomrenke
2013-08-01 09:20:00
2020-07-27 16:51:54
SABR 43: Ross Barnes selected as Overlooked 19th Century Baseball Legend for 2013