SABR 44: Third time is a charm for Dan Massey in SABR Trivia Contest
The third time was a charm for Dan Massey of Lancaster, Pennsylvania, who won the individual SABR Trivia Contest on his third career attempt, besting three-time champion David Fleitz in the final on Friday night at SABR 44 in Houston.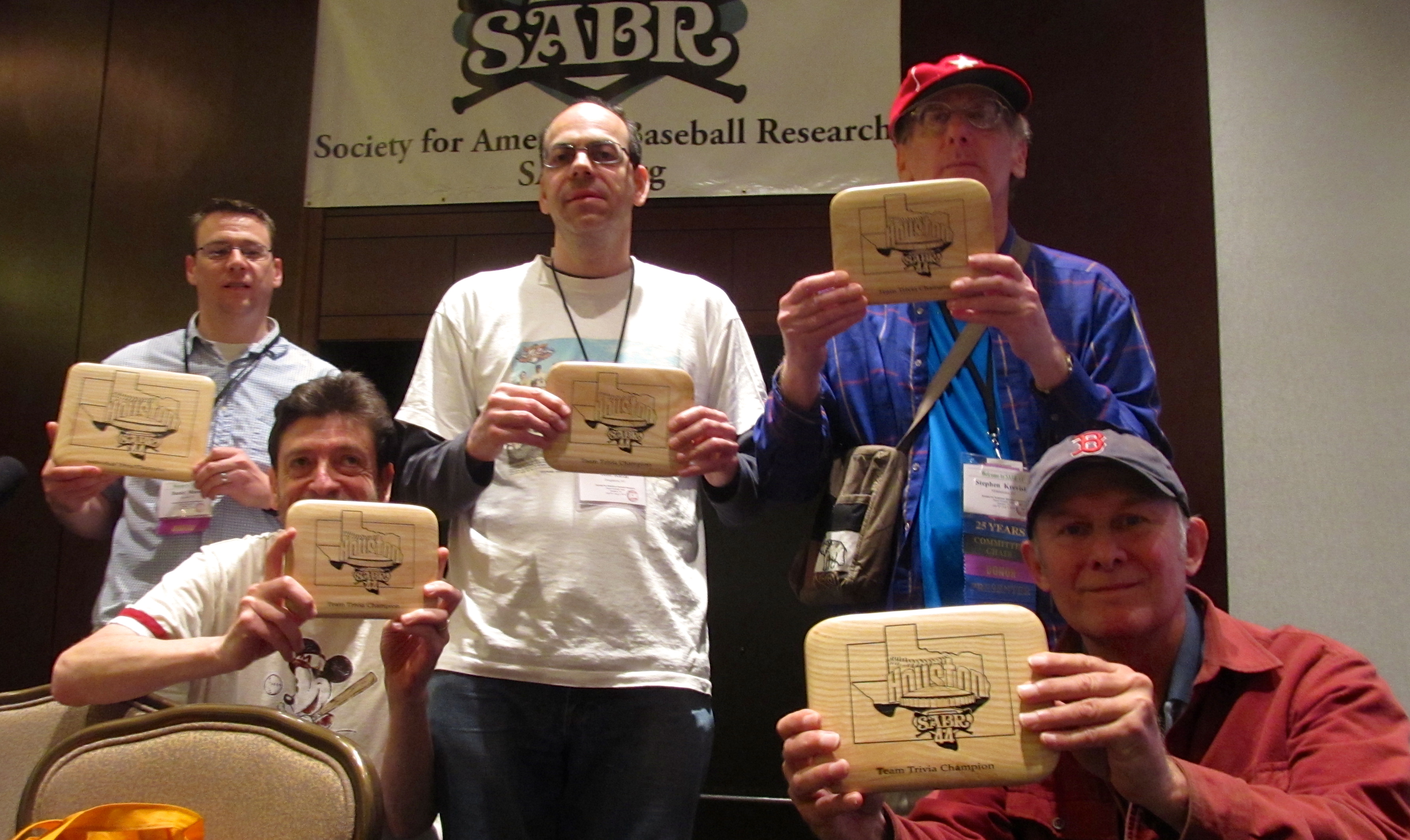 Massey, a certified public accountant who first joined SABR in 2003, had reached the individual semifinals twice before (in 2010 and 2013) but came out on top for the first time Friday. He dominated the early questions about the 500-home run club and 300-game winners and then withstood a late charge from Fleitz, of Pleasant Ridge, Michigan.
Two-time defending champion Mike Caragliano was not in attendance at the Houston convention, which gave Massey hope that he would break through.
"I saw that he wasn't coming, and I got excited that I might have a chance," Massey said. "My wife and I drove down from Pennsylvania, and I read through some baseball almanacs in the car. Other than that, I didn't do much studying this time, just brushing up on some Astros history."
Fleitz won three consecutive individual titles in 2006-08 before voluntarily retiring as the all-time individual leader. Caragliano set a record with his fourth title last year, prompting Fleitz to return. (Bill Carle has also won three individual titles, in 2000, '10-11.)
In the team final, Mark Kanter of Portsmouth, Rhode Island, tied Caragliano for the all-time lead with his ninth overall championship on a New England-based team called The Misspelled Tulowitskis. Kanter; Steve Krevisky of Middletown, Connecticut (seven team titles); Ty Waterman of Attleboro, Massachusetts (four team titles); and Rob Rafal of Douglaston, New York (three team titles), narrowly edged out the Hornsby + 1 team in a dramatic match that went down to the wire.
On the final question, Rafal correctly demonstrated Washington Nationals closer Rafael Soriano's trademark "untuck" celebration to clinch the 25-20 victory for The Misspelled Tulowitskis. Hornsby + 1 staged a late comeback in the category asking for physical demonstrations of Hunter Pence's and Stan Musial's batting stances, Luis Tiant's pitching delivery, and Ichiro Suzuki's batter's box routine, which entertained a large crowd at the Royal Sonesta Houston.
The Hornsby + 1 team consisted of Thomas Thayer, Jan Larson and Bill Gilbert — all members of SABR's Rogers Hornsby Chapter in Austin, Texas — and David Kaiser of Watertown, Massachusetts.
The SABR Trivia Contest was moderated by D. Bruce Brown, co-chair of Horsehide Trivia with T. Scott Brandon and president of the Bob Davids Chapter in Washington/Baltimore. The questions were written and edited by Brown and Brandon, and the contest was proctored by Barb Mantegani with assistance from Diane Firstman, Damian Begley, Stephanie Weiss, and Gregg Gaylord. Brandon also assembled the game boards, illustration and animation of the semifinal and final rounds.
To view a list of previous SABR Trivia Contest winners, click here.
For more coverage of SABR 44, visit SABR.org/convention.
---
Originally published: August 1, 2014. Last Updated: July 27, 2020.
https://sabr.org/wp-content/uploads/2014/08/SABR44-trivia-champs-scaled.jpg
1525
2560
jpomrenke
/wp-content/uploads/2020/02/sabr_logo.png
jpomrenke
2014-08-01 21:48:39
2020-07-27 16:49:39
SABR 44: Third time is a charm for Dan Massey in SABR Trivia Contest