SABR 45: Kanter reaches milestone by winning 10th Trivia Contest; Rafal takes individual title
Mark Kanter of Portsmouth, Rhode Island, became the first person to win 10 overall SABR Trivia Contests at the annual convention, while Rob Rafal of Douglaston, New York, captured his first individual championship on Saturday night during SABR 45 at the Palmer House Hilton in Chicago.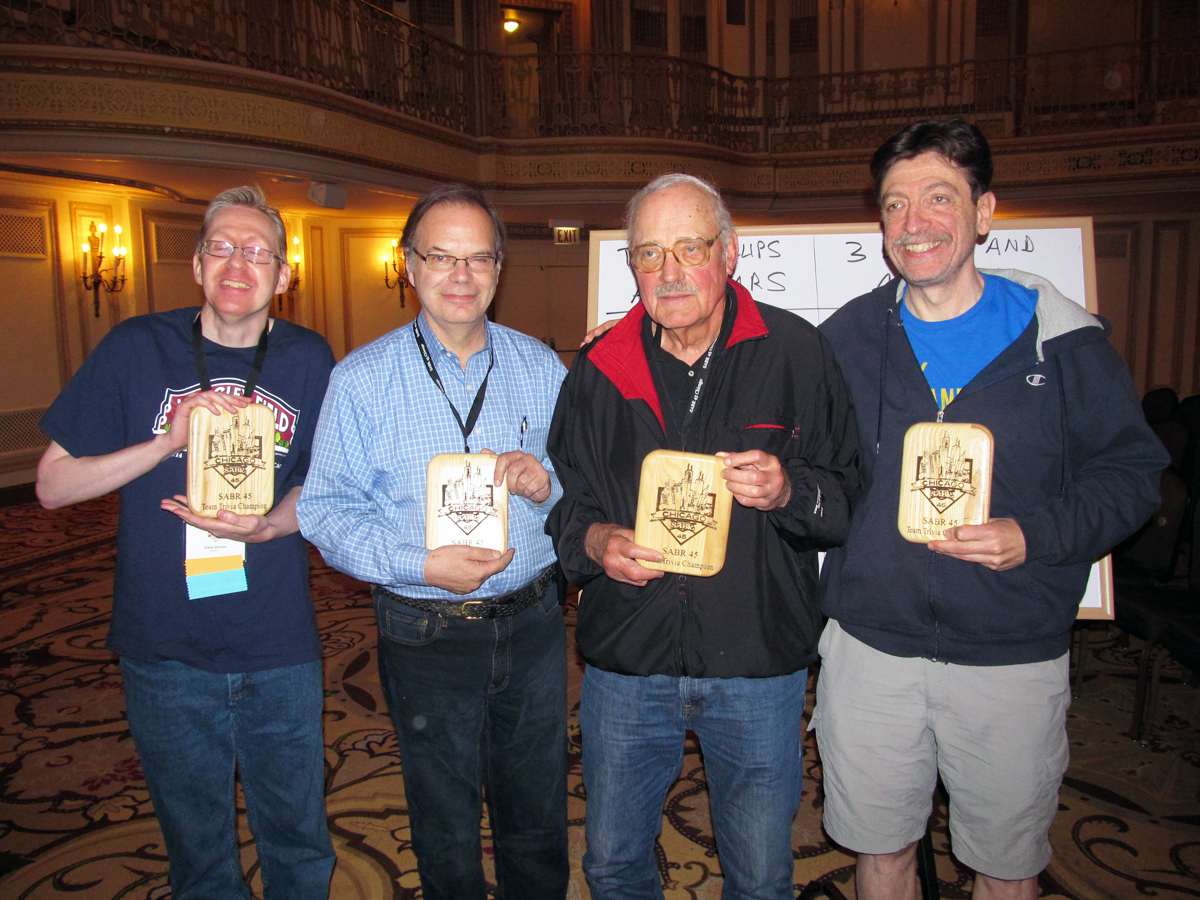 Kanter, a SABR member since 1985, was part of his third winning team in the last four years as a powerhouse quartet called 3 Davids and a Mark staged a late rally in the Trivia Contest team final to win 19-14 after being down by 10 points at halftime. The team of Kanter, David Nemec, David Fleitz, and Dave Zeman had 21 championships between them entering the Chicago SABR convention.
Kanter — who was part of winning teams at the SABR conventions in 1997-98, 2000-03, '07, '12 and last year in Houston — broke a tie with Mike Caragliano for the overall lead in Trivia Contest championships dating back to 1982. Caragliano, who did not attend this year's convention, is the all-time individual leader with four titles and he also has been part of five wining trivia teams.
Nemec, of Eastport, New York, moved into third place all-time with his eighth Trivia Contest crown (1 individual, 7 team). The prolific 19th-century baseball historian, who received his Henry Chadwick Award earlier at SABR 45, was most recently part of a winning trivia team at the 2008 convention in Cleveland, the same year that Fleitz won his third consecutive individual title. Fleitz, of Pleasant Ridge, Michigan, now has four overall championships. Zeman, of Addison, Illinois, won his third team title Saturday night.
---
Test your knowledge: To download questions from the SABR 45 Trivia Contest team preliminary round, click here. (For answer key, click here.)
---
After facing an 11-1 deficit at halftime, the 3 Davids and a Mark team rallied to take the lead after a clean sweep on a category about Cubs and White Sox players called "Say It Ain't Minososa" that included questions about Eddie Cicotte, Lee Elia, George Bell, Ed Reulbach, and Clark Griffith.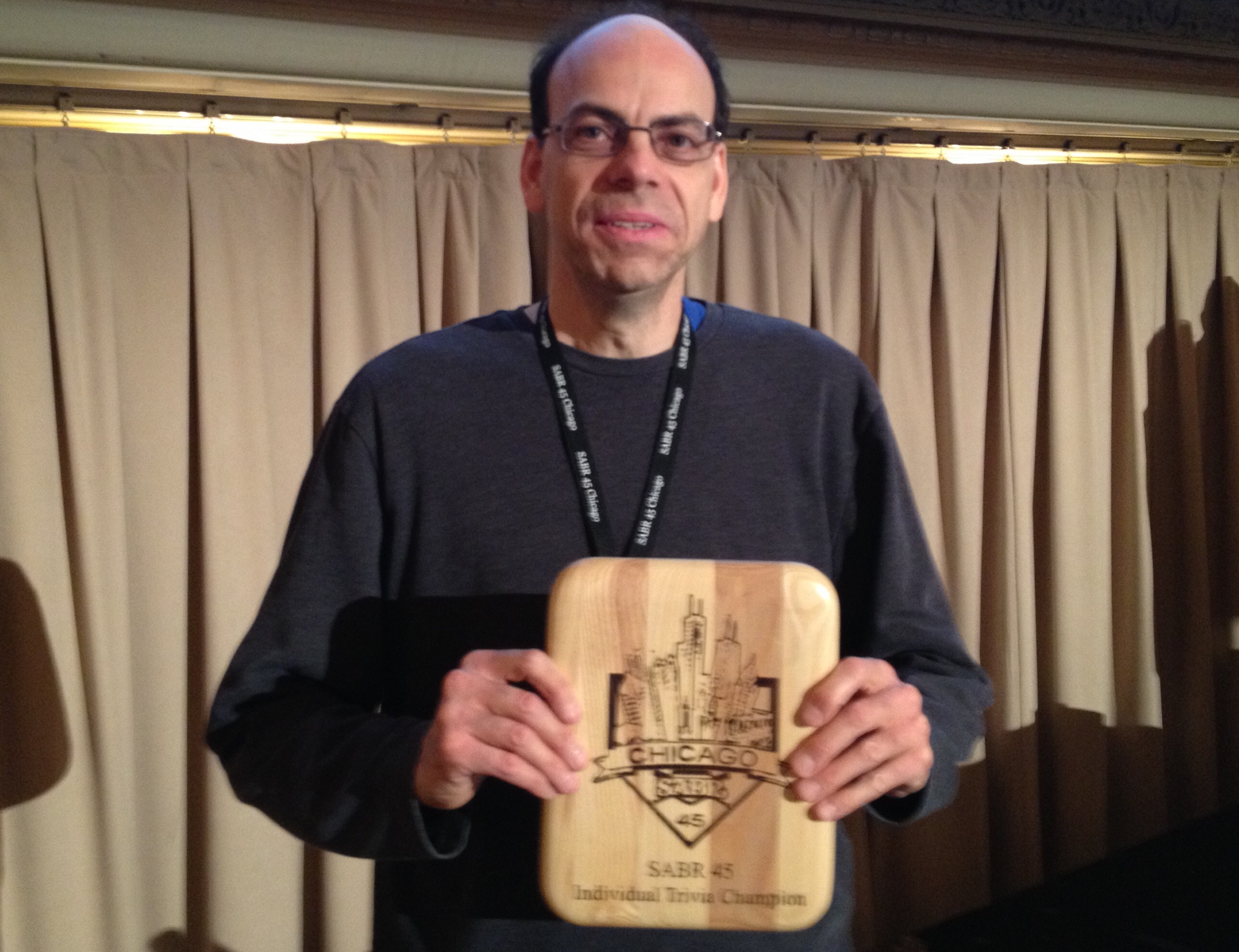 Rafal — who was part of the runner-up team (Tony Phillips All-Stars) along with David Raglin, R.J. Lesch, and Stephen Roney — gained a measure of consolation by capturing his first individual title earlier in the night over Stew Thornley of Roseville, Minnesota. Rafal, who has four overall titles to his credit, had previously been part of winning trivia teams in 2005 in Toronto, 2009 in Washington, and 2014 in Houston.
The SABR Trivia Contest was moderated by D. Bruce Brown, co-chair of Horsehide Trivia with T. Scott Brandon and president of the Bob Davids Chapter in Washington/Baltimore. The questions were written and edited by Brown and Brandon, and the contest was proctored by Barb Mantegani with assistance from Diane Firstman, Damian Begley, Stephanie Weiss, Gregg Gaylord, Steve Krevisky, and Jeffrey Giancana. Brandon also assembled the game boards, illustration and animation of the semifinal and final rounds.
To view a list of previous SABR Trivia Contest winners, click here.
For more coverage of SABR 45, visit SABR.org/convention.
---
Originally published: June 27, 2015. Last Updated: July 27, 2020.
https://sabr.org/wp-content/uploads/2015/06/SABR45-2015-trivia-team-winners.jpg
900
1200
jpomrenke
/wp-content/uploads/2020/02/sabr_logo.png
jpomrenke
2015-06-27 21:57:30
2020-07-27 16:48:41
SABR 45: Kanter reaches milestone by winning 10th Trivia Contest; Rafal takes individual title