SABR 45: Tony Mullane selected as Overlooked 19th Century Baseball Legend for 2015
Anthony John "Tony" Mullane has been selected as SABR's Overlooked 19th Century Baseball Legend for 2015. The announcement was made Friday, June 26 at the Nineteenth Century Committee's annual business meeting held at SABR 45 in Chicago.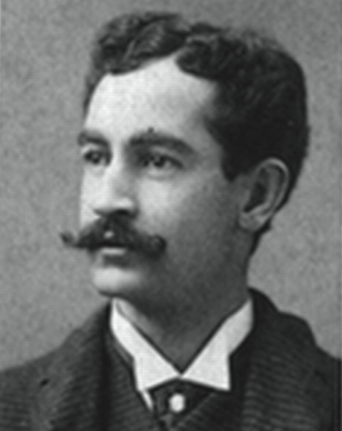 In May, members of SABR submitted their votes for the 2015 Overlooked 19th Century Base Ball Legend — a 19th-century player, manager, executive or other baseball personality not yet inducted into the National Baseball Hall of Fame in Cooperstown, New York.
Previous Overlooked Legends were Pete Browning in 2009, Deacon White in 2010, Harry Stovey in 2011, Bill Dahlen in 2012, Ross Barnes in 2013, and Doc Adams last year. White became the first Overlooked Legend to be inducted into the Hall of Fame in 2013.
Pat Venditte of the Oakland Athletics made headlines earlier this season when he made his debut in the Major Leagues. Venditte is a switch pitcher, so naturally fans began to wonder about the history of switch pitching in the Major Leagues. This once again brought Tony Mullane's name in the spotlight. After all, he was the first Major League pitcher to throw with both hands.
While pitching for the Louisville Eclipse on July 18, 1882, Mullane found himself trailing the lowly Baltimore Orioles 7-1 after three innings. In the fourth, he decided to mix things up by pitching left-handed. He switched back-and-forth for the remainder of the game he narrowly lost 9-8.
Mullane would only switch-pitch in two more Major League games (he pulled the trick mostly during exhibition games), but he will forever remain a footnote in history. Mullane is already one of the more well-known 19th century pitchers, given his high win total (284, trailing only Roger Clemens, 19th century hurler Bobby Mathews, and Tommy John among eligible non-Hall of Fame pitchers) and his induction to the Cincinnati Reds Hall of Fame in 2010.
Mullane was born in County Cork, Ireland, in 1859 and came to the United States five years later. Nicknamed the "Count" and the "Apollo of the Box" for his good looks and polished appearance, Mullane was a popular player who was often called to pitch on "Ladies' Day" to get more fans to the field.
After a brief five-game stint in 1881 with the Detroit Wolverines of the National League, Mullane joined Louisville of the then major league American Association the following season. Mullane won 30 games with a 1.88 ERA in over 460 innings pitched for the second place Eclipse. In 1883, he joined the St. Louis Browns and led them to a second place finish in the AA, winning 35 games with a 2.19 ERA. After flirting with playing for the St. Louis Maroons of the Union Association, despite being under contract with the Browns, he ended up in Toledo of the AA in 1884. He led the mediocre Blue Stockings with 36 wins, 325 strikeouts and 567 innings pitched.
Mullane's "revolving" finally caught up with him in 1885. Toledo folded and he became property of St. Louis once again. Mullane decided to sign and play with Cincinnati instead. For his actions, Mullane was suspended for the entire 1885 season which likely cost him the 16 wins to reach 300 career victories. In 1886, he joined Cincinnati and stayed with the team until June 1893, when he was traded to Baltimore. With the Red Stockings (team changed their name to the Reds when they joined the NL in 1890), Mullane won 20 or more games five times—including 33 in 1886 and 31 in 1887—even though the Reds were usually in the bottom half of the standings. In 1892, he left the team to protest his salary being cut, which cost him a few more wins. Mullane was a fine all around player who played the field in over 200 games when he didn't pitch and hit a respectable .243 for his career, scoring over 400 runs and stealing over 100 bases. He played minor league ball as late as 1902.
In 13 big league seasons, Mullane threw over 4,531 innings (24th all time), won 284 games (29th all time), and completed 468 games (10th all time). At the time of his retirement, he ranked seventh in wins, sixth in innings, seventh in complete games, and sixth in strikeouts. While not a statistic at the time, his 15 saves were the most at the time of his retirement.
From a sabermetric perspective, Mullane was the most valuable pitcher in the history of the American Association major league, according to Baseball-Reference.com's Wins Above Replacement (WAR). His 42.0 WAR edges out Bob Caruthers (though Caruthers was more valuable overall due to his hitting prowess). Mullane appeared on the 2013 Pre-Integration Committee's Hall of Fame ballot. He seems likely to return to the ballot this fall.
Mullane, the first pitcher to be selected as an Overlooked Legend, finished ahead of shortstop Jack Glasscock. Here are the final election results, with their point totals:
Tony Mullane, 482 points
Jack Glasscock, 465
Jim Creighton, 402
Bob Caruthers, 397
Dummy Hoy, 333
Al Reach, 290
Charlie Bennett*, 283
George Van Haltren, 268
Bobby Mathews, 250
Paul Hines, 249
Jimmy Ryan*, 211
* Bennett and Ryan were first-time finalists
For more information on the Overlooked 19th Century Baseball Legends Project, visit SABR.org/overlooked-19th-century-baseball-legends or contact Project Chairman Adam Darowski.
For more coverage of SABR 45, visit SABR.org/convention.
---
Originally published: June 26, 2015. Last Updated: July 27, 2020.
https://sabr.org/wp-content/uploads/2014/11/Mullane-Tony.png
431
342
jpomrenke
/wp-content/uploads/2020/02/sabr_logo.png
jpomrenke
2015-06-26 14:10:00
2020-07-27 16:48:41
SABR 45: Tony Mullane selected as Overlooked 19th Century Baseball Legend for 2015