SABR 47: Bob Caruthers selected as Overlooked 19th Century Baseball Legend for 2017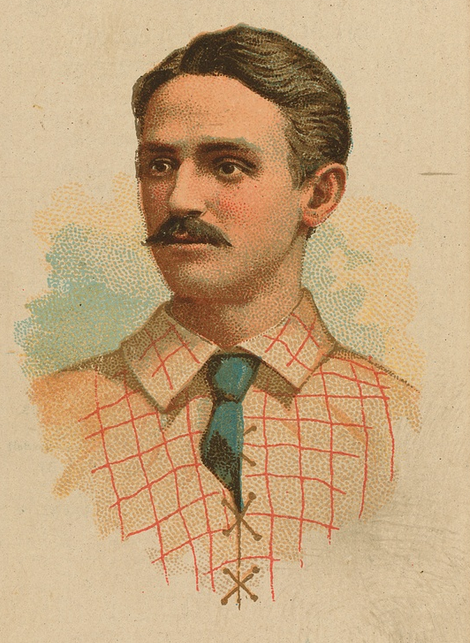 Robert Lee "Bob" Caruthers has been selected as SABR's Overlooked 19th Century Baseball Legend for 2017. The announcement was made Saturday, July 1 at the Nineteenth Century Committee's annual business meeting held at SABR 47 in New York.
In May, members of SABR submitted their votes for the 2017 Overlooked 19th Century Base Ball Legend — a 19th-century player, manager, executive or other baseball personality not yet inducted into the National Baseball Hall of Fame in Cooperstown, New York.
Previous Overlooked Legends were Pete Browning in 2009, Deacon White in 2010, Harry Stovey in 2011, Bill Dahlen in 2012, Ross Barnes in 2013, Doc Adams in 2014, Tony Mullane in 2015, and Jack Glasscock last year. White became the first Overlooked Legend to be inducted into the Hall of Fame in 2013.
Born in Memphis, Tennessee and raised in Chicago, Illinois, Robert Lee Caruthers was among the greatest all-around players of his day. He was an outstanding pitcher with a deceptive right-handed delivery and a hard-hitting outfielder who had a solid reputation as a defensive player and a baserunner.
Before signing with the St. Louis Browns of the American Association in 1884, Caruthers played for Grand Rapids (1883) and Minneapolis (1884) of the Northwestern League. The 20-year-old with a slight build at 5-feet-4, 140 pounds, made his major-league debut for the Browns on September 7, 1884, and went 7-2 in 13 games to close out the season. In 1885, he teamed with Dave Foutz to lead the Browns to the pennant, going 40-13 and leading the league in wins, winning percentage (.755), and ERA (2.07). After the 1885 season he went to Paris, France, and became engaged in a trans-Atlantic salary dispute with Browns owner Chris Von der Ahe, earning his nickname "Parisian Bob" and settling for a $3,200 salary. The Browns won the pennant again in 1886 with Caruthers going 30-14 with a 2.32 ERA (second in the league) while hitting .334, slugging .527 and leading the league with a .448 on-base percentage. The 1887 season was much of the same with a league pennant, a 29-9 record and a league-leading .763 winning percentage, at the same time hitting .357, slugging .547, scoring 102 runs, stealing 49 bases, and a .463 on-base percentage.
After the season in a Von der Ahe shakeup, Caruthers was traded to Brooklyn where he would play for four seasons, winning 29, 40, 23 and 18 games, respectively, while contributing to pennant winners in 1889 and 1890, Brooklyn's first season in the NL. In 1892, he went back to the Browns, now an NL team, and played primarily in the outfield, having career highs in games (143), at-bats (513), hits (142), and walks (86). The 1893 season was his last in the majors, playing briefly for the Chicago Colts and the Cincinnati Reds. He finished with a 218-99 record, an ERA of 2.83, and a .391 OBP for his career. He continued playing in the minors until 1898 before becoming an American League umpire in 1902 and 1903.
From a sabermetric perspective, Caruthers is a unique figure. He joins Babe Ruth and John Montgomery Ward as the only three players to accrue 16 or more Wins Above Replacement (per Baseball-Reference.com) both at the plate and on the mound. Caruthers earned 37.8 WAR as a pitcher in the American Association, topped only by 2015 Overlooked Legend Tony Mullane (42.0). However, once Caruthers' batting totals are added, he eclipses Mullane as the most valuable player in the American Association's history, 50.0 WAR to 48.7.
Caruthers has been an Overlooked Legend finalist every year since 2010. This year, he finished 74 points ahead of runner-up Jim Creighton. Here are the final election results, with their point totals:
Bob Caruthers, 590 points
Jim Creighton, 516
Dummy Hoy, 416
Bobby Mathews, 370
Charlie Bennett, 365
Paul Hines, 328
Al Reach, 332
Chris Von der Ahe, 332
Dickey Pearce, 282
Jimmy Ryan, 272
For an extended biography of Bob Caruthers, see his SABR bio written by Charles F. Faber.
For more information on the Overlooked 19th Century Baseball Legends Project, visit SABR.org/overlooked-19th-century-baseball-legends or contact Project Chairman Adam Darowski at adarowski@gmail.com.
For more coverage of SABR 47, visit SABR.org/convention.
---
Originally published: July 1, 2017. Last Updated: July 27, 2020.
https://h2j7w4j4.stackpathcdn.com/wp-content/uploads/2020/03/research-collection4_350x300.jpg
300
350
admin
/wp-content/uploads/2020/02/sabr_logo.png
admin
2017-07-01 12:15:00
2020-07-27 16:14:49
SABR 47: Bob Caruthers selected as Overlooked 19th Century Baseball Legend for 2017