SABR 48: William Hoy selected as Overlooked 19th Century Baseball Legend for 2018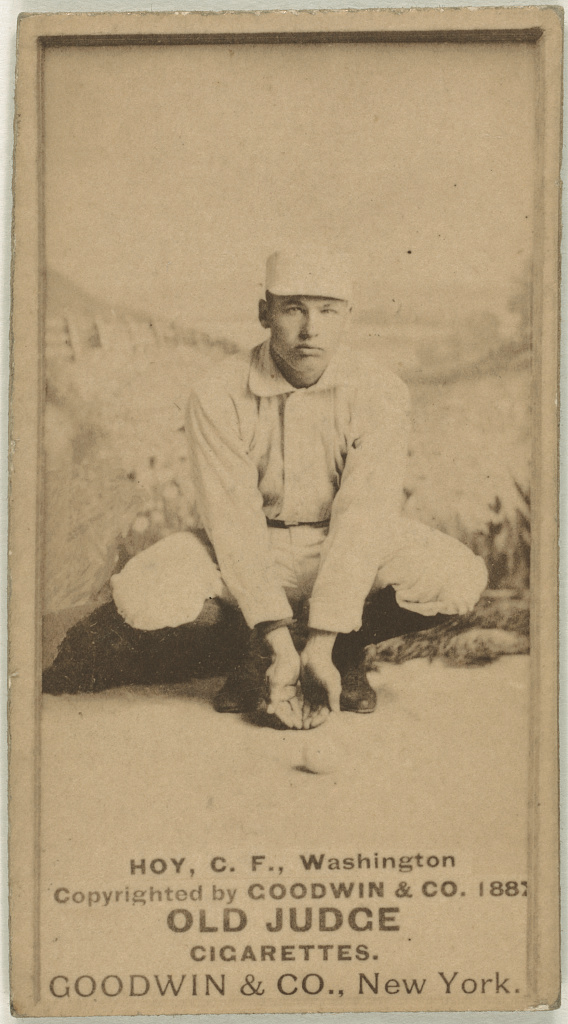 William Ellsworth "Dummy" Hoy has been selected as SABR's Overlooked 19th Century Baseball Legend for 2018. The announcement was made June 23, 2018, at the Nineteenth Century Committee's annual business meeting held at SABR 48 in Pittsburgh, Pennsylvania.
In May, members of SABR submitted their votes for the 2018 Overlooked 19th Century Base Ball Legend — a 19th-century player, manager, executive or other baseball personality not yet inducted into the National Baseball Hall of Fame in Cooperstown, New York.
Previous Overlooked Legends were Pete Browning in 2009, Deacon White in 2010, Harry Stovey in 2011, Bill Dahlen in 2012, Ross Barnes in 2013, Doc Adams in 2014, Tony Mullane in 2015, Jack Glasscock in 2016, and Bob Caruthers last year. White became the first Overlooked Legend to be inducted into the Hall of Fame in 2013.
Hoy played 14 seasons in four major leagues, spending the most time in Cincinnati and Washington of the NL. Hoy was deaf and had difficulty speaking. Despite his challenges, he was among the best center fielders and leadoff hitters in the game. He accumulated 2,048 hits, 1,429 runs, 121 triples, 596 stolen bases and 1,006 walks while hitting .288 with a .386 OBP. In 1901, at the age of 39, he played for the American League champion White Stockings, leading the league in walks and hit by pitches.
When he retired, he ranked ninth in games played, second in bases on balls, fourth in stolen bases and sixth in hit by pitches. He was the career leader in games played in center field (1,727) until 1920.
Some historians credit Hoy with umpires using hand signals for balls and strikes and safe and out calls, but their view is open to question. Historian Bill Deane challenges that claim. Deane said, "We can find no contemporary articles about Hoy, or even any written while he was alive, that claim a connection between Hoy and the umpire's hand signals–much less any claim by Hoy himself." Bill Klem, a showboating umpire who began his umpiring career two years after Hoy retired, is officially credited with inventing hand signals as noted on his Hall of Fame plaque. Still, the deaf boy from Ohio became one of the best players of his era and lived to be 99 (at the time, a record age for a former major league player).
Hoy is the only player two score 100 or more runs in a season in four major leagues, doing so in the Players League (1890), American Association (1891), National League (1892–94, 96, 98–99), and American League (1901). From a sabermetric perspective, Hoy was worth 32.6 Wins Above Replacement (WAR) in his career. At the time of his retirement, that ranked 44th among batters and sixth among center fielders. Hoy also holds the distinction of being the only player to achieve a 2+ WAR season in four major leagues. He peaked with 4.3 WAR as a member of the 1888 Washington Nationals in the National League. He also earned 4.2 WAR with the 1901 Chicago White Sox in the American League, 3.4 WAR with the 1891 St. Louis Browns in the American Association, and finally 2.6 WAR for the 1890 Buffalo Bisons of the Players League.
Hoy was an Overlooked Legend finalist every year since 2013. This year, he finished just eight points ahead of runner-up Jim Creighton. Here are the final election results, with their point totals:
William Hoy, 418 points
Jim Creighton, 410
Bobby Mathews, 391
Charlie Bennett, 369
Paul Hines, 355
Tommy Bond, 350
Al Reach, 348
Chris Von der Ahe, 330
George Van Haltren, 307
George Stovey, 295
Dickey Pearce, 225
For an extended biography of William Hoy, see his SABR bio written by Ralph Berger.
For more information on the Overlooked 19th Century Baseball Legends Project, visit SABR.org/overlooked-19th-century-baseball-legends or contact Project Chairman Adam Darowski at adarowski@gmail.com.
For more coverage of SABR 48, visit SABR.org/convention.
---
Originally published: June 23, 2018. Last Updated: July 19, 2022.
https://h2j7w4j4.stackpathcdn.com/wp-content/uploads/2020/03/research-collection4_350x300.jpg
300
350
admin
/wp-content/uploads/2020/02/sabr_logo.png
admin
2018-06-23 12:36:11
2022-07-19 14:41:09
SABR 48: William Hoy selected as Overlooked 19th Century Baseball Legend for 2018