SABR AFL Conference gets preview of MLB's top prospects
SABR members were treated to a scout's preview of the Rising Stars Game on Saturday morning, then got to see Major League Baseball's top prospects with their own eyes on the final day of the 2012 SABR Arizona Fall League Conference.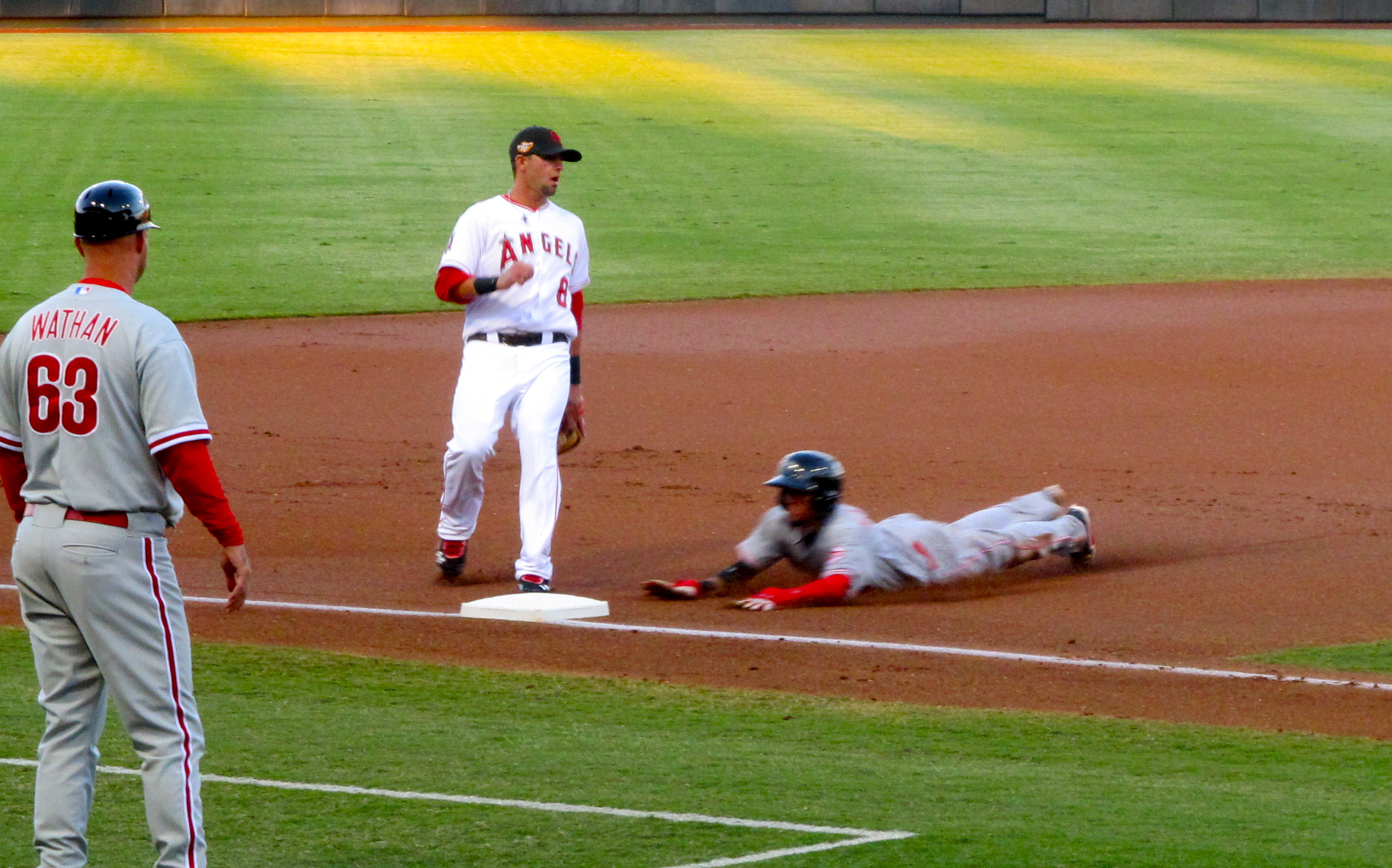 Billy Hamilton, the speedy Cincinnati Reds minor leaguer who set an all-time single-season professional baseball record with 155 stolen bases, was the highlight of Saturday's Rising Stars Game at Salt River Fields at Talking Stick. He stole two bases in the first inning, made a stellar running catch in deep center field, and raced to third base on a drag-bunt single in the fifth, scoring two runs and living up to his hype as the fastest player in baseball.
"He could play center field in the major leagues tomorrow. He has tremendous closing speed, the fastest player I've seen," Bernie Pleskoff said at the SABR Flame Delhi Chapter meeting on Saturday morning. Pleskoff is a former scout with the Astros and Mariners who now writes for MLB.com and Rotowire. (Follow him on Twitter at @BerniePleskoff.)
"But he still has work to do. He has to learn to take more pitches, which he's working on here in the fall league. He should beat the ball into the ground and use his speed to get on base. That's where he's at his best."
Pleskoff also offered his thoughts on several other top prospects who are turning heads in the AFL:
Christian Yelich, OF, Marlins: "He's the best overall player I've seen this year. He puts the barrel on the ball all the time, with a nice, measured swing. He's 20 and he's far from the major leagues right now, but he is my No. 1 player."
Didi Gregorius, SS, Reds: "I consider him to be the best overall athlete in the fall league. Everything about him flows; when you watch him, you think 'How can anyone move as smoothly as he does?' His bat hasn't caught up to his defense yet, but he's getting better."
James Paxton, LHP, Mariners: "He's the closest to the majors of anyone in the AFL, in my opinion. He's come around slowly, as many left-handers do. But his command is much better now and that ballpark (Safeco Field) is only going to help him."
Rymer Liriano, OF, Padres: "When he grows up, watch out. He's got a big upper body with a slightly uppercut swing. For pure power, he's my guy."
Nick Franklin, 2B, Mariners: "He came up as a shortstop, but now he's at second base. And what that tells me is that Dustin Ackley is on a short rope. Franklin could play his way to Seattle real soon."
Gary Brown, OF, Giants: "He's made the most significant mechanical change of anyone I've seen from spring training (of 2012) to now. When I saw him in March, he couldn't reach a ball on the outside part of the plate. But he's made some adjustments and now he's on his way. He can bunt, he can steal bases. It's possible he could break with San Francisco in 2013, but where will he play?"
Ronny Rodriguez, SS, Indians: "He's a sleeper. Follow the money: When teams pay a lot of money, it doesn't mean the player is good. It means he will play. They're not going to spend all that money for a player to sit on the bench."
Matt Sczuzr, OF, Cubs: "His best tool is his heart. When a little girl needed a bone marrow transplant, he stepped up. He played wide receiver at Villanova, so he reminds me a little of Jeff Samardzija. He can go get a ball in the outfield, but not in any proficient way. But when you've got a guy that will run through the wall for you, that energy alone will help lift the Cubs."
Luis Sardinas, SS, Rangers: "I write about him every single day. He's 19 years old and he impresses me so much. I don't know how Texas does it; they have the best international scouts in the world. I love to see good defense. When the ball goes into his glove, it disappears."
Flame Delhi Chapter president Rodney Johnson also spoke about some memorable plays in his experience as an official scorer with the Arizona Diamondbacks, including the end of Darwin Barney's streak of consecutive errorless games — just three outs shy of the major league record — in September 2012.
Johnson also talked about the chapter's namesake, Flame Delhi, the first Arizona native to make the major leagues who pitched one game for the Chicago White Sox one hundred years ago. (Read Delhi's SABR biography here.)
"That's what SABR is all about," said Johnson, who is also organizer of the SABR AFL Conference. "Everyone loves Ted Williams. Who else but us loves Flame Delhi?"
Below, check out some photos from Day 3 at the SABR AFL Conference. Photos from Thursday's events can be seen here and photos from Friday's events can be seen here.
For more coverage of the 2012 SABR AFL Conference, visit SABR.org/AFL. Hope to see you next year!
---
Originally published: November 4, 2012. Last Updated: November 4, 2012.
https://sabr.org/wp-content/uploads/2012/11/IMG_4886.JPG
1595
2557
jpomrenke
/wp-content/uploads/2020/02/sabr_logo.png
jpomrenke
2012-11-04 22:58:11
2012-11-04 22:58:11
SABR AFL Conference gets preview of MLB's top prospects