SABR Diamond Report: October 2012
Editor's note: The Diamond Report is a series of monthly messages, written by SABR President Vince Gennaro and Executive Director Marc Appleman, to keep SABR members better informed about the Society's direction and progress. The Diamond Report archives are collected at SABR.org/diamondreport. To learn more about becoming a SABR member, visit SABR.org/join.
October 1, 2012
By Vince Gennaro
SABR President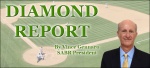 In recent months, SABR leadership has placed a focus on stabilizing our financial base, so that we can thrive as the premier baseball research organization for generations to come. While many important and necessary issues were being addressed, we would also like to emphasize how much great research is going on today within SABR. As we forge relationships to better connect SABR to the broader baseball community and mount a donation drive to truly capitalize on our status as a nonprofit organization, we must always remember why we do these initiatives — to give us the resources so that we can excel at being a research organization.
That doesn't mean all of SABR's 6,000+ members are researchers. Many of our members simply want the best access to the stimulating and thought-provoking analysis, insights and historical documentation of baseball produced by our core researchers. But it does mean that without the efforts of these core researchers who put the "R" in SABR, we would be a very different organization.
I believe we are in the midst of the Golden Era of baseball research today. First, the Internet has increased the velocity at which information is shared. This means more access to data and historical accounts to produce research, as well as a greater opportunity to efficiently reach more people who consume our research. This is evident in the proliferation of websites and blogs that focus on baseball — its history and analysis. When you couple these realities with the popularity of the game today, I believe there has never been a better time to be a baseball researcher or SABR member.
I'd like to highlight just a few of the many great research efforts taking place within SABR today — work that is sure to have an enduring and lasting effect on baseball. Many of these projects are looking for more SABR members' participation, which is a great way to become involved in a research project or collaborate with fellow members:
This is just a sampling of some of the diverse research initiatives and projects within SABR today.
Vince Gennaro was elected as SABR's President in 2011. He is also the author of "Diamond Dollars: The Economics of Winning in Baseball", a consultant to Major League teams, and appears regularly on MLB Network. Read his blog, "Diamond Dollars", at vincegennaro.mlblogs.com.
---
Originally published: September 30, 2012. Last Updated: September 30, 2012.
https://sabr.org/wp-content/uploads/2020/03/research-collection4_350x300.jpg
300
350
jpomrenke
/wp-content/uploads/2020/02/sabr_logo.png
jpomrenke
2012-09-30 16:24:43
2012-09-30 16:24:43
SABR Diamond Report: October 2012