SABR Digital Library: Cincinnati's Crosley Field: A Gem in the Queen City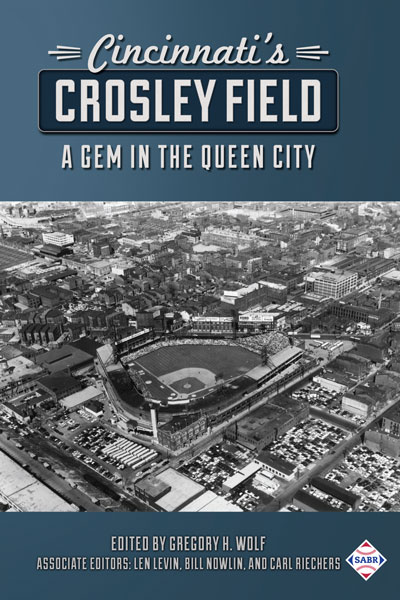 Add this new book from the SABR Digital Library to your collection, on one of baseball's classic crown jewels:
Cincinnati's Crosley Field: A Gem in the Queen City
Edited by Gregory H. Wolf
Associate Editors: Len Levin, Bill Nowlin, and Carl Riechers
ISBN (paperback): 978-1-943816-75-0, $19.95
ISBN (e-book): 978-1-943816-74-3, $9.99
311 pages, 8.5″ x 11″
April 11, 1912, marked a new era in the history of the Cincinnati Reds. On that day the team inaugurated the season by playing its first game at Redland Field, which was renamed Crosley Field in 1934 in honor of the team's owner, Powel Crosley. The new steel and concrete ballpark was located at the site of its predecessor, the outdated wooden Palace of the Fans at the intersection of Findlay Street and Western Avenue. For almost six decades, Crosley Field beckoned like a shining gem surrounded by warehouses and industrial complexes in the Queensgate neighborhood of the Queen City. The Reds closed the book on Crosley Field on June 24, 1970, and moved into Riverfront Stadium, a modern all-purpose sports venue that held almost twice as many spectators.
This book evokes memories of Crosley Field through detailed summaries of more than 85 historic and monumental games played there, and 10 insightful feature essays about the history of the ballpark. Former Reds players Johnny Edwards and Art Shamsky share their memories of the park in introductions.
Among the exciting contests recounted here are an Opening Day no-hitter in 1918, action from the infamous 1919 World Series, Negro Leagues games, Joe DiMaggio's 1939 World Series heroics, Johnny Vander Meer's incredible summer of two no-hitters, and no-hitters by Lon Warneke and Clyde Shoun. Hank Aaron's 3,000th hit took place at Crosley Field, as did indelible performances by Pete Rose, Roberto Clemente, and Frank Robinson.
This volume is a collaborative effort of more than three dozen members of the Society for American Baseball Research (SABR), including: John Bauer, Phillip Bolda, Leo Bradley, Bob Buege, Alan Cohen, Richard Cuicchi, Chad Dotson, Paul E. Doutrich, Chris Eckes, Johnny Edwards, Greg Erion, Doug Feldmann, Dan Fields, Lon L. Garber, Gordon J. Gattie, Michael Huber, Kirk C. Jenkins, Norm King, Russ Lake, Len Levin, Michael T. Lynch Jr., Luke Miller, Mark Miller, Kellen Nielson, Bill Nowlin, Tom Pardo, Jacob Pomrenke, Greg Rhodes, Carl Riechers, C. Paul Rogers III, Rick Schabowski, Bill Schneider, Joe Schuster, Art Shamsky, Mark S. Sternman, Joseph Wancho, Mike Whiteman, Gregory H. Wolf, and Brian P. Wood.
SABR members, get this e-book for FREE!
Buy the book
About the SABR Digital Library

For more than 40 years, SABR and its members have led the way in publishing the best baseball historical and statistical research. Our publications program is shifting to take advantage of new methods of publishing. Not only will we continue to publish new books like Can He Play? A Look At Baseball Scouts and Their Profession (released in December 2011); Detroit Tigers 1984: What A Start! What A Finish! (December 2012); Sweet '60: The 1960 Pittsburgh Pirates (April 2013); Inventing Baseball: The 100 Greatest Games of the 19th Century (July 2013); Scandal on the South Side: The 1919 Chicago White Sox (June 2015); The Team That Time Won't Forget: The 1951 New York Giants (December 2015); Nuclear Powered Baseball/The Simpsons (February 2016), Au jeu/Play Ball: The 50 Greatest Games in the History of the Montreal Expos (April 2016); Cuban Baseball Legends (July 2016); Baseball's Business: The Winter Meetings: 1901-1957 (December 2016); Dome Sweet Dome: History and Highlights from 35 Years of the Houston Astrodome (February 2017); No-Hitters (May 2017); Puerto Rico and Baseball (June 2017); Bittersweet Goodbye: The Black Barons, the Grays, and the 1948 Negro League World Series (July 2017), The Whiz Kids Take the Pennant (January 2018), and Major League Baseball A Mile High: The First Quarter Century of the Colorado Rockies (May 2018), which showcase the best efforts of SABR's members, chapters and committees, but new technology makes it possible for us to bring out-of-print titles like Run, Rabbit, Run: The Hilarious and Mostly True Tales of Rabbit Maranville (February 2012), Great Hitting Pitchers (March 2012), Nineteenth Century Stars (August 2012); Batting (January 2013); The Fenway Project (September 2013); '75: The Red Sox Team That Saved Baseball (April 2015), and The 1967 Impossible Dream Red Sox: Pandemonium on the Field (June 2017) back again.
Books will be available in digital formats as well as paperbacks produced by "print on demand" (POD).
SABR members will get discounted rates for all Digital Library publications, including many for free. If you're not a member, click here to join SABR.
Stay tuned throughout the year for new (and old!) titles that we'll be adding to the SABR Digital Library. To learn more about SABR Publications, contact Publications Editor Cecilia Tan at ctan@sabr.org.
Having trouble downloading our e-books? To view PDF files on your computer, click here to download the free Adobe Reader software. Having trouble downloading e-books to your Kindle, Nook, Sony Reader or iPad? Click here for additional help.
---
Originally published: June 29, 2018. Last Updated: August 20, 2020.
https://sabr.org/wp-content/uploads/2019/10/Crosley-Field-cover-front-400x600-1.jpg
600
400
admin
/wp-content/uploads/2020/02/sabr_logo.png
admin
2018-06-29 01:06:30
2020-08-20 01:02:55
SABR Digital Library: Cincinnati's Crosley Field: A Gem in the Queen City