SABR Digital Library: Go-Go to Glory: The 1959 Chicago White Sox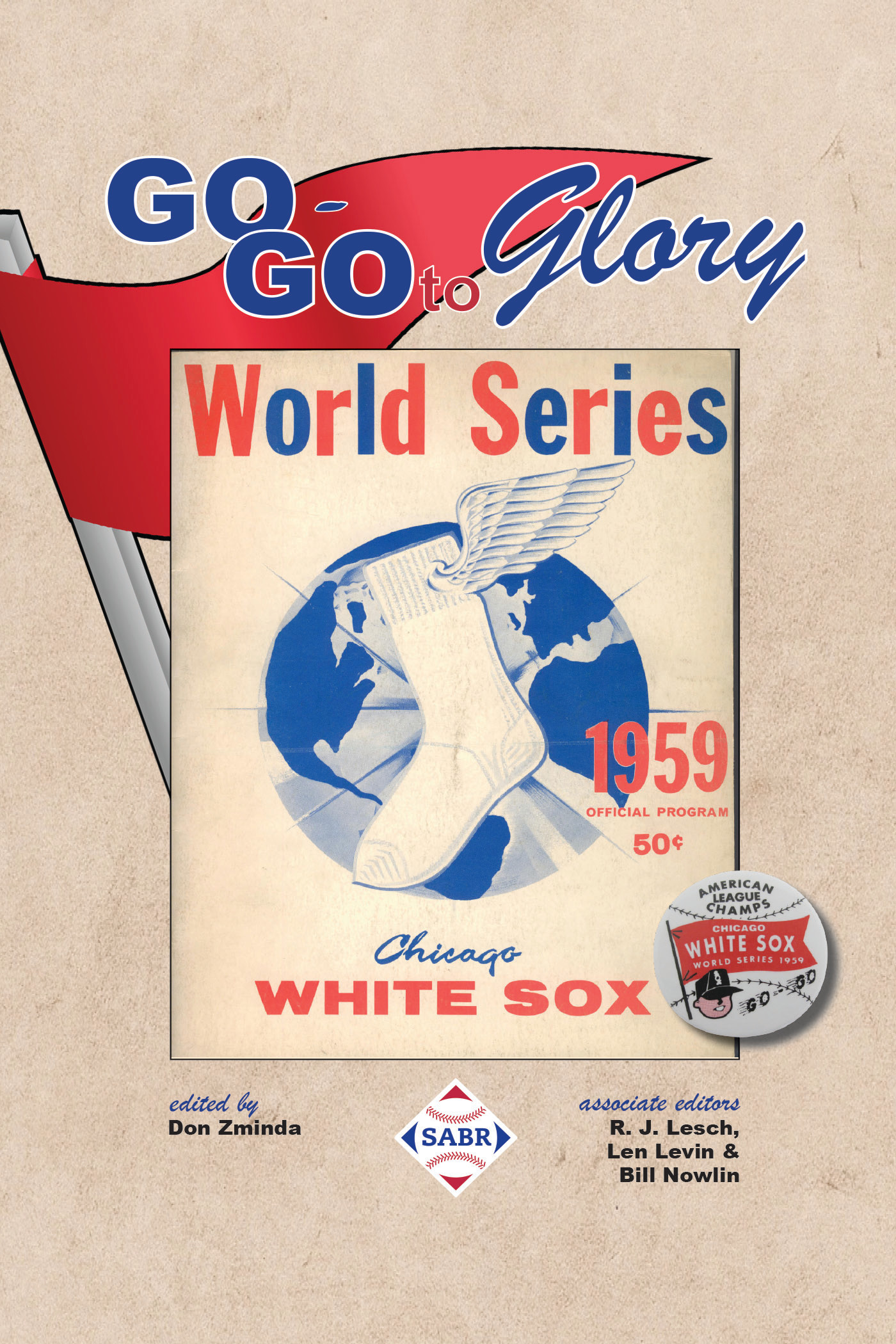 Sound off the sirens! Add a championship baseball book to your collection with our newest title from the SABR Digital Library:
Go-Go to Glory: The 1959 Chicago White Sox
Edited by Don Zminda
Associate editors: R.J. Lesch, Len Levin, Bill Nowlin    
ISBN (e-book): 978-1-9701-5910-3, $9.99 
ISBN (paperback): 978-1-9701-5911-0, $29.95
8.5″ x 11″, 320 pages
The 1959 Chicago White Sox broke a 40-year pennant drought on the city's South Side, begun after the 1919 Black Sox Scandal. The scrappy Go-Go Sox, with pitching, fielding and timely hitting, finally overcame the New York Yankees' dominance of the American League, only to lose to the Los Angeles Dodgers in the World Series.
Go-Go to Glory is a tribute to the men of that Go-Go Sox team. More than a simple memoir of a memorable season, it provides an in-depth look at an entire era of baseball through the prism of one remarkable team in Chicago. Here you'll find original biographies of every single player, coach, broadcaster and key front-office personnel who contributed to the magical 1959 season, as well as appreciations of the 1950s White Sox by fans and historians. The book features individual lifetime biographies of owner Bill Veeck, manager Al Lopez, and players, coaches and management of the 1959 White Sox.
Contributors include: David W. Anderson, Ron Anderson, Mark Armour, Anthony Basich, Ralph Berger, Robert W. Bigelow, Ray Birch, Matthew Bohn, Thomas J. Brown Jr., Warren Corbett, Scott Ferkovich, David Fleitz, John Gabcik, Peter Gordon, Mike Haase, Jack Herrmann, Paul Hofmann, Mike Huber, Bill Johnson, Maxwell Kates, Tara Krieger, Paul Ladewski, Russ Lake, Leonte Landino, Kevin Larkin, R.J. Lesch, Len Levin, Gary Livacari, Barb Mantegani, Mel Marmer, John McMurray, Justin Murphy, Todd Newville, Rob Neyer, Bill Nowlin, Emmet Nowlin, Janice A. Petterchak, Neal Poloncarz, Alexandre Pratt, Jose Ramirez, Mike Richard, C. Paul Rogers III, John Rossi, Jim Sargent, Bill Savage, Pam Schur, Richard Smiley, Curt Smith, Justin Thompson, Adam J. Ulrey, Ed Veit, Cort Vitty, Joseph Wancho, Bob Webster, Tim Wiles, Brian P. Wood, and Don Zminda.
SABR members, get this e-book for FREE!
Buy the book
About the SABR Digital Library

For more than 40 years, SABR and its members have led the way in publishing the best baseball historical and statistical research. Our publications program is shifting to take advantage of new methods of publishing. Not only will we continue to publish new books like Can He Play? A Look At Baseball Scouts and Their Profession (2011); Detroit Tigers 1984: What A Start! What A Finish! (2012); Sweet '60: The 1960 Pittsburgh Pirates (2013); Inventing Baseball: The 100 Greatest Games of the 19th Century (2013); Scandal on the South Side: The 1919 Chicago White Sox (2015); Nuclear Powered Baseball/The Simpsons (2016), Au jeu/Play Ball: The 50 Greatest Games in the History of the Montreal Expos (2016); Cuban Baseball Legends (2016); No-Hitters (2017); Bittersweet Goodbye: The Black Barons, the Grays, and the 1948 Negro League World Series (2017), Major League Baseball A Mile High: The First Quarter Century of the Colorado Rockies (2018), and The 1995 Cleveland Indians: The Sleeping Giant Awakes (2019), which showcase the best efforts of SABR's members, chapters and committees, but new technology makes it possible for us to bring out-of-print titles like Nineteenth Century Stars (2012); The Fenway Project (2013); '75: The Red Sox Team That Saved Baseball (2015), and The 1967 Impossible Dream Red Sox: Pandemonium on the Field (2017) back again.
Books will be available in digital formats as well as paperbacks produced by "print on demand" (POD).
SABR members will get discounted rates for all Digital Library publications, including many for free. If you're not a member, click here to join SABR.
Stay tuned throughout the year for new (and old!) titles that we'll be adding to the SABR Digital Library. To learn more about SABR Publications, contact Publications Editor Cecilia Tan at ctan@sabr.org.
Having trouble downloading our e-books? To view PDF files on your computer, click here to download the free Adobe Reader software. Having trouble downloading e-books to your Kindle, Nook, Sony Reader or iPad? Click here for additional help.
---
Originally published: October 10, 2019. Last Updated: August 20, 2020.
https://sabr.org/wp-content/uploads/2019/10/GoGo-to-Glory-1959-White-Sox-ebook-cover.jpg
2100
1400
admin
/wp-content/uploads/2020/02/sabr_logo.png
admin
2019-10-10 16:07:16
2020-08-20 18:36:01
SABR Digital Library: Go-Go to Glory: The 1959 Chicago White Sox