SABR Digital Library: Kansas City Royals: A Royal Tradition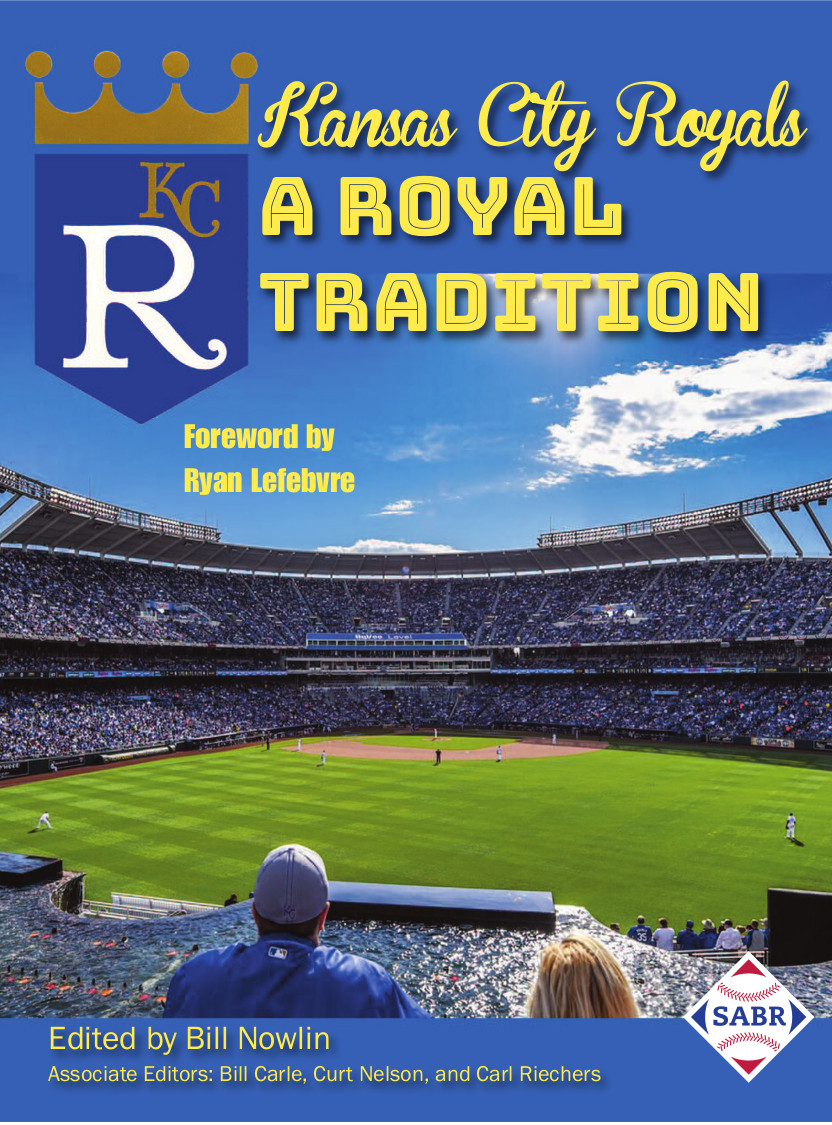 Add a championship crown to your baseball collection with our newest book from the SABR Digital Library:
Kansas City Royals: A Royal Tradition
Edited by Bill Nowlin 
Associate Editors: Bill Carle, Len Levin, Curt Nelson, and Carl Riechers  
Foreword by Ryan Lefebvre  
ISBN (e-book): 978-1-9701-5902-8, $9.99 
ISBN (paperback): 978-1-9701-5903-5, $29.99
8.5″ x 11″, 350 pages
Kansas City Royals: A Royal Tradition recounts the best moments and best players in the franchise's first half-century and represents the collected effort of 48 members of SABR, the Society for American Baseball Research. A Royal Tradition includes biographies of George Brett, Paul Splittorff, Bo Jackson, Amos Otis, Freddie Patek, and Denny Matthews among many others, and recaps great stories in Royals history, from the creation of the icon Royals logo and Kauffman Stadium to historic games, like the 1980 defeat of the Yankees and the crowning achievement: the 2015 World Series championship. Foreword by Ryan Lefebvre.
From the Introduction by Curt Nelson, Director of the Royals Hall of Fame: "The history of professional baseball in Kansas City dates back to before the city took that name in 1889. When the Royals debuted in 1969 they were a continuation of an already rich Kansas City tradition. The Royals story now includes fifty years of highs and lows, thrilling moments, and memories to last a lifetime for those that lived them. More great players and colorful characters—and yes, more championships as well. This book is meant as a marker in time on this golden anniversary of Kansas City Royals Baseball to celebrate all that that has taken place in the past 50 years and the work and skill so many that made it all happen.
"Those of us that call Kansas City home like to think of our hometown as the heartland of America, and geographically speaking the claim has merit. As a matter of fact the geographical center of the contiguous 48 states of the United States is two miles outside of Lebanon, Kansas — not all that far from Kansas City (about 250 miles to the west). But we think the claim has merit beyond mere geography and though I'm hopelessly biased in the matter, the centrality of baseball to our cultural fabric and history is part of the reason why.
"Kansas City is fertile ground for baseball, and the Royals have flourished here—they have also been a worthy heir to the historic legacy that preceded them. Kansas City is the heart of America in my view, and I believe baseball is certainly a significant part of the Kansas City's soul."
Contributors include: Mark Armour, Jeff Barto, Russell Bergtold, Richard Bogovich, Thomas J. Brown Jr., Frederick "Rick" Bush, Bill Carle, Ken Carrano, Alan Cohen, Richard Cuicchi, John DiFonzo, Michael Engel, Charles F. Faber, Adam Foldes, James Forr, Brian Frank, Steve Friedman, Adrian Fung, Gordon J. Gattie, Peter M. Gordon, Paul Hofmann, Mike Huber, Stephen Katsoulis, Norm King, Tom Knosby, Steven Kuehl, Bill Lamberty, Kevin Larkin, Ryan Lefebvre, Bob LeMoine, Len Levin, Daniel R. Levitt, Robert Nash, Curt Nelson, Bill Nowlin, Larry Pauley, Carl Riechers, Max Rieper, Curt Smith, Glen Sparks, John Stahl, Mark S. Sternman, Andrew Stockmann, Clayton Trutor, Darin Watson, Gregory H. Wolf, Steve Wulf, and Jack Zerby.
SABR members, get this e-book for FREE!
Buy the book
About the SABR Digital Library

For more than 40 years, SABR and its members have led the way in publishing the best baseball historical and statistical research. Our publications program is shifting to take advantage of new methods of publishing. Not only will we continue to publish new books like Can He Play? A Look At Baseball Scouts and Their Profession (2011); Detroit Tigers 1984: What A Start! What A Finish! (2012); Sweet '60: The 1960 Pittsburgh Pirates (2013); Inventing Baseball: The 100 Greatest Games of the 19th Century (2013); Scandal on the South Side: The 1919 Chicago White Sox (2015); Nuclear Powered Baseball/The Simpsons (2016), Au jeu/Play Ball: The 50 Greatest Games in the History of the Montreal Expos (2016); Cuban Baseball Legends (2016); No-Hitters (2017); Bittersweet Goodbye: The Black Barons, the Grays, and the 1948 Negro League World Series (2017), Major League Baseball A Mile High: The First Quarter Century of the Colorado Rockies (2018), and The 1995 Cleveland Indians: The Sleeping Giant Awakes (2019), which showcase the best efforts of SABR's members, chapters and committees, but new technology makes it possible for us to bring out-of-print titles like Nineteenth Century Stars (2012); The Fenway Project (2013); '75: The Red Sox Team That Saved Baseball (2015), and The 1967 Impossible Dream Red Sox: Pandemonium on the Field (2017) back again.
Books will be available in digital formats as well as paperbacks produced by "print on demand" (POD).
SABR members will get discounted rates for all Digital Library publications, including many for free. If you're not a member, click here to join SABR.
Stay tuned throughout the year for new (and old!) titles that we'll be adding to the SABR Digital Library. To learn more about SABR Publications, contact Publications Editor Cecilia Tan at ctan@sabr.org.
Having trouble downloading our e-books? To view PDF files on your computer, click here to download the free Adobe Reader software. Having trouble downloading e-books to your Kindle, Nook, Sony Reader or iPad? Click here for additional help.
---
Originally published: June 23, 2019. Last Updated: August 20, 2020.
https://sabr.org/wp-content/uploads/2019/10/Royals-ebook-cover-final.jpg
1125
832
admin
/wp-content/uploads/2020/02/sabr_logo.png
admin
2019-06-23 23:06:09
2020-08-20 18:33:11
SABR Digital Library: Kansas City Royals: A Royal Tradition