SABR Digital Library: Met-rospectives: A Collection of the Greatest Games in New York Mets History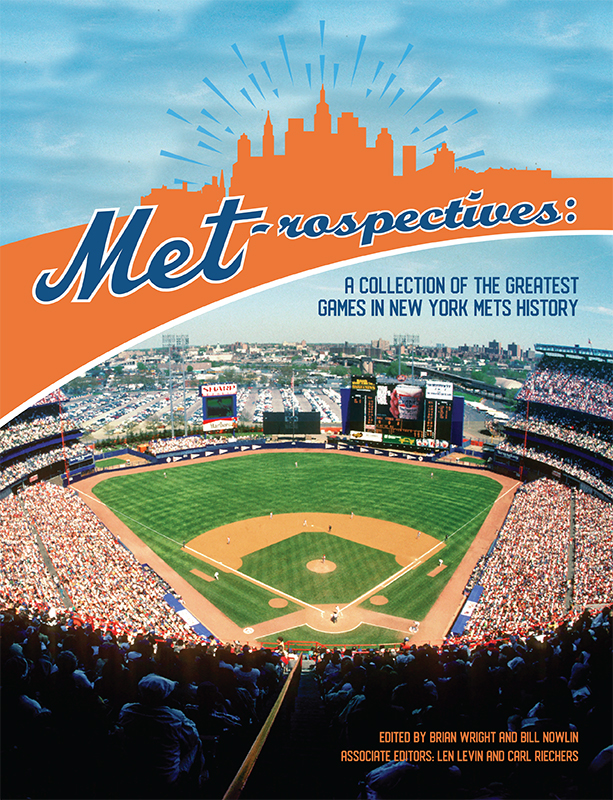 New York Mets fans can soak in some Amazin' memories with the newest book from the SABR Digital Library:
Met-rospectives: A Collection of the Greatest Games in New York Mets History
Edited by Brian Wright and Bill Nowlin
Associate Editors: Len Levin and Carl Riechers
ISBN (paperback): 978-1-943816-87-3, $14.95
ISBN (e-book): 978-1-943816-86-6, $9.99
139 pages, 8.5″ x 11″
The Mets are a team known for warming hearts one day and breaking them the next. Nothing has ever come easy for the National League's third franchise in New York. Even the miraculous championship year of 1969 didn't occur without seven preceding years of futility. And in the dominant 1986 regular season, the road to an expected World Series title didn't happen without gut-wrenching, precipice-of-defeat dramatics in the playoffs.
There have been fair measures of wondrous and woeful in the franchise's history, but this book's 57 game summaries — coinciding with the number of Mets years through 2018 — are strictly for the eternal optimist. All, with the exception of one valiant defeat, end in triumph for the orange and blue. The selection process for these games involved various criteria including the time in the season, the dramatic level, and the impact in shaping franchise history.
The games are recounted here thanks to the combined efforts of 32 SABR members. They run the gamut of the team's lifespan, beginning with its very first victory in April 1962 at Forbes Field, running through Tom Seaver's "Imperfect Game" in July '69 and the unforgettable Game Sixes in October '86, the "Grand Slam Single" in the 1999 NLCS, then concluding with extra-inning heroics in September 2016 at Citi Field that helped ensure a wild-card berth.
Contributors include: Thomas J. Brown Jr., Frederick C. "Rick" Bush, Alan Cohen, Rory Costello, Tom Cuggino, Richard A. Cuicchi, Brian M. Frank, Irv Goldfarb, Paul Hofmann, Michael Huber, Tara Krieger, Kevin Larkin, Seth Moland-Kovash, Alan Raylesberg, David Rickard, Joel Rippel, Joe Schuster, Matthew Silverman, Bruce Slutsky, Mark S. Sternman, Tony Valley, Cosme Vivanco, Joseph Wancho, Bob Webster, Steven C. Weiner, Brian Wright, Mike Wuest, and Jack Zerby.
SABR members, get this e-book for FREE!
Buy the book
About the SABR Digital Library

For more than 40 years, SABR and its members have led the way in publishing the best baseball historical and statistical research. Our publications program is shifting to take advantage of new methods of publishing. Not only will we continue to publish new books like Can He Play? A Look At Baseball Scouts and Their Profession (released in December 2011); Detroit Tigers 1984: What A Start! What A Finish! (December 2012); Sweet '60: The 1960 Pittsburgh Pirates (April 2013); Inventing Baseball: The 100 Greatest Games of the 19th Century (July 2013); Scandal on the South Side: The 1919 Chicago White Sox (June 2015); The Team That Time Won't Forget: The 1951 New York Giants (December 2015); Nuclear Powered Baseball/The Simpsons (February 2016), Au jeu/Play Ball: The 50 Greatest Games in the History of the Montreal Expos (April 2016); Cuban Baseball Legends (July 2016); Baseball's Business: The Winter Meetings: 1901-1957 (December 2016); Dome Sweet Dome: History and Highlights from 35 Years of the Houston Astrodome (February 2017); No-Hitters (May 2017); Puerto Rico and Baseball (June 2017); Bittersweet Goodbye: The Black Barons, the Grays, and the 1948 Negro League World Series (July 2017), The Whiz Kids Take the Pennant (January 2018), and Major League Baseball A Mile High: The First Quarter Century of the Colorado Rockies (May 2018), which showcase the best efforts of SABR's members, chapters and committees, but new technology makes it possible for us to bring out-of-print titles like Run, Rabbit, Run: The Hilarious and Mostly True Tales of Rabbit Maranville (February 2012), Great Hitting Pitchers (March 2012), Nineteenth Century Stars (August 2012); Batting (January 2013); The Fenway Project (September 2013); '75: The Red Sox Team That Saved Baseball (April 2015), and The 1967 Impossible Dream Red Sox: Pandemonium on the Field (June 2017) back again.
Books will be available in digital formats as well as paperbacks produced by "print on demand" (POD).
SABR members will get discounted rates for all Digital Library publications, including many for free. If you're not a member, click here to join SABR.
Stay tuned throughout the year for new (and old!) titles that we'll be adding to the SABR Digital Library. To learn more about SABR Publications, contact Publications Editor Cecilia Tan at ctan@sabr.org.
Having trouble downloading our e-books? To view PDF files on your computer, click here to download the free Adobe Reader software. Having trouble downloading e-books to your Kindle, Nook, Sony Reader or iPad? Click here for additional help.
---
Originally published: September 13, 2018. Last Updated: August 20, 2020.
https://sabr.org/wp-content/uploads/2019/10/Met-rospectives-book-cover-800px.jpg
800
613
admin
/wp-content/uploads/2020/02/sabr_logo.png
admin
2018-09-13 09:00:00
2020-08-20 01:05:38
SABR Digital Library: Met-rospectives: A Collection of the Greatest Games in New York Mets History