SABR Digital Library: San Diego Padres: The First Half Century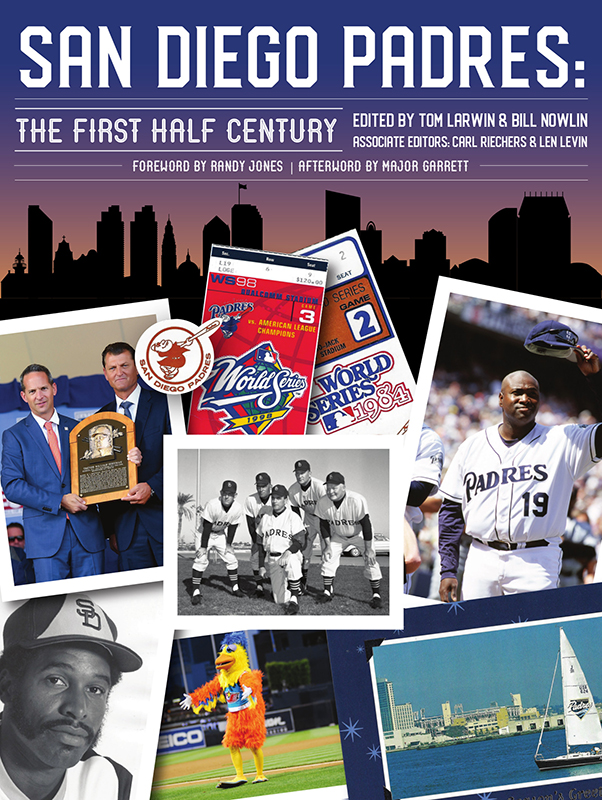 As we get set for SABR 49 this summer, take in some memorable moments from the Old Mission with our newest book from the SABR Digital Library:
San Diego Padres: The First Half Century
Edited by Tom Larwin and Bill Nowlin
Associate Editors: Carl Riechers and Len Levin
Foreword by Randy Jones | Afterword by Major Garrett
ISBN (paperback): 978-1-9701-5905-9, $29.95
ISBN (e-book): 978-1-9701-5904-2, $9.99
358 pages, 8.5″ x 11″
San Diego Padres: The First Half Century captures some of the great players to wear a Padres uniform and takes baseball fans through some of the more memorable dates in Padres history — not just dates that we always read about but the ones that truly tell the story of the franchise. If you're a longtime Padres fan or baseball fan, you'll enjoy the wonderful stories put together by SABR on the first 50 years of the Padres franchise. Includes a foreword by Padres Hall of Famer Randy Jones and an afterword by Major Garrett of CBS News.
San Diego Padres: The First Half Century is the collaborative work of 51 SABR members. It tells the stories of 25 Padres players—from Ashby to Winfield—several team executives and media members, the ballparks, and even a biography of The San Diego Chicken. There are more than 25 accounts of standout games in franchise history and a few other features as well.
"I'm proud to be in the Padres Hall of Fame and have my number, 35, retired but more proud of the friends I've made and people I've met with my association with the Padres. Reading these stories has certainly brought many of those memories and I can't thank SABR enough for writing them." — from the Foreword by Randy Jones
Contributors include: Eric Aron, Thomas J. Brown Jr., Frederick "Rick" Bush, Bob Chandler, Alan Cohen, Rory Costello, Lauren Cronin, Richard Cuicchi, Dan D'Addona, Paul E. Doutrich, Amy Essington, Charles F. Faber, Steve Ferenchick, Jeff Findley, Gregory Funk, Major Garrett, Mark Hodermarsky, Paul Hofmann, Mike Huber, Jay Hurd, Jorge Iber, Chuck Johnson, Gerard Kwilecki, Tom Larwin, Bob LeMoine, Len Levin, Mike Madigan, Max Mannis, Seth Moland-Kovash, Dave Nielsen, Bill Nowlin, Bill Parker, Jim Patrick, Carl Riechers, Joel Rippel, Fred O. Rodgers, C. Paul Rogers III, Michael See, David E. Skelton, Doug Skipper, Curt Smith, Mark Souder, John Stahl, Mark S. Sternman, Wayne Strumpfer, Alfonso Tusa, Nick Waddell, Bob Webster, Steve West, Gregory H. Wolf, Brian Wright, and Geoff Young.
SABR members, get this e-book for FREE!
Buy the book
About the SABR Digital Library

For more than 40 years, SABR and its members have led the way in publishing the best baseball historical and statistical research. Our publications program is shifting to take advantage of new methods of publishing. Not only will we continue to publish new books like Can He Play? A Look At Baseball Scouts and Their Profession (2011); Detroit Tigers 1984: What A Start! What A Finish! (2012); Sweet '60: The 1960 Pittsburgh Pirates (2013); Inventing Baseball: The 100 Greatest Games of the 19th Century (2013); Scandal on the South Side: The 1919 Chicago White Sox (2015); Nuclear Powered Baseball/The Simpsons (2016), Au jeu/Play Ball: The 50 Greatest Games in the History of the Montreal Expos (2016); Cuban Baseball Legends (2016); No-Hitters (2017); Bittersweet Goodbye: The Black Barons, the Grays, and the 1948 Negro League World Series (2017), Major League Baseball A Mile High: The First Quarter Century of the Colorado Rockies (2018), and The 1995 Cleveland Indians: The Sleeping Giant Awakes (2019), which showcase the best efforts of SABR's members, chapters and committees, but new technology makes it possible for us to bring out-of-print titles like Nineteenth Century Stars (2012); The Fenway Project (2013); '75: The Red Sox Team That Saved Baseball (2015), and The 1967 Impossible Dream Red Sox: Pandemonium on the Field (2017) back again.
Books will be available in digital formats as well as paperbacks produced by "print on demand" (POD).
SABR members will get discounted rates for all Digital Library publications, including many for free. If you're not a member, click here to join SABR.
Stay tuned throughout the year for new (and old!) titles that we'll be adding to the SABR Digital Library. To learn more about SABR Publications, contact Publications Editor Cecilia Tan at ctan@sabr.org.
Having trouble downloading our e-books? To view PDF files on your computer, click here to download the free Adobe Reader software. Having trouble downloading e-books to your Kindle, Nook, Sony Reader or iPad? Click here for additional help.
---
Originally published: May 14, 2019. Last Updated: August 20, 2020.
https://sabr.org/wp-content/uploads/2019/10/padres_front-cover_800px.jpg
800
602
admin
/wp-content/uploads/2020/02/sabr_logo.png
admin
2019-05-14 16:14:17
2020-08-20 18:31:22
SABR Digital Library: San Diego Padres: The First Half Century