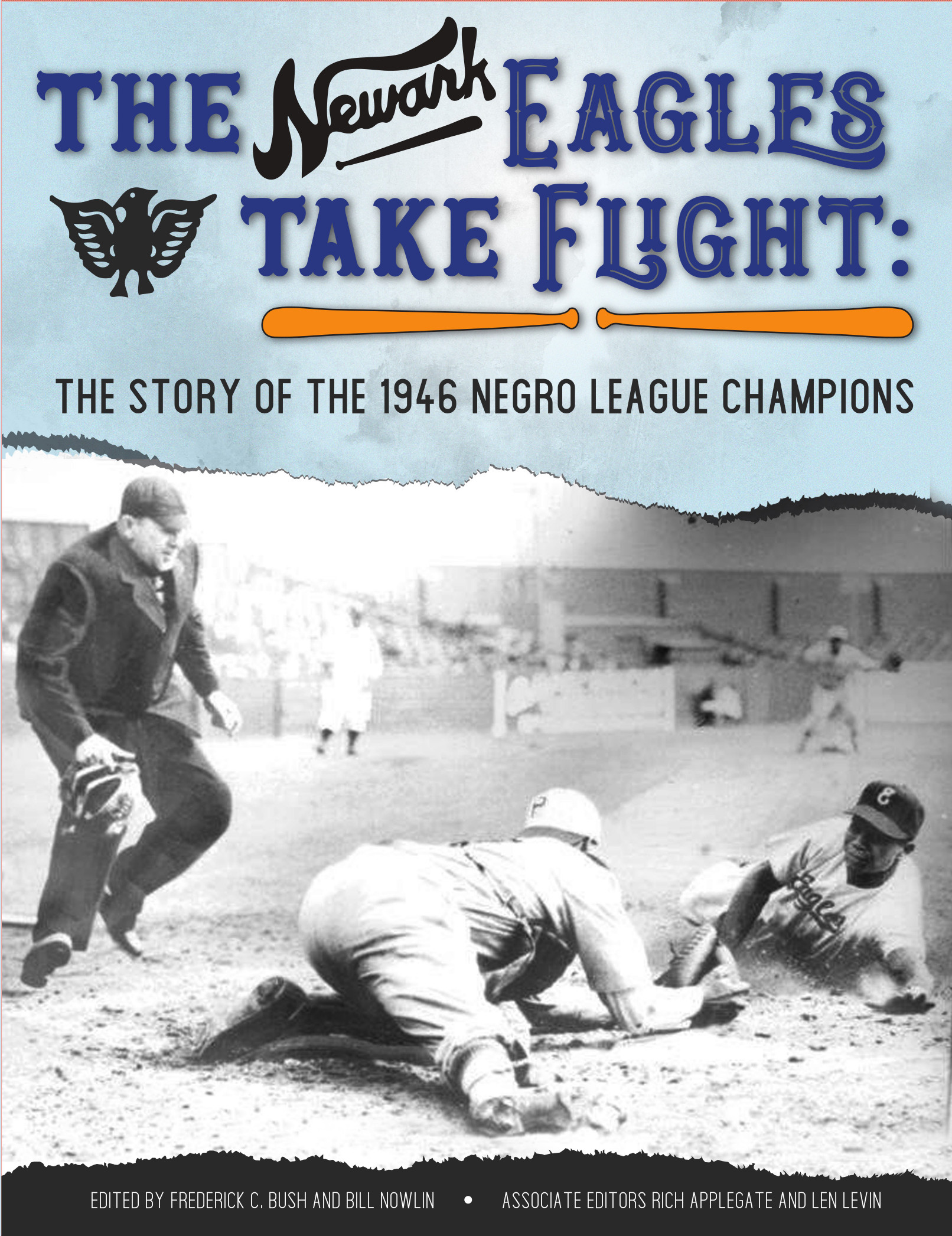 Add a soaring baseball book to your collection with our newest title from the SABR Digital Library:
The Newark Eagles Take Flight: The Story of the 1946 Negro League Champions 
Edited by Frederick C. Bush and Bill Nowlin
Associate Editors: Rich Applegate and Len Levin   
ISBN (e-book): 978-1-9701-5906-6, $9.99 
ISBN (paperback): 978-1-9701-5907-3, $29.99
8.5″ x 11″, 230 pages
The Newark Eagles won only one Negro National League pennant during the franchise's 15-year tenure in the Garden State, but the 1946 squad that ran away with the NNL and then triumphed over the Kansas City Monarchs in a seven-game World Series was a team for the ages. World War II had ended, and numerous players who had served in the military returned to resume their playing careers with the Eagles. The returning veterans composed a veritable "Who's Who in the Negro Leagues" and included Leon Day, Larry Doby, Monte Irvin, and Max Manning, as well as numerous role players. Four of the Eagles' stars — Day, Doby, Irvin, and player/manager Raleigh "Biz" Mackey, as well as co-owner Effa Manley — have been enshrined in the National Baseball Hall of Fame in Cooperstown.
This book, which was researched and written exclusively by more than 30 SABR members, presents not only the famous individuals, but also tells the tales of the other stars and the lesser-known players insofar as history allows them to be revealed. In addition to biographies of the players, co-owners, and P.A. announcer, there are also articles about Newark's Ruppert Stadium, Leon Day's Opening Day no-hitter, a sensational midseason game, the season's two East-West All-Star games, and the 1946 Negro League World Series between the Eagles and the renowned Kansas City Monarchs. A season timeline and a history of the Eagles' years in Newark help to present the entire context of the team and its lone championship season.
Contributors include: Niall Adler, Richard Applegate, Richard Bogovich, Frederick C. "Rick" Bush, Ralph Carhart, Dan D'Addona, Amy Essington, Bob Golon, Margaret M. Gripshover, Leslie Heaphy, Bill Hickman, Paul Hofmann, Dr. Lawrence Hogan, Jay Hurd, William H. Johnson, Thomas E. Kern, Bob LeMoine, Len Levin, Mike Mattsey, John McMurray, Skip Nipper, Bill Nowlin, Richard J. Puerzer, Chris Rainey, Curt Smith, Bill Staples Jr., Mark S. Sternman, Bryan Steverson, Jeb Stewart, Tim Tassler, and David Wilkie.
SABR members, get this e-book for FREE!
Buy the book
About the SABR Digital Library

For more than 40 years, SABR and its members have led the way in publishing the best baseball historical and statistical research. Our publications program is shifting to take advantage of new methods of publishing. Not only will we continue to publish new books like Can He Play? A Look At Baseball Scouts and Their Profession (2011); Detroit Tigers 1984: What A Start! What A Finish! (2012); Sweet '60: The 1960 Pittsburgh Pirates (2013); Inventing Baseball: The 100 Greatest Games of the 19th Century (2013); Scandal on the South Side: The 1919 Chicago White Sox (2015); Nuclear Powered Baseball/The Simpsons (2016), Au jeu/Play Ball: The 50 Greatest Games in the History of the Montreal Expos (2016); Cuban Baseball Legends (2016); No-Hitters (2017); Bittersweet Goodbye: The Black Barons, the Grays, and the 1948 Negro League World Series (2017), Major League Baseball A Mile High: The First Quarter Century of the Colorado Rockies (2018), and The 1995 Cleveland Indians: The Sleeping Giant Awakes (2019), which showcase the best efforts of SABR's members, chapters and committees, but new technology makes it possible for us to bring out-of-print titles like Nineteenth Century Stars (2012); The Fenway Project (2013); '75: The Red Sox Team That Saved Baseball (2015), and The 1967 Impossible Dream Red Sox: Pandemonium on the Field (2017) back again.
Books will be available in digital formats as well as paperbacks produced by "print on demand" (POD).
SABR members will get discounted rates for all Digital Library publications, including many for free. If you're not a member, click here to join SABR.
Stay tuned throughout the year for new (and old!) titles that we'll be adding to the SABR Digital Library. To learn more about SABR Publications, contact Publications Editor Cecilia Tan at ctan@sabr.org.
Having trouble downloading our e-books? To view PDF files on your computer, click here to download the free Adobe Reader software. Having trouble downloading e-books to your Kindle, Nook, Sony Reader or iPad? Click here for additional help.
---
Originally published: July 29, 2019. Last Updated: August 20, 2020.
https://sabr.org/wp-content/uploads/2019/10/1946_Newark_Eagles-front_cover.jpg
2093
1612
admin
/wp-content/uploads/2020/02/sabr_logo.png
admin
2019-07-29 18:23:58
2020-08-20 18:34:42
SABR Digital Library: The Newark Eagles Take Flight: The Story of the 1946 Negro League Champions