SABR Digital Library: The Team that Couldn't Hit: The 1972 Texas Rangers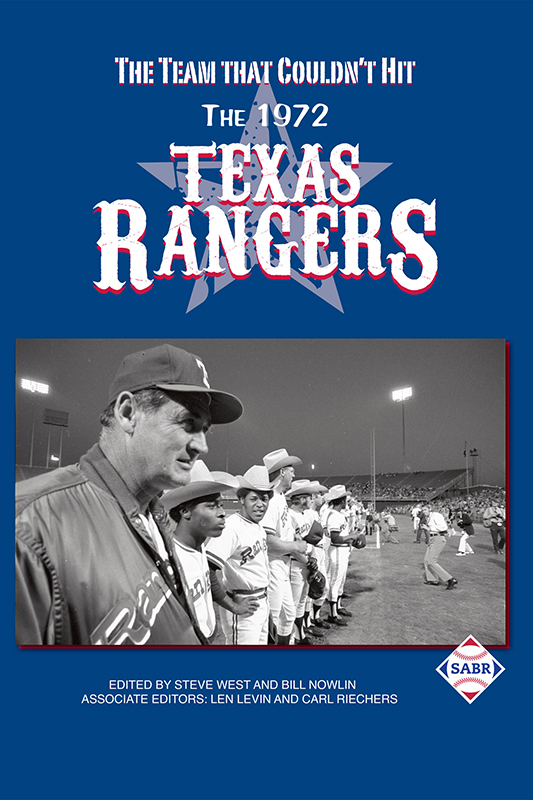 Add a brand-new baseball book from the SABR Digital Library to your collection this season:
The Team that Couldn't Hit: The 1972 Texas Rangers
Edited by Steve West and Bill Nowlin
Associate editors: Len Levin and Carl Riechers 
ISBN (paperback): 978-1-9438-1693-4, $29.95
ISBN (e-book): 978-1-9438-1692-7, $9.99
414 pages, 8.5″ x 11″
The 1972 Texas Rangers were a culmination of decades of trying to get a major-league team in Dallas-Fort Worth. The area has a long history with baseball, going back to the 1800s, and minor-league teams played in both cities right up until the Rangers arrived with Ted Williams at the helm.
High expectations were quickly dashed. Just how bad were those early Rangers teams? When reporter Mike Shropshire wrote a book about covering the Rangers from 1973 to '75, he titled it Seasons In Hell. Twenty years later, the Rangers still hadn't made the playoffs. Counting the decade when the franchise was known as the Washington Senators, the team did not go to the playoffs for the first 35 years of its existence.
So why write a book about the 1972 Texas Rangers, perhaps the worst team in club history? Because they're the start of that history. Articles in this book cover the effort to bring a team to North Texas and the story of Tom Vandergriff, the man now known as "the father of the Rangers." Biographies of every man to play — or coach — for the 1972 team are presented, including Frank Howard, Larry Bittner, Horacio Pina and Tom Grieve, and broadcasters Don Drysdale and Bill Mercer. Owner Bob Short and Arlington Stadium itself are given full write-ups as well.
This book is the collaborative work of 46 SABR members. Contributors include: Marc Z. Aaron, Mark Armour, John Bennett, Robert W. Bigelow, Maurice Bouchard, Bruce Bumbalough, Frederick "Rick" Bush, Bo Carter, Greg Chandler, Alan Cohen, Rory Costello, Dan Fields, Paul Geisler, Joseph Gerard, Charlie Grassl, Chip Greene, Paul Hofmann, Chris Holaday, Mike Huber, Gordon Janis, Chris Jones, Maxwell Kates, Duane Keilstrup, Norm King, Bob LeMoine, Len Levin, Francisco Rodriguez Lozano, Chad Moody, Bill Nowlin, Will Osgood, Carl Riechers, C. Paul Rogers III, Ray Rossi, Kris Rutherford, Rick Schabowski, William Schneider, David E. Skelton, Mark S. Sternman, Joe Stroop, Wayne Strumpfer, Clayton Trutor, Dale Voiss, Joseph Wancho, Steve West, Bob Whelan, Gregory H. Wolf, and Don Zminda.
SABR members, get this e-book for FREE!
Buy the book
About the SABR Digital Library

For more than 40 years, SABR and its members have led the way in publishing the best baseball historical and statistical research. Our publications program is shifting to take advantage of new methods of publishing. Not only will we continue to publish new books like Can He Play? A Look At Baseball Scouts and Their Profession (2011); Detroit Tigers 1984: What A Start! What A Finish! (2012); Sweet '60: The 1960 Pittsburgh Pirates (2013); Inventing Baseball: The 100 Greatest Games of the 19th Century (2013); Scandal on the South Side: The 1919 Chicago White Sox (2015); Nuclear Powered Baseball/The Simpsons (2016), Au jeu/Play Ball: The 50 Greatest Games in the History of the Montreal Expos (2016); Cuban Baseball Legends (2016); No-Hitters (2017); Bittersweet Goodbye: The Black Barons, the Grays, and the 1948 Negro League World Series (2017), Major League Baseball A Mile High: The First Quarter Century of the Colorado Rockies (2018), and The 1995 Cleveland Indians: The Sleeping Giant Awakes (2019), which showcase the best efforts of SABR's members, chapters and committees, but new technology makes it possible for us to bring out-of-print titles like Run, Rabbit, Run: The Hilarious and Mostly True Tales of Rabbit Maranville (2012), Nineteenth Century Stars (2012); The Fenway Project (2013); '75: The Red Sox Team That Saved Baseball (2015), and The 1967 Impossible Dream Red Sox: Pandemonium on the Field (2017) back again.
Books will be available in digital formats as well as paperbacks produced by "print on demand" (POD).
SABR members will get discounted rates for all Digital Library publications, including many for free. If you're not a member, click here to join SABR.
Stay tuned throughout the year for new (and old!) titles that we'll be adding to the SABR Digital Library. To learn more about SABR Publications, contact Publications Editor Cecilia Tan at ctan@sabr.org.
Having trouble downloading our e-books? To view PDF files on your computer, click here to download the free Adobe Reader software. Having trouble downloading e-books to your Kindle, Nook, Sony Reader or iPad? Click here for additional help.
---
Originally published: February 12, 2019. Last Updated: August 20, 2020.
https://sabr.org/wp-content/uploads/2019/10/1972-Rangers-cover-final-800px.jpg
800
533
admin
/wp-content/uploads/2020/02/sabr_logo.png
admin
2019-02-12 16:33:00
2020-08-20 18:22:56
SABR Digital Library: The Team that Couldn't Hit: The 1972 Texas Rangers