SABR Digital Library: Wrigley Field: The Friendly Confines at Clark and Addison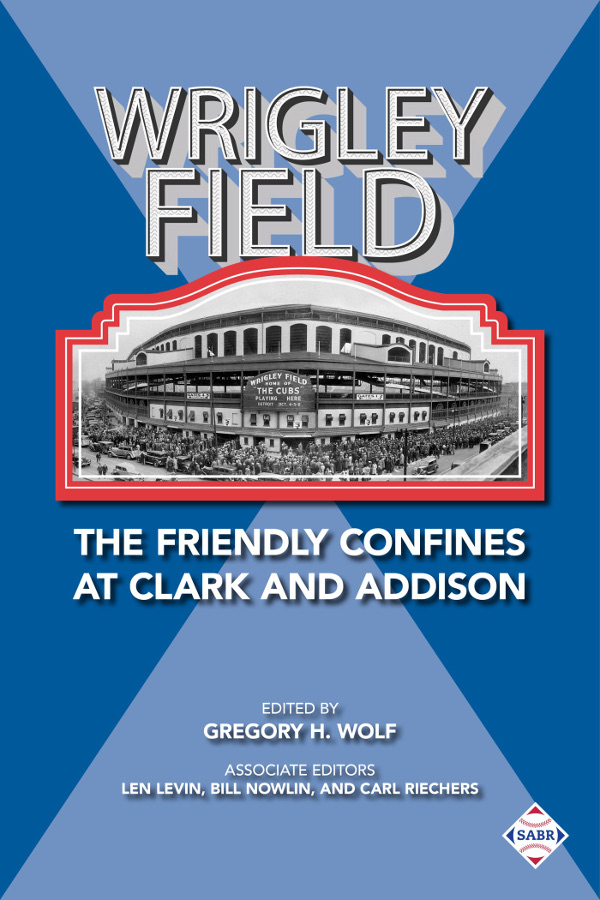 Take a stroll through Wrigleyville with a copy of our newest book from the SABR Digital Library:
Wrigley Field: The Friendly Confines at Clark and Addison
Edited by Gregory H. Wolf
Associate Editors: Len Levin, Bill Nowlin, and Carl Riechers 
ISBN (paperback): 978-1-9701-5901-1, $21.95
ISBN (e-book): 978-1-9701-5901-1, $9.99
350 pages, 8.5″ x 11″
Wrigley Field evokes a feeling of perpetual summer, youth, and dreams. Any mention of the ballpark at the intersection of Clark and Addison in Chicago conjures up images of the ivy on the outfield walls, the hand-operated scoreboard, Cubbie blue, and the park's vibrant neighborhood. Wrigley transcends time and transports its guests to a green oasis in the midst of a bustling city. Built less than 50 years after the Civil War, it was inaugurated when Woodrow Wilson was President of the United States, and a century later it remains a testimony to the enduring power of our national pastime.
This book is an ode to that storied ballpark, evoking its history through detailed retellings of 100 games played there, including not only historic triumphs and defeats of the Chicago Cubs (and the Federal League Whales), but also Negro Leagues matchups, youth championships, and even games by the All-American Girls Professional Baseball League. Including the talents of over 50 members of SABR, the book also includes many historic photographs.
Contributors include: Matt Albertson, John Bauer, Nathan Bierma, Thomas J. Brown Jr., Frederick "Rick" Bush, Alan Cohen, Rory Costello, Richard Cuicchi, John DiFonzo, Greg Erion, Doug Feldmann, Scott Ferkovich, Merrie Fidler, Dan Fields, James Forr, Brian Frank, Gordon J. Gattie, Paul Geisler, Ed Gruver, Tom Hawthorn, Paul Hofmann, Mike Huber, Norm King, Russ Lake, Bob LeMoine, Len Levin, Mike Lynch, Mike Mattsey, Seth Moland-Kovash, Jim Nitz, Bill Nowlin, Tom Pardo, J.G. Preston, Chris Rainey, Tim Rask, Alan Reifman, Stephen V. Rice, Carl Riechers, C. Paul Rogers III, Gary Sarnoff, Rick Schabowski, Ryan Schuring, Joe Schuster, Richard A. Smiley, Glen Sparks, Mark S. Sternman, Gregory H. Wolf, Brian Wright, and Don Zminda.
SABR members, get this e-book for FREE!
Buy the book
About the SABR Digital Library

For more than 40 years, SABR and its members have led the way in publishing the best baseball historical and statistical research. Our publications program is shifting to take advantage of new methods of publishing. Not only will we continue to publish new books like Can He Play? A Look At Baseball Scouts and Their Profession (2011); Detroit Tigers 1984: What A Start! What A Finish! (2012); Sweet '60: The 1960 Pittsburgh Pirates (2013); Inventing Baseball: The 100 Greatest Games of the 19th Century (2013); Scandal on the South Side: The 1919 Chicago White Sox (2015); Nuclear Powered Baseball/The Simpsons (2016), Au jeu/Play Ball: The 50 Greatest Games in the History of the Montreal Expos (2016); Cuban Baseball Legends (2016); No-Hitters (2017); Bittersweet Goodbye: The Black Barons, the Grays, and the 1948 Negro League World Series (2017), Major League Baseball A Mile High: The First Quarter Century of the Colorado Rockies (2018), and The 1995 Cleveland Indians: The Sleeping Giant Awakes (2019), which showcase the best efforts of SABR's members, chapters and committees, but new technology makes it possible for us to bring out-of-print titles like Run, Rabbit, Run: The Hilarious and Mostly True Tales of Rabbit Maranville (2012), Nineteenth Century Stars (2012); The Fenway Project (2013); '75: The Red Sox Team That Saved Baseball (2015), and The 1967 Impossible Dream Red Sox: Pandemonium on the Field (2017) back again.
Books will be available in digital formats as well as paperbacks produced by "print on demand" (POD).
SABR members will get discounted rates for all Digital Library publications, including many for free. If you're not a member, click here to join SABR.
Stay tuned throughout the year for new (and old!) titles that we'll be adding to the SABR Digital Library. To learn more about SABR Publications, contact Publications Editor Cecilia Tan at ctan@sabr.org.
Having trouble downloading our e-books? To view PDF files on your computer, click here to download the free Adobe Reader software. Having trouble downloading e-books to your Kindle, Nook, Sony Reader or iPad? Click here for additional help.
---
Originally published: April 29, 2019. Last Updated: August 20, 2020.
https://sabr.org/wp-content/uploads/2019/10/Wrigley_Field_cover_600.jpg
900
600
admin
/wp-content/uploads/2020/02/sabr_logo.png
admin
2019-04-29 06:12:21
2020-08-20 18:29:59
SABR Digital Library: Wrigley Field: The Friendly Confines at Clark and Addison