SABR President Vince Gennaro presents 2013 Rawlings Platinum Glove Awards
Editor's note: On Friday, November 8, 2013, SABR President Vince Gennaro presented the Rawlings Platinum Glove Awards to Andrelton Simmons of the Atlanta Braves and Manny Machado of the Baltimore Orioles, both first-time winners. Here is the prepared text of his speech from the Rawlings Gold Glove Awards Banquet in New York.
By Vince Gennaro
It's a privilege to be here tonight representing SABR — the Society for American Baseball Research — a 6,000-member organization made up of a diverse group of people who share one special bond: a passion and love for baseball.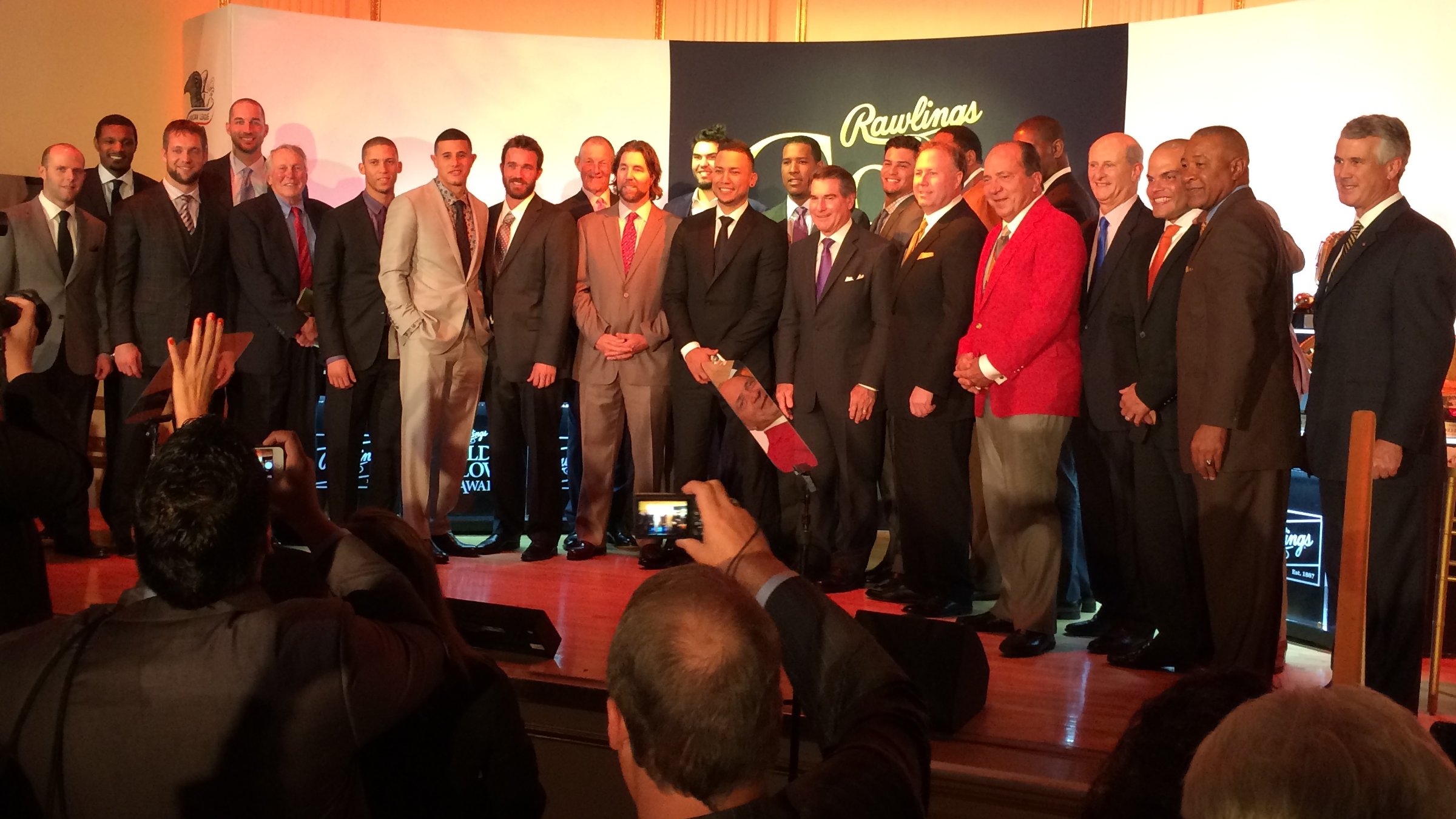 While many of you may think about us as an established authority on statistical analysis and the producers of the SABR Analytics Conference, the reality is that most of SABR's efforts are directed toward the preservation of the history of baseball
For example, SABR has an ambitious biography initiative — we now have 2,500 bios on our website of former players and are working hard to fulfill our dream of having a full-length biography for everyone who's ever appeared in a major league game.
While most of our 6,000 members don't have the talent to play the game, we do share the heart and passion for the game with tonight's 18 Rawlings Gold Glove Award winners.
Tonight I'm honored to announce the Rawlings Platinum Glove Awards, presented by SABR, to two of the preeminent defensive players in the game today.  All 18 Rawlings Gold Glove Award winners are eligible. The Rawlings Platinum Glove Awards are decided by a combination of fan votes and the new SABR Defensive Index, which also played a role in this year's Rawlings Gold Glove Award voting.
The SDI considers a fielder's range, his arm and his sure-handedness, along with his outstanding plays. Each year, new technology allows us to measure more and more aspects of a player's defensive performance.
Will we ever have a measure for defense as definitive as batting average? No, but the SABR Defensive Index can be an important complement to the trained-expert eye of managers and coaches, and with our friends at Rawlings, we believe that these iconic Award platforms truly marry "the Art of Fielding with the Science of Baseball."
This year we saw some extraordinary defensive performances over the course of the full season, particularly among some of the young players in the game today. And this year, the fan votes and the numbers agree wholeheartedly.
To help deliver the hardware to this year's winners, I would like to welcome back to the stage Hall of Famers Brooks Robinson and Ozzie Smith.
Without further ado, please welcome the 2013 Rawlings Platinum Glove Award winner in the American League, Manny Machado and the 2013 Rawlings Platinum Glove Award winner in the National League, Andrelton Simmons.
VINCE GENNARO was elected as SABR's President in 2011. He is also the author of "Diamond Dollars: The Economics of Winning in Baseball", a consultant to Major League teams, and appears regularly on MLB Network. Read his blog, "Diamond Dollars", at vincegennaro.mlblogs.com.
Related links:
---
Originally published: November 13, 2013. Last Updated: May 12, 2020.
https://sabr.org/wp-content/uploads/2013/11/2013-Rawlings-Gold-Glove-Award-banquet.jpg
1350
2400
jpomrenke
/wp-content/uploads/2020/02/sabr_logo.png
jpomrenke
2013-11-13 17:16:46
2020-05-12 08:42:55
SABR President Vince Gennaro presents 2013 Rawlings Platinum Glove Awards