Write a SABR biography on a baseball star of the 1980s or '90s
Want to write about the Wizard of Oz, the Big Hurt or Doctor K? SABR is looking for your help!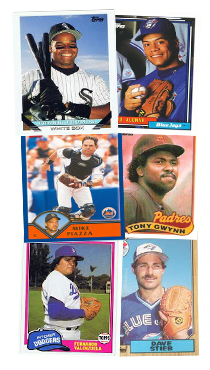 SABR Director Emily Hawks is spearheading an effort to write SABR biographies on baseball stars from the 1980s and '90s as part of the Baseball Biography Project.
You can write about your favorite players from the final seasons of the 20th century: Ozzie Smith, Frank Thomas, Dwight Gooden, Fernando Valenzuela, Mike Schmidt, Darryl Strawberry, Tony Gwynn, Mike Piazza, Roberto Alomar, or many more.
Or write about the memorable figures who helped make that era special: Tom Browning, Dave Stieb, Karl "Tuffy" Rhodes, the San Diego Chicken, or some 6-foot-6 minor league outfielder for the Birmingham Barons.
Your subject can be anyone who played in the major leagues; any manager, executive, umpire, scout, or broadcaster; or anyone else who had an impact on the game. To see a list of which baseball biographies have already been published or assigned, visit SABR.org/BioProject. (Please note: SABR biographies are assigned on a first-come, first-serve basis.)
High school or college students can also use the BioProject as an opportunity to write a research paper on a particular player and use their SABR bio as a published clip. Your paper would go through the full BioProject editing process and should conform to SABR's formatting and style guidelines.
Writing a biography for the BioProject is an easy way to get involved as a SABR member. Find out how by visiting our BioProject Resources page or reading the FAQs section.
If you are already a SABR member, you are fully qualified to participate in the Biography Project. (If you're not yet a SABR member, click here to join. Any baseball fan can sign up for a SABR membership.) Some of our writers are seasoned pros, but many are first-timers. We can work with you to help you turn your research into a worthy biography. Most authors enjoy the process and come back to write another one.
Sign up for a SABR biography today! To learn more, contact SABR Director Emily Hawks at emilyhawks@gmail.com or BioProject Director Mark Armour at markarmour04@gmail.com.
---
Originally published: April 16, 2014. Last Updated: April 16, 2014.
https://sabr.org/wp-content/uploads/2020/03/research-collection4_350x300.jpg
300
350
jpomrenke
/wp-content/uploads/2020/02/sabr_logo.png
jpomrenke
2014-04-16 11:00:27
2014-04-16 11:00:27
Write a SABR biography on a baseball star of the 1980s or '90s