SABR Day is an annual event that brings together SABR members and friends on the same day, regardless of where they live. The third annual SABR Day was held on January 28, 2012. 
Regional SABR meetings are open to all baseball fans — though we encourage you to join SABR if you like what you find — and are usually free to attend. Guest speakers often include current and former baseball players, managers, umpires, executives, scouts, writers and authors.
---
Check out a photo gallery of all SABR Day 2012 events at our Facebook page here: http://on.fb.me/xUocPr
Here are some highlights from SABR Day 2012:
ALBUQUERQUE, New Mexico (Rio Grande Chapter): The Rio Grande Chapter celebrated SABR Day as more than two dozen members and guests showed up at Isotopes Park to hear the team's general manager, John Traub, recount his days growing up in Orange County as a Dodgers AND Angels fan and later progressing into a behind-the-scenes job with first the Angels and then the Calgary Cannons, where he moved from public relations to general manager, and remained with the team when it moved to Albuquerque for the 2003 season. He became the Isotopes' GM in 2004, and has been in that position ever since. Guest speaker Max Walla, a second-round draftee of the Milwaukee Brewers in 2009 and a local resident, told of his minor league days to date, while Blake Swihart, the No. 1 pick by the Boston Red Sox last June, added a few tales of his own. Both guys told of swatting balls out of the park at Miller Park and Fenway Park, respectively. Later, Traub guided a short tour of the gorgeous Isotopes Park, where the Dodgers' AAA affiliate is about to being its 10th season of existence in April.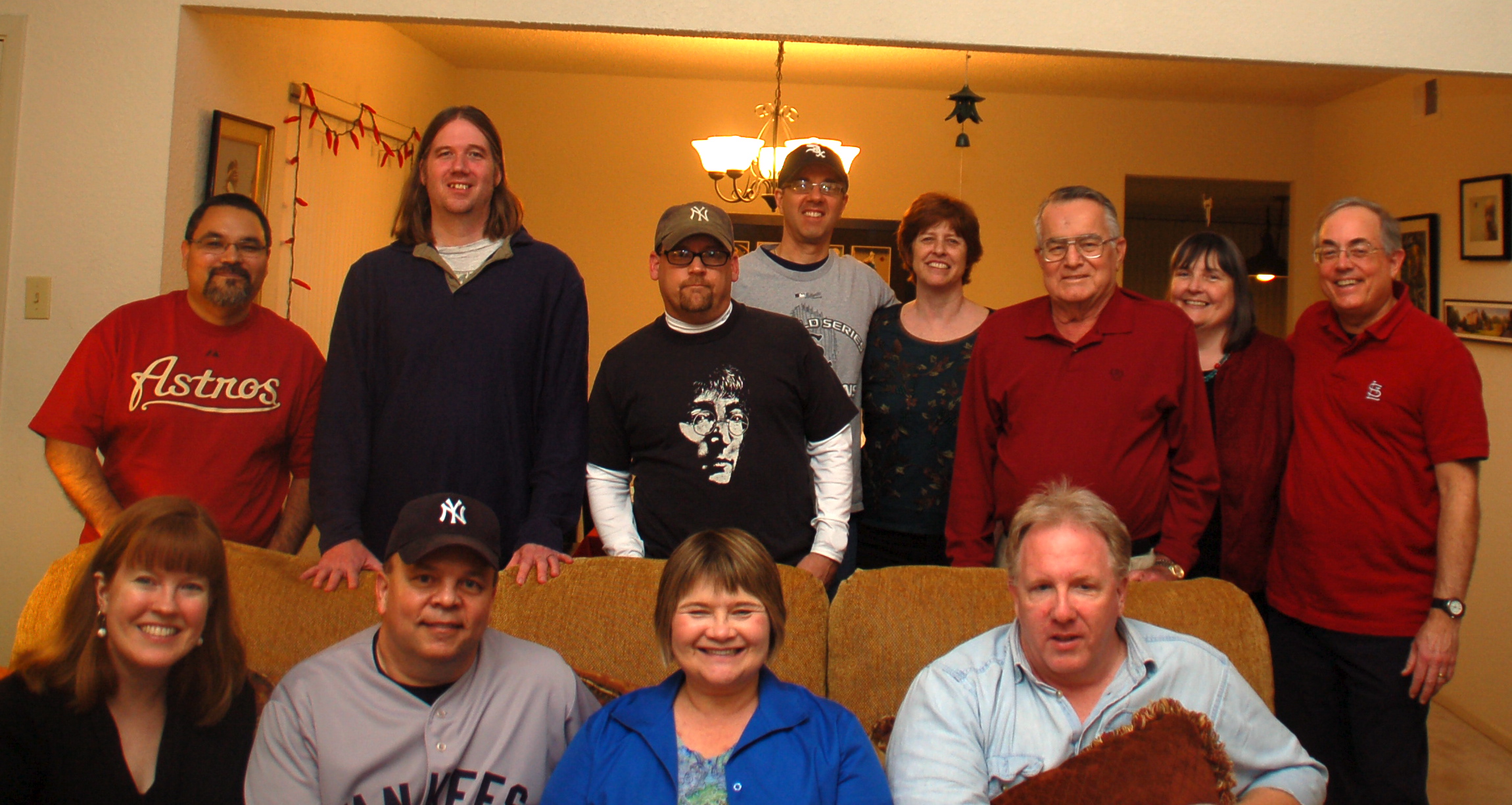 AUSTIN, Texas (Rogers Hornsby Chapter): Thirteen members and guests celebrated SABR Day with good food, fun baseball highlight shows and demonstrations of baseball simulation games. Hosts Gilbert and Raeanne Martinez served dinner at their home in southwest Austin (see picture at right), while attendees brought appetizers, side dishes, beverages and desserts. We watched a variety of highlight shows on MLB Network, including ones that featured the 75 greatest catches of all time, the most memorable League Championship Series moments, and baseball bloopers. There was also some viewing of the 40 most overlooked plays/players in MLB history. We also watched a video of Reese "Goose" Tatum of the Negro Leagues Indianapolis Clowns from 1946 depicting his comedic warm up routine. We learned that Tatum later went on to perform with the Harlem Globetrotters, which wasn't a big surprise considering his antics in the baseball video. Another clip we watched was a video game depiction of the bottom of the 10th inning of the 1986 World Series between the Boston Red Sox and the New York Mets. The video uses footage from R.B.I. Baseball, a Nintendo video game from the 1980s, and matches it with Vin Scully's broadcast. We also watched a short video of Yoda and Jar-Jar Binks from the "Star Wars" films performing "Who's on First?" In addition, Cy Morong brought two electronic baseball simulation games with him to share with the group: Main Street Baseball and Starting Lineup Talking Baseball. Both games involved the use of baseball statistics to enhance the simulation. Gilbert Martinez showed a more mechanical baseball simulation from his childhood in Okinawa, Japan: Epoch's Baseball Game, which involved a small ball bearing as the ball, a small bat and a playing field.  View a complete recap with photos here, plus links to the videos watched by chapter members on SABR Day.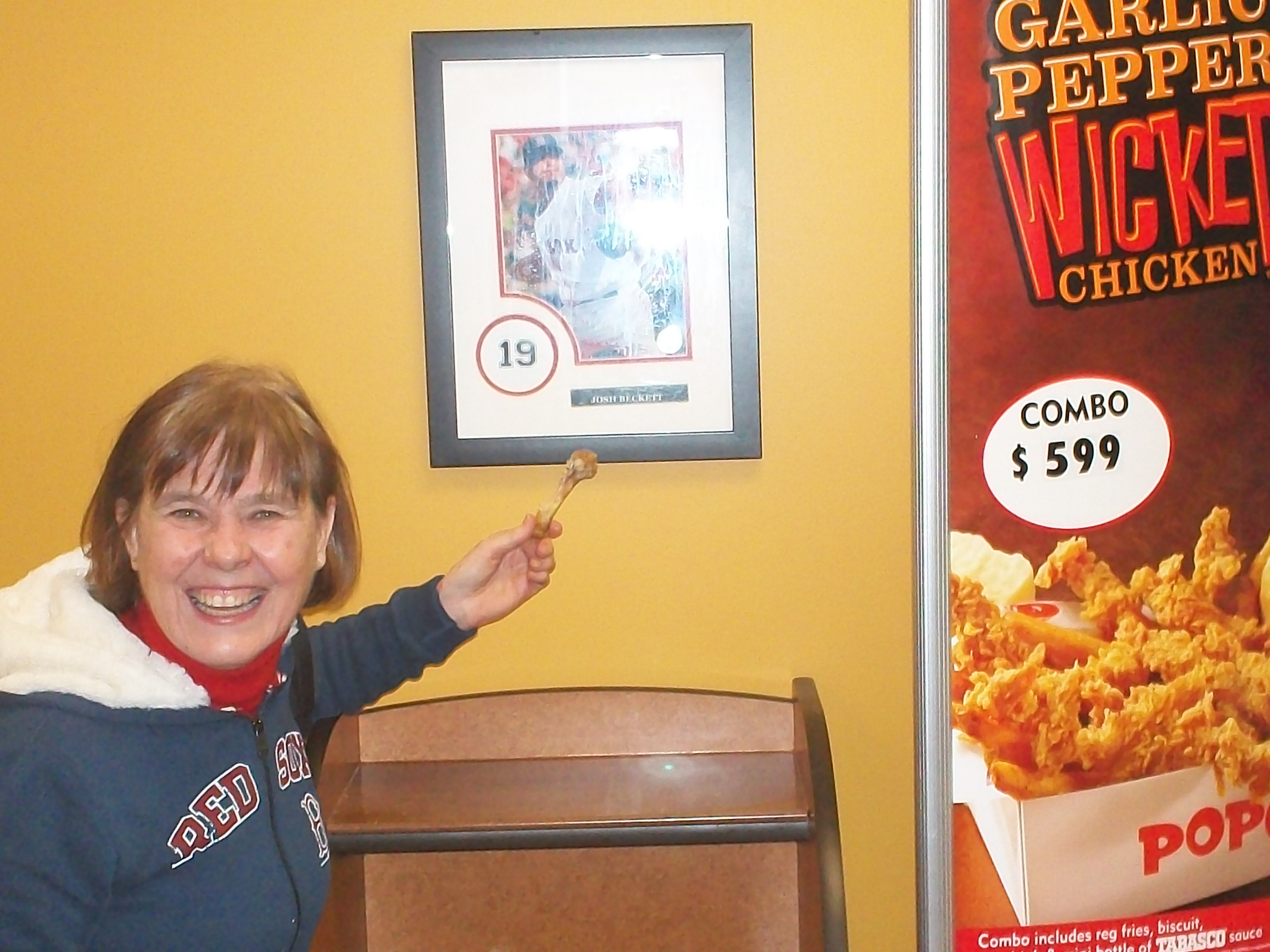 BOSTON, Massachusetts (Boston Chapter): The Boston Chapter conducted a "Baseball History Tour of Infamy" near Fenway Park and Kenmore Square. The weather cooperated. A temperature in the mid-forties is Red Sox t-shirt weather for the die-hard fan, but we were all just wicked thankful it wasn't raining or snowing as it did the day before. Fifteen souls met at The Baseball Tavern where packets of information were distributed featuring the places to be visited. Setting out from The Tavern, we marched on to Fenway Park. We stopped near Gate A where Josh and Timmy Schiller played catch, and we played a recording of "Tessie" while sitting on the Fenway Park steps. We hope it'll help the upcoming season. Popeye's, that fried chicken establishment that has been elevated to celebrity — or notoriety status — is located underneath the Hotel Buckminster (see picture at right). By the way, there's a framed photo of Josh Becket on the wall. Apparently Jim Rice is also a fan. We partook of the fried chicken and we can report it is — SO GOOD SO GOOD SO GOOD!!!! We walked along Commonwealth Ave. to the old Hotel Kenmore (where all the visiting teams stayed at one time or another, then across to Beacon Street to the Myles Standish Hotel — where Babe Ruth always stayed in room 818 and where Ellis Kinder almost burned the place down when he fell asleep with a lit cigarette. At the Hotel Buckminster, the staff invited us into the lobby while we waxed nostalgic about the Black Sox scandal, had a moment of silence to honor Gene Carney, glanced around for Sport Sullivan and Chick Gandil, and read about the game of September 19, 1919, after which Gandil met here with Sport Sullivan to work on fixing The Fix. Then onward to the Dugout Bar, a few blocks west on Commonwealth Ave. and across from BU's Marsh Chapel. The Dugout was one of the first three bars in Boston to open after Prohibition. We had considered returning to The Baseball Tavern, but somehow we just never got out of the Dugout. There might be a couple of attendees still there. I dunno for sure. They're not talkin'. Read a complete recap and view more photos here.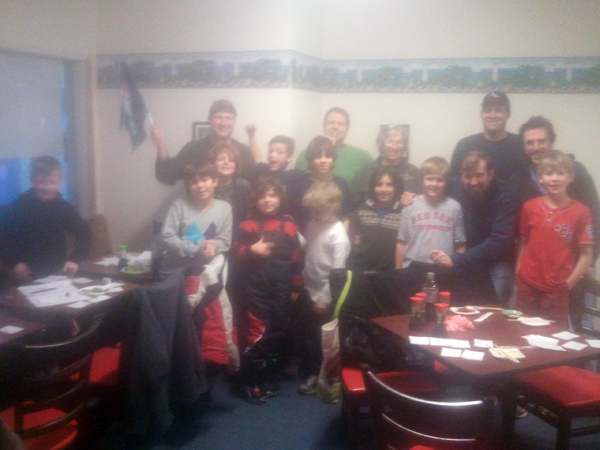 BURLINGTON, Vermont: On Feb. 19, the Buster Olney Vermont Kids Meet-Up of the Gardner-Waterman (Vermont) Chapter completed the Japanese dice-baseball tournament it started on SABR Day, January 28, at Sushido Japanese Restaurant in Williston. Yu Darvish did his part, winning the first game of the best-of-three series for 9-year-old Jackson Neme's and8 -year-old Tommy McLaughlin's Hokkaido Nippon-Ham Fighters. But the Chunichi Dragons, managed by 11-year-old Carl Crawford, won the next two, including a 1-0 thriller in the rubber match. As his prize, Crawford took home a copy of Robert Whiting's The Samurai Way of Baseball. A dozen kids between the ages of 8 and 13 participated in the tournament and devoured three large platters of sushi and several bowls of edamame during the SABR Day event. Jim McNeill of Williston told the kids about his experience attending a Hiroshima Carp vs. Hanshin Tigers game at Koshien Stadium and Simon read an excerpt from The Samurai Way about the childhood of Ichiro Suzuki and how he got to be so good at baseball. View more photos here.
CHICAGO, Illinois: From Christina Kahrl at ESPN.com: "Here in Chicago, our local chapter planned a SABR Day get-together with the Wisconsin chapter up in Kenosha. A few of us who live in the city elected to hold a casual get-together at a coffee shop in the Edgewater neighborhood. Fourteen folks showed up, not all of them SABR members. This wasn't a big deal so much as it was an exercise in a shared source of joy. After four hours of chatter, we could all count it time well spent. Predictably enough, the Detroit Tigers were a main topic of conversation, helped along by the fact that it seemed like every other person there was a Tigers fan. We gabbed about how Miguel Cabrera's defense at third base might be survivable — or less so. I noted that Jim Leyland has been willing to punt defense in the corners now and again during his long career as a manager — Bobby Bonilla at third base with the Pirates and the world champion 1997 Miami Marlins, anyone? This isn't new territory for the Tigers skipper. Former SABR president Claudia Perry popped in as well, while author Stu Shea talked about his future plans for a new edition of Wrigley Field: The Unauthorized Biography — full disclosure, I published this book as Shea's editor back in the day — while also looking forward to SABR's coming release of his new history of baseball announcers."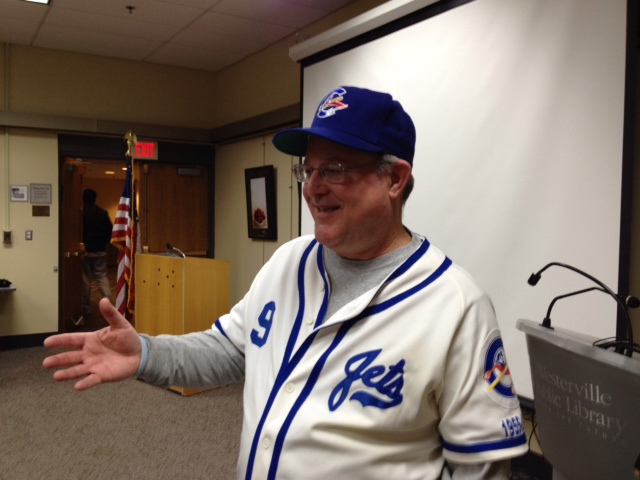 COLUMBUS, Ohio (Hank Gowdy Chapter): The Columbus Chapter celebrated SABR Day for the second consecutive year with a meeting at the Westerville Public Library. The Saturday morning session was attended by 26 members and their guests. The meeting was chaired by Rick Huhn. Blake Sherry reported on past and future meetings of the group's burgeoning book club. The next meeting features a discussion of the biography of Mordecai Brown written by our own Cindy Thomson. The highlights of the SABR Day meeting were the presentations by three local members. Mark Lecuru offered a fascinating review of the life and baseball career of  often-overlooked Dead Ball Era slugger Gavvy Cravath. At the conclusion Mark presented a spirited argument for Cravath's inclusion in the Hall of Fame. Next Ernie Walther outlined the life and career of pitcher Earl Alonzo Moore, a native of the Columbus suburb of Pickerington. Ernie concentrated on several of the key games in Moore's early career that catapulted him to prominence. Blake Sherry (see picture at right) then inserted additional local flavor with a review of the colorful history of the Columbus Jets, the popular local International League entry of the 1960s. The franchise supplied the Pittsburgh Pirates with much of their star power in the decade of the 1970s. The presentations were wrapped around a pair of book raffles, as well as a trivia contest won by Jeff Cranston. Following the meeting a number of the members adjourned to Jimmy V's, a local sports pub. View photos and a complete recap from SABR Day here.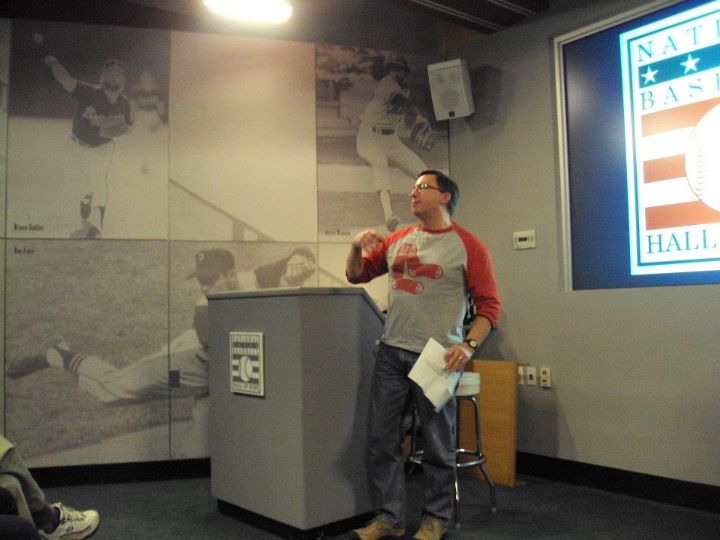 COOPERSTOWN, New York (Cliff Kachline Chapter): A lively meeting was held at the National Baseball Hall of Fame's Bullpen Theater. Chapter president Jeff Katz opened the meeting with some general business items, including a discussion of how to promote the summer meeting which occurs every year on the Sunday evening of induction weekend. The chapter will try to set up a tent to hand out information that weekend. Professor Jon Arakaki of the State University of New York–Oneonta has been conducting research on the appearance of baseball on the covers of Sports Illustrated from 1954 to date, and presented an interesting review of his data. Chapter member Mike Piazzi has been conducting some biographical research on former National League president Harry Pulliam. Noting that no current biography has been produced on Pulliam as an historic figure in baseball history, Piazzi has been working to fill the gaps with hopes of publishing in the future. His presentation covered most of Pulliam's early years. Author/researcher/blogger Gabriel Schechter brought the meeting to a close with an update on his statistical research on the use of relief pitchers from the 1950s through recent years. Using data supplied by Dave Smith at Retrosheet.org, Schechter has been conducting research on the deployment of relievers from the 1952 season. View a photo gallery of the Cooperstown SABR Day at the Cliff Kachline Chapter's Facebook page here. Read a complete recap of the SABR Day gathering here.
DENVER, Colorado (Rocky Mountain Chapter): A windy afternoon in the Denver metro area didn't deter 48 baseball fans from gathering at the Blake Street Tavern for the Hot Stove meeting of the Rocky Mountain Chapter. The meeting, scheduled to participate in the second annual SABR Day, brought together fans of all ages to talk about the local nine and baseball history. Chapter president Matt Repplinger opened the meeting with a few brief announcements, including the schedule for the Game of the Month (1st game on April 28 when the Rockies take on the Mets at Coors Field) and announcing the winner of the Rockies prediction contest from 2011. Jim Collison's dire prediction of 72 wins was closest to the Rockies actual total of 73. But, since he was not present to win, Jim Wohlenhaus' slightly less pessimistic prognostication of 78 was awarded an old-time ballparks tie. Matt then introduced Root Sports' Mark Stout as the program's master of ceremonies. Tickets for the door prize were also distributed as members arrived. Mark provided a little background on himself and his path from Babe Ruth Baseball all-star in New Jersey to Ithaca College to Buffalo and then Denver. He also peppered in many tidbits of trivia, most notably about the recent Rockies minor-league signee, Jamie Moyer. His love of the game of baseball was evident from the first word. The program then led to two outstanding Rockies quilts to be displayed. The woman who made the quilts explained how she took Rockies jersey t-shirts as the fabric for the designs. (Look for pictures to be added when available!) After this, Walter Sylvester gave the front office perspective on the Rockies off-season transactions. After the Sylvester Report, the door prize was awarded to Thomas Harding, author of the blog Hardball in the Rockies. The prize was (as noted on this site) the book The Teammates, by David Halberstam. This was followed by a presentation on the impact of major league expansion on the minor leagues. The idea was born out of a discussion between the two presenters, Alan Rice and Matt Repplinger. Their conclusion was that the minor leagues have expanded again with the expansion of major league baseball after the great reduction in minor league teams in the 1950s. Credit goes to Alan for much of the legwork with gathering the information, and to Matt for delivering. Then, despite the wind, 22 joined in for the "rain or shine" game of catch in the shadow of the right field bleachers at Coors Field. While the wind was brisk, it did not deter the group from throwing the ball around and shaking the rust off their arms. As the group departed, the anticipation for the coming baseball season seemed to be a cheerful specter that was one more day closer. Read a complete recap of SABR Day in Denver at RMSABR.org.
FORT LAUDERDALE, Florida (South Florida Chapter): Seven members, including SABR Director and founding member Tom Hufford, attended the Joe DiMaggio Annual Legends Game at Fort Lauderdale Stadium. Perfect weather and spirited conversation were shared by all of the members in attendance including  many reminisces of the players on the field who battled it out for seven innings much to the delight of a near-capacity crowd. Gerald Garte presented a unique trivia contest where you had to identify the player by his career statistics. Tom Hufford and Tito Rondon were the big winners on the day receiving autographed cards of the player presented in the contest.
KANSAS CITY, Missouri (Monarchs Chapter): The Monarchs Chapter in Kansas City took advantage of the springlike weather to meet at the Lackman Branch of the Johnson County Library. The 13 attendees were treated to two dynamic guest speakers, Bill Ivie Jr., who even though he was in Royals country talked about life in St. Louis without Albert Pujols. Bill is the owner of the blog I-70 Baseball. Ivie first reviewed Pujols' career with the Cardinals, then covered the contentious negotiations. He then previewed the 2012 season for the Cardinals, before spending a half-hour answering questions. This was not the most exciting part of Ivie's day, as he got engaged later that evening! After a short break, the next speaker was Chris Browne, General Manager of the American Associaton's Kansas City T-Bones. He answered questions about running a minor league team in a major league market and also about the recent hiring of Royals great Frank White. Browne gave a brief overview of how his start as a bat boy for the Kansas City Royals led him to a career in baseball. He then explained various aspects of how an independent team is operated including, finding players without the help of a major league affiliation, fan safety concerns, selling players to major league organizations, and the salary structure. There was also a poster presentation, "Buck O'Neil Timeline" by Katherine Webber. Discussions after the meeting centered on future meetings as well as some possible hot stove meetings.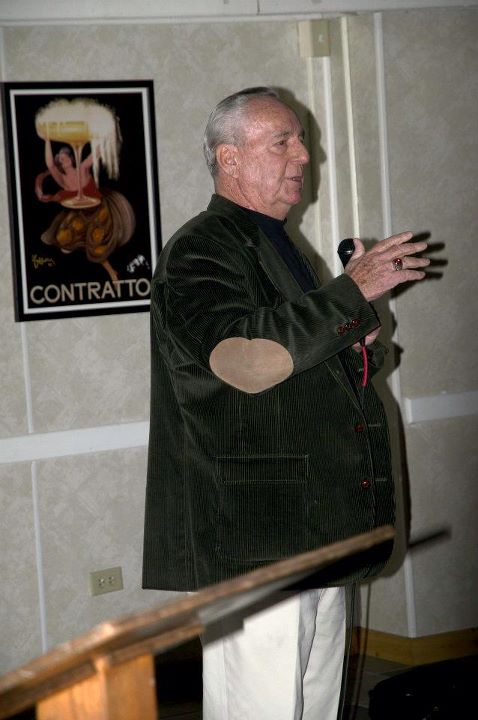 KENOSHA, Wisconsin (combined meeting of Emil Rothe Chapter and Ken Keltner Badger State Chapter): About 25 members from the Chicago and Milwaukee chapters met together at the Brat Stop in Kenosha. Featured speakers were Bob Lee (see picture at right), former Milwaukee Braves minor leaguer and the man who brought pro baseball to Kenosha with a Twins affiliate in 1984; and Craig Wieczorkiewicz, who is working on a book about visiting all 16 Midwest League stadiums in 2011. "Lee was friendly and full of anecdotes," Wieczorkiewicz wrote. "His catcher in the minor leagues was Milwaukee Brewers radio announcer Bob Uecker, and they remain good friends to this day. It was a pleasure meeting Kenosha's "Mr. Baseball" and it meant a lot to hear him say I did a great job after I finished my presentation." Wieczorkiewicz also wrote, "Several dozen SABR members listened to me talk a little about each of the 16 different Midwest League ballparks, and they asked some good questions, too. I met a couple fellow Midwest League baseball fans I already 'knew' through Twitter — I always enjoy meeting my tweeps in person — and also talked with a lot of other great baseball fans, too." View a photo gallery of the SABR Day meeting, courtesy of Joel Dinda.
KNOXVILLE, Tennessee (Rice-Russell Nashville Chapter): At the Lawson McGhee Library in Knoxville, Mark Aubrey led the formation of the new East Tennessee Chapter, which was approved by SABR's Board of Directors at its winter meeting. Aubrey reports: "Had a nice agenda scrawled out; we didn't follow the agenda so much. But we had fun and enjoyed a few rounds of the "Nickname Quiz" where I give a decade, the player's nickname and the contestants have to guess which player had that moniker. Everyone's a winner when we play the "Nickname Quiz". I was able to unload 10 baseball books from the home bookshelf. It made my wife very happy. We talked about baseball movies and baseball books. I learned of a new movie from our newest SABR member, Robert. Well, new to me. One of Robert's favorite movies is One in a Million: The Ron LeFlore Story. Another one of our members, Marshall, shared with us his involvement in the upcoming book about Baseball's Winter Meetings. I was going to talk about Frank Moffett, Knoxville's baseball pioneer. Time constraints kept me from talking about Mr. Moffett for more than a minute. Time flew by and we were done. Two of us then went to visit the Calvin M. McClung Historical Collection for a quick tour."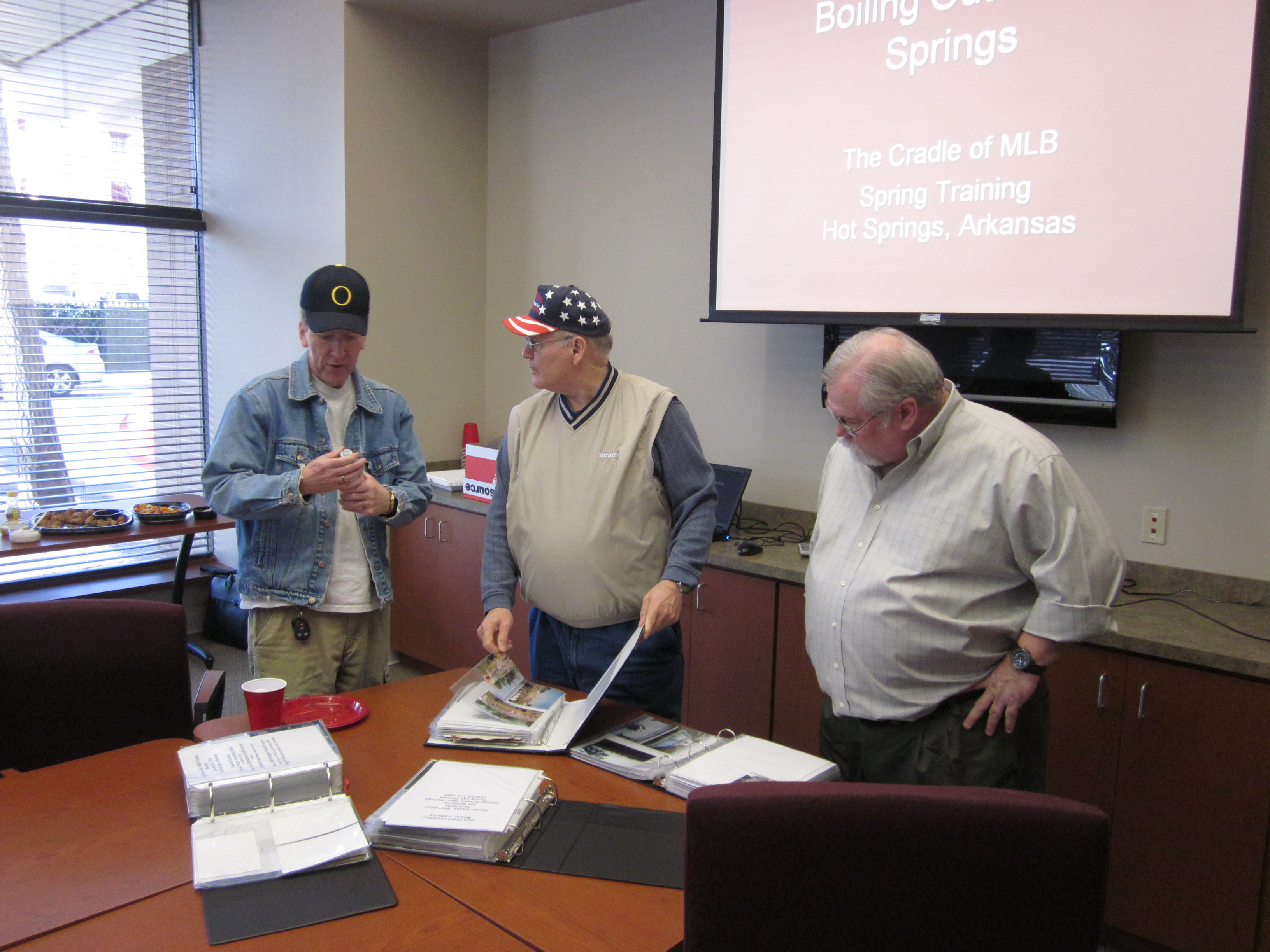 LITTLE ROCK, Arkansas (Robinson-Kell Chapter): 13 members and guests convened at the Stephens Media building in Little Rock for SABR Day. Former major league pitcher Kevin Campbell, a Marianna native and star with the University of Arkansas Razorbacks, spoke about his career with the A's and Twins from 1991-95. Mike Dugan gave an update on the Baseball Trail in Hot Springs, Arkansas that is set to open on March 24. It is a series of plaques that will detail the history of spring training in Hot Springs. Our chapter will be present for the grand opening; more details to follow as they become available. Hot Springs native Don Duren had a Power-Point presentation about major league spring training in Hot Springs. Fred Worth gave another update on his hobby of visiting the graves of former major league players (over 1,200 now!). Caleb Hardwick discussed his new web site project, ArkBaseball.com. Dr. Robert Reising, who spoke about his book on Moonlight Graham at our last meeting, had a short follow-up presentation. View more photos from SABR Day here.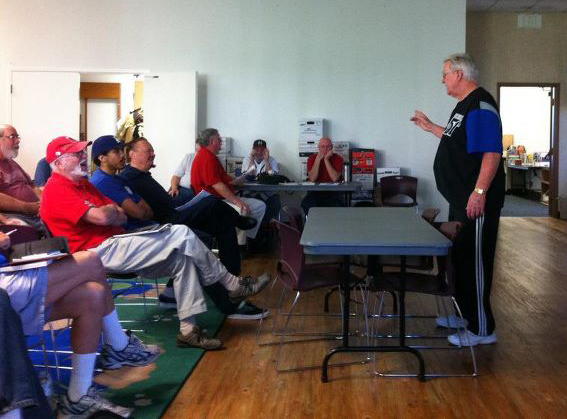 LOS ANGELES, California (Allan Roth Chapter): 46 members and guests convened at the La Habra Library as Milwaukee Braves All-Star catcher Del Crandall (see picture at right) entertained for an hour with stories about his teammates and his career. We heard about spitballs, managerial moves, how Crandall aided Robin Yount's career, and Crandall's home run in Game 7 of the 1957 World Series. Crandall was a most engaging and delightful speaker. Chuck Polizzi described "The Big Game", a movie he is working on, about the actual 1929 confrontation between the 12 Fredrickson brothers of Eidswold, Minnesota, and the House of David touring team. Daryl Grigsby challenged us with trivia from his book, Celebrating Ourselves: African Americans and the Promise of Baseball. High school coach Eddie Alvarez talked about the problems he faced trying to implement sabermetric concepts into the staid world of high school baseball.
LOUISVILLE, Kentucky (Pee Wee Reese Chapter): A total of 16 members and guests attended the Pee Wee Reese Chapter's SABR Day event held in the comfortable confines of the Louisville Slugger Museum and Factory. The group was treated to an excellent multimedia presentation by Lexington baseball author and SABR member Charles Faber, who delved into the origins of the poem "Casey at the Bat" in a session titled "Pride Goeth before Destruction." Following this, a spirited debate took place on the subject "Does Barry Larkin belong in the Hall of Fame?" Then Greg Galiette, Senior Vice President of the Louisville Bats, made an excellent presentation recalling the history of the franchise, especially the early days with noted baseball executive A. Ray Smith. A lively round of trivia questions followed, and everyone who attended left with a door prize, inlcuding an autographed Zack Cozart baseball donated by the Bats.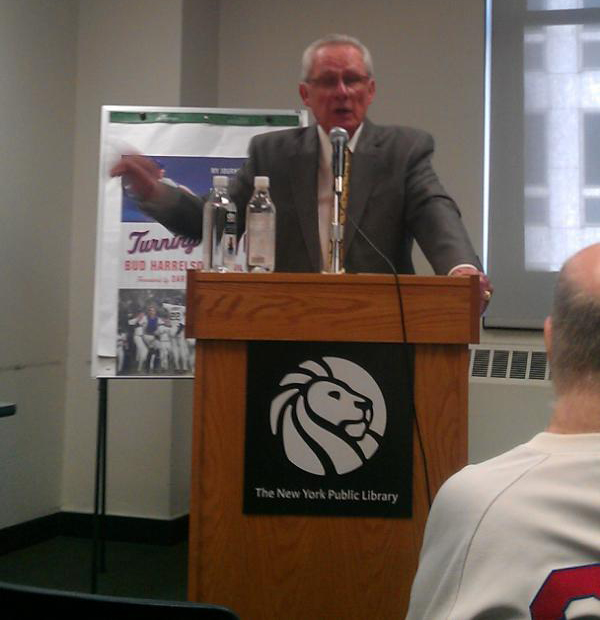 NEW YORK, New York (Casey Stengel Chapter): From Hudson Belinsky at Halos Daily: "The Casey Stengel chapter's rendition of SABR Day included two panels and a speaker. The panels were on the Mets and scouting, and the speaker was George Vecsey, the author of Stan Musial: An American Life and sports columnist for various prestigious publications. The Mets panel was moderated by Billy Altman and included Bud Harrelson (former Mets shortstop and manager — see picture at right), Harvey Poris (lifelong Mets fan and memorabilia collector), Ben Baumer (Statistical Analyst, Mets Baseball Operations), and TJ Barra (Minor League Video Coordinator, Mets Baseball Operations). The panel discussed an array of subjects, from Harrelson's fight with Pete Rose in 1973 to the Mets' statistics database and use of analytics. The scouts panel was my favorite part of the day. Moderated by Lee Lowenfish, author of Branch Rickey: Baseball's Ferocious Gentleman, the panel included Billy Blitzer (Pro Scout, Chicago Cubs) and Cesar Presbott (Area Scout, New York Yankees). The scouts shared anecdotes of scouting players that made it and stories of their starts in scouting. George Vecsey was the final act. He discussed the life and career of Stan Musial, the subject of his most recent book. I haven't read the book yet, but I can say that Vecsey is a tremendous journalist and I'm excited to see how his voice comes accross on paper."
NORMAN, Oklahoma (Central Oklahoma Chapter): From the OU Daily: "Andy Strasberg stood in front of a handful of students and more than a dozen aging baseball fans describing his fondest memories. He threw his hands about demonstrably in a gray long sleeve shirt with 'Roger Maris Celebrity Golf' across his chest. He was in town to speak in front of Oklahoma's chapter members of the Society for American Baseball Research (SABR). Strasberg ... counts himself as Roger Maris' No. 1 fan. The former vice-president of marketing for the San Diego Padres vivaciously related anecdotes about different occurrences between himself, Maris and Maris' family. The slender gray-haired man spoke with vitality about Maris Sunday afternoon in room 3160 of Gaylord College while the attendants ate Little Caesar's pizza and drank soda while listening intently. "Thank you for allowing me to be 13 all over again," Strasberg said to the audience. Among the audience at the meeting to hear Strasberg speak was former major league pitcher Don Stanhouse. And Stanhouse is not a man lacking a sense of humor. "At last count, I put close to 70 players in the hall of fame," Stanhouse joked.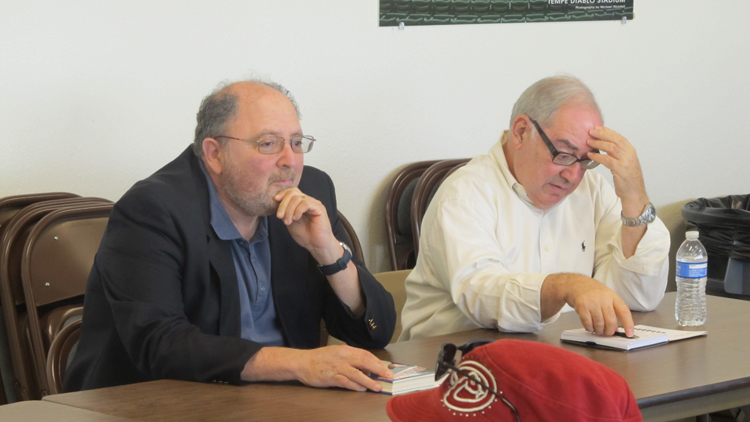 PHOENIX, Arizona (Flame Delhi Chapter): 35 SABR members and guests gathered in the press box at Tempe Diablo Stadium — winter home of the Los Angeles Angels — for SABR Day. Our meeting was highlighted by a Hot Stove panel that included MLB.com writers Barry Bloom (who joined SABR after speaking at the Arizona Fall League Conference back in November); Bernie Pleskoff, former scout with the Houston Astros and Seattle Mariners; and special guest Marty Lurie of KNBR radio in San Francisco. Bloom and Pleskoff weighed in with their predictions of the 2012 season, both agreeing that the hometown Diamondbacks would be a force to be reckoned with in the NL West. Bloom explained how TV money is changing the power structure in the American League, especially in regards to the Angels' offseason acquisitions of Albert Pujols and C.J. Wilson and the Rangers' signing of Yu Darvish. Pleskoff also spoke about the continuing Ryan Braun saga in Milwaukee and the Nationals' growing stable of young talent. Chapter members also participated in a "show-and-tell" segment during the meeting. Among the items brought in were Jim Odenkirk's tickets and clippings from the August 24, 1945, game at Cleveland Stadium in which Bob Feller made his debut following service in World War II. "Rapid Robert" and the Indians beat eventual AL MVP Hal Newhouser and the pennant-winning Tigers, 4-2. Bert Moser, 93 years young, brought in a 1974 Henry Aaron commemorative bat given to him when he worked for Magnavox. Moser told stories of driving Aaron around New York when the latter signed a famous $1 million endorsement deal with the electronics company. Chapter president Rodney Johnson noted the 20th anniversary of the chapter's first meeting in 1991 and also the recent passing of vice president Bob Vostry. SABR executive director Marc Appleman introduced the office staff and highlighted the upcoming SABR Analytics Conference to be held in March. Jacob Pomrenke introduced the new Baseball Biography Project website, relaunched at SABR.org last week, and encouraged members to get involved by writing new BioProject essays. Many members signed up to volunteer for the SABR booth during weekend spring training games at the Diamondbacks' and Rockies' new facility, Salt River Fields at Talking Stick. Come say hello! Click here to read a complete recap and view more pictures.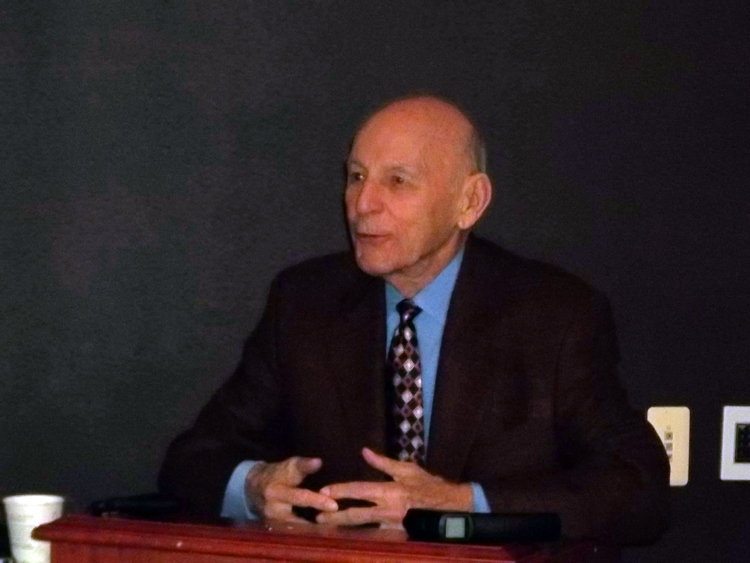 PITTSBURGH, Pennsylvania (Forbes Field Chapter): The featured speaker at PNC Park, the home of the Pirates, was 1960 National League MVP Dick Groat (see picture at right), who regaled us with stories about his career in baseball and his teammates. Other guest speakers included: Dr. Leslie Heaphy, an author and authority on the Negro Leagues and women in baseball; Doug Gladstone, author of "A Bitter Cup of Coffee"; Joe Guzzardi on Roberto Clemente in the Puerto Rican League; and Mark Woods, who presented some Dick Stuart memorabilia. We also had a trivia contest, book exchange and 50/50 raffle during the SABR Day event. View a SABR Day Pittsburgh photo gallery here.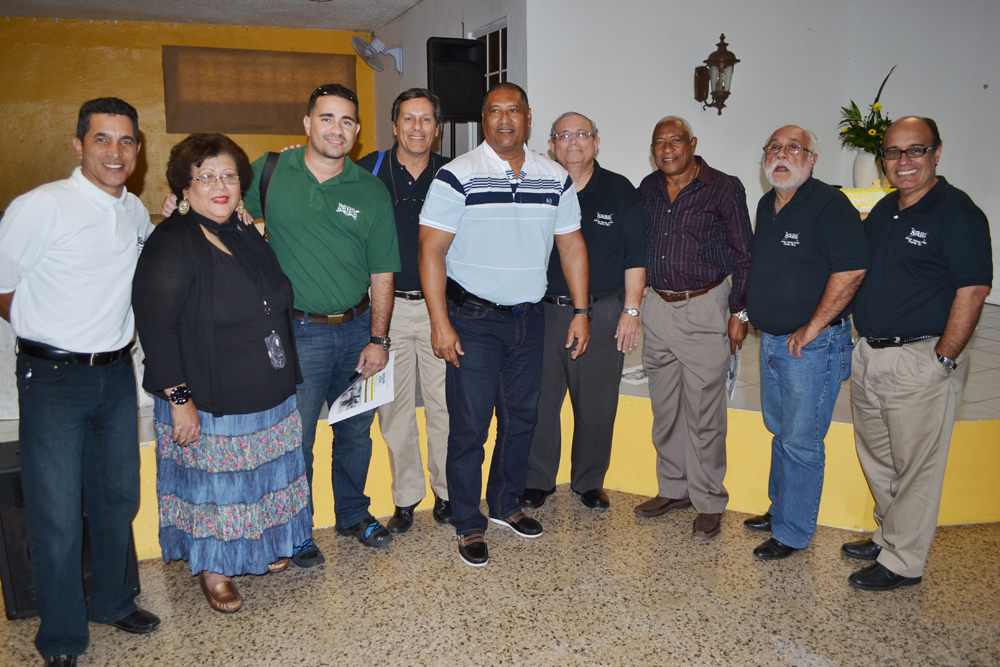 PONCE, Puerto Rico (Orlando Cepeda Chapter): We celebrated our third SABR Day in the southern Puerto Rico town of Juana Díaz, home of great baseball players such as José R. Santiago, a former Red Sox pitcher, and Carlos Bernier. Bernier was the subject of our day, when chapter members, ex-professional players, as well as family members and friends gathered together to commemorate his 85th anniversary. Carlos Bernier was one of the best baseball players from Puerto Rico during the 1950s. He was the first black player to play with the Pittsburgh Pirates, when in 1953 he made his debut as an outfielder. Although his career in the majors was short, only one year, he co-holds a major league record of three triples in one game. He played sixteen seasons in the Minor Leagues, most of them in the Pacific Coast League (PCL) with the Hollywood Stars and Hawaii. In 2004, he was inducted to the PCL Hall of Fame. He died in 1989. The attendance to the event was outstanding; more than 130 people enjoyed a great baseball afternoon in Los Autenticos Club in Juana Díaz. There were thirteen professional baseball players, among them major leaguers such as Sandy Alomar Sr., José R. Santiago, Juan Beniquez, Angel Mangual, Jose Mangual and Frankie Libran. Several members of the Bernier family were part of the celebration. There was an exhibition of Bernier memorabilia and photos. SABR members Jorge Colón-Delgado, Edwin Fernandez, and Ricardo Olivencia presented their research on Bernier's career in a conmemorative publication prepared by Angel Colon. Jossie Alvarado was the Master of Ceremonies. The activity was broadcasted during two hours through a local radio station, and ended with an exquisite dinner offered by one of Bernier's nephews, Dr. Mickey Bernier. View more photos and a complete recap here. 
SAN FRANCISCO, California (Lefty O'Doul Chapter): Lefty O'Doul SABR celebrated SABR Day 3 at AT&T Park. We took a visit to the Nick Peters Interview Room and went on the field for pictures. We were joined by San Francisco Chronicle writer Henry Schulman and "The Baseball Codes" author Michael Duca for some Hot Stove stories and lunch at the ballpark. Chapter president Marlene Vogelsang and national director Paul Hirsch both gave timely updates on SABR goings-on.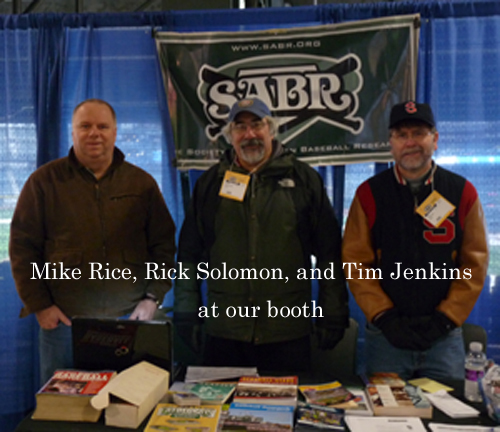 SEATTLE, Washington (Northwest Chapter): The Northwest Chapter held its first meeting of 2012 at Safeco Field, the fifth year in a row the Seattle Mariners played host to the chapter meeting. In addition to the meeting, NWSABR members staffed an informational booth for the Mariners' FanFest (see picture at right). This year, volunteers for the booth included Mike Rice, Tim Jenkins, Anthony Salazar, David Alvarez, Mark Brunke, Bob Webster, Tip Wonhoff, John Henshell, and Rick Solomon. We thank Mandy Lincoln, Kevin Martinez, and the Mariners for providing both the facility and an excellent group of speakers: Jack Zduriencik, Eric Wedge, Tony Blengino, Tom McNamara, and Jeff Kingston. Thirty-five members from around the Pacific Northwest made their way to Safeco for the meeting. The informal themes of the day were young talent and the Michael Pineda trade (inclusive of discussions of Jose Campos, Jesus Montero, and Hector Noesi). The method of discussion with each of the speakers was a refreshing and forthcoming Q and A format. View more photos and a complete recap here.
ST. LOUIS, Missouri (Bob Broeg St. Louis Chapter): Fifty-two people, including SABR members and guests, attended the Bob Broeg SABR Chapter's annual Hot Stove luncheon at Mike Shannon's Steaks and Seafood in downtown St. Louis. At the meeting's outset, chapter president Norm Richards asked for a moment of silence for the fallen U.S. soldiers who had been killed in the Iraq War and Afghanistan. A parade to honor local veterans began at noon that day, and passed the restaurant. Chapter member Joan Thomas received the Bob Broeg Service Award for her leadership in the chapter's project to mark five St. Louis sites that once housed major league ballparks. Guest speakers included former Cardinals outfielder Kerry Robinson and his father, Rogers Robinson, who played in the Cardinals' minor league system. Each discussed his career and handled an array of questions from the audience. Pat Daly, manager of Cardinals retail sales, described how the club authenticates potential souvenirs and collectors' items. Derrick Goold, one of the reporters covering baseball for the St. Louis Post-Dispatch and a guest at past Bob Broeg chapter events, discussed off-season player moves by the Cardinals. Research presentations came from chapter members Jim Rygelski, "Baseball Myths: Old and New," and Dwayne Isgrig, "The Great Bambino and His Three Home Runs in One World Series (Twice)." Read a complete recap from Jim Rygelski here, along with PDFs of the research presentation texts.
TORONTO, Ontario (Hanlan's Point Chapter): 17 members and guests gathered at a private location in Toronto as Maxwell Kates and Fred Toulch made a presentation on Montreal Expos matchbooks and postcards, and discussed their significance to the team's marketing strategy. A special presentation of the video "Sign of the Times" was also enjoyed by all in attendance.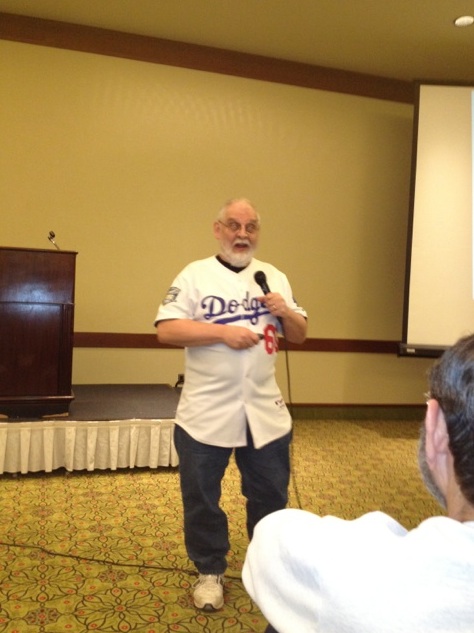 WASHINGTON, D.C. (Bob Davids Chapter): We had a turnout of 131 at the Holiday Inn Rosslyn in Arlington, Virginia, for a program that we felt went very well. This was our third time participating in the national SABR Day, but it was our 38th annual meeting. After some housekeeping where we re-elected members of our Board and announced that we were going to form a chapter trivia team to challenge other chapters at SABR 42 in Minneapolis, we were treated to the following: David Vincent — Bob Davids Chapter Board member, Chapter Historian and Emcee for the proceedings — kicked things off with a great presentation on pitchers who hit home runs. This set the appropriate tone and we were off and running. Bob Savitt, former Bob Davids Chapter President, having recently published his book, The Blue Ridge League (Images of Baseball), gave a succinct synopsis of his in?depth research of a league that overlapped with the boundaries of our chapter, geographically if not chronologically. Jim Hannan, former Washington Senators pitcher regaled us with stories from his career, but even more impressive is the work he has done and is doing on behalf of other retired players, particularly through the Alumni Association. After Jim's talk, we had a fine buffet luncheon.  Following that, Dave Smith, Retrosheet icon, recounted some of the questions posed to him during the 2011 baseball season by the media and the research they prompted him to do (see photo at right). Those results are always interesting and we are indeed fortunate to have Dave as a regular contributor at our meetings. Steve Sclafani, founder and CEO of the Baseball Factory, a recognized leader in player development and college placement, told us how his organization scouts and develops young players, helping them (and their parents) plan appropriately for a possible future in baseball. Andy Bradley, alumni player and now head coach of the very successful baseball program at Gonzaga High School in Washington, D.C., told us of his coaching philosophy. Andy's dad, Tom, pitched in the majors for seven seasons and was the head baseball coach at the University of Maryland. Great job by the conference's youngest coach, a title he has held for the past eight years. Tom Hanrahan, chapter member, presented a well-devised formula for comparing the relative values of the game's best pitchers and batters. Our Raffle, bolstered this year with items donated from the Bob Davids estate, raised more than $600 for the chapter coffers. View more photos and a complete recap here.
WEST HAVEN, Connecticut (Smoky Joe Wood Chapter): Several of us enjoyed SABR Day on January 28 at the West Haven Twilight League luncheon, which was held at the West River Hall in West Haven. We had a SABR table, and enjoyed the remarks of Rich Marazzi, George Grande, Coach Vieira and the honoree of the occasion, Quinnipiac University coach Dan Gooley. Chapter president Steve Krevisky also got to say a few things about what SABR is doing. A fine time was had by all.
Don't see your meeting listed? Send in your recap or photos of SABR Day 2012 to Jacob Pomrenke at jpomrenke@sabr.org.
Click on the photo above to access our SABR Day 2012 Google map, with details and directions for all 34 scheduled SABR Day events.
To learn more about all upcoming SABR events, including chapter meetings in your area, view our calendar at SABR.org/events.
---
SABR Day 2011: For highlights from SABR Day 2011, including photo galleries and videos, click here
SABR Day: For more information about upcoming SABR Days, visit SABR.org/SABRday