The Lefty O'Doul Chapter and Sacramento Chapter held a SABR Day meeting at the Red Lion in Oakland on January 26, 2013.
Members introduced themselves with a brief favorite baseball memory, which ranged from the first game they had ever attended, memories of games long gone by, perfect games, the last game they attended. (That was me and one other person. Of course, my "last game" was the ALDS A's Game 5, when the A's got "Verlandered" (not my word, but so apt) but the crowd stayed and cheered the team for one of the most remarkable seasons ever.
Our group has been at some wonderful games and seen the legends of baseball. The perfect game was Cain's, not Braden's. I should probably make an effort to collect everyone's favorites ... it would be fascinating.
Paul Hirsch gave us a SABR update: including the Analytics Conference and convention in Philadelphia; the donor program, some of the new programming offered by SABR. He also reminded us that elections are coming up. The chapter honored Paul for his many years of service and contributions to SABR and to the Lefty O'Doul Chapter. Thanks, again, Paul.
Our guest speaker was local radio announcer Rick Tittle who chatted with us about local baseball and the A's season. He fielded a variety of questions from our group. I was impressed by the wide variety and depth of the research work that is going on in the Lefty O'Doul Chapter. You all are amazing!
Greg Erion led off with a talk about SABR's BioProject and some of the interesting stories he has learned over the years writing these bios. At least one person in the audience has volunteered to start writing for the project. Irwin Herlihy challenged us to consider why the 1948 Oakland Oaks were called "The Nine Old Men", by charting out the ages of the players. Dan VanDeMortel talked about his research efforts writing a book about the 1971 Giants.
Family history led to Eric Nelson's research on the ballplayers in his family that led to a book. Andre Lower talked about players and stats in his research on  "Auditioning for Cooperstown". Herm Krabbenhoft researches RBI stats and shared some of the discrepancies he has found in his work. The origins of baseball have been David Block's passion and he talked about some of his recent discovery of mentions of the game in old England. San Francisco baseball history has long been the focus of Angus MacFarlane's research and he shared some of the challenges of that research.
Pictures of the event can be viewed below.
— Marlene Vogelsang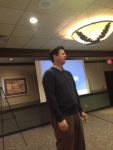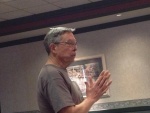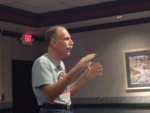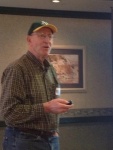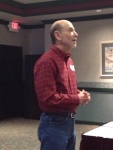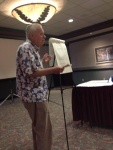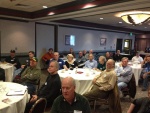 For more information on SABR Day 2013, click here.